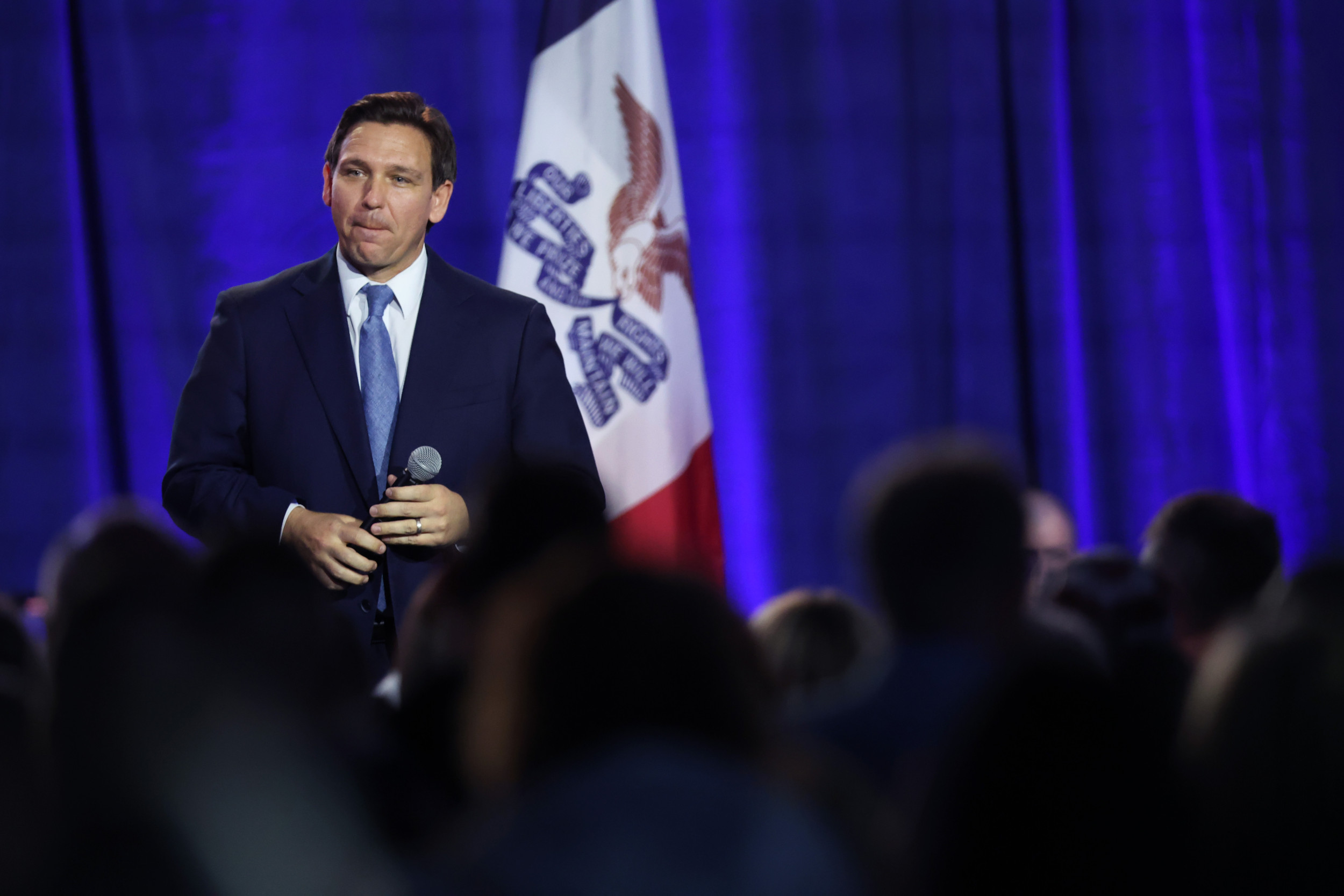 President Joe Biden has pledged to provide U.S. aid to Ukraine for "as long as it takes."
But a growing number of Republican White House hopefuls and lawmakers in Congress are voicing opposition to Biden's Ukraine policy, injecting domestic politics into the debate over America's role in the conflict just as the president seeks to build public support for Kyiv at a critical moment in the war.
The two frontrunners in early polls of 2024 Republican presidential contenders, former President Donald Trump and Florida Gov. Ron DeSantis—who hasn't declared yet but is expected to run —both told Fox News this week that they don't view Ukraine as a vital national strategic interest for the U.S.
DeSantis dismissed the war as a "territorial dispute" in response to a questionnaire from Fox host Tucker Carlson, while Trump said Kyiv and Moscow should strike a deal to end the war. In Congress, even some Republican supporters of Ukraine aid have grown increasingly critical of Biden in recent weeks.
"The next six months will be pretty pivotal. The Biden administration is mindful of doing all they can in the near term to ensure as much support for Ukraine as possible," said William Inboden, the chair of the Clements Center for National Security at the University of Texas at Austin and a former national security advisor.
But he expressed concern going forward.
"I'm worried about diminishing support for Ukraine aid among congressional Republicans," Inboden said.
The first 2024 debates and primary contests are still months away. But the election is already looming over upcoming negotiations in Congress over the next round of military aid to Ukraine, which will replace the current tranche set to run out sometime this summer.
The next aid package will likely run through the end of the year and be the last one Congress approves before primary voting starts in early 2024. By then, Republicans will face pressure to oppose large military spending measures for Ukraine if the policy isn't supported by the leading GOP presidential candidates.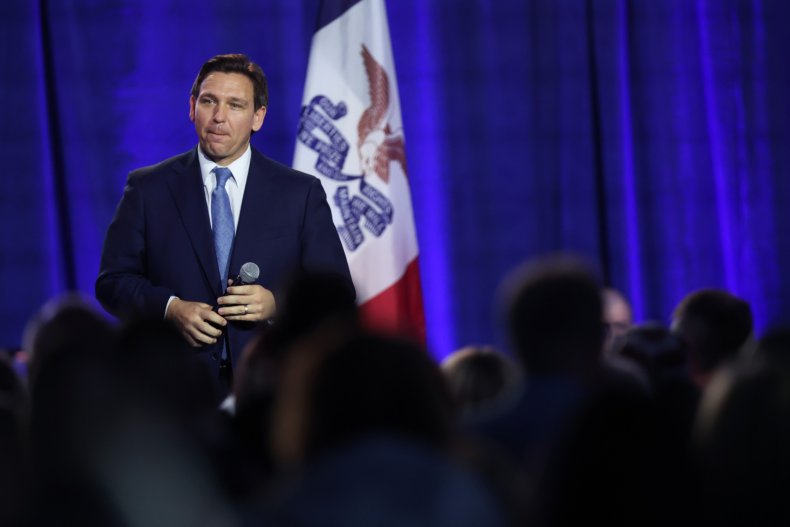 Florida Gov. Ron DeSantis speaks to Iowa voters during an event at the Iowa State Fairgrounds on March 10, 2023 in Des Moines, Iowa. Scott Olson/Getty Images
Biden's window for maintaining bipartisan support for Ukraine may be closing fast—and the timing is bad for Ukraine, as the country prepares to launch a major counteroffensive against Russia later this year.
Ukrainian officials have said their aim is to drive a wedge between mainland Russia and its land bridge to Crimea. Russian forces have begun fortifying their defensive positions in the region, including in Crimea, in anticipation of Kyiv's planned military push, Ukrainian Defense Minister Oleksij Reznikov said at a press conference Tuesday in Odesa.
"The Russians are being prepared for defense," Reznikov said.
A successful counteroffensive could disrupt Russian supply lines and deal a substantial blow to Moscow's war effort, military and national security experts said.
"If Ukraine were able to cut the land bridge that connects Russia through Donbas to Crimea, Russia would have an enormous supply problem," said John Herbst, who served as the U.S. ambassador to Ukraine under former President George W. Bush.
"A defeat on that order would have political consequences" for Russian President Vladimir Putin and could force him to seek a way to end the war, Herbst said.
But Herbst and others cautioned that Kyiv will mount its counteroffensive without critical military aid that Ukrainian President Volodymyr Zelensky has been asking for for months.
Earlier this year, the U.S., Germany and other Western nations pledged to send hundreds of tanks to Ukraine to help Kyiv thwart Russia's winter offensive. Poland delivered a small initial shipment of German-made Leopard-2 tanks to Ukraine last month. But it's unclear how long it will take to put a large number of Leopard-2 tanks on the frontlines, and a shipment of Abrams battle tanks from the U.S. won't get to Ukraine until the end of this year or early 2024, military experts said.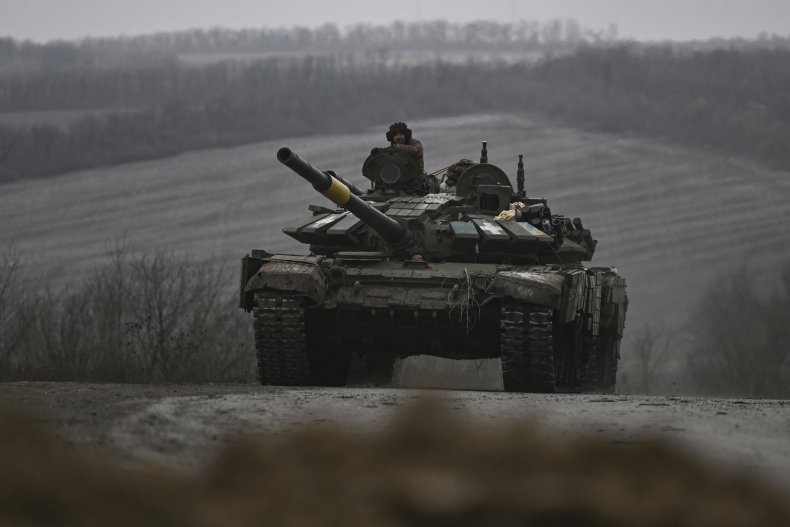 A Ukrainian army tank rolls along a road outside the area of Bakhmut, in the region of Donbas, on March 15, 2023. Aris Messinis/AFP via Getty Images
Biden has also rejected Ukraine's requests for longer range missiles and F-16 fighter jets, frustrating Ukrainian officials who have called for Western air support since the Russian invasion started in February 2022.
"Ideally, Ukraine would have all the equipment it needs to be ready to go for the spring or summer counteroffensive," said George Barros, a Russia analyst at the Institute for the Study of War. "But it's not all going to be there."
Ukraine is under immense pressure to make progress on the battlefield in the coming months to take advantage of a vulnerable moment for the Russian military, which so far has failed to seize significant new territory in its winter offensive. Apart from a fierce, monthslong push by Russia to capture the city of Bakhmut, Russian forces appear unable to do much more than maintain their current defensive positions, Barros said.
Ukraine has "a temporary and closing window to regain territory," Barros said.
Western countries recognize the urgency of the moment and should rush more military assistance to Ukraine even if it doesn't arrive in time for Kyiv's upcoming counteroffensive, said Simon Smith, chair of the Chatham House Ukraine Forum.
European allies are also watching the U.S. political calendar, Smith added, aware that American military aid to Ukraine could slow next year or even come to a halt in 2025 if a Republican wins the White House. "Looking ahead to the U.S. election, of course that's a factor," said Smith, who served as the UK ambassador to Ukraine.
"'As long as it takes' is a good slogan and it also has the virtue of encouraging even longer-term thinking about how you win the war," Smith added, referring to Biden's mantra for aiding Kyiv.
"But alongside 'as long as it takes,'" he added, "you need 'as soon as possible.'"
Michael Wasiura contributed reporting.