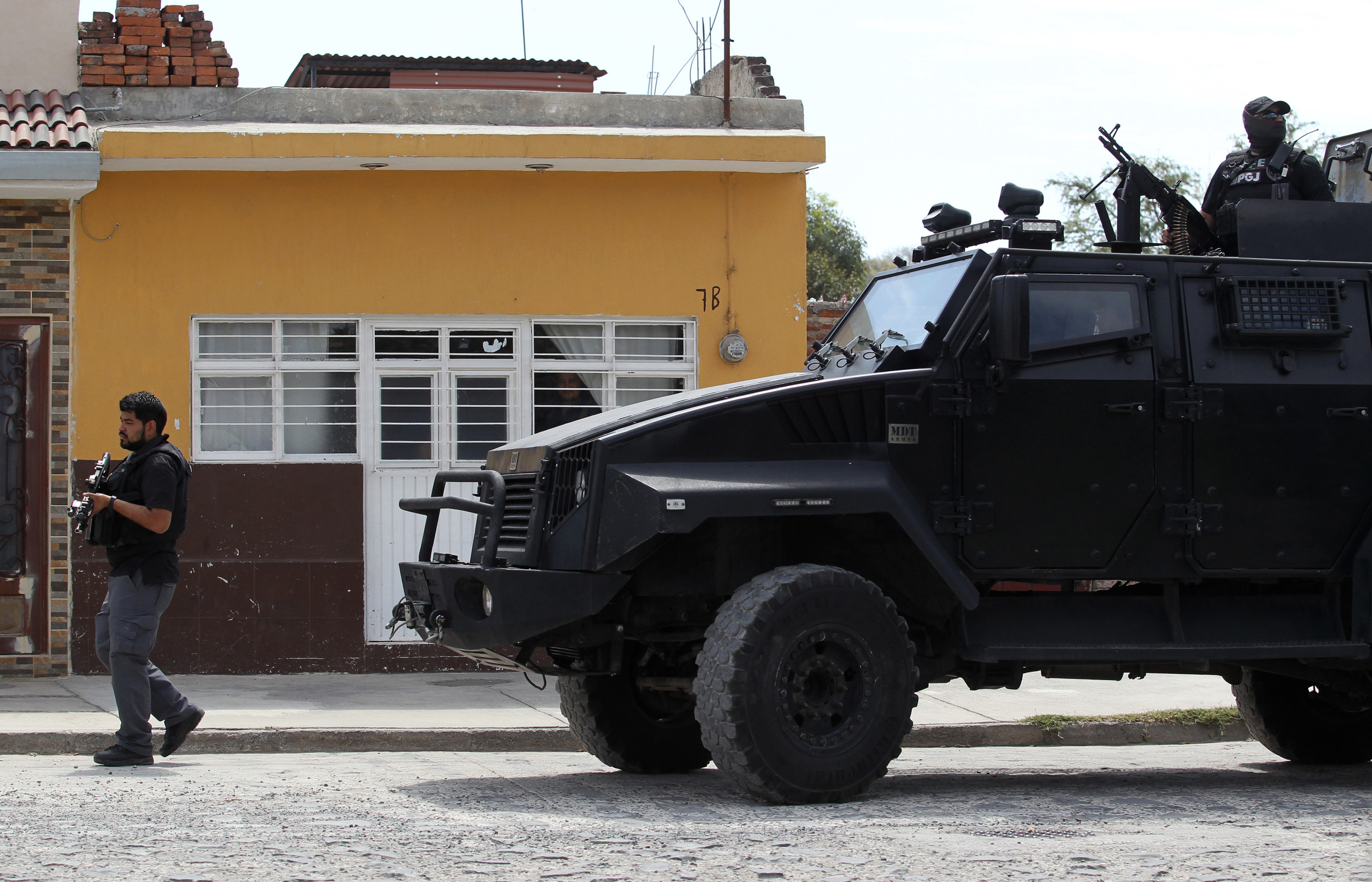 A desperate search has been launched with a $50,000 reward to find four U.S. citizens who were kidnapped in Mexico after gunmen opened fire on their minivan, killing a bystander.
The Americans—one woman and three men—are believed to have been targeted in a case of mistaken identity by a Mexican cartel that mistook them for Haitian drug smugglers, a U.S. official told CNN on Monday. The four victims do not have any concerning criminal history, the unnamed official said during the interview, which came after Friday's attack in the northeast city of Matamoros.
Video footage reportedly from the scene, apparently filmed from a window in a nearby building, shows a woman being bundled onto the flatbed of a pickup truck by heavily-armed men—one of whom appeared to be wearing a tan bullet-proof vest. Then, two men are dragged along the road and thrown next to her; one appears to be able to move, while the other is motionless as he is pulled along and appears to be bleeding. The footage was widely shared across social media after the attack, in which a fourth man was also taken.
Newsweek has reached out to the FBI via email for further information and comment, as the investigative agency searches for the American kidnapping victims.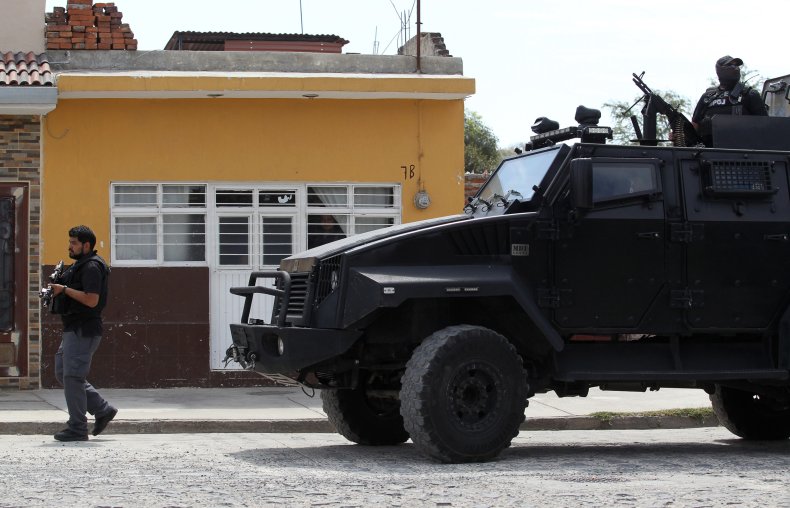 The FBI has offered a reward for information leading to the safe return of four Americans who were kidnapped in Mexico last week. Pictured: Armed police patrol a neighborhood in Tlaquepaque, Mexico, after two agents, six kidnap victims, and a civilian were killed in March 2020. ULISES RUIZ/AFP via Getty Images
News of the kidnapping comes as the U.S. warned citizens to avoid traveling to some parts of Mexico, citing "widespread" crime, kidnappings, and violence. The state of Tamaulipas—where Matamoros is located—was among six states named in the travel advisory. The others were Colima, Guerro, Michoacan, Sinaloa, and Zacatecas.
"The U.S. government has limited ability to provide emergency services to U.S. citizens in many areas of Mexico, as travel by U.S. government employees to certain areas is prohibited or restricted," the advisory said. "In many states, local emergency services are limited outside the state capital or major cities."
The group of four friends, most of whom are from Salt Lake City or Myrtle Beach in South Carolina, have not been officially identified by U.S. authorities, but some families have come forward publicly naming their loved ones as the missing people, and confirming they can identify them in the video showing the moment of their capture.
Latavia "Tay" Washington McGee went to Mexico for a medical procedure and was accompanied by her friends Zindell Brown, Shaeed Woodard, and another man thought to be called Eric, CNN was told by McGee's mother, who was not named in the report.
The mother of 28-year-old Brown said she was able to recognize her son in the shocking footage. Christina Hickson told local news channel WPDE: "I knew immediately that was him…And I knew that he was a third one that was placed on the truck. At that point, my heart was low… Because of how they were treating him. They were just slamming them on the truck like they were dead dogs and that was the most heartfelt moment so far." She added that while the torturous wait for news is hard to bear, she keeps telling herself that "no news is good news."
Brown's sister, Zalandria Brown, said one of the group was in Mexico for a tummy tuck procedure and the friends had all agreed to travel there together to share the driving duties. She told the Associated Press that the FBI has been in contact with the family and added: "This is like a bad dream you wish you could wake up from. To see a member of your family thrown in the back of a truck and dragged, it is just unbelievable."
A driver who saw the violent scene unfold in front of her told AP that the Americans' white minivan was rammed by another vehicle before shots rang out.
The woman, who asked not to be identified for fear of reprisal, said: "All of a sudden [the gunmen] were in front of us. I entered a state of shock, nobody honked their horn, nobody moved. Everybody must have been thinking the same thing, 'If we move they will see us, or they might shoot us.'"
She said a woman was forced into a pickup truck and a man was carried and thrown in with her. "The other two they dragged across the pavement, we don't know if they were alive or dead," she said.
The U.S. Ambassador to Mexico, Ken Salazar, said that an innocent Mexican citizen was killed in the attack that saw the Americans abducted.
"We have no higher priority than the safety of our citizens," Salazar said. "This is the most fundamental role of the U.S. government. Officials from various U.S. law enforcement agencies are working with Mexican authorities at all levels of government to achieve the safe return of our compatriots."
The White House confirmed that President Joe Biden is aware of the situation and the FBI announced it was offering "a reward of $50,000 for the return of the victims and the arrest of those involved."
Back in 2019, three American mothers and several children, including a baby, were shot and killed by members of a Chihuahua cartel, in the border state of Sonora, Mexico.
Meanwhile, mystery surrounds the death of California-based lawyer Elliot Blair who died in a fall from his balcony in January. Mexican officials say the fall was a tragic accident, but his wife alleges he was murdered.