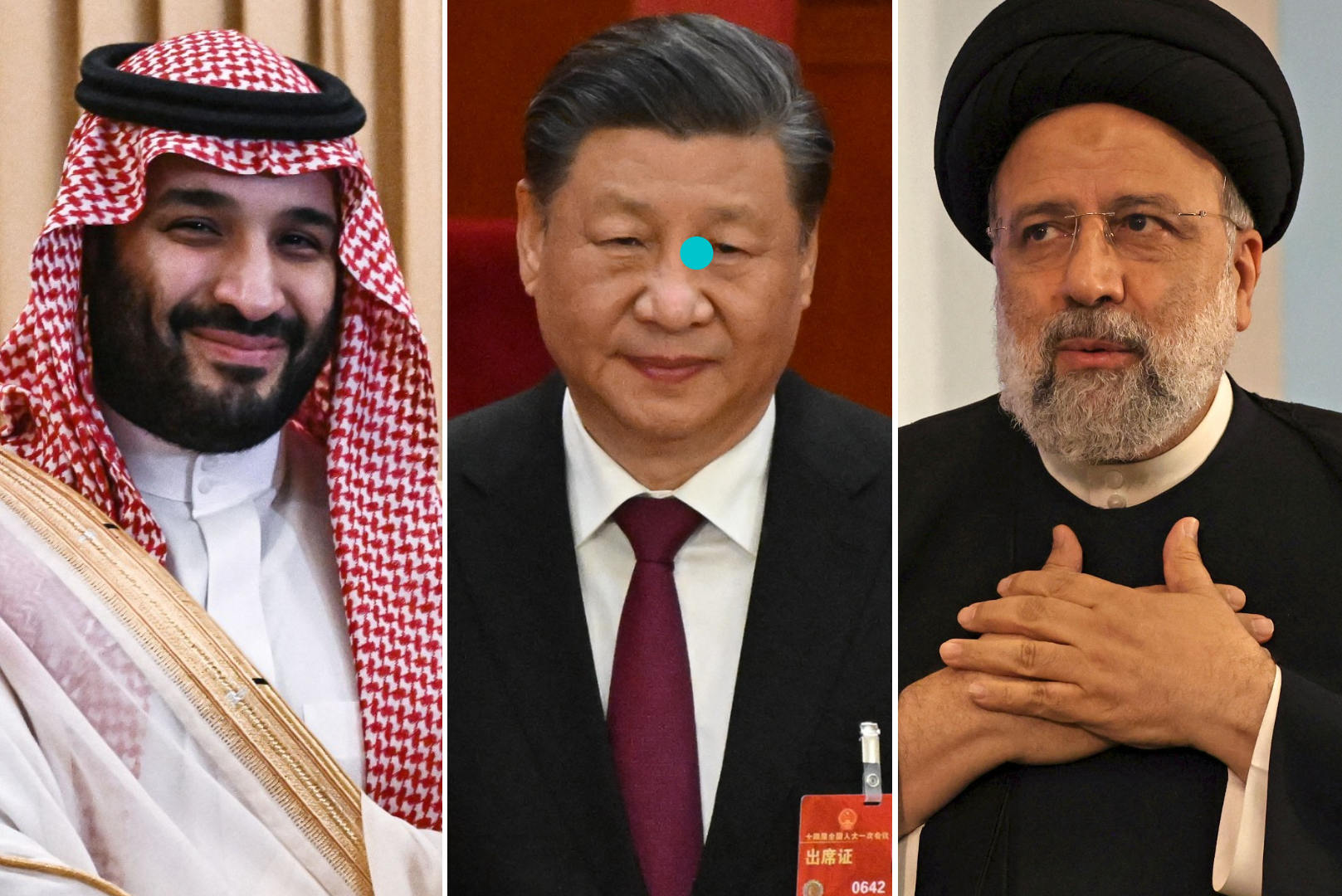 The announcement of a long-awaited deal reestablishing diplomatic ties between rivals Iran and Saudi Arabia has arrived under the auspices of China, whose growing influence in the Middle East has now produced a major milestone for Beijing's efforts to establish itself as a leading diplomatic power.
What could come next, as hoped by experts and officials in China, Iran, Saudi Arabia and even the United States, is tangible progress toward bringing an end to the devastating war in Yemen, which the United Nations considers the world's worst humanitarian crisis.
The historic agreement announced Friday marked the beginning of the end for a seven-year rift between two leading Middle East powers that have vied for influence across the region for decades. It also came on the heels of high-profile visits by Chinese President Xi Jinping to Saudi Arabia in November to attend the first-ever China-Arab States Summit and by Iranian President Ebrahim Raisi to Beijing just last month to bolster the two nations' recent 25-year strategic partnership agreement.
No less important is the fact that the deal came through just as Xi was sworn in to his third term during the third plenary session of the National People's Congress in Beijing.
"This is a huge diplomatic victory for China and definitely an unprecedented step in Beijing's diplomatic engagement with the region," Jacopo Scita, policy fellow at the Bourse & Bazaar Foundation and doctoral fellow at Durham University's School of Government and International Affairs in the United Kingdom, told Newsweek.
"What is clear is that regional countries increasingly perceive China not just as an economic partner but as a diplomatic force that can play an active role in regional dynamics," Scita said.
Questions remain as to whether this could serve as a prelude for a larger grand bargain involving Tehran's broader dynamic with other countries of the Gulf Cooperation Council (GCC).
"There seems to be some room to interpret this as a stepping-stone to lubricate regional dialogue between Iran, Iraq, and the GCC," Scita said.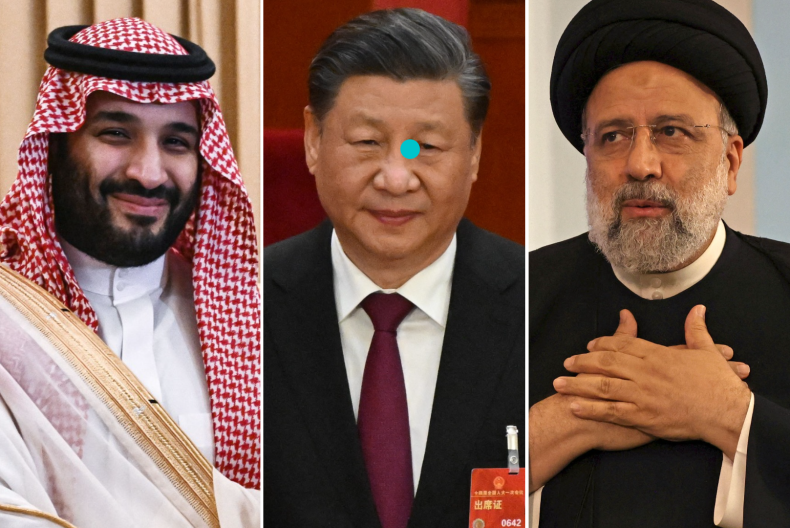 Saudi Crown Prince and Prime Minister Mohammed bin Salman, left, is pictured at the APEC Summit in Thailand on November 18, 2022, while Chinese President and Communist Party Secretary General Xi Jinping, middle, is shown Friday at the third plenary sessions of the National People's Congress in Beijing, and Iranian President Ebrahim Raisi, right, attends a ceremony in Tehran on January 3, 2023. LILLIAN SUWANRUMPHA/NOEL CELIS/NOEL CELIS/AFP/Getty Images
A joint trilateral statement published by the Saudi Foreign Ministry began with crediting the People's Republic, recognizing "the noble initiative of His Excellency President Xi Jinping, President of the People's Republic of China, of China's support for developing good neighborly relations between the Kingdom of Saudi Arabia and the Islamic Republic of Iran."
"The three countries announce that an agreement has been reached between the Kingdom of Saudi Arabia and the Islamic Republic of Iran, that includes an agreement to resume diplomatic relations between them and re-open their embassies and missions within a period not exceeding two months, and the agreement includes their affirmation of the respect for the sovereignty of states and the non-interference in internal affairs of states," the statement said.
The three sides said that the deal laid the groundwork for the top diplomats from both Tehran and Riyadh to come together to discuss "enhancing bilateral relations," as well as the implementation of a security cooperation agreement between them.
Such cooperation could play a key role in not only de-escalating tensions, but also realizing progress in the nine-year civil war in Yemen.
The conflict erupted in the wake of the 2011 region-wide movement of protests that ultimately led to the ousting of longtime Yemeni President Ali Abdullah Saleh. His deputy, Abd-Rabbu Mansour Hadi, however, faced the same deep-rooted economic, political and societal issues as his predecessor, and ultimately struggled with both Shiite- and Sunni-led insurgencies.
From the Shiite camp, Ansar Allah, also known as the Houthi movement, ultimately took the capital in late 2014. By March the following year, Saudi Arabia led an intervention in support of Hadi's government.
Other factions to have emerged in the war include the UAE-backed separatist Southern Transitional Council and jihadi forces such as Al-Qaeda in the Arabian Peninsula and the Islamic State militant group (ISIS).
Saudi Arabia's direct involvement in the conflict, including through a campaign of airstrikes, has been met with ballistic missile and drone strikes launched against the kingdom by Ansar Allah, which Riyadh accuses Tehran of directly arming. A fragile truce established last year ended in October and, while fighting has yet to escalate, the risk of a new violence looms heavy over a nation suffering from a number of overlapping economic, humanitarian and political crises.
With Iran and Saudi Arabia dealing with one another directly once again, however, Iranian officials have predicted further progress toward ending the conflict.
"The Iran-Saudi Arabia relationship is significant on three levels: bilaterally, regionally, and internationally," the Iranian Permanent Mission to the United Nations told Newsweek. "Resumption of political relations between the two countries will benefit all three areas, including the region and the Islamic world."
The mission also said that it "seems a resumption of political relations will speed up Yemen's development for establishing a ceasefire, starting Yemeni-Yemeni dialogues, and forming an inclusive national government."
Newsweek has reached out to the Saudi Embassy in Washington, D.C., for comment.
Now that the deal has been established, Mohammed al-Hamed, a geopolitical analyst and president of the Saudi Elite group, saw a greater role for China in engaging in complex disputes that have plagued the region.
This comes at a time when the U.S., despite being the region's traditional security guarantor, has failed to advance any major diplomatic initiatives in the Middle East since the Abraham Accords that saw Bahrain, Morocco, Sudan and the United Arab Emirates normalize relations with Israel during former President Donald Trump's administration. Israel has long courted Saudi Arabia as well, but tangible progress has yet to be made.
"In the absence of the United States either on confrontation or mediation and as the world witnesses weakness in the U.S. role on Middle East issues, China has made its first and most important initiative in regard of its engaging in the Middle East issues," Hamed told Newsweek.
"China is an important partner to Saudi Arabia and the GCC, especially in economic interests," he added. "This mediation confirms that China wants to support its economy and its position in the Middle East."
But skepticism exists when it comes to the longevity of the agreement as hostility still runs deep between Tehran and Riyadh. Amid years of backing rival forces across the region, they severed ties in early 2016 after the execution of a leading Shiite Muslim cleric in Saudi Arabia resulted in Iranian protesters storming Riyadh's embassy in Tehran.
Both powers have continued to accuse one another of backing destabilizing plots in the region.
Noting the ongoing demonstrations that have rocked Iran over the death of a woman in police custody in September, Hamed said that "Iran doesn't have options rather than complying to abide by international law, and stop supporting militias."
"Saudi Arabia will monitor and watch Iran's commitment to the deal within two months before re-establishing diplomatic ties," he said. "If Iran respects the deal, we could witness and reach peace in Yemen and free the Arab world from the Iranian terrorist militia threat."
Ansar Allah is part of a broader, informal grouping of militias known as the "Axis of Resistance" that oppose Israeli, Saudi and U.S. influence in the Middle East. While the U.S. has labeled several of these groups, including Lebanon's Hezbollah, Iraq's Kitaib Hezbollah and Iran's own state-run Islamic Revolutionary Guard Corps (IRGC) as terrorist organizations alongside the likes of Al-Qaeda and ISIS, Ansar Allah was only briefly given the designation in the final weeks of the Trump administration before being removed shortly after President Joe Biden took office.
And though Biden has criticized Saudi Arabia's human rights record throughout the course of the conflict in Yemen, U.S. officials have been particularly critical of Iran as nationwide demonstrations emerged there and efforts to reverse the Trump administration's abandonment of a multilateral nuclear deal fell through over the summer.
In line with the U.S. hard line against Iran, the White House has also voiced a degree of skepticism on Tehran's commitment to the newly reached deal with Riyadh.
Addressing questions put forth by reporters during a virtual press call Friday, National Security Council Strategic Communications Coordinator John Kirby said that "it really does remain to be seen whether the Iranians are going to honor their side of the deal."
"This is not a regime that typically does honor its word," he added. "So, we hope that they do, we'd like to see this war in Yemen end, and that this arrangement that they have might help lead us to that outcome."
Ultimately, he said Biden's administration would "support any effort to deescalate tensions there in the region," though he "would stridently push back on this idea that we're stepping back in the Middle East."
And while Chinese officials repeatedly deny any concerted effort to compete with the U.S. in the region, Beijing's decisive outcome has put the diplomacy of the People's Republic and Xi's Global Security Initiative in the spotlight.
"This is a massive victory for peace and multipolarity, and definitely a tangible milestone for China's Global Security Initiative and Middle East policy," Shen Shiwei, a journalist and analyst with a background in Chinese business dealings in Africa and the Middle East, told Newsweek, "which is founded on its a long-held position of supporting Middle Eastern countries in upholding their strategic independence, strengthening unity and cooperation, and eliminating external interference in order to genuinely hold their future and destiny in their own hands."
Shen referenced Xi's address during his debut visit to the region as president. Seven years ago, Xi landed in Cairo, Egypt, the first African and Arab country to establish relations with the People's Republic.
As Shen recalled, "In 2016, President Xi clearly stated that China can be a builder of peace with popular support in the Middle East, in accordance with the principles of 'promoting peace talks rather than seeking proxies, calling on all countries to join the Belt and Road Initiative rather than seeking spheres of influence, and building a cooperative partnership network for mutual benefit and win-win results rather than attempting to 'fill the vacuum.'"
Today, both Iran and Saudi Arabia are part of the Belt and Road Initiative, an intercontinental network of largely infrastructure-based projects, along with 148 countries and 32 international organizations.
Shen also saw Beijing's realization of the resumption of ties between Tehran and Riyadh as a sea change for the region, with hope for progress in not only Yemen, but also Syria, now entering its 13th year of civil war.
"The resumption of Saudi Arabia-Iran diplomatic relations is a historic milestone for peace in the region, especially for Yemen and Syria, and the tensions over the deadlocked Iran nuclear talks," Shen said. "It signifies that Saudi Arabia and Iran, two major countries at odds due to complex historical geopolitical factors, have ushered in an opportunity to develop good-neighborly friendship."
"From my perspective," he added, "maybe that's partly why Turkey and Qatar, which both have close ties with Tehran, congratulated Saudi Arabia in phone calls with its foreign minister immediately following the trilateral statement's release."