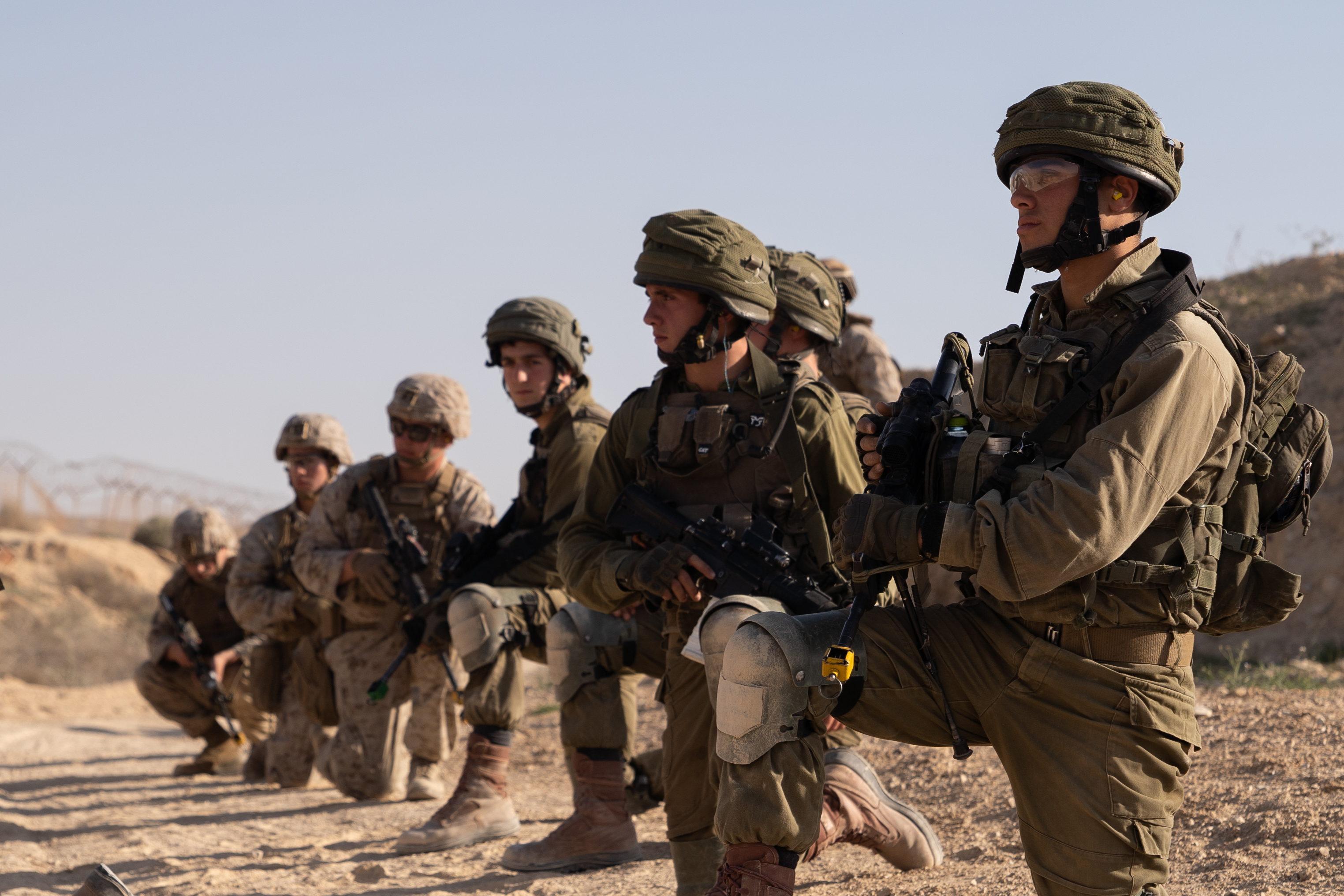 The armed forces of Israel and the United States have wrapped up one of their most tactically involved joint exercises ever, with soldiers from the allied nations practicing fighting alongside one another at a time when both sides faced heightened risks from insurgent groups in the Middle East.
The exercise, known as Intrepid Maven, took place from February 19 through March 1, and marked the first time that Marines of U.S. Central Command (CENTCOM) formally trained alongside the Israel Defense Forces (IDF) since CENTCOM assumed combatant command responsibility over Israel from U.S. European Command in September 2021.
IDF Lieutenant Colonel Gilad Pasternak, commander of the Israeli Training Battalion, said both Israeli and U.S. forces were able to gain a better understanding of one another's tactics, both defensive and offensive, in a setting that placed troops from the two nations directly together on the battlefield.
"We were able to advance, to charge shoulder-by-shoulder with our allies, the Americans," Pasternak told Newsweek.
He also noted that the IDF "had the opportunity to train the Marines on the infrastructure of the IDF, including live-fire instructions on Israeli weapons," and that both sides were "able to learn operational lessons, also on the tactical level."
"I don't think the IDF has ever reached this level of knowledge transfer between the two sides," he added.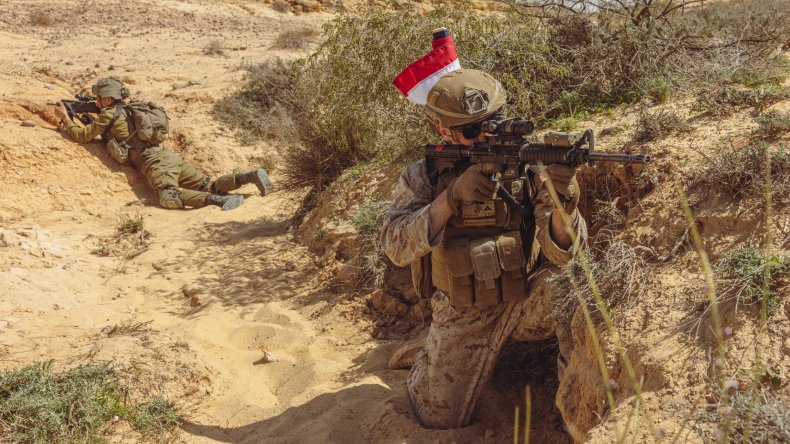 U.S. Marines with 2nd Assault Amphibian Battalion, 2nd Marine Division, and Israel Defense Force soldiers participate in a live-fire and maneuver range during Intrepid Maven 23.2, in Israel on February 28. The Pentagon's visual media service said the joint IDF-U.S. Marines Central Command drill "is designed to improve interoperability, strengthen partner-nation relationships in the U.S. Central Command area of operations and improve both individual and bilateral unit readiness." Lance Corporal Emma Gray/U.S. Marine Corps Forces Central Command
Pasternak said the tactics employed in the exercise, which involved simulated urban combat, had real-world value for both militaries. For Israel, this meant preparing for "open warfare" as opposed to just intermittent attacks on various fronts both to the north, where Lebanon's Hezbollah movement operates, as well as further south, where Palestinian movements such as Hamas and Islamic Jihad are present.
"The next war is going to involve open warfare," Pasternak, who led a platoon in Israel's war in Lebanon in 2006 and served as a company commander in the IDF's 2014 "Protective Edge" war in Gaza in 2014, said. "In this way, the IDF is always trying to improve its capabilities, both weapons and doctrine."
Some of the threats specifically addressed by the exercise involved facing hidden explosives along with rocket and mortar fire, as well as efforts to detect the sources of such enemy operations in a fast-paced combat environment. Such attacks have been witnessed recently emanating from the Gaza Strip as violent unrest within Israel itself also mounts.
But Pasternak pointed out that "the American Marines also need to be dealing with those kinds of threats of artillery, mortars and rockets aiming toward American bases." U.S. military personnel in both Iraq and Syria have faced occasional rocket attacks, often attributed to militias aligned with Iran, Israel's archfoe.
Tehran and Washington have long accused one another of destabilizing the Middle East, and Iran and Israel have openly warned of a direct conflict that would potentially also involve the Islamic Republic's various partner militias present across the region.
Pasternak said that having an opportunity to see how U.S. Marines respond to such threats was "so significant" for the IDF. He argued that "we have different types of battlefields, but we have the same threats."
And while he was doubtful that U.S. forces would need to actually fight in Israel anytime soon, he said he hoped for even closer Israeli-U.S. military cooperation in the future.
"Israel has a great ability to defense itself and Israel has a powerful military, powerful assets and also powerful friends," Pasternak said. "So, I don't think we'll see very soon or at all Americans and Israelis fighting on Israeli soil. That's definitely not going to happen, I think in the short term or long term."
"But I think that the ties that we are holding, we're speaking about the technology, about doctrines, about methods, will continue more and more," he added, "and I hope will be extended more and more as time goes by."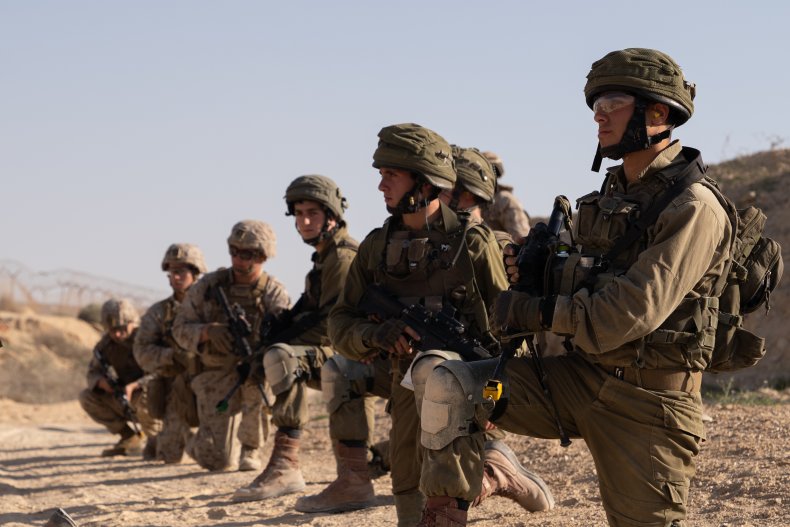 Israel Defense Forces and U.S. Marines personnel train together during Exercise Intrepid Maven 23.2, which took place from February 19 through March 1 in Israel. The IDF said "the exercise strengthened cooperation and mutual learning between artillery and infantry troops." Israel Defense Forces
U.S. Marine Corps Captain Sean Styerwalk, who serves as a company commander of 2nd Assault Amphibious Battalion, 2nd Marine Division, also stated that knowledge-sharing opportunities were critical for the two sides.
"What our goal over here was to once again to increase that unit readiness through conducting provisional infantry training up to the fire team level," Styerwalk told Newsweek. "It worked. It was great with us being able to work hand-in-hand with the IDF because the IDF has different tactics, techniques, and procedures—TTPs for short—than we have."
"We were able to learn their TTPs from them and also at the same time, be able to teach them some of our TTPs to continue to build that interoperability experience between our two countries," he added.
Specifically, Styerwalk said that among the most useful takeaways from the exercise was "an increased increase unit readiness when it comes to close-quarter battle."
One final exercise involved a combined IDF-U.S. "red cell" unit playing the role of enemy combatants. This practice, Styerwalk said, offered insight into "human nature and that uncertainty, that friction, that fog of war that is inherent in battle."
"The training that we conduct is at a level that prepares us every time that we conduct this training, as we continue to progress in our TTPs, to be able to confidently go against any foe on the battlefield," Styerwalk said.
And, like Pasternak, he looked forward to further integration of the two armed forces.
"They are a key strategic partner within this region, so all of the bilateral opportunities that we have the opportunity to grow on both sides of the house is a great thing for us," he said. "That's a good asset."