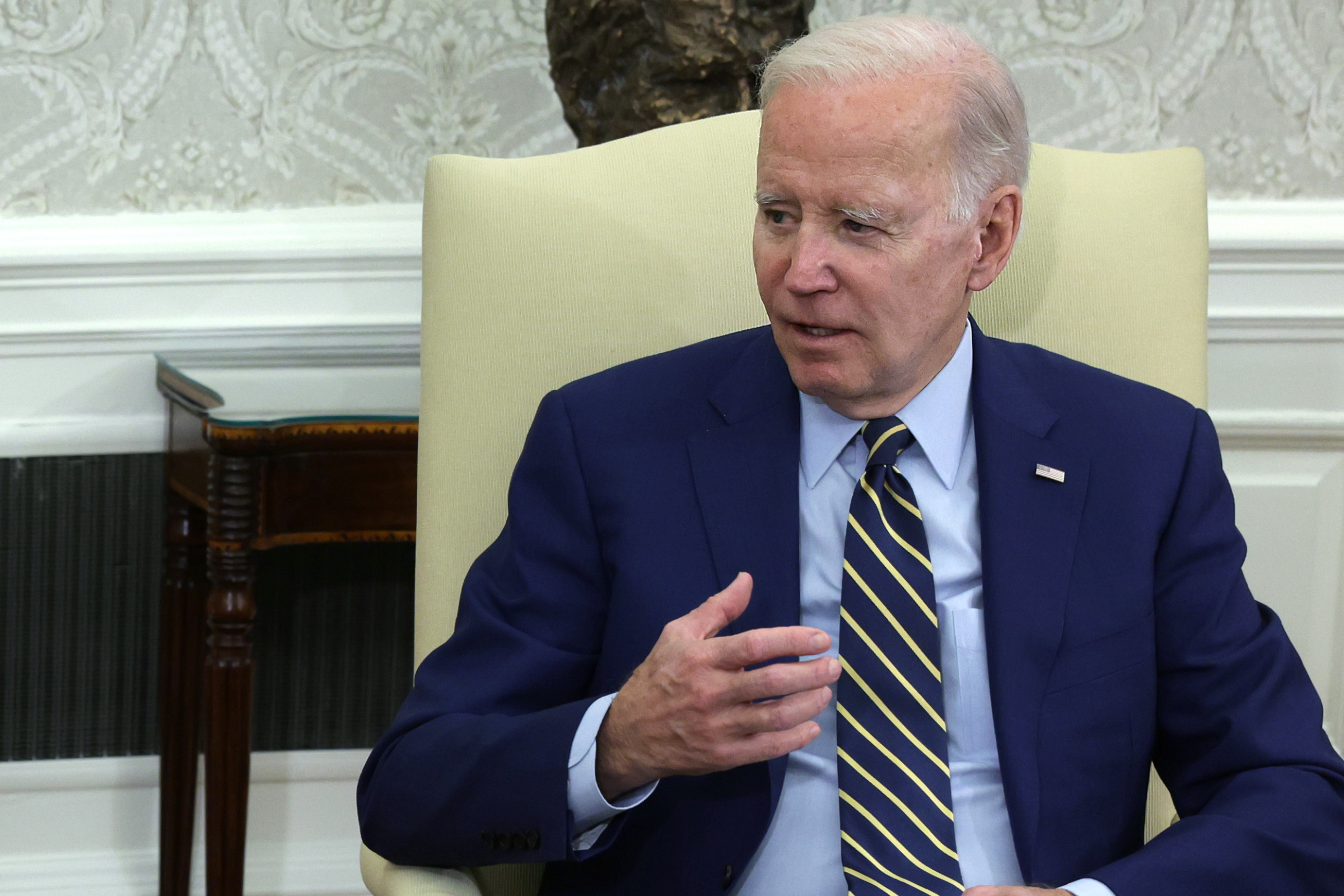 Since first announcing his intention to run for president three years ago, President Joe Biden—the oldest man to ever occupy the position—has faced questions about his age.
A 2019 New York Times article heralding his run ended with a paragraph raising questions about his age, noting there were "few modern examples of a man of Mr. Biden's age assuming the leadership of a Western democratic power." Throughout his presidency, conservative commentators and critics have taken regular jabs at Biden over a mounting list of gaffes he'd committed, regularly questioning whether his age was contributing to his alleged incompetence.
And along the way, Biden, 80, has found himself on the defensive, regularly bristling at questions about his ability to lead the country—much less run for a second term—as he approaches his 82nd birthday next election cycle. Until recently.
In recent speeches, Biden—like Ronald Reagan well before him—has begun poking fun at his age in a move some observers believe is an effort to reclaim narratives about his ability to serve a second term.
In a speech to Democratic lawmakers this month, Biden joked he'd served "270 years" in the U.S. Senate before running for president.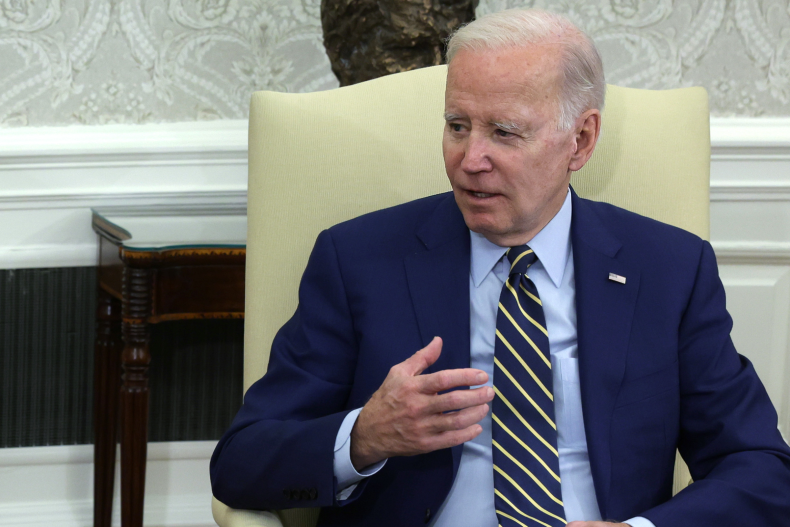 President Joe Biden meets with President of European Commission Ursula von der Leyen (not pictured) Friday during a bilateral meeting in the Oval Office of the White House in Washington, D.C. Biden, 80, has recently begun making light of his age in a push to shift the narrative about his abilities to lead the nation. Alex Wong/Getty Images
In remarks to the International Association of Firefighters this week, Biden joked about his receding hairline and alluded to earlier gaffes in his presidency, including a time he was harangued in the press after telling guests at a speech to sit down when there was in fact no place to sit. And in introducing his budget, he pitched his age not as a weakness, but as an advantage as they seek to weather a divided Congress and retain control of government in 2024.
"We've got work to do, but we've made a lot of progress in the first two years. And families across the country are starting to breathe a little easier, but they got—we've got further to go," he said earlier this week. "And I can honestly say I have never been more optimistic about America's future than I am today. I mean that sincerely. As you can tell, I've only been around a few years. Like 400."
Ahead of a likely bid for reelection, Biden's age remains a vulnerable point. While his approval ratings have steadily trended upward after a surprising performance by Democrats in the 2022 midterm elections, a recent Associated Press poll revealed just 37 percent of Democrats want Biden to run for reelection, with his age representing a significant factor.
Meanwhile, outlets like The Wall Street Journal and South China Morning Post have noted some big-name TV comedians—like Jimmy Kimmel and Jimmy Fallon—have begun cracking jokes about the president's age.
"Which is more dangerous, Joe Biden having classified documents in his garage, or Joe Biden having the keys to a Corvette?" Kimmel joked after a series of classified documents were discovered to be improperly stored at several properties tied to the president.
For Biden, the change in tenor around his age could be seen as something of a means to own the narrative, similar to how then-President Reagan turned the tide of a debate against a more youthful opponent in his 1984 reelection campaign.
"I will not make age an issue of this campaign," Reagan famously quipped. "I am not going to exploit, for political purposes, my opponent's youth and inexperience."
In Biden's case, age should not distract from his accomplishments—a fact some of his closest supporters are seeking to emphasize. One of those individuals is Ethan Wolf, a young Democrat from Ohio who runs a popular Twitter account called Biden's Wins, which focuses on the president's legislative successes ahead of his likely reelection bid next year.
Breaking: The economy added another 300,000+ jobs this month. As @POTUS would say, that's a big effin' deal.

— Biden's Wins (@BidensWins) March 10, 2023
A member of Gen Z, Wolf is also a member of the demographic least thrilled about the prospect of a second Biden term. According to other polling after the midterms, polls showed Biden's most precipitous losses in support came from youngest U.S. voters.
However, those voters ultimately proved critical to a number of Democratic wins in a tough midterm election season. And Biden, Wolf said, is doing an effective job reminding those voters what's at stake in the 2024 elections, backing away from the reserved, defensive posture he had in the first half of his term into one willing to take control of narratives surrounding his viability.
"We've seen a more aggressive President Biden as we've seen him start to kick into gear his preparations for the 2024 campaign," said Wolf. "He's creating a stark contrast between what he has done and what he will continue to offer versus what Republicans did the last time that they had the White House and what they potentially would do if they were to regain the White House in 2024."
Though voters have long expressed discontent with older candidates, history shows that when it comes time to cast a ballot, issues—rather than a candidate's age—are the primary motivators behind their decision. A recent University of Colorado-Boulder study found that while younger voters historically disapproved of older politicians' job performance versus their younger colleagues, they were also just as willing to vote for the older candidate based on the content of their platform.
Biden seems aware of this. As he often says in a phrase he credits to his father: "Joey, don't compare me to the Almighty. Compare me to the alternative." And for Wolf, Biden's accomplishments, rather than his age, will be the deciding factor for most voters should he run.
"Everybody knows Joe Biden's age," said Wolf. "But they can also point to five, six substantial pieces of legislation he's gotten through. Most presidents get one to two major pieces of legislation through a term, if they're lucky. So when you are able to say, 'Yes, my age is a fact, but I've been able to get these things done.'"
My dad used to say, "Joey, don't compare me to the Almighty. Compare me to the alternative."

And here's the deal: Democrats want to codify Roe. Republicans want a national ban on abortion. The choice is clear.

— Joe Biden (@JoeBiden) October 3, 2022