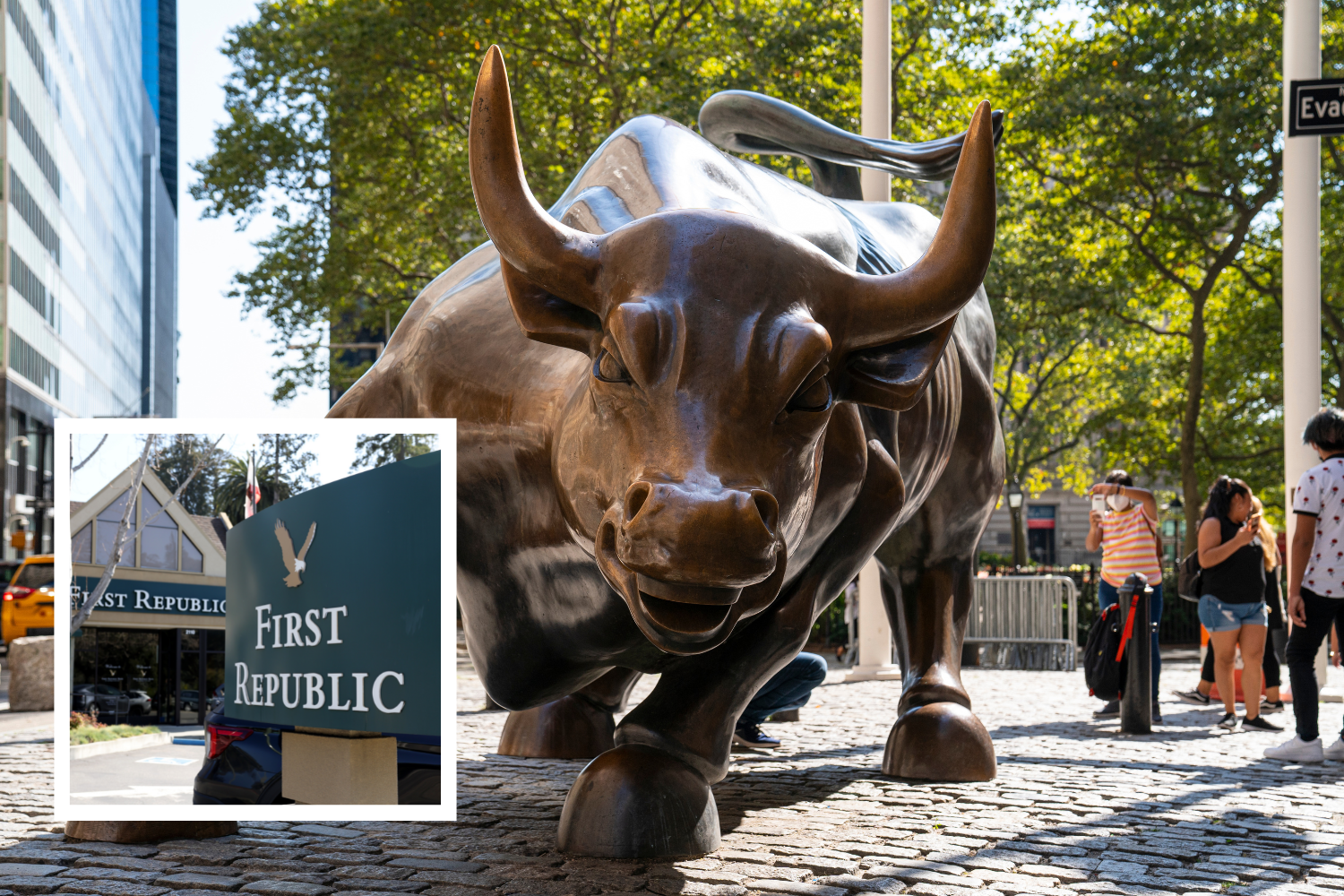 The nation's largest banks are rallying to save First Republic Bank from collapsing, delivering $30 billion in deposits as part of a rescue package amid a difficult week for the midsized lender.
On Thursday, the group of 11 banks, including J.P. Morgan, Bank of America, Citigroup and Wells Fargo, announced it would be making the deposits in hopes of saving First Republic from a bank run as many of its customers rushed to move their money to larger-bank rivals this week.
"This action by America's largest banks reflects their confidence in First Republic and in banks of all sizes, and it demonstrates their overall commitment to helping banks serve their customers and communities," the banks said in a statement.
Last week's Silicon Valley Bank (SVB) collapse sent shockwaves across the American banking system, leaving a number of small and midsized banks on edge as they waited to see if depositors would drive them to default.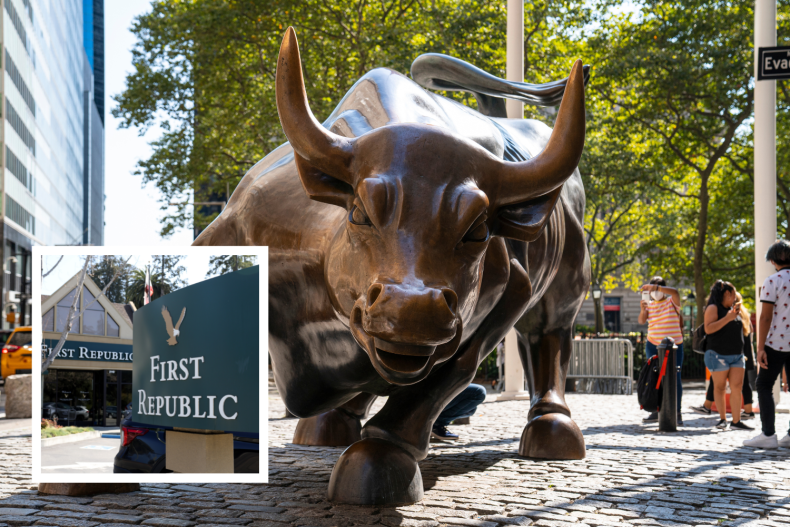 A view of the bronze Charging Bull on Wall Street stands at a lower Broadway park at Bowling Green on September 28, 2020, in the Financial District of New York City. In the inset, a First Republic Bank office is pictured in Oakland, California. Eleven banks are rallying to save First Republic from collapse. Justin Sullivan/Robert Nickelsberg/Getty Images
First Republic is among six banks that ratings agency Moody's Investment Service downgraded for review this week. On Monday, Western Alliance, Zions, Comerica, UMB Financial and Intrust Financial were also downgraded due to the "extremely volatile funding conditions" to which the smaller lenders were exposed. On Wednesday, the nation's other two ratings agencies, Fitch Ratings and S&P Global Ratings, also downgraded First Republic's credit rating.
However, on Thursday, the 11 lenders behind the rescue package stressed that, "Regional, midsize and small banks are critical to the health and functioning of our financial system."
The bank-to-bank bailout comes days after First Republic's stock plunged 66 percent in the last week. The $30 billion is expected to deliver the lender enough cash to deal with the influx of withdrawals.
The midsize bank had already lined up $70 billion in additional financing from the Federal Reserve and J.P. Morgan, which is the world's largest bank, earlier this week to make good with its depositors.
Founded in 1985, First Republic has around 85 retail branches in areas like Los Angeles, San Fransisco, New York City, Palm Beach, Boston and Jackson, Wyoming.
Like SVB, First Republic has used a large portion of its deposits on long-term investments that have lost value due to the Fed's interest rate hikes. Those losses are exactly why SVB was driven under by a bank run in the first place. Federal regulators shut down SVB only 48 hours after the lender informed its clients that it had to sell parts of its bond holdings to make good on withdrawals.
Newsweek has reached out to First Republic for comment.