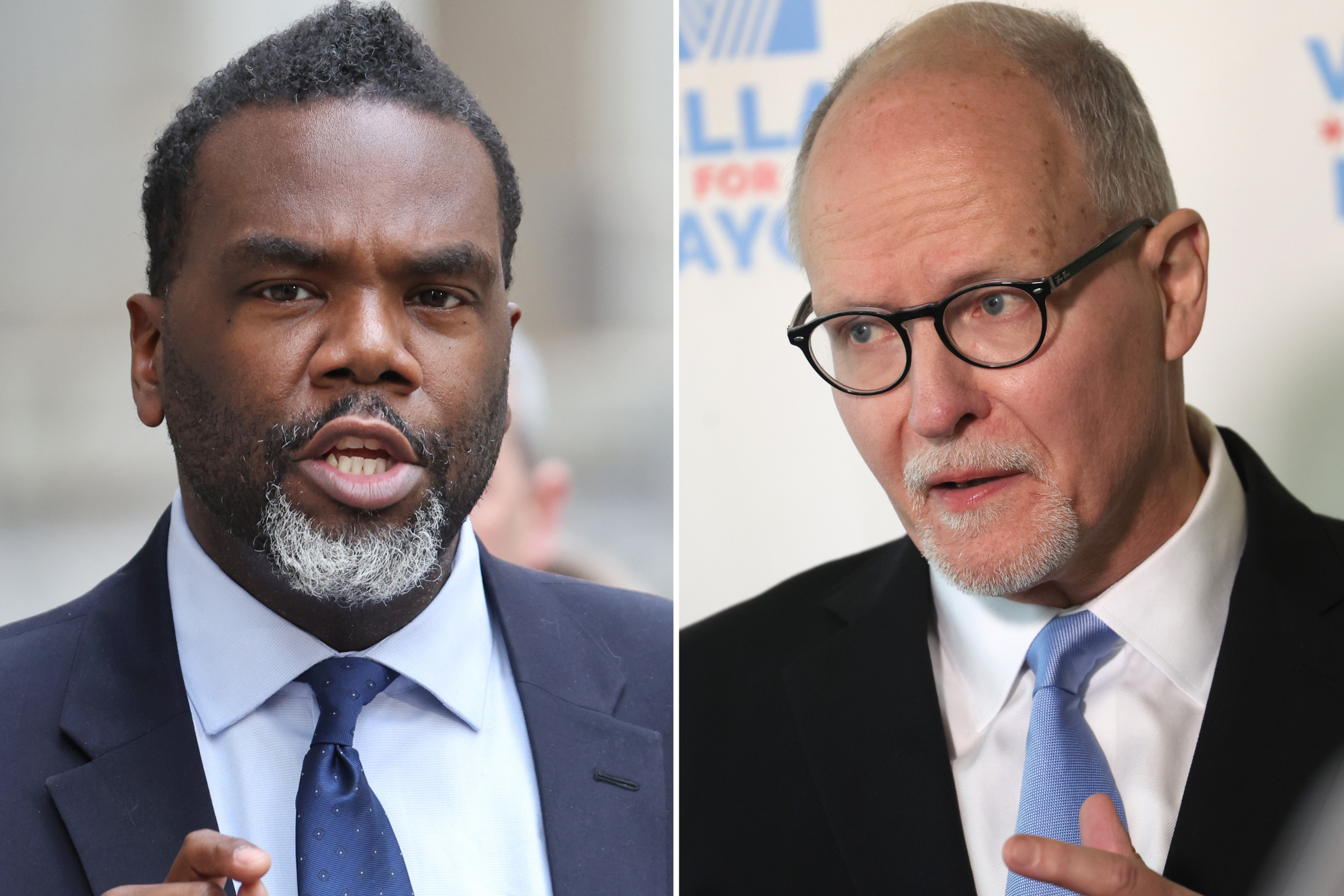 Brandon Johnson took shots at his challenger Paul Vallas after the two Democrats advanced in the Chicago mayoral race Tuesday night.
Chicago Mayor Lori Lightfoot conceded in her reelection bid after she ranked third behind Vallas and Johnson with 90 percent of the vote counted. Johnson, the Cook County commissioner, and Vallas, former public schools chief for Chicago, Philadelphia and New Orleans, will face off in an April runoff election after no candidate was able to secure over 50 percent of the vote to win outright.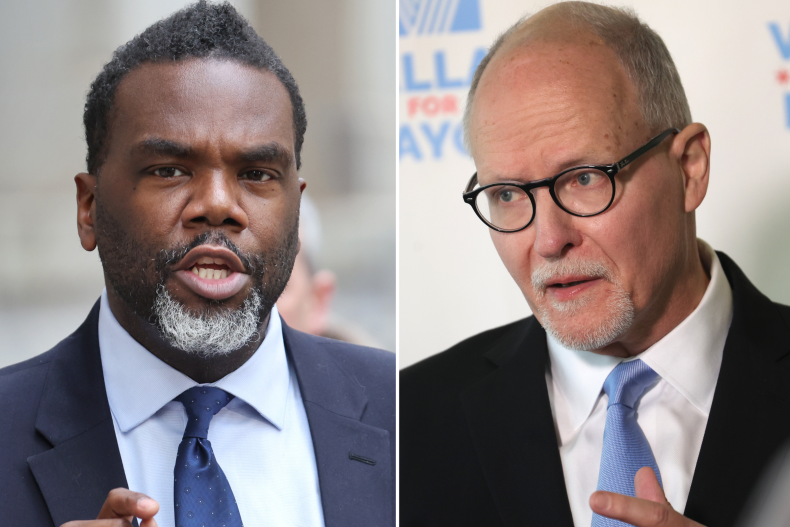 Cook County Commissioner Brandon Johnson, left, speaks at a press conference outside City Hall on January 24, 2023, in Chicago, Illinois. Fellow Chicago mayoral candidate Paul Vallas, right, is pictured at his campaign headquarters on February 3, 2023. The Democrats are headed for a runoff election in April. Scott Olson/Getty Images
Despite sharing the same political party, Johnson and Vallas have stark differences on public safety and policing—one of Chicagoans' top issues this election cycle. While Johnson argues that the way to address crime is to redirect resources into mental health services and education, Vallas has called to add hundreds of officers to the city and to improve community relations with the police force to create a safer Chicago.
Vallas addressed that pledge at his victory party for supporters on Tuesday. "We will have a safe Chicago. We will make Chicago the safest city in America," he said.
Vallas also won the endorsement of the conservative Fraternal Order of Police in Chicago, whose leader, John Catanzara, defended the January 6 attack on the U.S. Capitol, saying that he understood the frustration felt by supporters of former President Donald Trump.
The police union leader also sparked controversy after equating Lightfoot's vaccine mandate for all city employees to the Holocaust, reported the Associated Press.
While speaking to his supporters Tuesday night, Johnson accused Vallas of being "supported by the January 6 insurrectionists," and claimed Vallas had stated in the past that he "fundamentally opposes abortion" and called himself "more of a Republican than anything else."
Johnson also took shots at Vallas' history as a public schools chief, claiming that he "ran the teachers' pension fund into the ground, close neighborhood schools and punished students who were in need" while serving as head of Chicago Public Schools from 1995 to 2001.
"This is the truth about Paul Vallas," Johnson said. "He has literally failed everywhere he is gone."
A former teacher, Johnson has been endorsed by the Chicago Teachers Union and earned the support of several other progressive organizations, including United Working Families.
Vallas called himself a "lifelong Democrat" while addressing his own supporters Tuesday, and said that he's "had success" throughout his public service career "because I always had the good sense to listen to the community, to empower the community and draw my leadership from the community."
Vallas also spoke about being taught by former Illinois Comptroller Dawn Clark Netsch "about the importance of protecting a woman's right to choose," and noted his past support of marriage equality.
Voters seemed to be focused on the crime issue, the Associated Press reported. Rita DiPietro, who lives downtown, said that she supported Lightfoot in 2019 but voted for Vallas on Tuesday.
"The candidates all talk about what they'd like to do," she said. "This guy actually has a plan. He knows how he's going to do it."
Lindsey Hegarty, 30, who lives on Chicago's North Side, voted for Johnson because "he seemed like the most progressive candidate on issues like policing, mental health" and public transit, AP reported.
With 94 percent of the votes in on Tuesday night, Vallas had secured 33.8 percent, while Johnson trailed with 20.3 percent, reported The New York Times.
Newsweek has reached out to the campaigns of Johnson and Vallas for comment.
Update, 3/1/23, 6:40 a.m. ET: This article was updated with additional information and quotes.