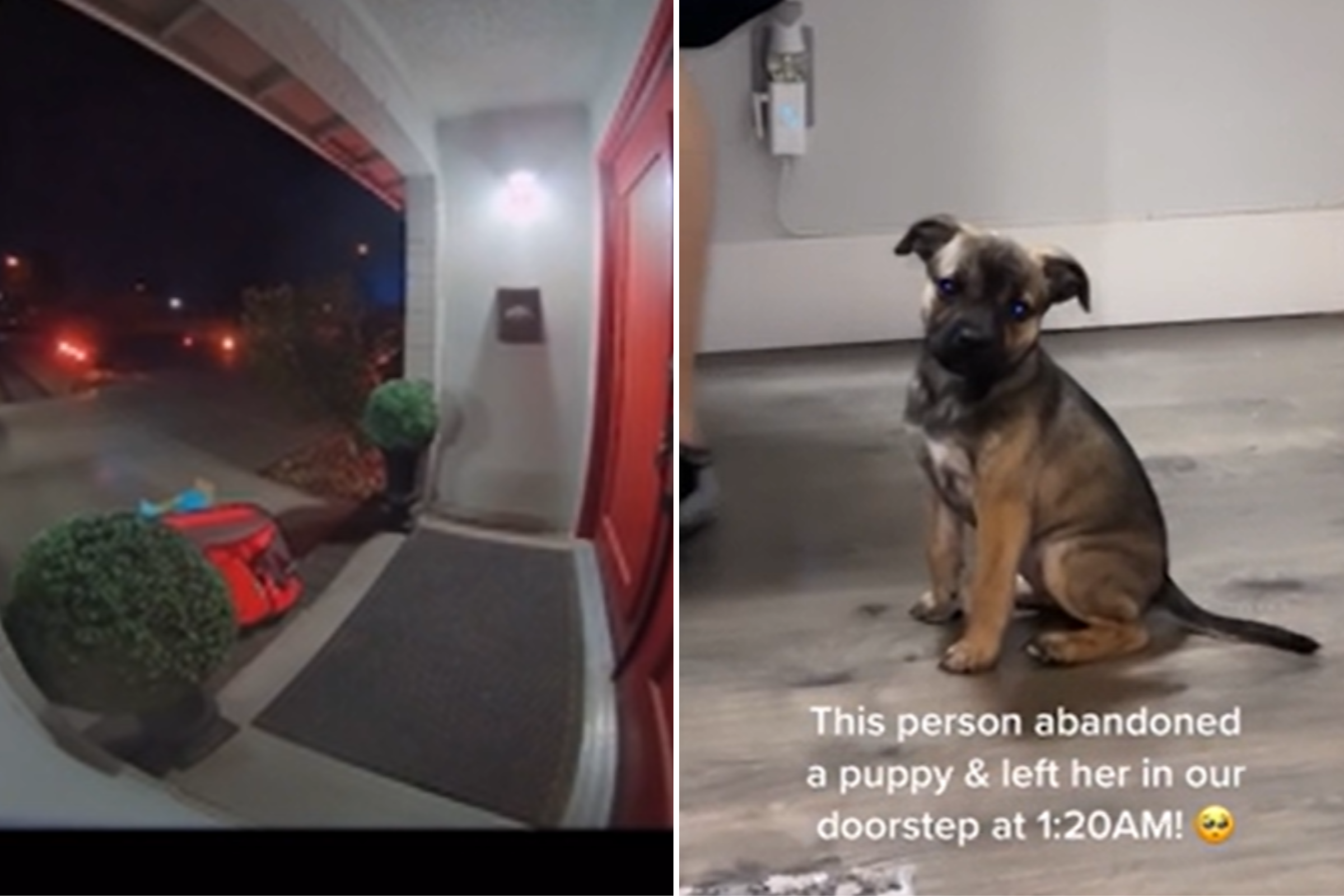 One man received a very special delivery when a puppy was left on his doorstep recently with no explanation.
In the early hours of March 5, a stranger left the young animal in a travel carrier on the doorstep of Jose Granados's home in Las Vegas. The person hurried off immediately, leaving the puppy waiting to be found.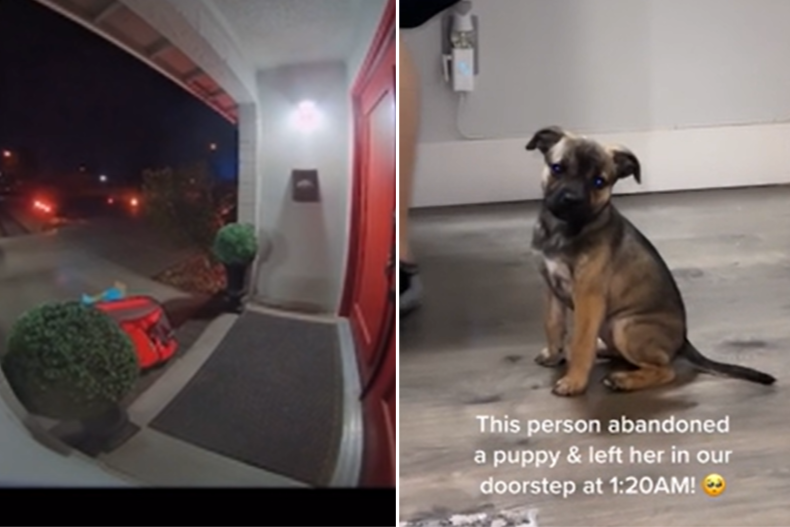 Photos of Luna, who was abandoned (left) on March 5. She was found in the early hours in a puppy carrier, after being dumped on a doorstep. @jay.mua702
The American Society for the Prevention of Cruelty to Animals (ASPCA) estimates that 44 percent of households have a dog. Most people get their dogs from a breeder, as 34 percent of owners chose the traditional route to add a pet to the family.
Adopting from shelters has risen in numbers and now equates to around 23 percent of dog ownership. However, 6 percent of dog owners found their pet after noticing it was a stray and needed a home.
Granados shared the footage captured on his home-security camera on TikTok (@jay.mua702). He posted how someone "abandoned a puppy and left her" in front of his home until she was discovered.
Alongside the heart-breaking video, Granados wrote: "People can be so cruel! Poor baby girl was abandoned at our front doorstep in the middle of the night."
Fortunately for the puppy, who has been named Luna, she was outside for just over 10 minutes before Granados saw the footage and instantly brought her inside.
After the TikTok video went viral with over 5.3 million views, Granados told Newsweek: "It was 1 a.m. when my brother woke me up and said there was somebody outside.
"He said that he could hear something crying. We have two dogs of our own, so he thought one of them was out there. But I knew that wasn't possible because they sleep with me.
"I grabbed my phone and pulled up our Ring camera, and saw there was a red thing and a box on our front doorstep," Granados said. "When we went to check, we obviously noticed it was a puppy that had been left behind by someone.
"After looking at the footage, the puppy was left at 12.47 a.m., and we noticed her at 1.01 a.m., so she wasn't out there for too long, thankfully," he added.
The discovery was a total shock to Granados. However, the makeup artist couldn't resist providing Luna with a safe new home.
She is now thriving there. Her new owner says she loves chewing things and playing with the other dogs in the home.
"Although we definitely weren't looking to add another member to our family, there's no way we couldn't give that baby the forever home she deserves," Granados added.
"She's doing great now. She loves to eat, sleep and chew on things. She's working on being potty trained at the moment, and enjoys picking on her other two sisters.
"We have no clue why she was dropped off to us specifically. That's probably the one question I wish I knew the answer to."
Granados still isn't certain what breed Luna is, but he has sent off a DNA test to hopefully find out more about the newest member of the family.
The viral video has more than 898,000 likes on TikTok, and over 13,000 comments from people demanding more puppy updates to make sure Luna is doing well.
Fortunately for them, Granados is more than obliging. He has continued to post videos of the puppy enjoying her new home, which includes plenty of snoozing.
While abandoning any animal is incredibly cruel, many TikTok users suggest that Luna's previous owner was trying to do what was best for her by leaving her on a doorstep so she was discovered.
One person wrote: "That person had enough heart to stop at someone's door, and not leave that puppy in some field or on the roadside. Thank you for keeping her."
Another user shared a similar perspective, as they commented: "When people abandon a puppy at your door it's because they cannot keep it, and you were the most trusted, loving home."
Do you have funny and adorable videos or pictures of your pet you want to share? Send them to [email protected] with some details about your best friend, and they could appear in our Pet of the Week lineup.