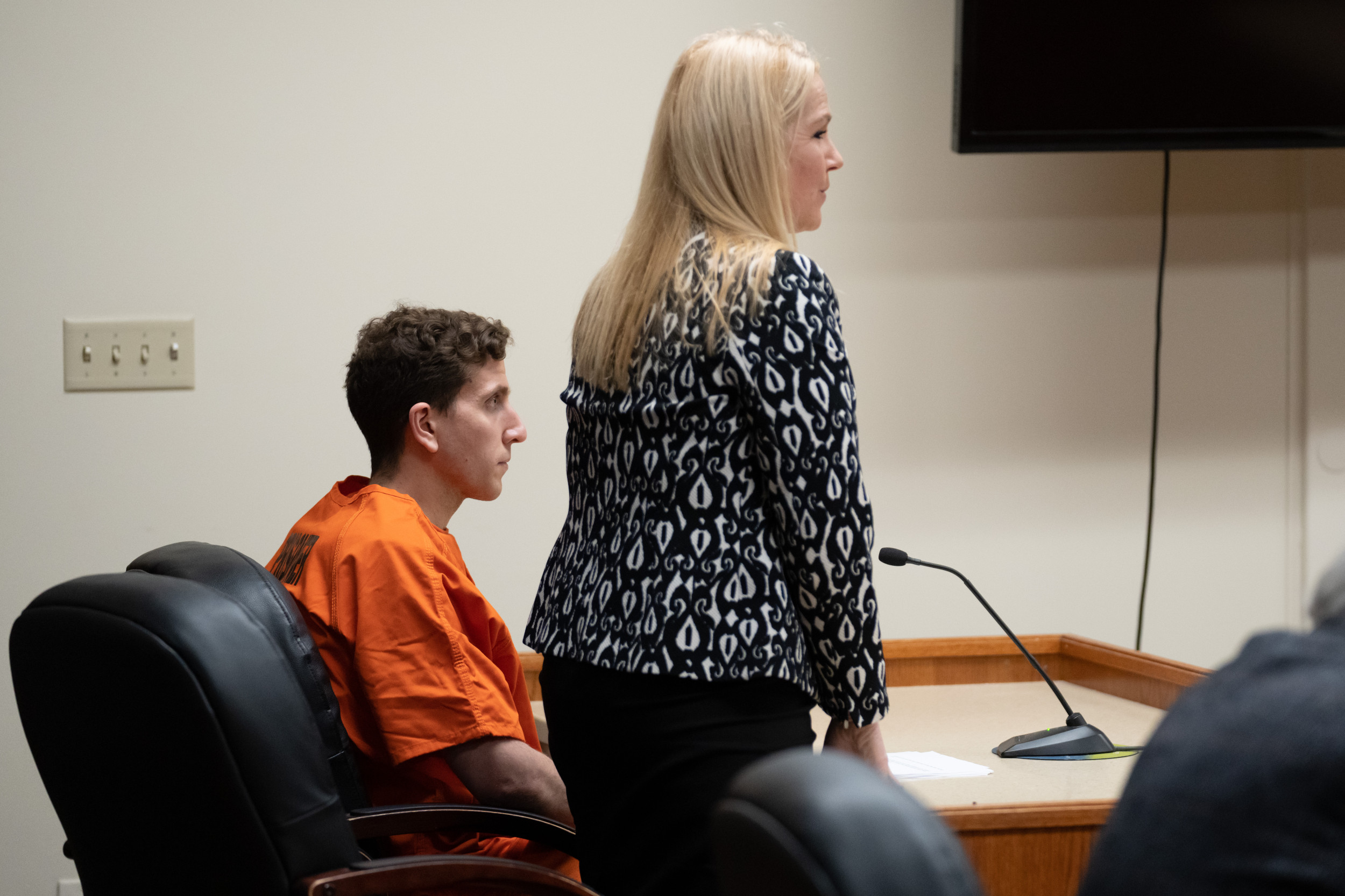 Bryan Kohberger's court-appointed attorney will continue representing him after a hearing was held earlier this year to address concerns about a possible conflict of interest.
Anne Taylor, the chief of the Kootenai County public defender's office, began representing Kohberger after he was extradited to Idaho from Pennsylvania to face charges in the slayings of four University of Idaho students.
He is accused of breaking into a rental home in Moscow, Idaho, on November 13, 2022, and fatally stabbing Kaylee Goncalves, 21, Madison Mogen, 21, Xana Kernodle, 20, and Ethan Chapin, 20.
It later emerged that Taylor was listed in court records as representing Xana Kernodle's mother, Cara Kernodle, up until taking Kohberger on as a client. Her office also reportedly represented two other parents of the victims.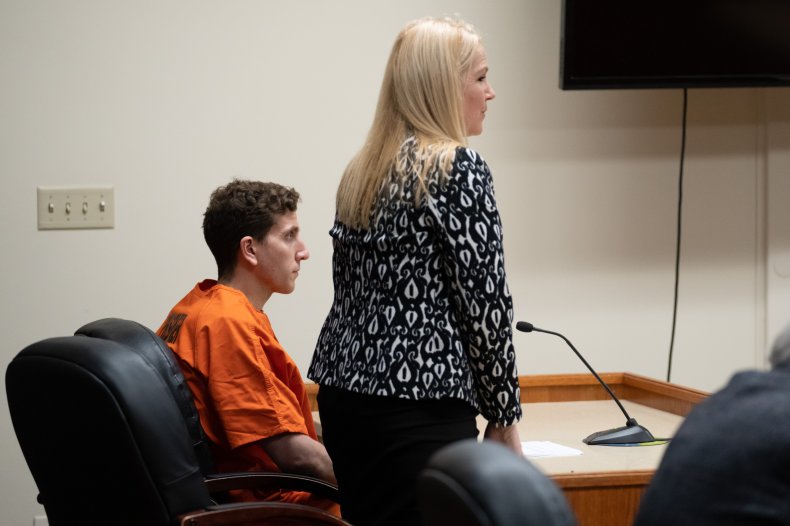 Bryan Kohberger sits as his attorney, public defender Anne Taylor, right, speaks during a hearing in Latah County District Court on January 5, 2023, in Moscow, Idaho. Kohberger's court-appointed attorney will continue representing him after a hearing was held earlier this year to address concerns about a possible conflict of interest. Pool-Getty Images/Ted S. Warren
Taylor filed a notice to withdraw from Cara Kernodle's case on January 5—the same day Kohberger made his first appearance in an Idaho courtroom, which legal experts told Newsweek raised questions about conflicts of interest.
Taylor explained why she does not believe there is a conflict in the case during a hearing held via Zoom on January 27, according to newly unsealed court documents.
She told Latah County Magistrate Judge Megan Marshall during the hearing that her name appears on every document in the public defender's office, but below that is the name of the attorney that represents the individual in the case, according to the minutes of the hearing.
One case involving Cara Kernodle is "an open felony case that she was not assigned to and the case has since been conflicted out," Taylor said.
She explained that her practice is to transfer all cases that are pending withdrawal or have a bench warrant (usually over failure to appear in court) issued to her.
That is why, she said, a 2017 misdemeanor case in which Cara Kernodle was already sentenced and that her office was waiting to withdraw from, ended up being assigned to her on October 20. The attorney who represented Cara Kernodle in that case had left the public defender's office in September or October last year, she said.
Cara Kernodle said in January that she "felt heartbroken" that Taylor was representing her daughter's alleged killer. "She pretended that she was wanting to help me and to find that out that she's representing him, I can't even convey how betrayed I feel," she said.
Taylor told the judge during the hearing that from October 20 until the date she withdrew from the case, she had "no contact or relationship" with Cara Kemodle. Taylor said she had not met her or provided any legal advice.
She also told the judge that she had spoken with Latah County prosecutor Bill Thomas and Ashley Jennings, senior deputy prosecutor, to explain the situation. People she spoke with at the Bar Counsel's Office of the Idaho State Bar agreed that there was no conflict of interest, she said.
Taylor "stated that there is no other person that she is connected to in this case, and stated that Mr. Kohberger is the only individual in this case to whom she owes a duty of advocacy and loyalty," the minutes said.
The judge then questioned Kohberger, who said that "given the information he has heard and the conversations he has had with Ms. Taylor, he feels comfortable proceeding with her as counsel," per the minutes.
Kohberger is charged with four counts of first-degree murder and one count of felony burglary. He has not yet entered a plea to the charges, but a lawyer who previously represented him in Pennsylvania, where he was arrested on December 30, said he was "eager to be exonerated."
Early in January, Judge Marshall issued a gag order, barring attorneys, law enforcement agencies, and others associated with the case from talking or writing about it. She later broadened it to also prohibit any attorneys representing survivors, witnesses, or the victims' family members from talking or writing about the case.
A five-day preliminary hearing is scheduled to begin on June 26.