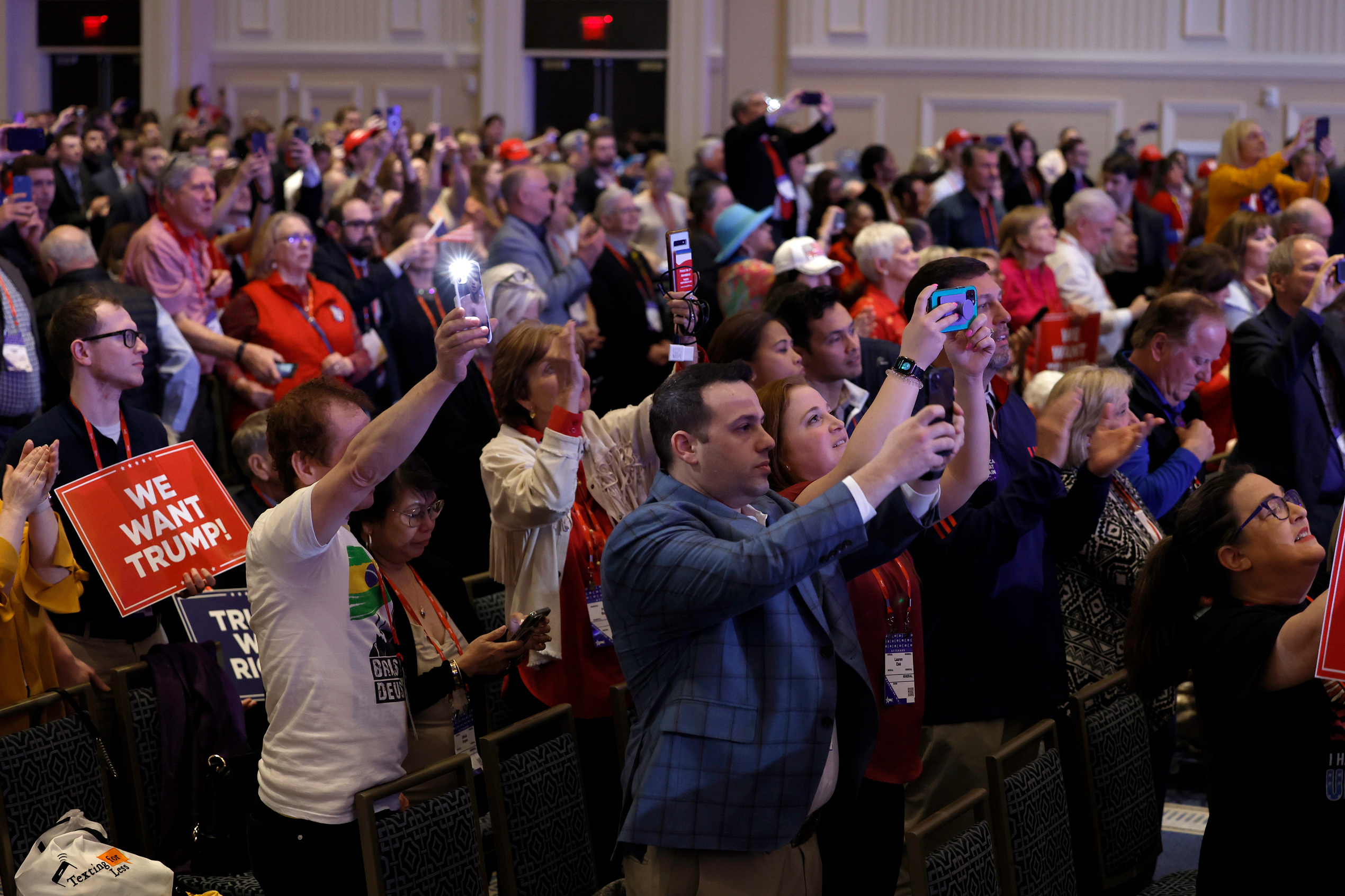 A Capitol riot suspect is being chastised by the government for attending a conservative conference when he was supposed to adhere to specific travel restrictions.
On March 1 Gabriel Augustin Garcia, on behalf of his attorney, Angela Webb, issued a motion of request "to travel to, and enter into" the District of Columbia that day to observe two January 6 trials taking place that week: USA v. Gossjankowski and USA v. Tarrio, "and also any other J6 trials or court proceedings occurring."
U.S. attorneys claim that Garcia spent more time at the Conservative Political Action Conference (CPAC) than observing trials.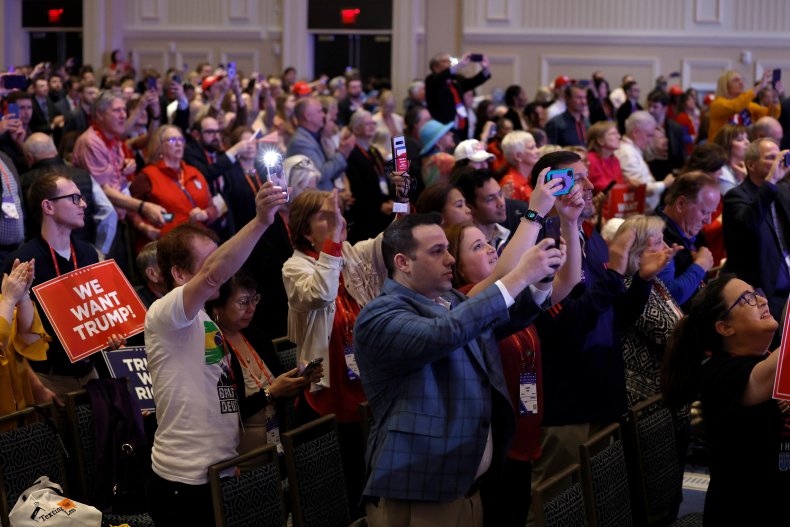 Guests listen as Former U.S. President Donald Trump addresses the annual Conservative Political Action Conference (CPAC) at Gaylord National Resort & Convention Center on March 4, 2023, in National Harbor, Maryland. A January 6 Capitol riot suspect allegedly didn't follow travel restrictions imposed by the government, instead spending numerous hours at CPAC. Anna Moneymaker/Getty
In a motion filed Monday, U.S. Attorney Matthew Graves claimed that Garcia's trip to Washington, D.C., involved more than just observing trials of other aforementioned Capitol riot suspects.
A request was initially made by Garcia's defense counsel on February 26 followed by a motion for request one day later before the government could respond to the initial request, according to Graves.
"He stated that observing a different defendant's trial would assist with his trial preparation and his ultimate decision to go to trial or enter a change of plea," Graves wrote in his March 13 motion. "Defendant represented that he would stay in Virginia or Maryland, not Washington, D.C."
The government allowed Garcia to travel to Washington, D.C., for the observance of the trials, even though Garcia "did not explain why a second trip is necessary or why there is suddenly an exigent need to attend a trial that had been going on since December."
The request was granted by the court in part, with the trip being for "the limited purposes of attending" a trial and meeting with the defendant's former pro hac vice attorney and/or current counsel.
A third motion for travel was then filed on Garcia's behalf, for him to observe a second trial in the "media spillover room only" in addition to a trial before the same court.
"There have been three motions filed in three days and not one has suggested that there have been any exigent circumstances justifying the belated and rushed nature of the requests," the Court said while granting Garcia's request.
In a statement made to the United States Probation Office, Garcia said he was "traveling up North to DC in my RV" and that he would only make stops to sleep at rest areas. He provided the location in Alexandria, Virginia, where his RV would be parked and said he would be departing for home that Saturday.
Graves claimed that Garcia arrived in Alexandria, Virginia, at about 4:15 p.m. on March 2 and went straight to National Harbor, Maryland, where CPAC was taking place. He reportedly remained there for over four hours and never attended any January 6-related court proceedings.
The next day, Garcia attended the Gossjankowski trial with his attorney "for less than three hours" prior to traveling back to Maryland and CPAC, where he allegedly stayed for eight hours.
One photo posted on social media shows "fellow J6er" Garcia posing for a selfie with Joseph "Pi Anon" Thomas at CPAC.
In one of Garcia's social media posts, in which he goes by the moniker "J6 CPT Gabriel Garcia," he calls out the government and liberals.
"I got tired of the false persecution and looking at that Jury panel that all look like they belong on some MSNBC panel with their double masks made me sick so I decided to exit and leave the f—— district for good," Garcia wrote. "Any further questions???"
Graves wrote that "the government is surprised by defendant's whereabouts on his recent trip" and requested that all future travel requests by Garcia should be denied.
"The issue is not that [the] defendant attended a political event," Graves wrote. "The real problem is that [the] defendant has repeatedly demonstrated that his representations to the Court should be doubted…Because this defendant has continually taken advantage of the permissiveness of the Court with deceptive travel requests, and takes to social media to mock the process, it is apparent that defendant does not appreciate the gravity of the situation he is in and he does not respect this Court's authority."
Webb told Newsweek on Monday that the government's grievance is politically motivated.
"The Government is mad that [Garcia] went to CPAC, which was in Maryland," Webb said via email. "If he would have gone to the movies, they wouldn't have cared. This is a political prosecution, and that's why they're upset. He still has his first amendment rights."
She added: "He does respect the court's authority. And he didn't violate the court's order. He arrived in Virginia too late on March 2 to make it to the courthouse to observe the proceedings. And he observed a trial on March 3."
Garcia was arrested on January 19, 2021, in Miami, Florida, on six charges related to the January 6 Capitol riots, including: civil disorder; obstruction of an official proceeding; entering and remaining in a restricted building or grounds; disorderly and disruptive conduct in a restricted building or grounds; disorderly conduct in a Capitol building; and parading, demonstrating or picketing in a Capitol building.
Newsweek reached out to the Department of Justice for comment.