A cat has been left entranced by his owner's impressive dance moves in a video racking up millions of views on social media.
Lambo Licia from Cleveland, Ohio, took to TikTok to share a video of her ginger tabby cat Mega watching while she performs to the Backstreet Boys hit "The Call."
The clip shows Licia singing and dancing in a series of spots around the house while Mega lies out, gazing at the spectacle intently.
While Mega is clearly a fan of his owner's efforts, the jury is still out on whether cats, as a species, enjoy human music.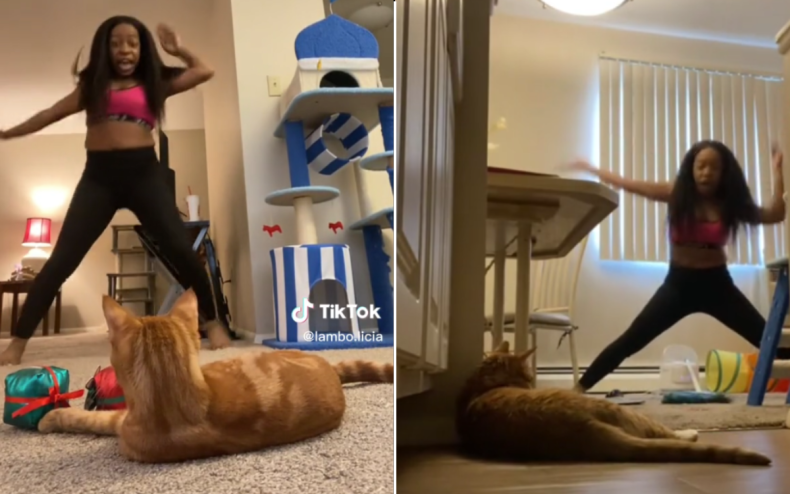 Lambo Licia dancing for Mega the cat. Lambo.Licia
A 2015 study published in the journal Applied Animal Behavior Science found that in order for felines to enjoy music, it has to be tuned to their species-specific tastes.
Researchers from the University of Wisconsin concluded that in order for cats to appreciate music, it needed to fit into the way they communicate with each other, i.e. through meows.
The scientists tested the hypothesis by comparing the reaction of 47 cats to two cat-targeted and two human-targeted songs. Researchers concluded the cats showed a "significant preference for and interest in" the cat-appropriate music.
Licia and Mega might represent something of an outlier in that case, though the pet owner's efforts and her cat's reaction have proved popular online, with the video of Licia's efforts racking up 1.9 million views on TikTok.
Captioned "sold out show for my cats," the clip certainly captures Licia's flair for the dramatic, with the pet owner dashing around the room, grabbing a broom and, at one point, nearly doing the splits.
It's proved a hit with fans, including television personality Jenny McCarthy, who was among those to comment on the post with a series of laughing emojis. Others went even further with their praise.
"This is… perfect," one viewer wrote with another commenting: "Backstreet Boys and orange cats. This is my safe place now." A third wrote: "OH MY GOD WE GET TO WATCH FOR FREE?!"
Licia told Newsweek she has "always loved cats" and grew up around them. However, she only got her own after her sister's cat had kittens. That was when Mega came into her life.
"He and I grew a tight bond super fast because we're both super energetic," she said. "I started making TikTok videos with him and we ended up going viral. Now we're super internet famous!"
Licia said she quickly bonded with Mega over their shared appreciation of '90s music.
"I first realized my cat loves my performances a few months after I got him. i'm a very animated person. I love music, mostly pop or r&b, so I'm always singing and dancing around my apartment," she said.
"Every time I would sing and dance my cat would just follow me and sit right in front of me, as he was waiting for more! I kept it going, and he will still sit there through my entire performance. I think it's so funny because most cats would probably run away, but not mine. He wants more and more."
The pet owner reckons that while the videos are cute, their popularity comes down to the fact they are "super relatable" for anyone with an appreciation of cats, dancing and classic pop tunes.
"What inspired me to make these videos is just my love for '90s music. I grew up listening to a lot of the songs I perform for my cats," she said. "Now that today's music is a lot different, I like to reminisce on the old days, and that's my way of doing it. I just like to add a little more spice to it.
"Every time I post a video of me performing for my cats, someone comments saying how they do the same thing for their pets. A lot of people probably do it, they're just too shy to put it out there for the world to see. However, I feel like the world should see it."
Do you have funny and adorable videos or pictures of your pet you want to share? Send them to [email protected] with some details about your best friend and they could appear in our Pet of the Week lineup.