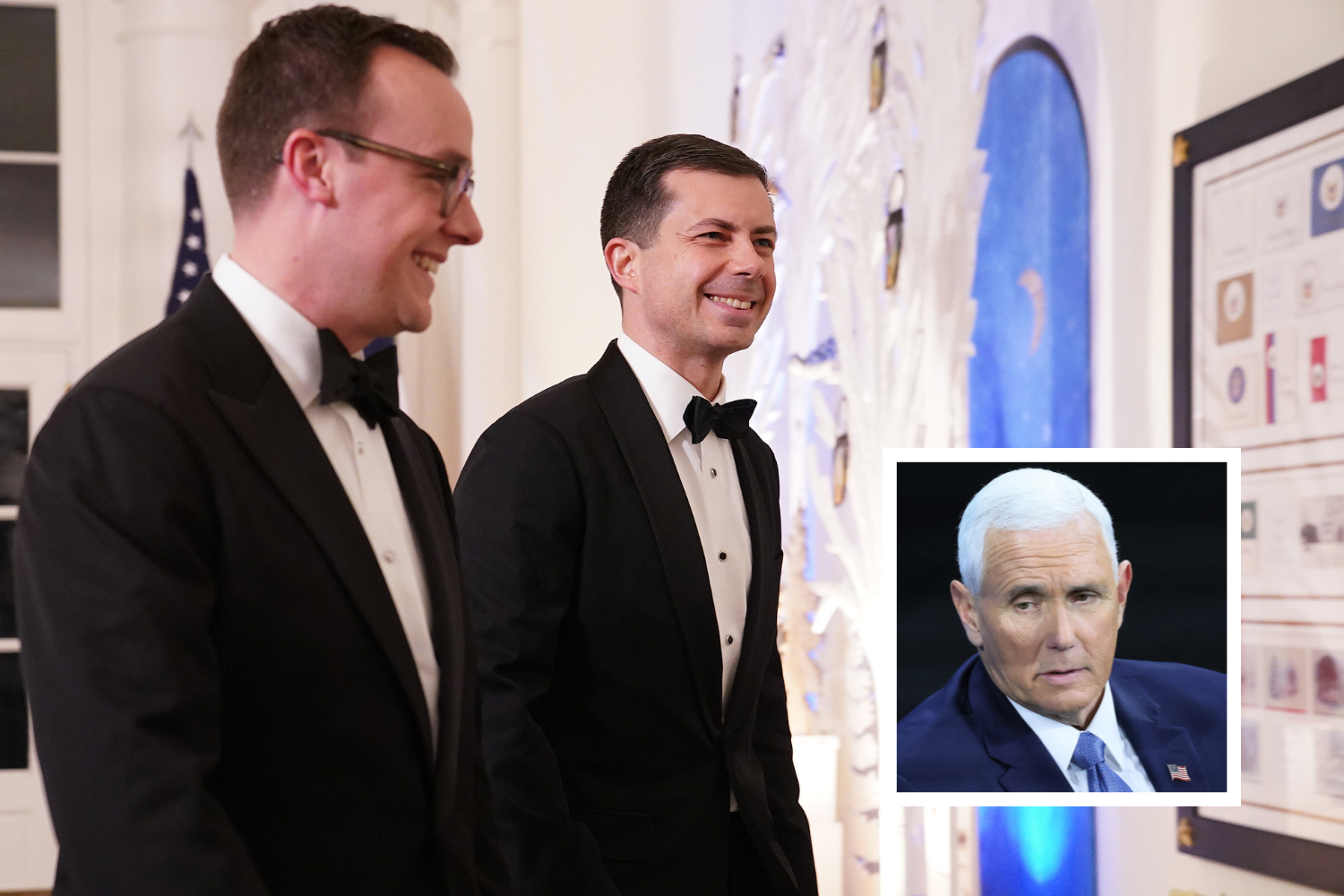 Chasten Buttigieg, the husband of Transportation Secretary Pete Buttigieg, called out former Vice President Mike Pence for his "attempted joke" about the secretary taking "maternity leave" after the couple adopted baby twins.
Republicans have mocked Buttigieg, the first openly gay Cabinet member, for taking parental leave after the couple adopted the infants in 2021. Although Buttigieg, like other new parents, took the parental leave he was entitled to, Republicans targeted the transportation secretary for doing so, and critics say the attacks reflect homophobia.
Pence took a swipe at Buttigieg's parental leave during a speech at the Gridiron Dinner, in which top political figures often exchange barbs, in Washington, D.C., on Saturday. He quipped that Buttigieg took "maternity leave" and that as a result the United States suffered "postpartum depression."
"Pete is the only person in human history to have a child and everyone else gets post-partum depression," Pence said, according to the Associated Press.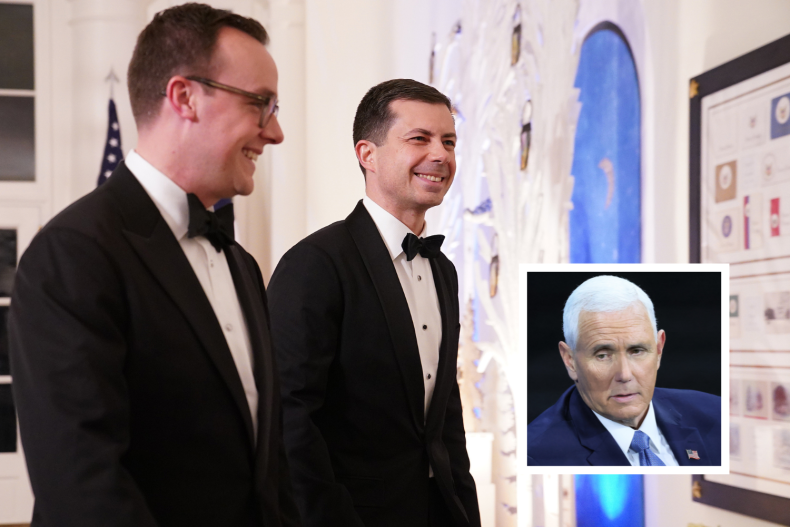 Transportation Secretary Pete Buttigieg and his husband, Chasten, are seen in Washington, D.C., on December 1, 2022. Vice President Mike Pence (inset) recently joked about the Cabinet secretary taking "maternity leave" after the couple adopted baby twins in 2021. Nathan Howard/Getty Images; Michael M. Santiago/Getty Images
The remarks quickly drew some backlash, with critics condemning the joke as homophobic. Pence has long had a tense relationship with the LGBTQ community over his long-standing conservative positions on LGBTQ issues.
"Mike Pence drops some homophobia as he prepares for a likely White House bid," wrote health and science journalist Benjamin Ryan on Twitter.
On Monday, Chasten Buttigieg took to Twitter to also respond to Pence's remarks. He questioned whether the former vice president would have continued working in a similar situation, noting that the Buttigiegs' twins were born prematurely and suffered from health problems such as the respiratory virus RSV.
"An honest question for you, @Mike_Pence, after your attempted joke this weekend. If your grandchild was born prematurely and placed on a ventilator at two months old – their tiny fingers wrapped around yours as the monitors beep in the background – where would you be?" Buttigieg wrote.
The White House, meanwhile, called on Pence to apologize for the quip.
"The former vice president's homophobic joke about Secretary Buttigieg was offensive and inappropriate, all the more so because he treated women suffering from postpartum depression as a punch line," press secretary Karine Jean-Pierre said in a statement. "He should apologize to women and LGBTQ people, who are entitled to be treated with dignity and respect."
On Fox News, Pence adviser Marc Short described Jean-Pierre's statement as "faux outrage."
"The White House would be wise to focus less on placating the woke police and focus more on bank failures, planes nearly colliding in midair, train derailments and the continued supply chain crisis," he said.
During Saturday's speech, Pence also criticized his former boss, predicting that history will hold Donald Trump accountable for the January 6, 2021, assault on the U.S. Capitol.
"President Trump was wrong," Pence said. "I had no right to overturn the election. And his reckless words endangered my family and everyone at the Capitol that day."
Newsweek reached out to the Department of Transportation and Pence's press office via email for comment.