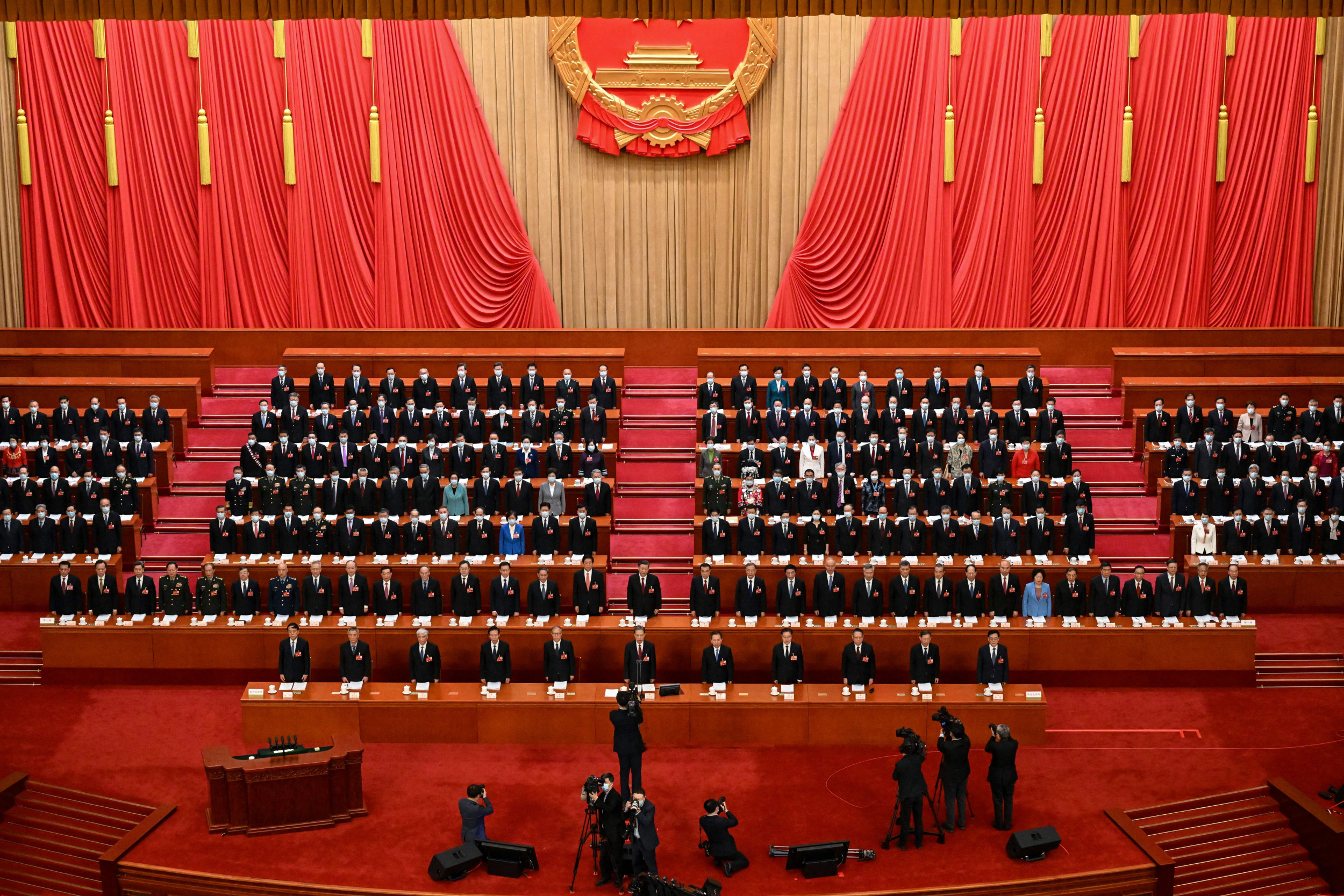 Favorable views of China in the United States have nosedived this year, according to the results of a Gallup survey published on Tuesday, after already negative sentiments fell further in the fallout of last month's spy balloon saga.
Only 15 percent of U.S. adults said they held very or mostly favorable views of China, a decline of five percentage points from 12 months earlier and a record low after holding at 20 percent for two consecutive years, the polling showed.
American public opinion of the world's No. 2 economy plummeted after the U.S.-China trade war began in 2018. That February, favorable views of the country reached 53 percent—the only time this century a majority of U.S. adults shared a positive opinion.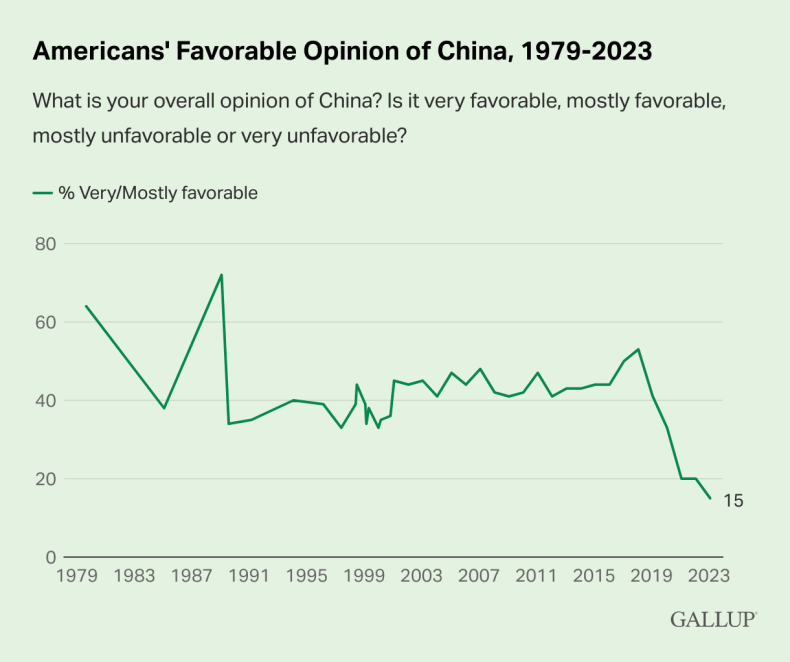 A record-low 15 percent of U.S. adults hold favorable views of China, according to a Gallup poll conducted from February 1-23, 2023. Gallup
In the years since, China's reputation among Americans has taken a hit from the COVID-19 pandemic, and as successive Republican and Democratic administrations have more consistently articulated the complex challenges posed to the U.S. and its allies by the long-ruling Communist Party.
Gallup interviewed 1,008 U.S. adults between February 1-23, a period that began with all-day coverage of the Chinese surveillance balloon's traversal over the continental U.S., and ended with renewed warnings from Washington that Beijing could soon supply Russia with lethal arms for its war in Ukraine.
In February 1989, an all-time high 72 percent of the U.S. public held favorable views of China. By August that year, two months after June's Tiananmen Square crackdown, the figure plunged to 34 percent, according to Gallup, which has asked the question since diplomatic relations were established in 1979.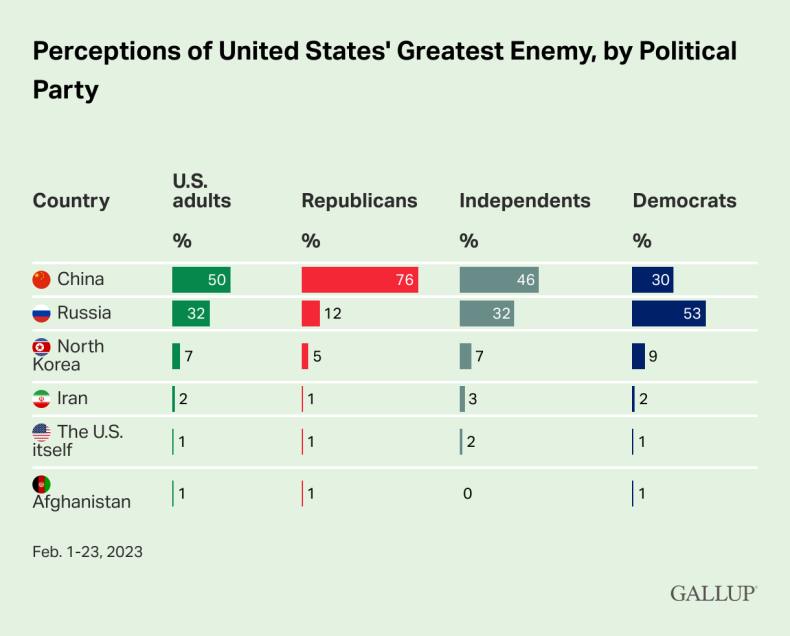 Half of U.S. adults perceive China as the U.S.'s greatest enemy, according to a Gallup poll conducted from February 1-23, 2023. Gallup
Today, positive opinions of China have declined to their lowest point among Republicans (6 percent), Democrats (17 percent) and independents (18 percent) alike, the results showed. In addition, exactly half of Americans said China was the U.S.'s greatest enemy, compared to about a third who chose Russia.
Topping the U.S. public's concerns were China's military might and its economic power. Majorities of 66 percent and 64 percent of respondents, respectively, said the two areas posed a "critical threat" to American interests in the decade ahead.
Meanwhile, U.S. public opinion on Taiwan, according to Gallup, has steadily risen in the last 20 years. The democratically governed island—claimed by Beijing but backed by Washington—was viewed favourably by 77 percent of Americans, up five points from 2021.
This view was largely consistent across the political divide, including among Republican (78 percent), Democratic (81 percent) and independent (75 percent) voters, the pollster said.
Some 47 percent of U.S. adults said the long-running dispute across the Taiwan Strait presented a critical threat to American interests in the next 10 years. Another 42 percent felt it was an "important but not critical" threat.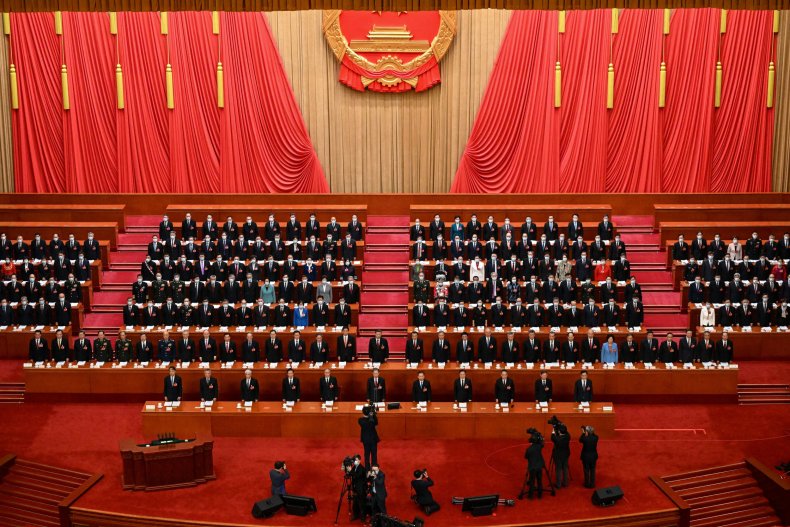 President Xi Jinping of China and other Chinese leaders attend the opening session of the National People's Congress at the Great Hall of the People in Beijing on March 5, 2023. NOEL CELIS/AFP via Getty Images
Public opinion of China fares far better among developing nations than in the West, but Beijing counts on Washington and Brussels, and vice versa, for long-term economic prosperity.
The U.S. and China are two superpowers at a crossroads, each blaming the other for the state of the relationship while warning that tensions could spiral out of control.
On Tuesday, the new Chinese foreign minister, Qin Gang, accused the U.S. of attempting to "contain and suppress China" with a series of policies Washington says are aimed at plugging vulnerabilities and shoring up American advantages in critical industries of the future.
"If the U.S. does not put the brakes on and continues to speed down the wrong path, no amount of guardrails can prevent derailing, and there will surely be conflict and confrontation," Qin said in reference to the White House's desire to jointly avoid an unwanted clash.
"This is not about containing any country around the world. This is not about containing China. This is not about suppressing China. This is not about holding China back," State Department spokesperson Ned Price said later the same day.
"We want to have that constructive competition that is fair, that allows our two countries to coexist responsibly, as we are confident we can, and that has those checks in place to see to it that competition doesn't veer into that conflict," he said.
Do you have a tip on a world news story that Newsweek should be covering? Do you have a question about China? Let us know via [email protected]