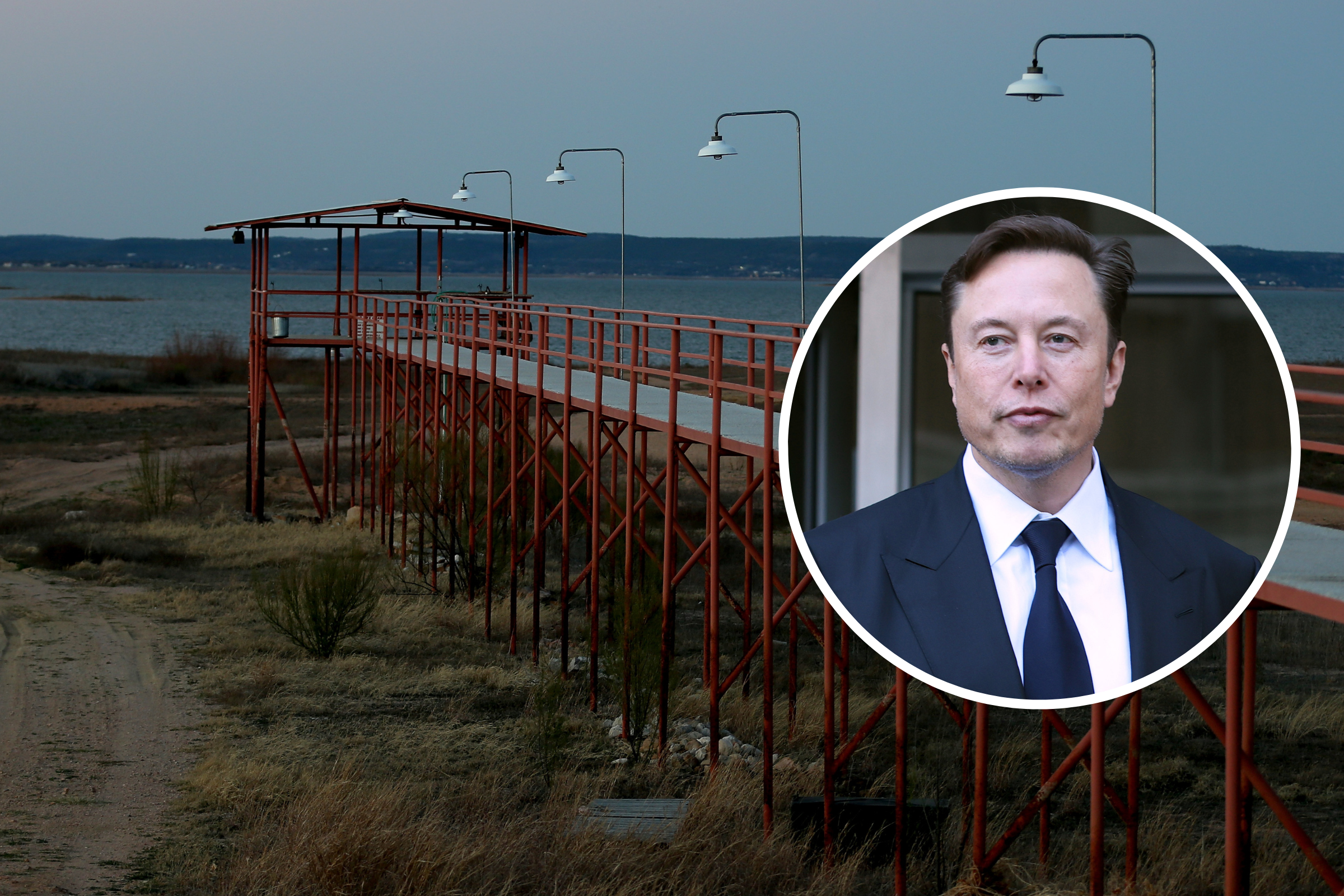 The richest man on planet earth is reportedly looking to build his own utopian paradise in the Texas hill country as employee housing for his burgeoning fiefdom in the Lone Star State.
That is, if nature—and his local government officials—will allow him to.
On Thursday, the Wall Street Journal reported billionaire Elon Musk was planning to build his own workforce housing community on thousands of acres of pasture and farmland he'd recently purchased outside the state capital. Dubbed 'Snailbrook,' the community along the Lower Colorado River mirrors similar workforce utopias once built en masse by companies like General Motors and Boeing, and would reportedly offer below-market rents for Austin-area employees at his Boring Company as well as other enterprises like his Tesla Inc. as well as space exploration company SpaceX.
However, that same river on which his community will sit has already attracted concern from locals amid a record-breaking drought that has threatened the viability of the downstream rice crop as well as ongoing scrutiny over the prospective environmental impact of his Gigafactory, a Musk-described "ecological paradise" the company's own estimates claim is anticipated to discharge as much as 140,000 gallons of wastewater into the river per day.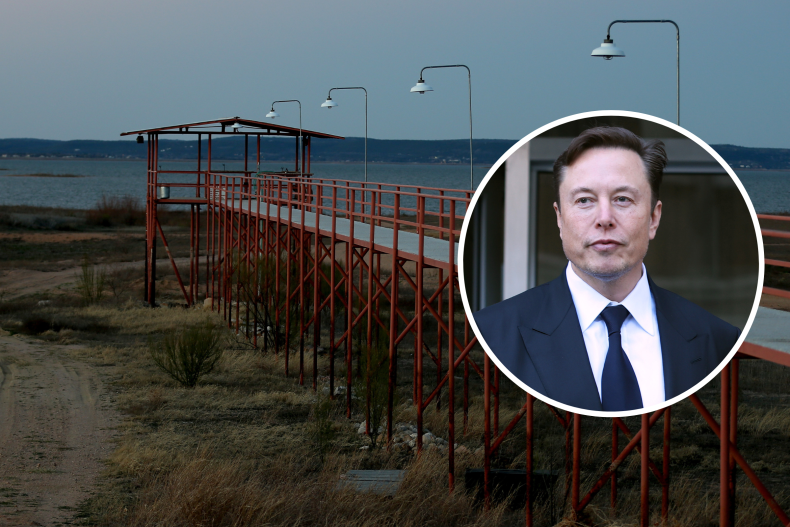 A pier once surrounded by the water of Lake Buchanan is seen afflicted by a severe drought on March 12, 2014, in Burnet, Texas. Elon Musk (inset) is seeking to build a development to house his workers along the shores of the same river system. Justin Sullivan/Joe Raedle/Newsweek Photo Illustration/Getty Images
"About 1,000 people are moving to Texas every day, and that certainly is going to have consequences for our environment," Luke Metzger, director of Austin-based advocacy organization Environment Texas told Newsweek.
That's not to say Musk's vision of a parched earth paradise is an impossible one.
While Musk's companies have helped play a significant role in Austin's rapidly changing landscape since he announced his company's relocation there in 2021, they're not the only ones turning the once-quirky college town into the technological utopia it has since become. The influx of corporate spending from other major tech firms over the last decade has brought to Austin new economic opportunities as well as a chaotic housing market, with the city's rents now ranking among the nation's highest.
Those people all need to live somewhere. And Musk's proposal could be an opportunity too good for local policymakers to ignore, particularly with housing developments already popping up all over the cityscape.
"This will just be another one of them," Metzger said.
But in addition to the standard building permits and approvals, Musk will also need to find a way to obtain the water necessary to bring life into his city amid ongoing concerns over drought. And in Texas—particularly, in the Lower Colorado River basin—that could prove a complicated prospect.
While developers in Austin are entitled to water rights on the Colorado, entities outside of it—like Musk's—would need to obtain water rights of his own to pull from it, or identify some other means of obtaining water from the ground. And as things currently stand, most of the river's available obligations are accounted for.
Since drought conditions began last summer depleted the reservoirs that provide Austin's water supply, officials with the Lower Colorado River Authority—the agency responsible for managing the system's river flows—began to enforce water cutoffs for rice farmers 100 miles downstream who hold lower-priority, "interruptible" water contracts that can be put on hold when there is greater need up-river.
In this case, those rights are largely held by the City of Austin, which itself has been under a months-long water conservation advisory against growing concern over future water shortages.
It is currently unclear what amount of water Musk's proposed community would require, nor did Musk's companies respond to a request for comment. Meanwhile, a spokesperson for the LCRA told Newsweek in an email that it "does not have a water contract or pending application for this project," nor had agency officials had conversations with the company about the project's viability.
But, as in most places, and perhaps especially in Texas, where there's a will, there's a way. Musk could simply strike a deal with Austin for some of their water rights, even though the project is located in a completely separate county. He could find another way to get water to the property, including resorting to groundwater wells. Or he could potentially work with local officials to identify a compromise that could help him secure the water he needs.
Earlier in Austin's history, the state required water from the Lower Colorado River Basin to be transferred over to the struggling Brazos River Basin in an effort to stabilize river flows there. However, after doing so, water levels in the Lower Colorado actually increased, rather than decreased.
David J. Eaton, a professor in the Lyndon B Johnson School of Public Affairs at the University of Texas-Austin and an expert in Texas water conservation, told Newsweek the reason was simple: they simply found a way for the city to use less water, meaning more water in the river. Musk, Eaton said, could consider pursuing something similar, including finding a means to use some of the city's wastewater and purify it for use in his community some 35 miles downriver.
"That's a pretty sizable flow of water, and that can be done," he said. "It's just a matter of money and engineering."
Assuming it needs to be done at all—depending on what the environmental impact Musk's architects and engineers submit to local officials says.
"The combined impact of all of this new development (on the river) is quite significant," Metzger said. "But I don't know that this city alone is going to break the bank."