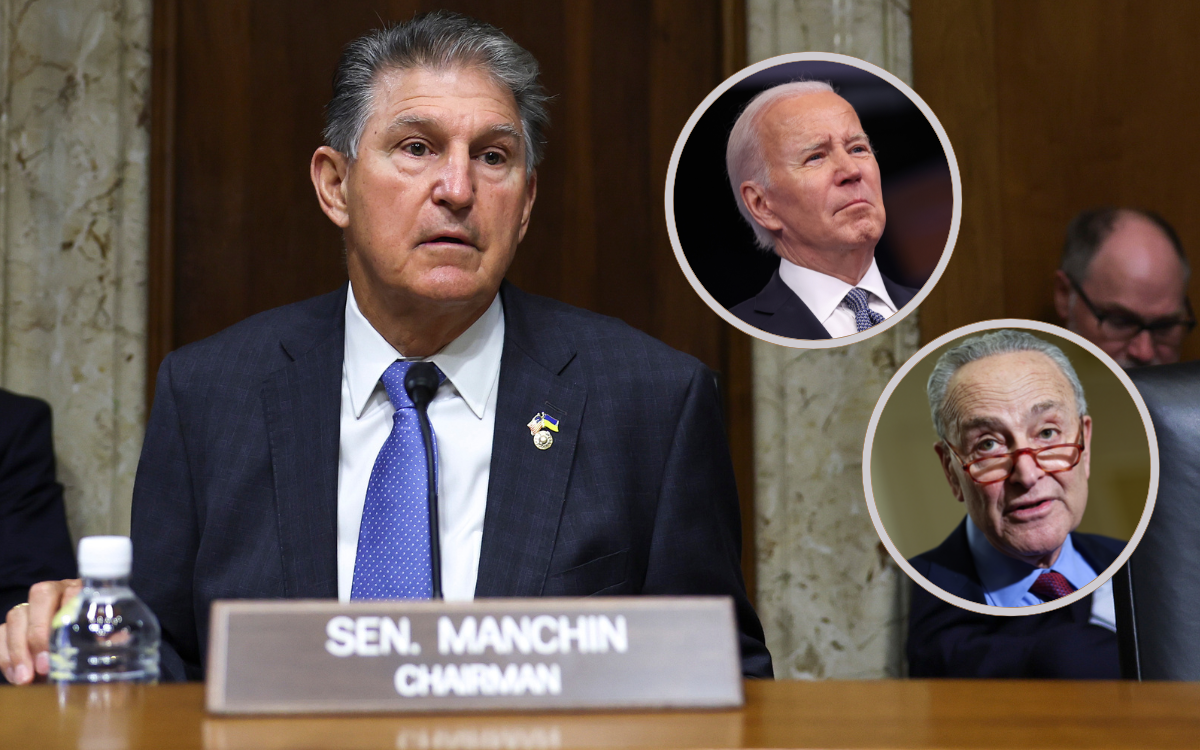 For the last two years, West Virginia's Democratic Senator Joe Manchin has been a thorn in his party's side, stalling key parts of his president's agenda—and occasionally siding with Republicans—in an effort to advance his state's interests, even earning himself calls for a primary challenge from colleagues like Senator Bernie Sanders.
With the possible entry of West Virginia's billionaire Republican governor (and onetime Democrat) Jim Justice into the election fray this week, however, Manchin could be critical to helping Democrats maintain its already slim majority in 2024.
Speaking with Metronews Talkline host Hoppy Kercheval Wednesday, Justice said he was "seriously considering" a bid for the United States Senate in 2024, and believed he could win—regardless of who his opponent is.
"I surely believe so," Justice told Kercheval when asked about his chances to win. "I wouldn't get in if I didn't think so. But at the same time, Joe is a very formidable candidate and everything, and served a long time. I think Joe probably messed up a little bit in the last little while, but nevertheless, I think he's got a lot of good."
Should Justice enter the race, he would be a highly credible threat to unseat Manchin, who has still not declared whether he plans to run for re-election next cycle.
After winning his seat in the governor's mansion as a Democrat in 2016 by nearly 7 points, Justice later flipped his affiliation to Republican, winning re-election by more than 33 points in 2020. As West Virginia's wealthiest man, he also has an uncanny ability to self-fundraise, with corporate interests closely aligned with Manchin that could attract sizeable investment from political action committees based on who holds momentum in the race to control Congress.
He is also unafraid of a challenge. While Justice and Manchin are longtime friends (Manchin notably helped recruit Jim Justice to run as a Democrat in 2016), he also endorsed, campaigned with, and raised money for Governor Justice's 2020 re-election opponent, Ben Salango, attributable to what some have described as a public falling out between the two men.
But Justice—or even Republican Congressman Alex Mooney, who announced his intention to run in November—would all but certainly be a lock to win against any candidate other than Manchin, making his necessity to Democrats' cause all the more necessary.
Democrats hold just a single-seat majority in the U.S. Senate that includes three independent senators, one of whom—Arizona Senator Kyrsten Sinema—is already facing likely challenges from both a Republican and a Democrat in 2024. Meanwhile, Democratic-controlled Senate seats in red states like Ohio and Montana are likely to elicit strong Republican challengers in 2024, while Democrats will need to play defense in five states President Joe Biden won by fewer than five points in 2020.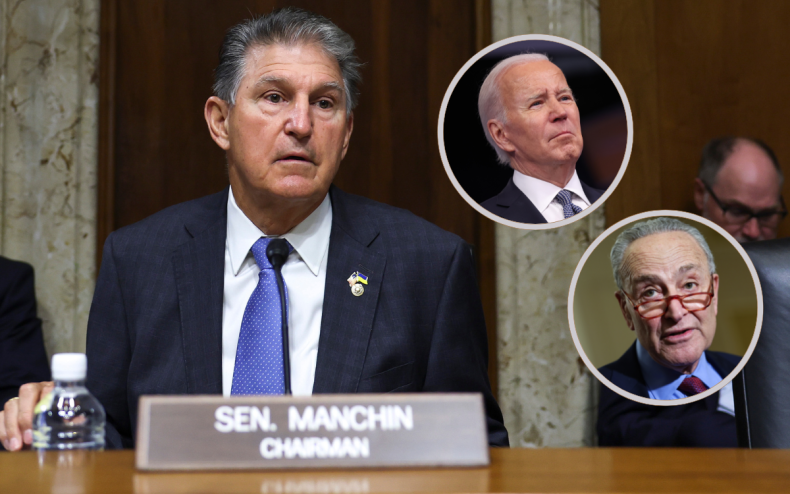 West Virginia Sen. Joe Manchin, pictured here with President Joe Biden and Senate Majority Leader Chuck Schumer. (Inset) Newsweek Photo Illustration/Getty Images
West Virginia, meanwhile, is clearly under threat to flip next cycle.
Once a solidly blue state dating back to its deep history in the U.S. labor movement, the state has since become solidly Republican in recent decades with Manchin—one of the most conservative members of his party in Washington—becoming something of a relic in the U.S. Congress, a Blue Dog Democrat, friendly to fossil fuel interests and solidly opposed to federal protections for abortion.
Since longtime Democratic Senator Jay Rockefeller's retirement in 2008, no Democratic challenger for the U.S. Senate has come within 26 points of winning, while Democrats have continued to accrue heavy losses in state and local elections. And while the state is solidly red, the places where its population is growing—including its second-biggest county, Berkeley County—are actually getting redder, offsetting trends seen in other parts of the country.
After Republicans first took control of the statehouse in a disastrous 2014 election year for Democrats, Democrats have seen their voter registration numbers decline precipitously, with the Republican majority since expanding to a supermajority. Today, Democrats hold just a dozen out of 100 seats in the West Virginia House of Delegates and just three in the 36-member state senate, well below the roughly two-to-one majorities they enjoyed at the start of the last decade.
Prospects for a return to those numbers are not likely anytime soon. Voter registration figures from the West Virginia Secretary of State's Office over the summer showed Republicans with a 39 percent to 34 percent advantage in voter registration numbers, while presidential voting trends have shown Democrats performing increasingly poorly since former President Bill Clinton became the last Democrat to win the state in 1996.
After years of failures, grassroots Democrats voted out their entire leadership team this past year, further reducing the institutional base that has kept Manchin in a position of influence for years and replacing them with Democrats who have proven willing to criticize the lone member of their state party in federal office.
"For the last three years, we've been working to try to replace those in power who serve corporate lobbyists and out-of-state interests," Stephen Smith, co-chair of WV Can't Wait and a former Democratic candidate for governor in 2020, told the Journal-News of Martinsburg, West Virginia, about an effort to draft a primary challenger to Manchin in 2021. "And that obviously includes Sen. Manchin. He's showing who he is and who he serves."
That said, Justice is potentially vulnerable as a candidate for U.S. Senate.
While he currently boasts a high approval rating among West Virginia voters, he could potentially be exposed in what is likely to be a brutal Republican primary between him and Mooney: particularly after Justice supported the Trump-endorsed Mooney's opponent, David McKinley, in the Republican Primary to represent West Virginia's 2nd Congressional District last cycle over Mooney's lack of support for Biden's Inflation Reduction Act.
Manchin, meanwhile, still has a strong personal brand that will likely elevate him in any race—particularly in a presidential election year. Though his 2018 opponent, Patrick Morrisey ran what Shepherd University political science professor Samuel Greene described as an underwhelming campaign, he ultimately failed to carry his home county, while Manchin managed to win not only in counties that voted Republican for president in 2020 but for the U.S. House races in 2018.
If he can do that again, Greene said, Manchin could very well defend the seat in 2024.
"I think that Manchin has to be an underdog given the national environment and West Virginia's partisan lean," Greene wrote Newsweek in an email. "But he has a real chance of keeping his seat, particularly given what is likely to be a nasty Republican primary and the possibility of a race that allows Manchin to tout his 'authenticity' as a West Virginian and position himself as a bipartisan problem solver. I think Justice running in a combative primary will increase Manchin's chances of pulling out a close victory."