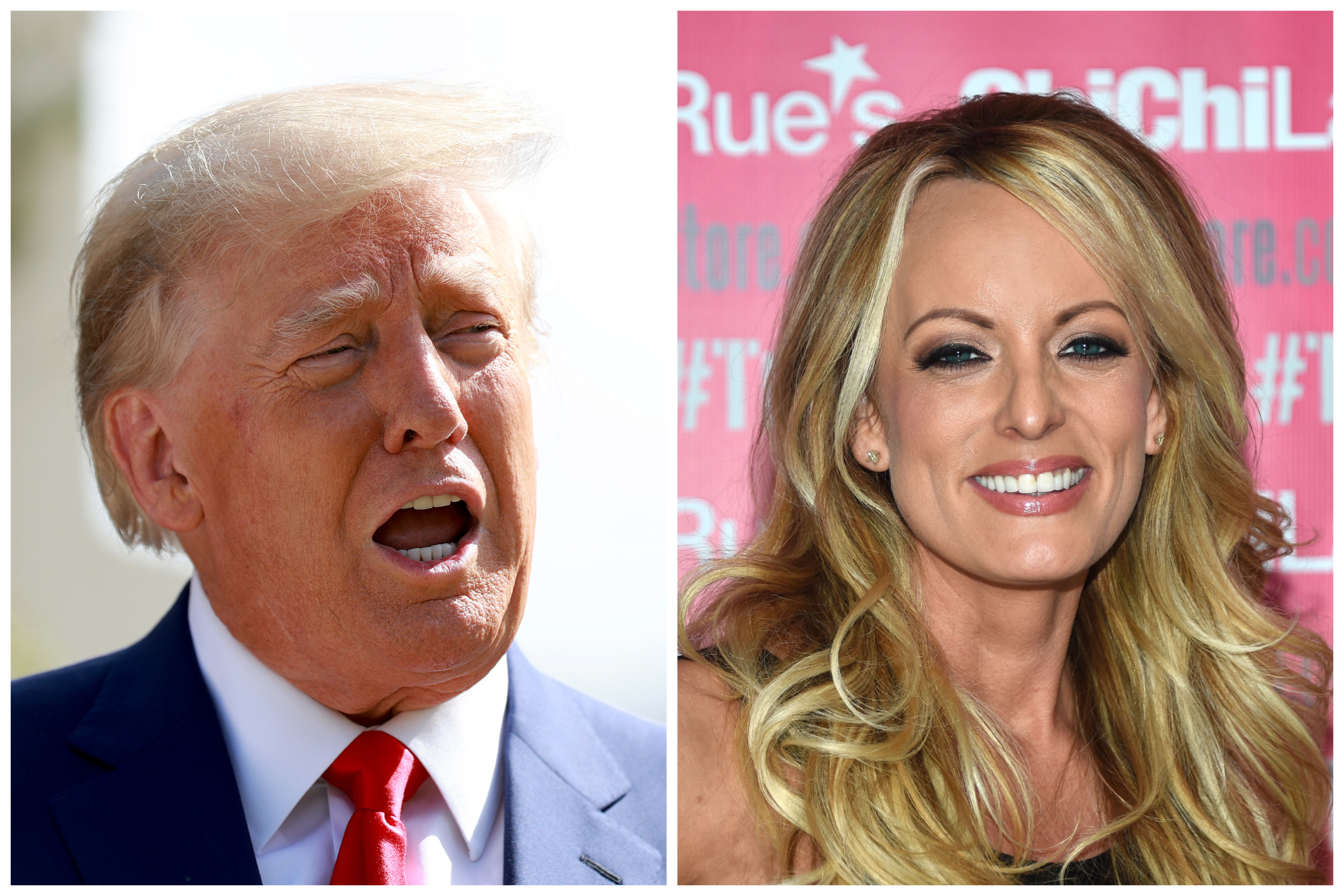 Donald Trump has again attacked the physical appearance of adult film star Stormy Daniels as she met with prosecutors as part of the investigation into hush money paid to her.
In a post on Truth Social, Trump called Daniels "horseface"—an insult he has used for the past five years—while denying that he had an affair with her.
Investigators are looking into a $130,000 payment paid to Daniels by Trump lawyer Michael Cohen on behalf of the former president in order to keep an alleged affair between the adult film star and Trump secret in the run up to the 2016 election.
On Wednesday, Daniels answered questions from prosecutors at the Manhattan District Attorney's office who are looking into allegations the hush money amounted to an improper campaign contribution, or if any state laws were broken in reimbursing Cohen the money he paid Daniels.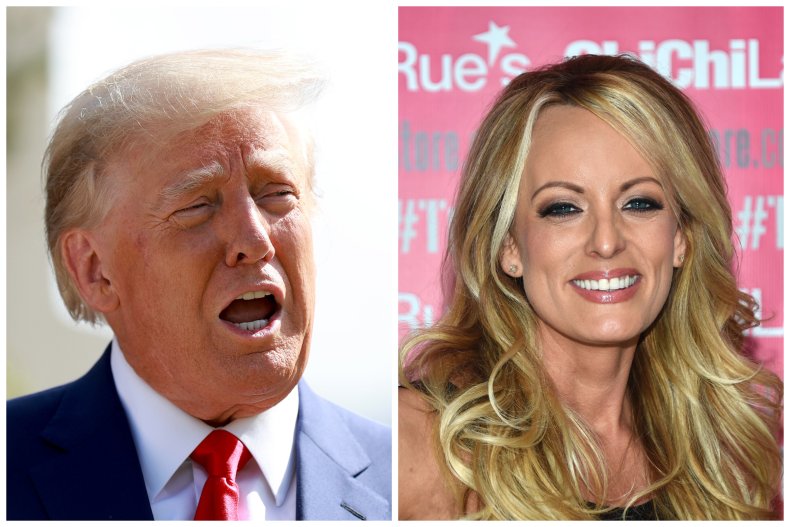 (L) Donald Trump speaks to the media after voting at a polling station setup in the Morton and Barbara Mandel Recreation Center on November 08, 2022 in Palm Beach, Florida. (R) Adult film star Stormy Daniels poses and signs autographs at Chi Chi Larue's adult entertainment store May 23, 2018 in West Hollywood, California. Joe Raedle/ROBYN BECK/AFP/Getty Images
"I did NOTHING wrong in the 'Horseface' case. I see she showed up in New York today trying to drum up some publicity for herself," Trump wrote.
"I haven't seen or spoken to her since I took a picture with her on a golf course, in full golf gear including a hat, close to 18 years ago. She knows nothing about me other than her conman lawyer, [Michael] Avanatti, and convicted liar and felon, jailbird Michael Cohen, may have schemed up. Never had an affair with her, just another false acquisition by a SleazeBag. Witch Hunt!"
Avenatti was Daniels' former lawyer who was sentenced in June 2022 to four years in prison for cheating her out of hundreds of thousands of dollars in book proceeds. In December 2022, he was sentenced to 14 years in jail after pleading guilty to embezzling millions of dollars from four of his clients.
Cohen also appeared for his final day of testimony on Wednesday. The lawyer, who was sentenced in 2018 in connection with the hush payments, has since become a vocal critic of Trump but denies he is out for revenge against the former president.
"This is not about him. This is about holding accountability, truth to power, and everything else in between," Cohen said, via the Associated Press.
Trump and his lawyers have claimed the former president is a "victim of extortion" and was forced to pay the money to Daniels, a claim denied by Daniels' legal team.
On Tuesday, Trump lawyer Joe Tacopina told NewsNation that "it's becoming more probable" that Trump could be indicted as part of the hush payment investigation.
Trump first publicly referred to Daniels as "horseface" while he was president in 2018 after a federal judge dismissed a defamation suit she filed against him
"Great, now I can go after Horseface and her 3rd rate lawyer in the Great State of Texas. She will confirm the letter she signed! She knows nothing about me, a total con," Trump tweeted in October 2018.
The former adult film star later hit back at Trump while making a mocking reference about the size of his genitalia.
"Ladies and Gentlemen, may I present your president. In addition to his…umm…shortcomings, he has demonstrated his incompetence, hatred of women and lack of self control on Twitter AGAIN! And perhaps a penchant for bestiality," Daniels tweeted. "Game on, Tiny."
Daniels has been contacted for comment via email.