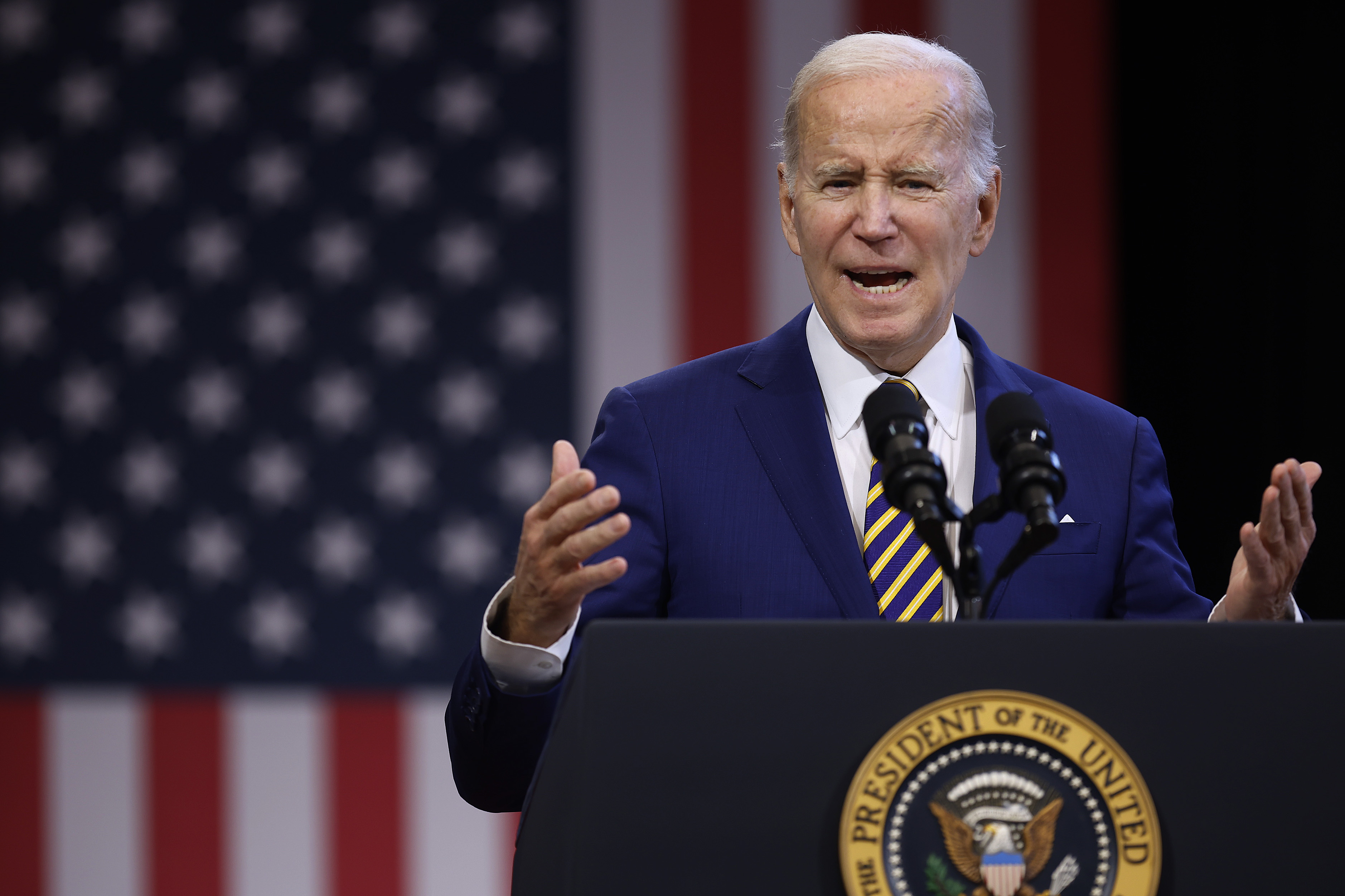 A slew of classified documents held outside the White House by President Joe Biden, former president Donald Trump, and former vice president Mike Pence, has put a spotlight on the safety of national secrets and whether competent processes were in place to ensure their security.
Biden in particular has faced intense scrutiny, having previously criticized Trump's handling of papers as "irresponsible".
Now, according to social media, even more classified documents have recently been found in the president's possession.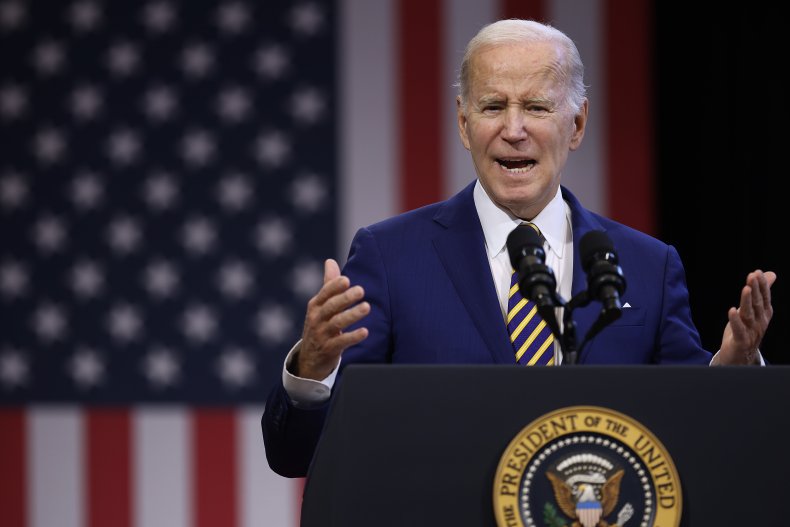 U.S. President Joe Biden delivers remarks at the International Brotherhood of Electrical Workers union Local 26 on February 15, 2023 in Lanham, Maryland. The FBI has retrieved materials from the University of Delaware as part of a probe of Biden's handling of classified documents. Chip Somodevilla/Getty Images
The Claim
A tweet by user @rawsalerts, posted on March 9, 2023, which has been viewed more than 727,000 times, claimed a "BREAKING" story that "Nine more boxes of Biden classified docs found in Boston."
The Facts
Details of this latest story are not well explained in the tweet by @rawalerts, only mentioning that these papers were recovered in Boston, stating it was a "BREAKING" story that "classified docs" had been "found" suggesting this was a new discovery.
However, the truth of the story is not quite as revelatory as the tweet suggests.
It appears to relate to a Fox News story from March 8, 2023, which revealed that nine boxes of documents were taken from Biden's attorney Patrick Moore's Boston office. The boxes are yet to be reviewed.
The disclosure was made to Sen. Ron Johnson (R-WI) and Sen. Charles E. Grassley (R-IA) who had written previously to the U.S. National Archives and Records Administration (NARA) about the handling of documents kept at the Penn Biden Center.
The fact that documents were moved between the Penn Biden Center and Moore's Boston office is not new information, as reflected in the contents of Johnson and Grassley's letter.
The letter, dated February 24, 2023, references an Associated Press article stating that NARA knew in November 2022 about documents that had been transferred to Boston.
In its response to Johnson and Grassley on March 7, 2023, NARA acknowledged it had retrieved papers from Boston.
NARA said: "When NARA contacted President Biden's personal counsel on November 3, 2022, to arrange to pick up boxes from the Penn Biden Center in Washington, DC, they informed NARA that Mr. Moore had moved other boxes from the Penn Biden Center to Mr. Moore's law firm in Boston."
NARA later added that its staff "retrieved nine boxes from Mr. Moore's Boston office."
So, all that's been revealed is that nine boxes had been taken from Boston. We do not know whether they are classified, as the tweet claims.
According to the Associated Press report, no classified documents are believed to be among those retrieved from Boston. But that is yet to be verified or confirmed.
Biden's possession of classified documents at his think tank and Delaware home remains under investigation.
A poll conducted by Newsweek last month revealed that a majority of Americans wanted all of the president's properties to be searched by the FBI to check if they have classified documents.
It found that 65 percent of people questioned think "all of Joe Biden's properties" should now be searched by the FBI, with 36 percent saying they "strongly agree" with the statement and another 29 percent simply saying they "agree".
Newsweek has contacted the White House and @rawsalerts for comment.
The Ruling
Unverified
The tweet falsely presents the Boston boxes as a new discovery and claims, without evidence, that these documents were classified.
NARA recently revealed that it had previously taken a total of nine boxes of documents from Biden's attorney's office in Boston, which had earlier been kept at the Penn Biden Center.
However, the discovery and transfer of these document boxes were already public knowledge. The transfer took place back in November 2022. The only new information relates to NARA's collection of the boxes and the specific number moved.
NARA has not revealed whether any of the documents were classified, despite what the tweet claims about their classification.
FACT CHECK BY Newsweek's Fact Check team