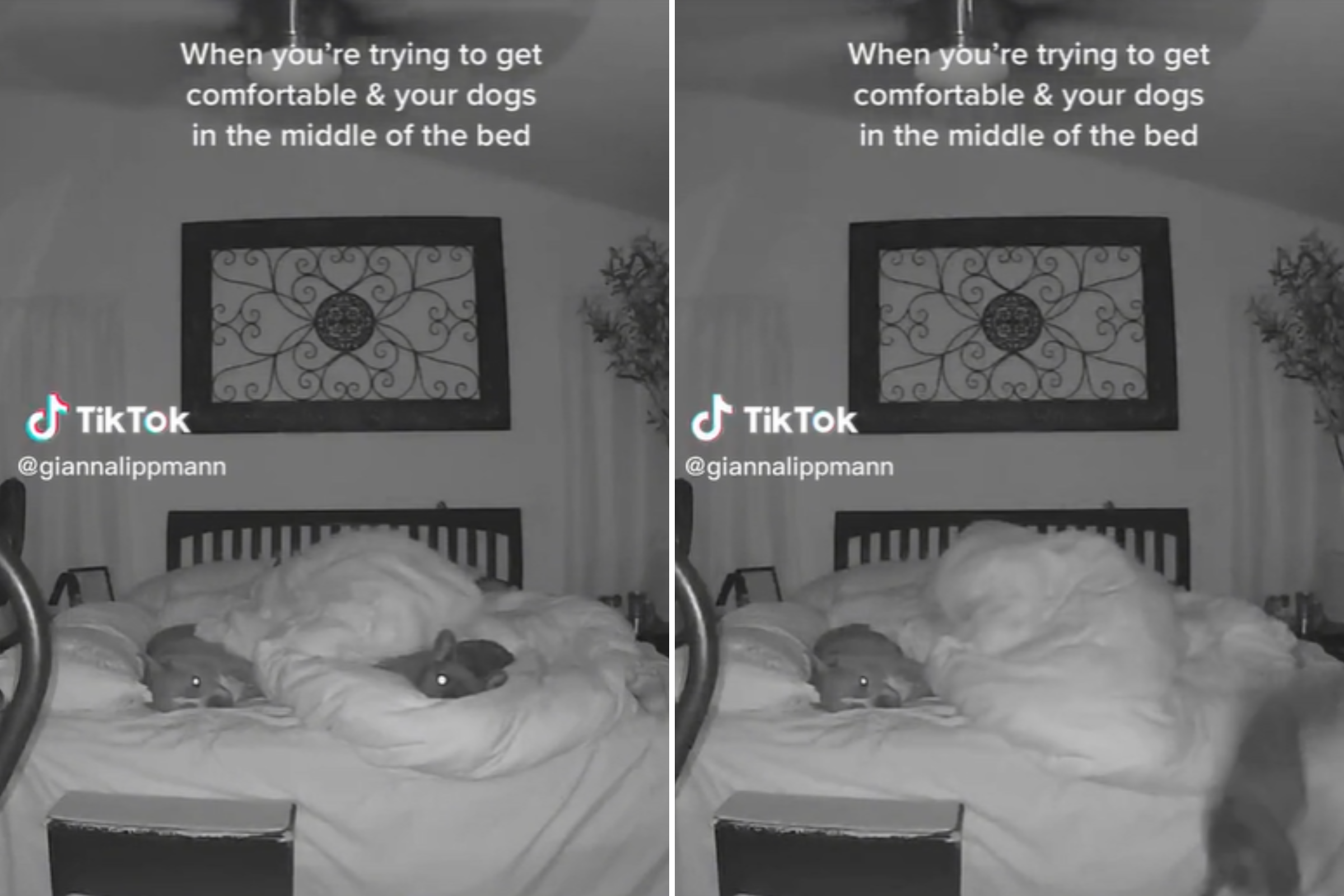 A dog's dramatic fall after accidentally being kicked out of bed has the internet in hysterics, with the video amassing more than 23 million views.
The pet-cam footage was shared by TikTok user Gianna (@giannalippmann), after her sister-in-law Marissa, 23, sent her the hilarious clip.
Recorded during the middle of the night, the video shows Marissa and her husband Michael, 31, sleeping. Their dogs Zeus and Breus are lying on the end of the bed by their feet.
As Marissa turns over, she accidentally dislodges Breus. The French bulldog begins to barrel roll, turning several times before falling off the bed with a confused look on his face. The footage quickly went viral, receiving more than 3 million likes.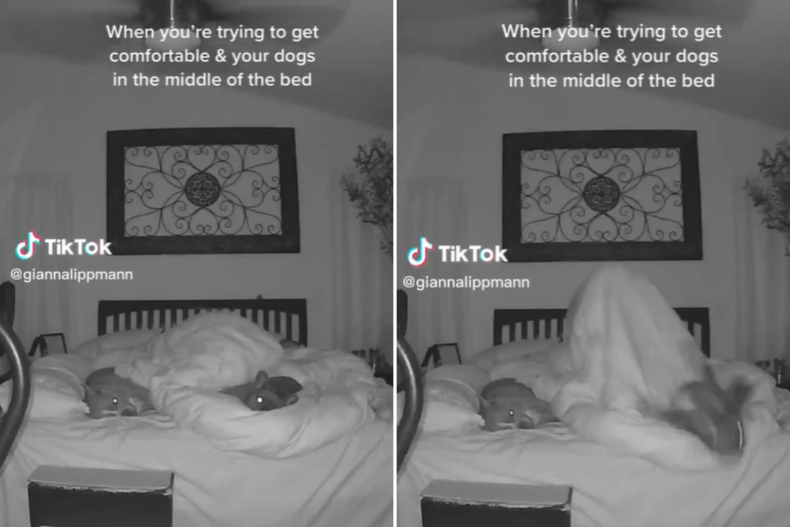 Screenshots at night of Zeus and Breus in Marissa and Michael's bed. Marissa accidentally kicked Breus off the end while rolling over in her sleep, and the pet-cam clip now has more than 23 million views. @giannalippmann
76 Percent of Dog Owners Let Their Pet Sleep on the Bed
According to a recent survey by Veterinarians.org, 76 percent of more than 1,000 American dog owners polled allow their pet to sleep on their bed at night. Just over two-thirds (67 percent) said sharing a bed with their pet reduced their anxiety and stress levels, while 59 percent replied it lessened feelings of loneliness. Just over half (53 percent) said it made them feel safer, with 51 percent saying it strengthens the bond with their pet.
Breus lives in Fresno with his owners Michael and Marissa, as well as his 7-year-old rescue-dog brother Zeus, a pit-bull mix.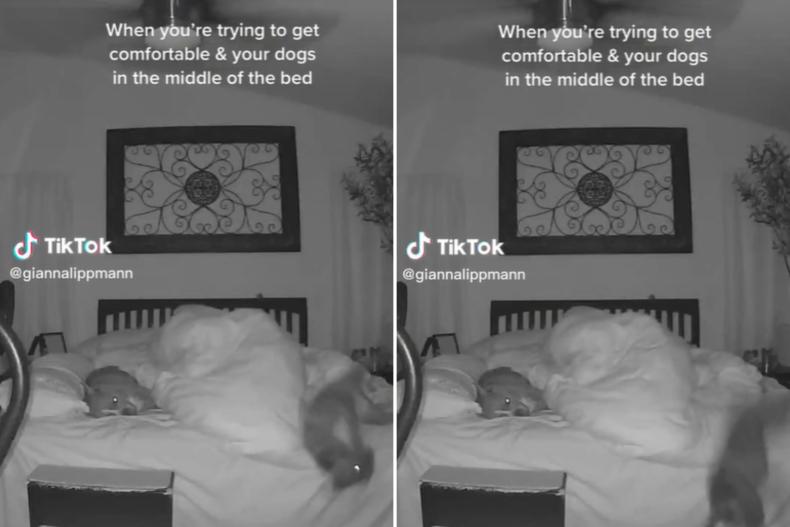 Breus dramatic fall went viral, with the footage receiving over 21 million views on TikTok. @giannalippmann
The dogs sleep with their owners every night, with Breus usually resting under the covers or curled up in one of their arms.
"Breus fell off the bed, which has never happened [before]," Marissa told Newsweek.
"They sleep with us every single night. We just recently got a king-size bed because the last one wasn't big enough, but they still take up 80 percent of the space."
Breus and Zeus have free range of the house while the couple are out, so pet cams are essential.
"I'm surprised we even caught it on camera," Marissa said. "We didn't think it was funny until I showed my sisters and sister-in-law, and they all insisted it was hilarious.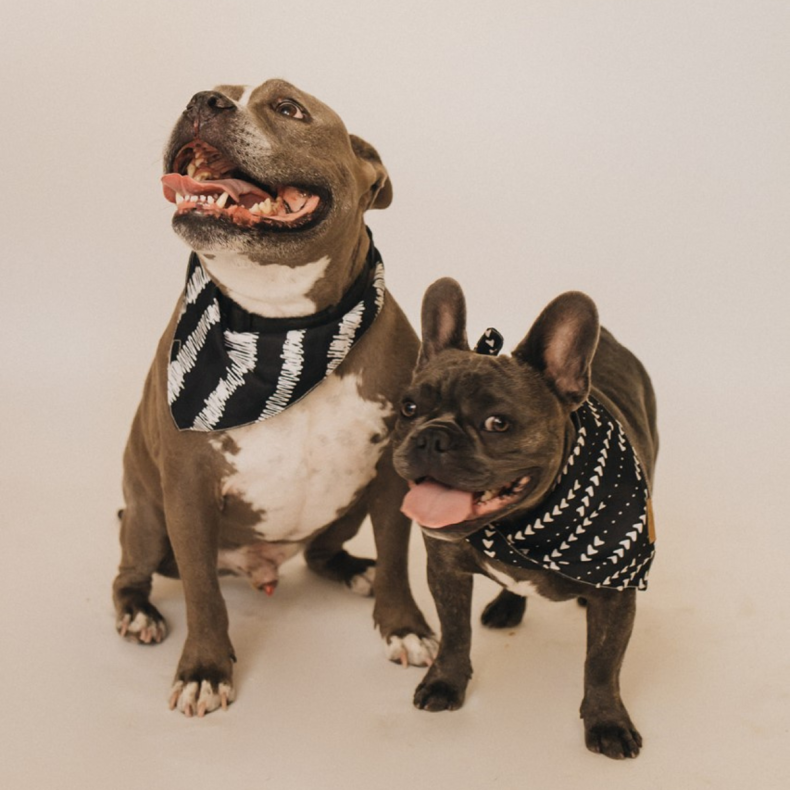 The 2-year-old French bulldog Breus (right), lives with his pit-bull mix brother Zeus (left), in Fresno, California. Breus has become an internet star after accidentally being shoved off his owners' bed. @giannalippmann/@zeus_breus
"[They said] it should be posted on TikTok," Marissa said. "I still felt horrible for rolling him off, so Gianna posted it and it got a ton of attention."
Luckily, the fall doesn't seem to have phased Breus, as the bulldog was up and about immediately after landing.
"Breus is wild and thinks he's Zeus's size, so he tries doing big-dog things," Marissa said.
"We have always been aware of the common injuries with Frenchies and are extremely paranoid, but he is clumsy," his owner added.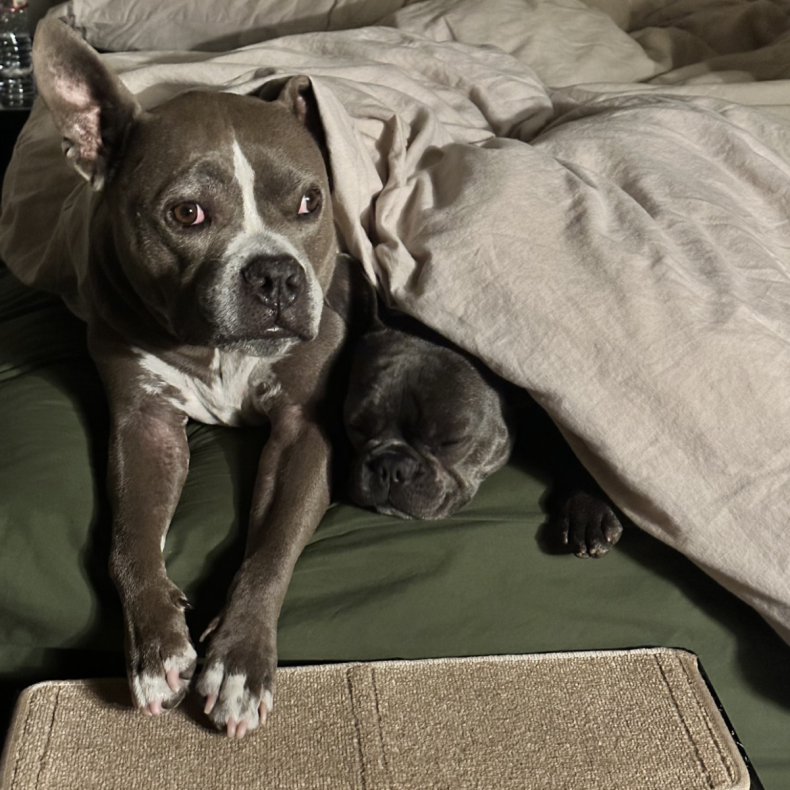 A photo of Breus (right) and Zeus (left) under the covers. The pair sleep on their owners' bed every night, except when accidentally kicked out of it. @giannalippmann/@zeus_breus
'Some Say He's Still Rolling'
Along with millions of views, the clip received more than 18,000 comments on TikTok.
"The plop," commented Sueann. "Never saw it coming," wrote Luis Molina, while Tal posted: "The way he just accepted his fate."
"Not the Frenchie! Them dogs are too expensive to be tossed like that," commented C_T_B.
"I'm not exactly sure what a triple axel is but I think it's that," posted Lena.
"It keeps getting funnier the more I watch this," wrote Paisley Mae, while Riley Lee joked: "Some say he's still rolling."
Do you have funny and adorable videos or pictures of your pet you want to share? We want to see the best ones! Send them in to [email protected] and they could appear on our site.