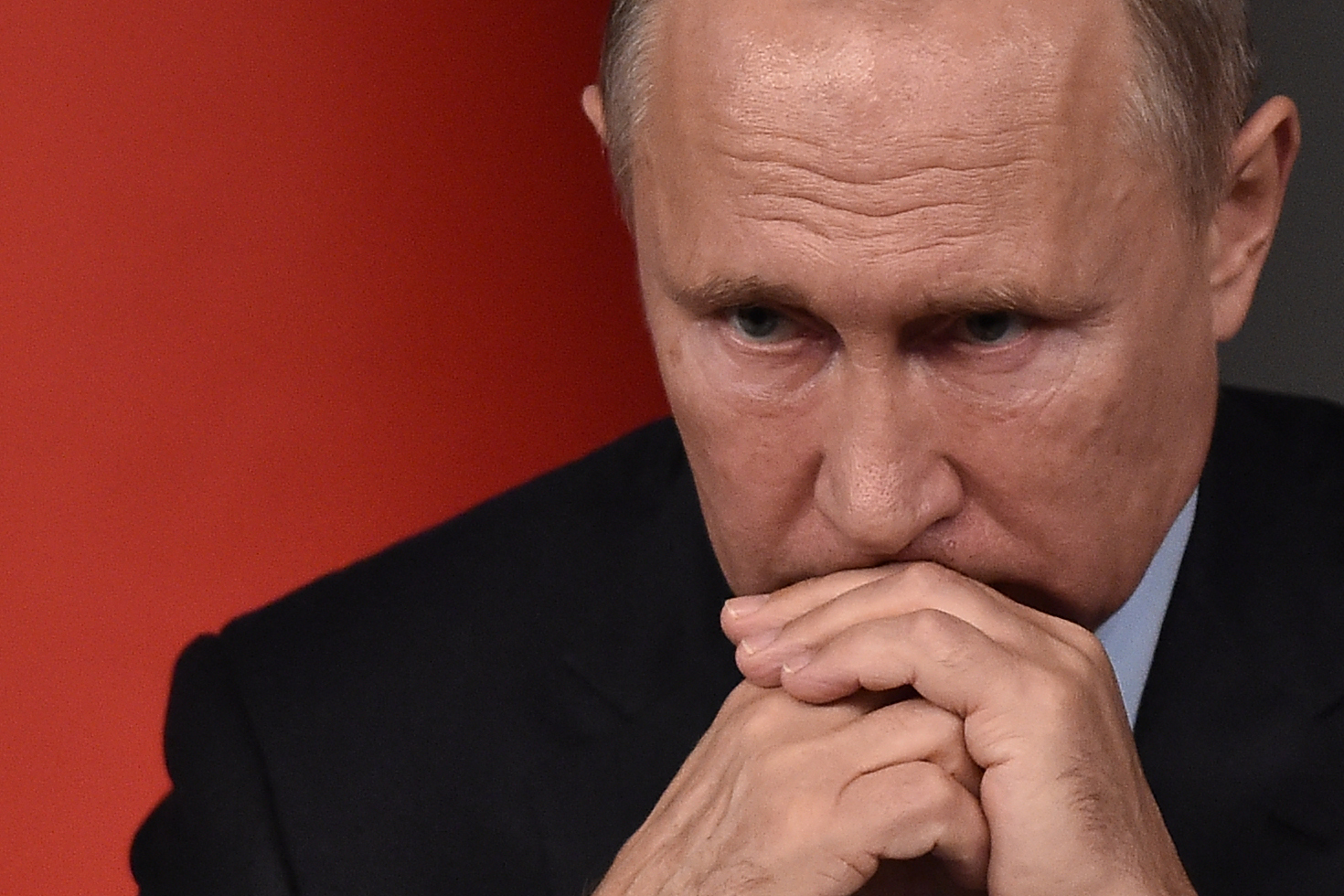 Russian President Vladimir Putin may be forced out of power should Russia be defeated in his war against Ukraine, Newsweek has been told.
When the Russian leader launched a full-scale invasion of neighboring Ukraine last February, the Kremlin hoped to seize the capital Kyiv in a matter of days. More than a year on, there appears to be no end in sight. As Russia continues with its push to seize the eastern Donbas region in its entirety, Ukraine is expected to launch a fresh counteroffensive against Russian forces in the coming months.
On Monday, Kremlin spokesperson Dmitry Peskov suggested that Russia's chances of victory in Ukraine are narrowing, saying that the Russian leader's war goals can now only be achieved by military means, not through peace talks.
Should Putin be unable to win the war on his preferred terms, he may eventually be forced to step down as Russian leader, Boris Bondarev, a former Russian diplomat who resigned publicly over the invasion of Ukraine last year, told Newsweek.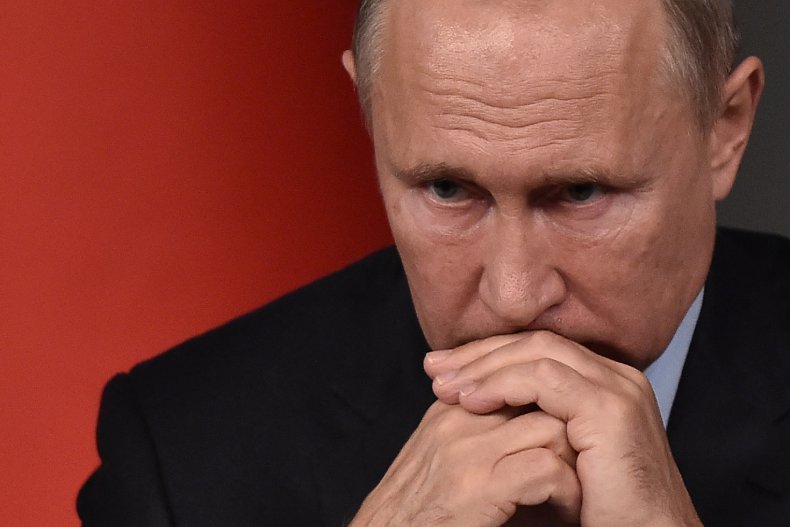 Russian President Vladimir Putin attends a conference as part of a summit called to attempt to find a lasting political solution to the civil war in Syria, at Vahdettin Mansion in Istanbul, Turkey on October 27, 2018. Putin may be forced out of power should Russia lose the war in Ukraine, former Russian diplomat Boris Bondarev told Newsweek. OZAN KOSE/AFP/Getty Images
"Putin can be replaced. He's not a superhero. He doesn't have any superpowers. He's just an ordinary dictator," said Bondarev, 42, who quit his job as an arms control expert at Russia's diplomatic mission to Geneva in May 2022, and is the only Russian diplomat to have quit publicly over the war.
"And we have if we look at history, we see that such dictators have been replaced from time to time. So usually, if they lose the war, and they could not satisfy the needs of the supporters, they usually went away," he said.
Bondarev believes that if Russians understand that the war is lost, and Putin has nothing to offer them in exchange, there will be "disappointment and disagreement."
"They might think they don't need Putin anymore," he said. "I think that once they say farewell to the delusions, and find themselves in a new reality where Putin cannot deliver anything—only fear and some kind of threat of repression against his own people—that will change the situation."
Vlad Mykhnenko, an expert in the post-communist transformation of Eastern Europe and the former Soviet Union at the University of Oxford laid out three potential scenarios for a Russian defeat.
"A lot, if not all, hinges on the manner of the defeat," Mykhnenko told Newsweek.
The first scenario, a chaotic retreat caused by a "striking Ukrainian offensive on one or multiple fronts" would include a "huge panic amongst 600,000 Russian post-2014 annexation settlers in Crimea, and Russian collaborators in the Donbas, trying to escape."
This would result in a "rapid frontline collapse."
"The situation in Moscow will proceed rapidly, with the siloviki pushing Putin out of power. He would not have a chance to deploy a nuclear weapon, as many fear, for that order will surely be sabotaged on multiple levels," said Mykhnenko.
Another scenario could see World War I-style withdrawal from fighting, said Mykhnenko, "similar to the collapse of the Russian Army in 1916-1917: the current slow, attrition warfare continues for a long time, with the mobilized Russian soldiers, poorly equipped and supported, spending months and months in muddy cold trenches under increasingly accurate Ukrainian barrages deserting en masse, leading to the collapse of the front."
Unlike scenario one, the situation would develop slower and less dramatically, providing Putin with enough time to plead for a ceasefire or short-term settlement on almost any terms, said Mykhnenko: "Once again, no nukes will be deployed, as with Russian soldiers deserting, there would not be an army left to utilize any opening a nuclear strike could make."
This scenario could see Putin agreeing to step down gradually "to make space for a new leader, provided the Siloviki (an elite group of Russian businessmen and leaders) give him an immunity from prosecution."
Mykhnenko said a third scenario could see the war in Ukraine rage on for another two years, with growing discontent in Russia, a slow Russian retreat in some places, and troops holding the frontline in others.
"In this case, the Siloviki, joined by economic and financial elites, would try to negotiate a deal with Putin to declare a 'victory,' as in 'standing up to the West,' 'not losing,' 'defending Motherland,' etc., but pushing the baton to a designated successor," he said.
He added: "Unlike in the first two scenarios, this is the one where Putin has [the] most bargaining power and a chance to save his life."
Bondarev suggested that Putin may attempt to present whatever small gains he has made in Ukraine as a victory.
"Maybe if he has a couple of new villages then he can say that is a victory, he defeated Ukrainians, he protected the nation, and also blame Ukrainians and the West for not being willing to negotiate peace on these terms," the former diplomat said. "I think if Putin is allowed to do this, he can say that he won, and he will try to sell it to his audience as a victory."
Bondarev said he isn't sure that Putin will be able to convince the population, however, as "most people don't want war, they want peace."
"Putin will find it quite difficult to convince his own elite that this victory was worth all the losses, and everything that they have lost…I don't feel that they would be very much happy about this, that okay, we can get a few Ukrainian villages, and that should compensate for all the losses," he said.
Grigory Yavlinsky, the founder of Russia's Yabloko party, a social-liberal party that has deputies in five regional parliaments, told Newsweek from Moscow that propaganda may affect how a loss for Russia is presented.
"Russia is extremely authoritarian, so Russian people are under the enormous influence of propaganda and fear. So it all depends [on] what kind of propaganda would be in Russia, and how all the things will be explained? Very often, the situation is very far from the reality," he said.
If Putin attempts to present the conflict, if it hasn't gone his way, as a victory, then any kind of this disappointment or resistance, "will also be very difficult to spread," Bondarev said.
"Because everyone who is not very good in [finding] information will say, okay, Putin says we won, we are still a great country," he added. "This situation shouldn't be allowed to happen. Putin should have nothing that he can sell as his victory. He should be humiliated."
Newsweek reached out to Russia's foreign ministry via email for comment.
Do you have a tip on a world news story that Newsweek should be covering? Do you have a question about the Russia-Ukraine war? Let us know via [email protected]