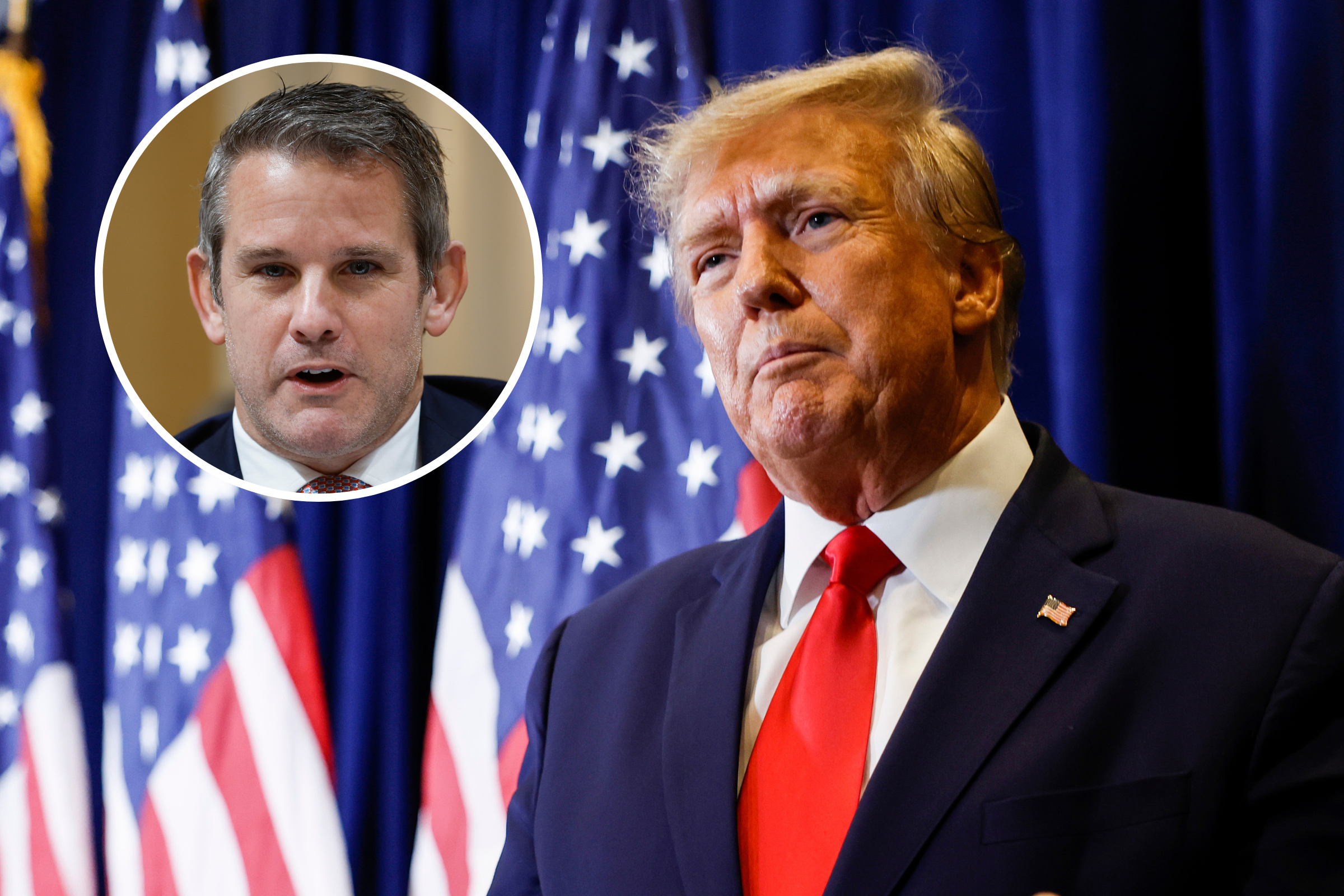 Illinois Republican Adam Kinzinger believes that former President Donald Trump's reelection efforts would likely benefit if he's indicted in the probe of hush money paid to Stormy Daniels.
According to a report from The New York Times on Thursday, the Manhattan District Attorney's Office recently offered Trump the chance to testify next week, a signal that the former president could face criminal charges accusing him of paying hush money to adult-film star Daniels during his 2016 presidential campaign.
The Times wrote that the offer from District Attorney Alvin Bragg "almost always indicates an indictment is close."
While speaking to CNN Thursday, Kinzinger, who previously represented the 16th Congressional District in Illinois, was asked if he thought the potential indictment would impact Trump's 2024 campaign run.
"I think he absolutely will still run because [it] actually will probably make him more popular within the GOP," Kinzinger said.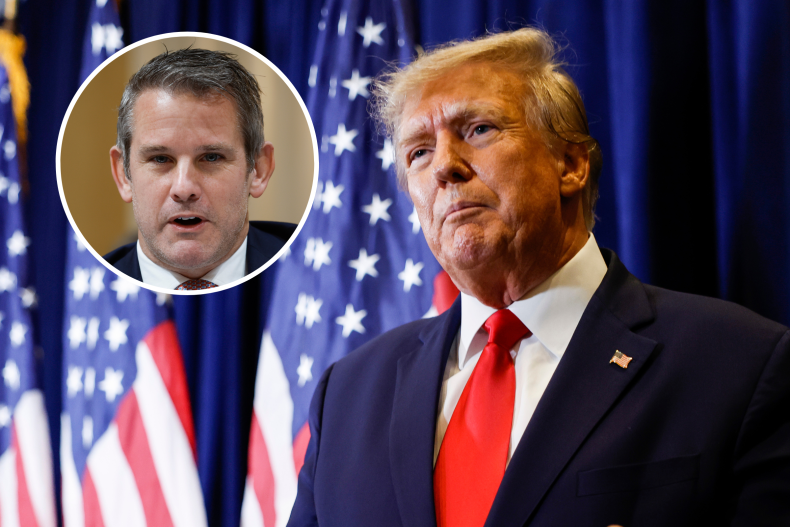 Former President Donald Trump on Saturday speaks to reporters before his speech at the annual Conservative Political Action Conference in National Harbor, Maryland. On Thursday, former Illinois Representative Adam Kinzinger, inset, told CNN that he believes a Trump indictment would likely boost his GOP popularity in the 2024 campaign, as Trump "will play the victim card." Anna Moneymaker/Getty; Chip Somodevilla/Getty
"Look at what happened when he defeated impeachment the first time," the former congressman continued. "Look at what happened, you know, frankly, when he wasn't even removed the second time, which he should have been, he actually gains popularity. He's so good at being a victim."
Kinzinger has been a vocal critic of Trump and some of his fellow members in the GOP since Trump supporters attacked the U.S. Capitol on January 6, 2021. Kinzinger was also one of two Republicans who served on the special House committee investigating January 6, which ultimately referred the former president to the Department of Justice over his activities on the day of the riot.
If Trump is charged by Bragg, it would be the first indictment among a flurry of criminal investigations facing the former president. A criminal charge would not necessarily stop Trump from pursuing his 2024 election bid.
"It's amazing that in this kind of culture that [Republicans] have where it's supposed to be about strength and manhood, he's actually like the biggest victim ever," Kinzinger continued Thursday. "But I think he will play the victim card, and this probably will help him in the primary. And short of being convicted of a felony, it's not going to stop it."
The hush-money investigation by the Manhattan District Attorney's Office has spanned more than five years. Michael Cohen, Trump's former lawyer, was previously sentenced to three years in federal prison for arranging the payment. Cohen alleges that Trump advised him to do so.
In a statement posted to Twitter by ABC News producer John Santucci, a spokesperson for Trump said that the "Manhattan District Attorney's threat to indict President Trump is simply insane."
"For the past five years, the DA's office has been on a Witch Hunt, investigating every aspect of President Trump's life, and they've come up empty at every turn – and now this," read the statement. "The fact that after their intensive investigation the DA is even considering a new political attack is a clear exoneration of President Trump in all areas."
When asked for comment, Trump's spokesperson Liz Harrington directed Newsweek to a statement released by the former president on his Truth Social account Thursday, where he claimed, "I did absolutely nothing wrong, I never had an affair with Stormy Daniels, nor would I have wanted to have an affair with Stormy Daniels."
"This is a political Witch-Hunt, trying to take down the leading candidate, by far, in the Republican Party while at the same time also leading all Democrats in the polls, including Joe Biden and Kamala Harris," Trump added.
Last week, a poll conducted by Echelon Insights showed that Trump would lose in a hypothetical rematch against President Joe Biden in 2024 by 3 percentage points.