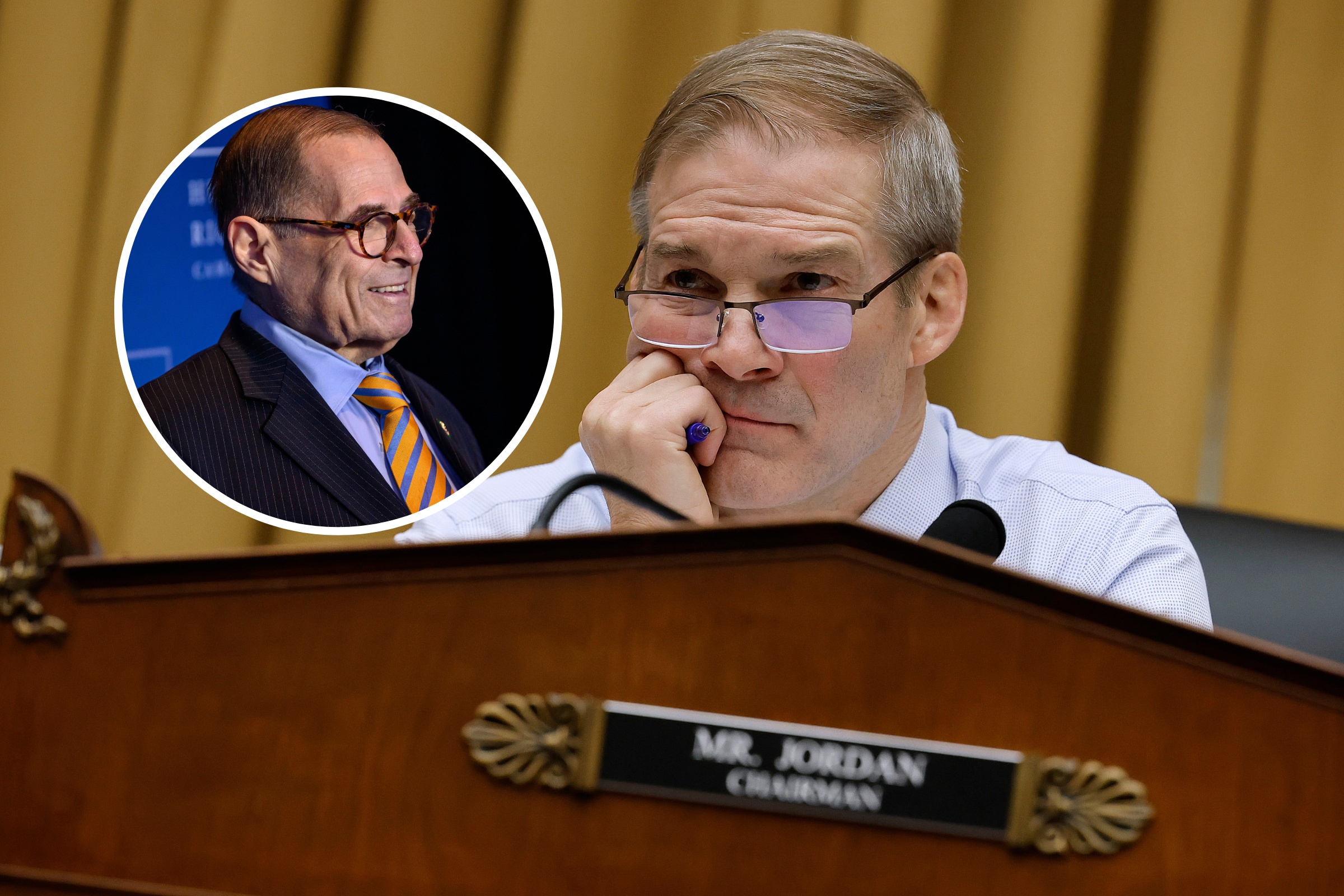 Republican Representative Jim Jordan of Ohio is calling for a host of new witnesses to testify on "weaponization" of the government after a report from Democrats dismissed his previous "whistleblowers" as conspiracy theorists.
House Judiciary Committee Chairman Jordan, in a letter to FBI Director Christopher Wray on Friday, requested that 16 of the bureau's employees testify before the Select Subcommittee on the Weaponization of the Federal Government. Three supposed FBI whistleblowers have testified so far.
"Our need to obtain testimony from FBI employees is vital for carrying out our oversight and for informing potential legislative reforms to the operations and activities of the FBI," Jordan wrote to in the letter to Wray.
"From the documentary and testimonial information that we have obtained to date, we have identified several FBI employees who we believe possess information that is necessary for our oversight," he added, before listing 16 name-redacted employees for Wray to make "available" for interviews.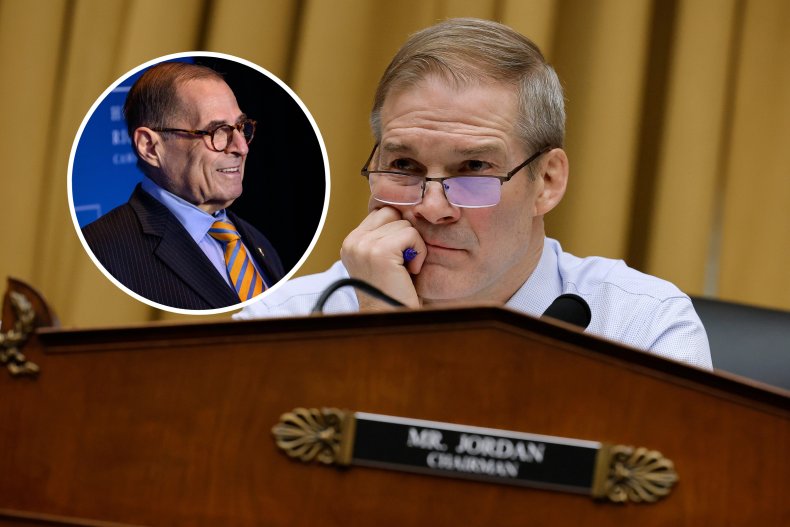 House Judiciary Committee Chairman Jim Jordan is pictured presiding over a government "weaponization" subcommittee hearing in Washington, D.C., on February 9, 2023. The inset features ranking Democratic committee member Jerrold Nadler at an event in New York City on February 4, 2023. Jordan on Friday called for more witnesses to testify before the subcommittee after Nadler released a report questioning the credibility of his previous "whistleblowers." Chip Somodevilla; Roy Rochlin
The weaponization subcommittee was created by Republicans to investigate what Jordan says are partisan attacks on Republicans by the FBI and the Department of Justice (DOJ).
As part of the investigation, the Ohio congressman said that he spoke to "dozens and dozens of whistleblowers" who uncovered the "political nature" of the DOJ, particularly concerning an alleged biased against former President Donald Trump.
A lengthy report released by ranking Democratic Judiciary Committee member Jerrold Nadler of New York and U.S. Virgin Islands House Delegate Stacey Plaskett earlier on Friday argued that "House Republicans have found very few facts to fit their favorite talking points."
"The three individuals we have met are not, in fact, 'whistleblowers,'" Nadler and Plaskett wrote in a foreword to the report. "These individuals, who put forward a wide range of conspiracy theories, did not present actual evidence of any wrongdoing."
The foreword goes on to say that the "transcribed interviews we have held thus far refute House Republican narrative about bias," while urging Jordan to open up the hearings and "schedule the public testimony of these individuals without delay."
The report's executive summary says that "there is reason to doubt the credibility of these witnesses," arguing that every witness "endorses an alarming series of conspiracy theories related to the January 6 Capitol attack, the COVID vaccine, and the validity of the 2020 election."
"These so-called 'whistleblowers' are directly connected to a network of extreme MAGA Republican operatives," it continues. "Republicans are not running good-faith investigations."
Jordan spokesperson Russell Dye said in a statement to Newsweek that Nadler and Plaskett's report was "beyond disappointing, but sadly not surprising," accusing the Democrats of leaking "cherry-picked excerpts of testimony to attack the brave whistleblowers who risked their careers to speak out on abuses at the Justice Department and FBI."
Republican Representative Matt Gaetz of Florida, a committee member, called for Democrats to be excluded from future "weaponization" depositions while speaking at the Conservative Political Action Conference in Maryland on Friday.
"These are the Jim Jordan, Marjorie Taylor Greene [and] Matt Gaetz days," said Gaetz. "And if the Democrats are going to obstruct our investigation, then I am calling to remove the Democrats from our investigation."
However, the committee's ranking Democrats were not alone in criticizing the weaponization subcommittee and questioning the credibility of Jordan's witnesses.
Nick Akerman, ex-assistant U.S. attorney for the Southern District of New York and assistant special Watergate prosecutor, told Newsweek earlier on Friday that Jordan had put forward "three nutcases" to testify.
"This is like the fringe of the fringe out there that they're relying on," said Akerman. "They can't point to any specifics or facts and the bias here is so obvious. These guys have past histories of spreading the same stuff on the internet and being paid for it … by Trump."
Newsweek has reached out to Nadler's office for comment.