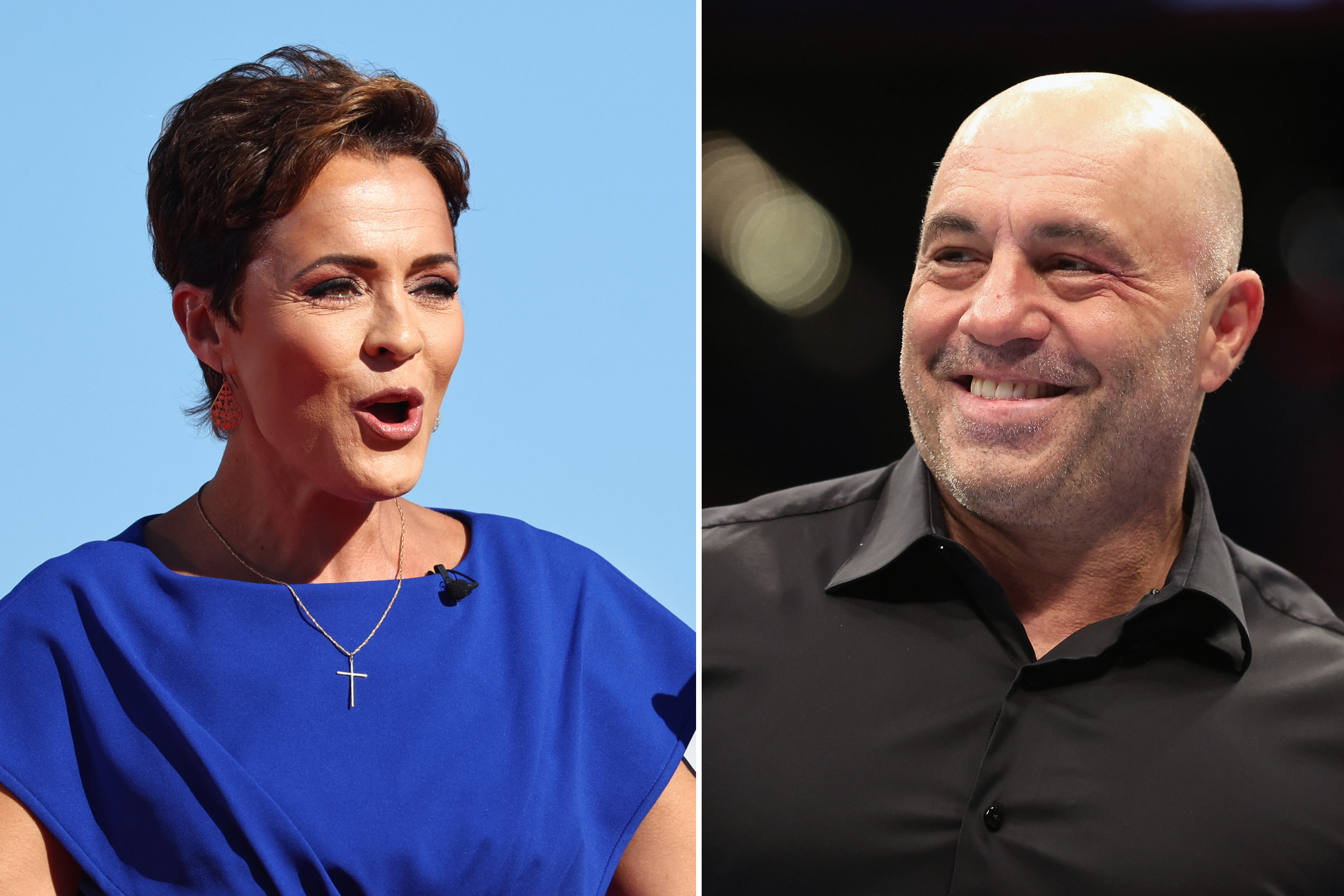 Former Republican gubernatorial candidate Kari Lake continues to pursue an election lawsuit, which podcast host Joe Rogan dismissed as a "puppet show" in his most recent episode.
In November, Lake—who was endorsed by former President Donald Trump—lost the Arizona governor's race to Democrat Katie Hobbs by 17,000 votes. On Election Day, several ballot machines in Maricopa County malfunctioned, triggering Lake to allege the snags led to an intentional miscount deeming Hobbs the winner.
Rogan, who hosted British actor and comedian Russell Brand on his podcast that released Thursday, discussed the concept of election tampering. He spoke about how during the George W. Bush administration, Republican politicians were the source of election-tampering fears. He referenced an HBO documentary called "Hacking Democracy" that outlines how there was third-party access to ballots.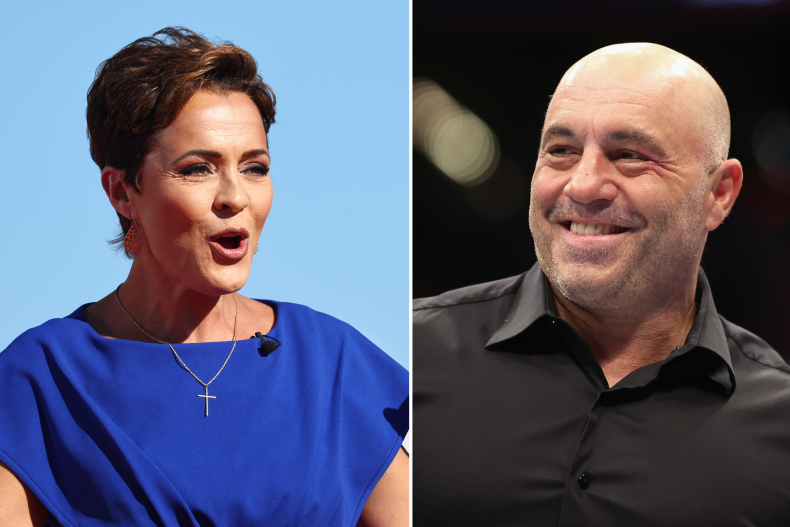 Podcast host Joe Rogan, right, called the election lawsuit filed by Kari Lake, left, a "puppet show." Getty
"They showed it, they demonstrated it on the show and everyone was terrified: 'Oh my God, the Republicans are stealing the vote,'" Rogan said during the episode. "Now it's like Katie Hobbs and Kari Lake in Arizona, the Democrats are stealing the vote."
"It's a puppet show," he added. "It's the old Bill Hicks joke: 'I believe in the puppet on the left. Well, the puppet on the right is more to my liking, and they're like, hey, there's one guy holding both puppets!' That's the old Bill Hicks joke and that's kind of what the f*** is going on."
Rogan said Americans are caught up in "ideological battles" while being inched closer to nuclear war, dangerous pharmaceutical drugs and those in control establishing narratives that aren't based on facts.
"Next thing you know, we have something that's very similar to what's going on in China, and that can happen," he said. "We're not that far away from something like that happening here."
It wasn't the first time Lake has been mentioned on Rogan's podcast. In January, Rogan hosted Jimmy Corsetti, creator of the Bright Insights YouTube channel. In their conversation, Rogan mentions "irregularities" reported by Arizona residents trying to vote in the election.
"I wish I knew what was true so I could actually comment on it," Rogan said.
Corsetti explained that while he walked his dog in Arizona, he saw "a lot of Kari Lake signs" and not one sign that supported Hobbs.
"[Lake] had a huge, huge, huge following, she was doing all the debates. Katie Hobbs hid," Corsetti said, referencing how Hobbs refused to debate with Lake. "But I know what happened. I mean, I don't have proof."
Corsetti goes on to say he felt there was a manipulation in the vote that led to Hobbs winning the election.
"You'd have to be stupid not to conclude that," he said.
Lake deemed the clip a "must watch" and tweeted at Rogan and Corsetti with a two-minute segment of the show and invited herself to speak to Rogan about what she experienced.
MUST WATCH@joerogan & @BrightInsight6 discuss the sabotaged election in AZ. THIS is why Independent Media is so important. Corporate Media won't touch it.

Joe, I'd be honored to go on your program & talk at length about what they did to the people of AZ on Election Day! pic.twitter.com/qwgVLKfup5

— Kari Lake (@KariLake) January 23, 2023
"THIS is why Independent Media is so important," she tweeted. "Corporate Media won't touch it. Joe, I'd be honored to go on your program & talk at length about what they did to the people of AZ on Election Day!"
Since the November election, Lake has claimed that the voting irregularities cost her the election. The Arizona Court of Appeals rejected a lawsuit filed by Lake regarding the election, claiming it was "sheer speculation." However, Lake wasn't deterred and recently announced she would take her case to the state Supreme Court.
Newsweek has reached out to Lake for comment.