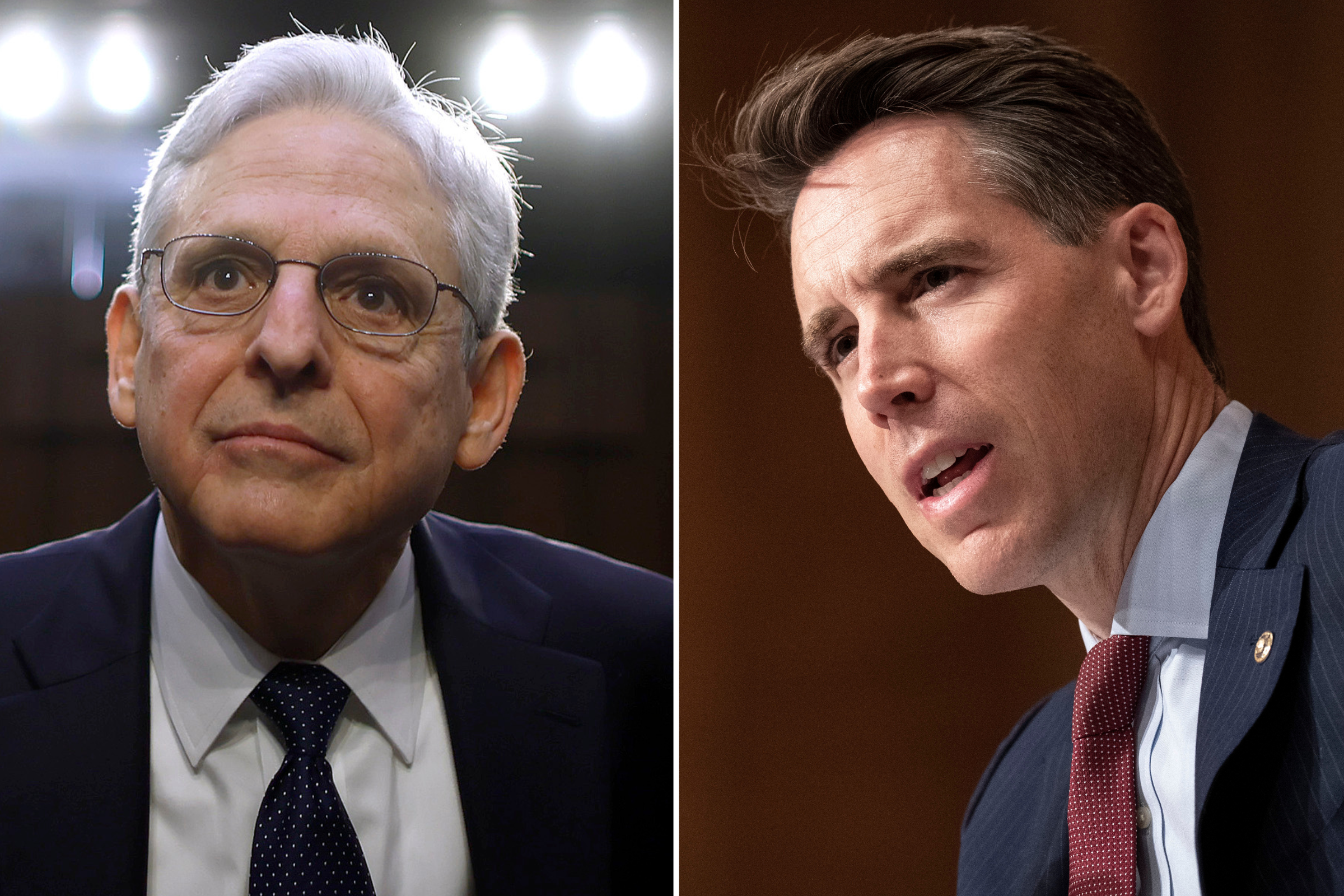 Senator Josh Hawley accused the Department of Justice of surveilling Catholics after the acquittal of a Pennsylvania anti-abortion activist whose arrest by the FBI last fall ignited a firestorm among conservatives who believed the DOJ was treating conservative Catholics as an extremist group.
In a more than 7-minute exchange during a Senate Judiciary Committee hearing Wednesday, the Missouri Republican grilled Attorney General Merrick Garland over the DOJ's handling of a case involving Mark Houck, a Catholic anti-abortion activist. Houck was accused of assaulting a 72-year-old man who was escorting a patient into a Philadelphia Planned Parenthood clinic prior to the 2022 midterm elections.
Houck disputed the allegations but reportedly offered to turn himself in when he learned he was facing charges, Hawley said Wednesday. Instead, FBI agents raided Houck's home in full riot gear early in the morning of September 24 in front of his wife and children in an incident Pennsylvania gubernatorial nominee Doug Mastriano described at the time as an example of the "continued weaponization of the FBI."
"They handcuff him, they treat him like they're arresting Osama bin Laden," Texas Senator Ted Cruz said after the arrest. "He had volunteered to turn himself in. But this wasn't law enforcement. This was theater. This was the Biden DOJ saying 'if you're our political opponent, we're sending stormtroopers after you.' This is disgusting."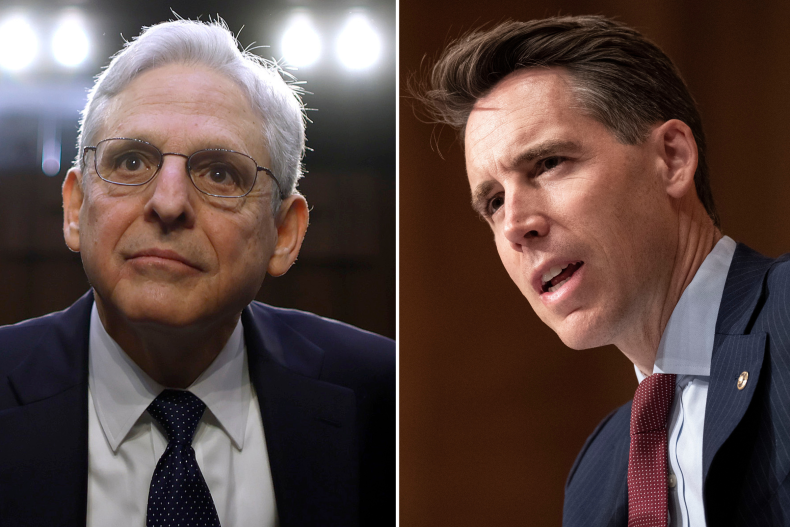 Missouri Republican Senator Josh Hawley (R) accused the Department of Justice under Attorney General Merrick Garland (L) of spying on Catholics. Garland denied the allegations during a hearing on March 1, 2023. Drew Angerer/Chip Somodevilla/Newsweek Photo Illustration/Getty Images
Local prosecutors, however, declined to pursue charges and, earlier this year, Houck was acquitted after less than one hour of jury deliberations. But the damage had been done; Hawley and other conservatives claimed the arrest represented a DOJ bent on targeting political opponents, including anti-abortion activists and Donald Trump. The former president is currently under scrutiny for a number of alleged transgressions including his refusal to return classified documents from his time in the White House to an alleged attempt to overturn the result of the 2020 election.
"You used an unbelievable show of force with guns that I note liberals usually decry," Hawley told Garland on Wednesday. "You're supposed to hate long guns and assault-style weapons but you're happy to deploy them against Catholics and innocent children. And then you haul them into court for a jury to acquit them in one hour. I just suggest to you that that is a disgraceful performance by your justice department and a disgraceful use of resources."
Newsweek reached out to Hawley's office and the Department of Justice for comment.
Garland denied the allegations, saying the DOJ does not target any group based on their political or religious views and that the FBI agents who made the arrest disputed Houck's account of how the day's events played out.
"We have a rule against investigations based on First Amendment activity and Catholic churches are obviously First Amendment," Garland said.
Some conservatives, however, have claimed the DOJ has exhibited political bias in what it hasn't investigated, particularly a seeming lack of attention toward a spike of attacks toward churches and "crisis pregnancy centers" after the overturning of Roe v. Wade last summer.
During Wednesday's hearing, Hawley cited a January 23 memo from the FBI field office in Richmond, Virginia obtained by conservative outlet Uncover D.C. earlier this winter. The memo connected a conservative catholic movement to return to the Latin Mass, which has underscored a larger philosophic rift that has emerged in recent years among practicing Catholics.
A subset of those who have embraced the movement, the memo claims, include conservative activists as well as white nationalists, the latter of which groups like the Southern Poverty Law Center claim have begun to make up a growing subset of the conservative Catholic movement.
Religious extremist and white nationalist organizations have also become the subject of elevated scrutiny by Garland's Justice Department amid a spike in violence on communities of color as well as attacks on U.S. infrastructure.
To mitigate the apparent likelihood for violence, the memo suggested "the exploration of new avenues for tripwire and source development against traditionalist Catholics," including those who favor the Latin Mass—a move critics have described as an overbearing assault on religious freedom.
Garland decried the "appalling" memo during Wednesday's hearing, saying the agency "does not do investigations based on religion" and noted the agency was now investigating its publication.
While Garland denied having informants within the Catholic Church, Hawley, it seemed, was unconvinced.
"Apparently on your watch, this Justice Department is targeting Catholics, targeting people of faith specifically, for their faith views," said Hawley. "And Mr. Attorney General, I'll just say to you, it's a disgrace."