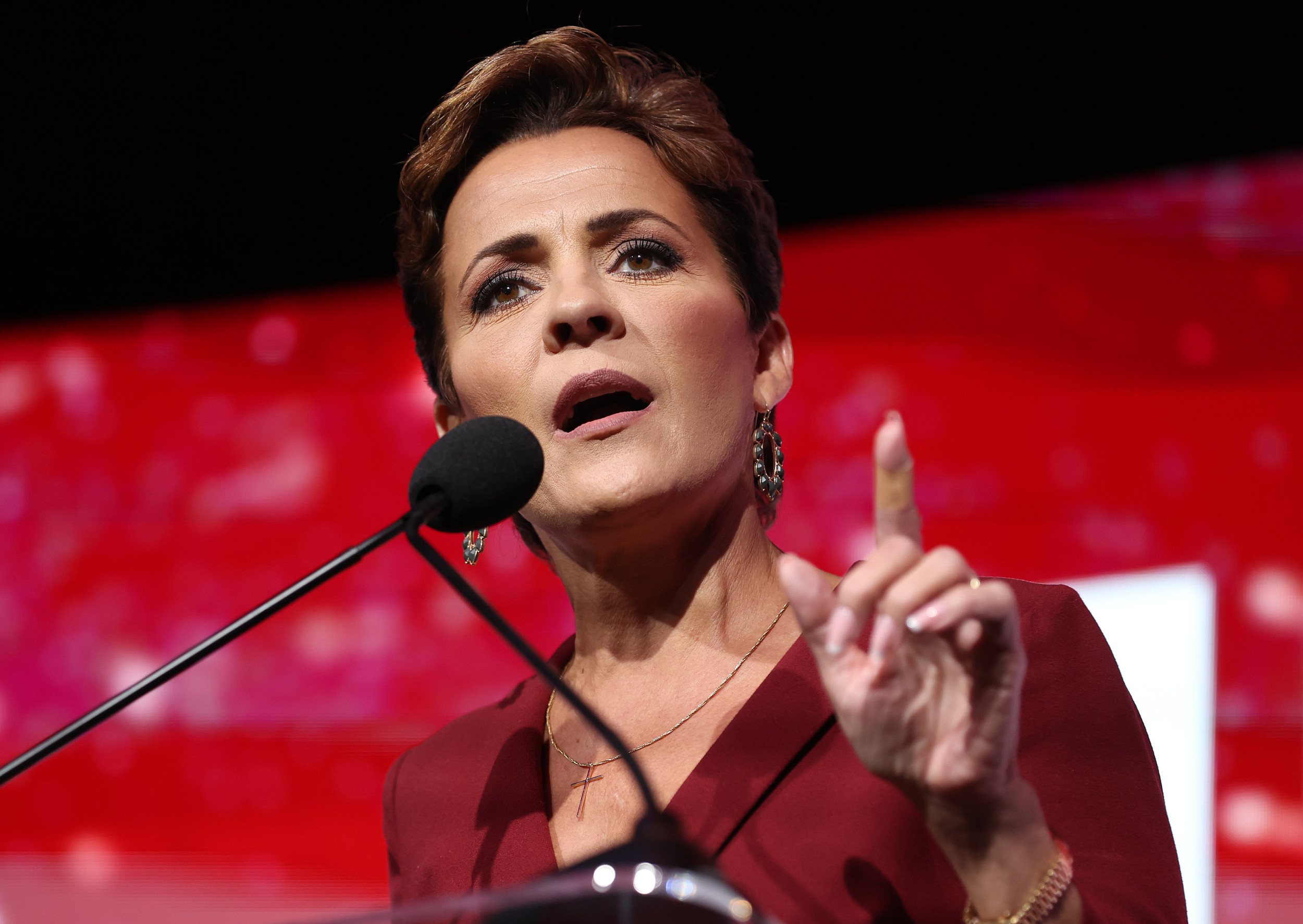 Kari Lake, the former news anchor and failed Arizona gubernatorial candidate, claimed on Saturday that she was recently offered a bribe to stay out of politics.
Lake first rose to public prominence as an anchor for the local Arizona news station, KSAZ-TV, starting in 1999. She departed the position in 2021 and announced she was running to be the state's governor during the 2022 elections as a Republican.
Lake established herself in the race as a firm ally of former President Donald Trump, echoing many of his major positions and supporting his false claims of fraud in the 2020 presidential election, thus earning his endorsement. Lake ultimately lost the general election in a tight race to Democrat Katie Hobbs, though Lake has continually refused to concede the race and has put forward unfounded claims of fraud in that election.
On Saturday, Lake spoke at the Conservative Political Action Conference (CPAC), an annual event featuring appearances from conservative lawmakers. During her appearance, the former gubernatorial candidate claimed that, only days ago, people came to her door and offered a bribe in exchange for her staying out of politics.
"Somebody showed up at my door this week, they called me before and said, I gotta talk to you in person, can't be done over the phone," Lake said. "They came to my door and they tried to bribe me [into] getting out of politics. This really happened. I'm telling you this because this is how disgusting politics is… They tried to bribe me with a job title, with a huge salary, a position on a board; this is how they do it… This person standing before me was sent at the request of some powerful people back east. They want me out of politics."
Some quack LIBERAL tried to buy @KariLake off (she just shared the story on CPAC)

SHE SAYS NO I CAN'T BE BOUGHT pic.twitter.com/qfSKrqmeuS

— 🇺🇸 ʟᴇғᴛ ᴄᴏᴀˢᴛ ᴠᴀɢʀᴀɴᴛ 🇺🇸 (@Baklava_USA) March 4, 2023
At CPAC:
Kari Lake claims someone came to her door days ago and tried to bribe her to "stay out" of politics for 2 years.

— Diana Glebova (@DianaGlebova) March 4, 2023
Lake offered no additional details about the person who allegedly confronted her or their backers. As such, the claims cannot be independently verified.
Newsweek reached out to Lake's representatives for comment.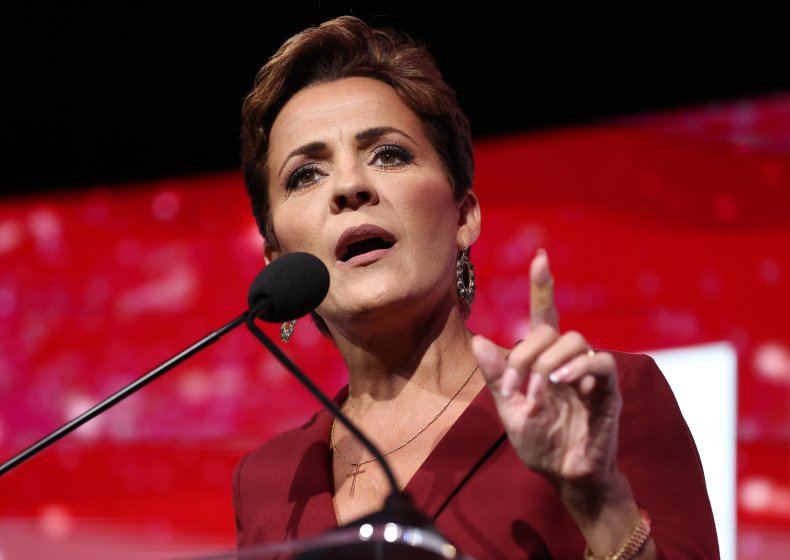 Above, a photo of former Arizona gubernatorial candidate Kari Lake. Lake claimed during a Monday appearance at CPAC that "powerful people" attempting to bribe her to leave politics. Justin Sullivan/Getty Images
CPAC is also known for its annual straw poll, which presents attendees with various questions about conservative politics in an attempt to gauge the stances of voters. This includes questions about preferred presidential and vice presidential candidates.
This year, Lake placed the highest among prospective vice presidential hopefuls for the 2024 election, receiving 20 percent of the vote out of 2,000 respondents. Trailing her in the poll was Florida Governor Ron DeSantis, the Governor of Florida otherwise considered a presidential favorite by many Republicans, with 14 percent, and Nikki Haley, the former Governor of South Carolina and declared 2024 presidential candidate, with 10 percent.
Lake has previously been placed on the supposed short-list of Trump vice presidential picks for 2024, with the former president reportedly set on a female running mate. Other names have included Georgia Representative Marjorie Taylor Greene, New York Representative Elise Stefanik, South Dakota Governor Kristi Noem, and Tulsi Gabbard, the former Hawaii Representative who notably left the Democratic Party over her increasingly conservative stances.