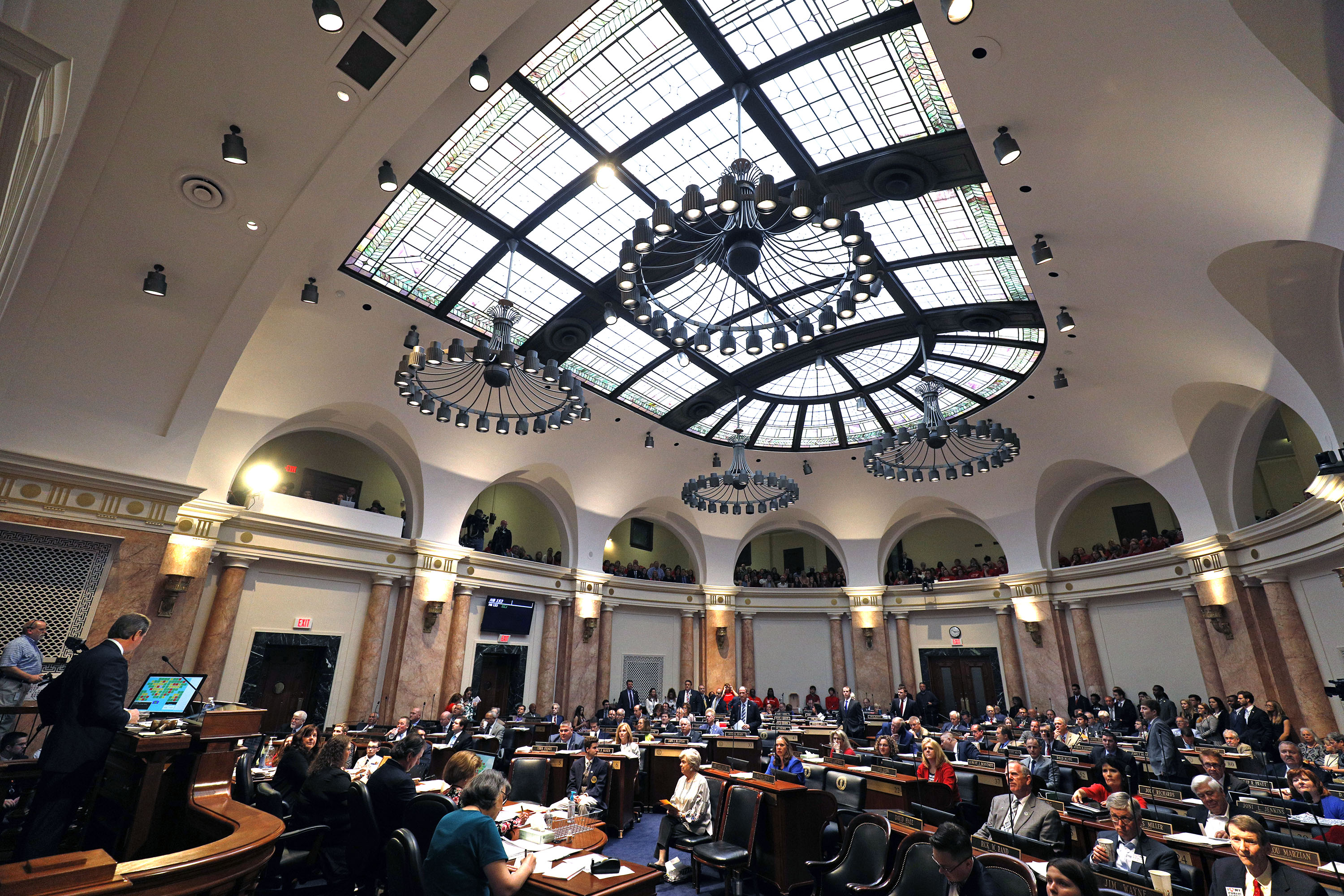 A Kentucky Republican was unsuccessful in his attempts to include statewide drag show bans as part of legislation aiming to limit materials "harmful to minors."
Kentucky Senate Bill 5 (SB 5) was sponsored by state Senator Jason Howell to require local boards of education to adopt a complaint resolution policy to address parental complaints about materials that are perceived as harmful to minors while requiring children of parents who issued complaints to not have access to such material.
Book and drag show bans have become more prevalent over the past two years in the U.S. A 2021 report issued by the American Library Association (ALA) noted 729 challenges to materials and services from libraries, schools and universities during the year. It resulted in more than 1,597 individual instances of books either being challenged or removed, with books "by or about Black or LGBTQIA+ persons" being the most targeted.
Kate Miller, advocacy director for the American Civil Liberties Union in Kentucky, has followed the state's legislature for 15 years and said the Kentucky General Assembly has more bills on LGBTQ+ individuals and restrictions on speech this legislative session than at any time in recent history.
"This is just a deluge of bills," she told Newsweek.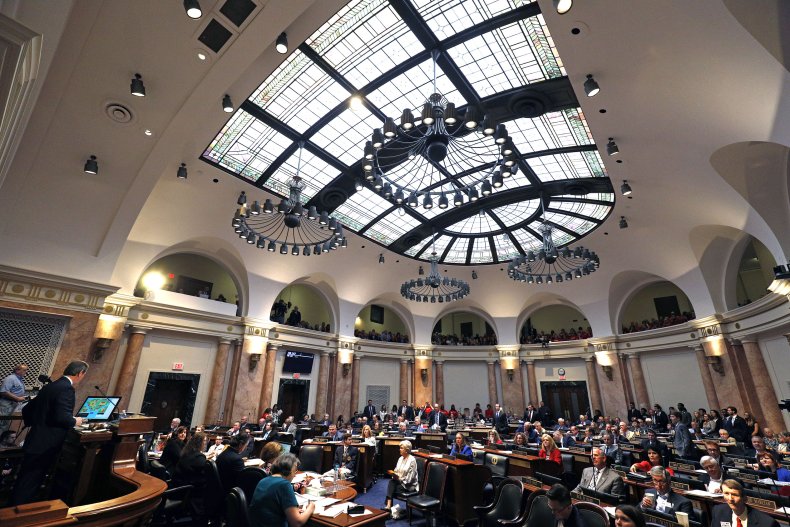 The House Chamber at the Kentucky State Capitol on April 13, 2018, in Frankfort, Kentucky. The Republican super majorities presently in the state legislature have proposed bills related to book bans and drag shows statewide. Bill Pugliano/Getty Images
Stephen Voss, assistant professor of political science at the University of Kentucky, told Newsweek that because of the schedule of Kentucky's legislature, elected officials meet for fairly short periods of time twice a year and put forward legislation that often "is highly curtailed even in the best of circumstances."
The long-term outlook statewide involves a relatively large gap in terms of political ideals and personal values, he said, with the "easiest and most obvious target" being schools.
Voss said some older citizens figure that ideas revolving around literature or drag shows "surely must be some fault of the teachers" at universities or in lower levels of schooling. Much of the age gap on political values revolves around sexuality, he added.
"Kentucky, like a lot of so-called red states, is kind of caught in the culture war battles basically over what messages are being taught to young people and maybe not causing them to exhibit fidelity to more traditional values," said Voss, an expert on voting behavior.
For example, he said, some people might see or read a story circulating on conservative or social media and become "appalled and offended that it happens anywhere, and they want to head it off before such cultural developments happen here."
Maia Kobabe's Gender Queer: A Memoir, labeled as one of the top 10 most challenged books in that ALA report, was mentioned as an example of harmful material in Kentucky's SB 5 legislation, according to the Kentucky Lantern.
The bill defines "harmful to minors" as:
"(a) Contains the exposure, in an obscene manner, of the unclothed or apparently unclothed human male or female genitals, pubic area, or buttocks or the female breast, or visual depictions of sexual acts or simulations of sexual acts, or explicit written descriptions of sexual acts;
(b) Taken as a whole, appeals to the prurient interest in sex; or
(c) Is patently offensive to prevailing standards regarding what is suitable material for minors."
Republican state Representative Josh Calloway introduced several amendments prior to the Kentucky House passing Howell's legislation with an 80-18 party line vote.
One amendment included the revival of Senate Bill 115, which was introduced by state Senator Lindsey Tichenor last week and made it out of the Senate last Friday. It would have prohibited drag shows on publicly owned land statewide and around children, leading to potential misdemeanors and felonies for performers.
That legislation is not expected to pass because of a lack of readings in the House prior to the beginning of Friday's veto session, Louisville Courier Journal reported.
Calloway said on the floor that the legislature had to make sure "that our kids' minds are not being perverted."
"We cannot let those things that are happening across our state continue," said Calloway, who unsuccessfully introduced amendments related to bullying notifications and vaccine requirements. "If we let them continue, you understand that we will get to a point of no return. When it comes to the minds and the hearts of our pupils, they're going to be our next leaders."
Last year, transgender swimmer Lia Thomas was publicly admonished by a University of Kentucky swimmer for changing the "trajectory" of women's sports.
Kentucky Governor Andy Beshear, a Democrat, is predicted to veto Senate Bill 5, but Republicans have super majorities in both state chambers and can override vetoes. Beshear is also running for reelection.
Miller said it's likely that such bills introduced by Republicans will make it past the finish line, be vetoed by Beshear, then be overridden. She said it is already easy to override legislation but "especially easy" considering the current legislative makeup.
Newsweek reached out to Calloway, Tichenor and Beshear for comment.