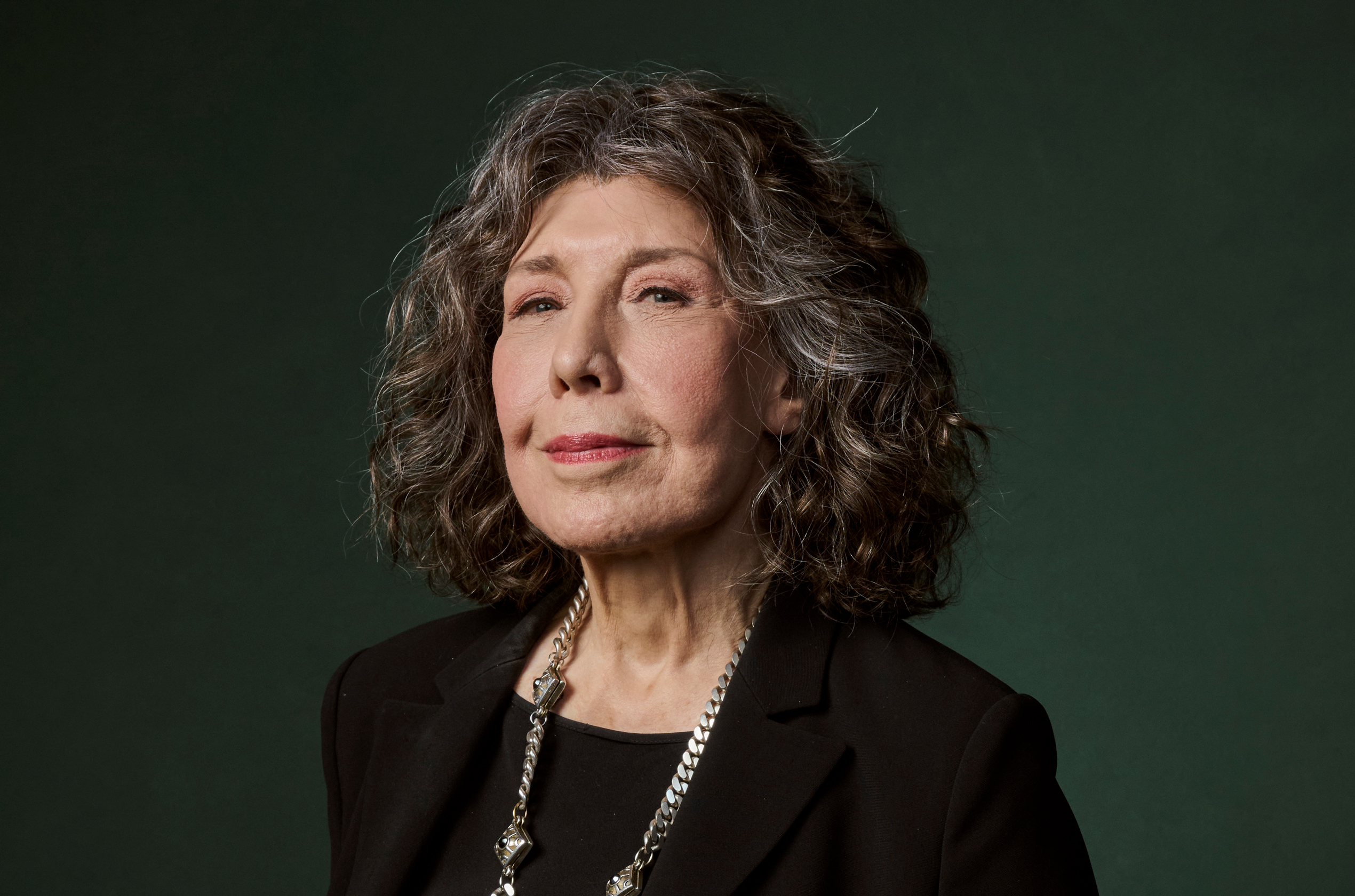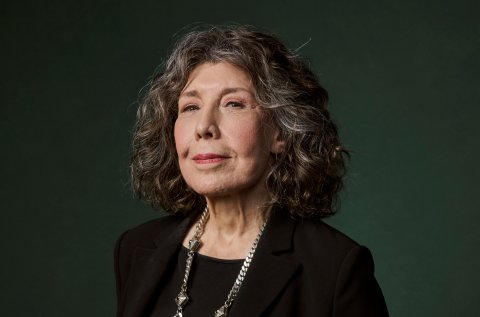 Lily Tomlin. Gareth Cattermole/Getty
"The movie was terribly funny when I read it. Full of surprises and little crooked turns."
If living well is the best revenge, then Lily Tomlin is getting all the revenge, especially in her new film Moving On (March 17). She and Jane Fonda team up once again to get retribution—the murderous kind—against a widower who wronged them. "What excited me first was I was going to work with Paul [Weitz] again." The pair previously worked together on Grandma (2015) and Admission (2013). "I was sitting on set a couple of years before COVID, and I [told Jane], 'I'm going to call Paul and ask him to write a movie for us.'" You're clearly a powerhouse when you can ask a director for a movie, although Tomlin says it's "not in my nature to do that…I was really taking advantage of just knowing him." And getting to work with Fonda is still exciting for Tomlin, who says she's been a fan since Klute (1971). "I cut my hair in a Klute hairdo, never expecting to meet her." Even though Tomlin isn't a vengeful person like her new character, she says every character has "some connection to the real you." "I fall in love with the person first in some way."
SUBSCRIBE TO THE PARTING SHOT WITH H. ALAN SCOTT
ON APPLE PODCASTS OR SPOTIFY
What excited you about doing Moving On?
What excited me first was I was going to work with Paul again. I'd already done two movies with him. He told me that he'd written Grandma for me, especially. So I guess our path was sealed at that. One day, I was sitting on set a couple of years before the dilemma with COVID, and I [told Jane], 'I'm going to call Paul and ask him to write a movie for us.' And sure enough, he did. I thought the movie was terribly funny when I read it. Full of surprises and little crooked turns. Of course, you're always concerned, you're making a black comedy about very serious subjects. I totally bought into the relationship and the way they conducted themselves.
Only you and Jane Fonda can call up a big director like Paul Weitz and ask him to write a movie for you.
I don't know if that's true or not. Maybe it is. I was really taking advantage of just knowing him. That's not my nature to do that. But I mean, his mother, Susan Kohner, was in Imitation of Life. When I was a young girl, I went to see it with my mother. And my mother was all prepared for a big cry. She said, "All I know, this movie's gonna be so good." And she opened her purse and had three washcloths. I got to share [that story] with him when I met him for the first time. And Susan is still so lovely and wonderful. I was so glad to get to meet her.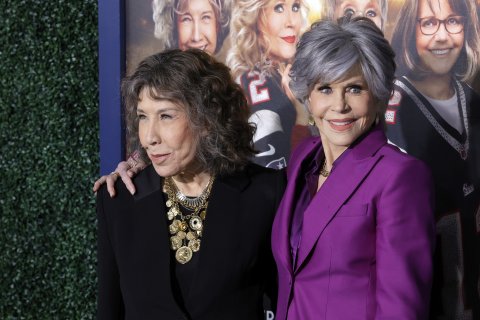 (L-R) Lily Tomlin and Jane Fonda attend the Los Angeles premiere screening of Paramount Pictures' "80 for Brady" at Regency Village Theatre on January 31, 2023 in Los Angeles, California. (Photo by Frazer Harrison/WireImage) Frazer Harrison/WireImage
What do you think it is about your collaborations with Jane Fonda that just works?
We have great chemistry. I adore Jane. She's been a major star for so long. I was a huge fan of Klute. I cut my hair in a Klute hairdo, never expecting to meet her or anything like that. Then, one night, she came to see me do Appearing Nightly, which was the first Broadway show I'd ever done. And she told me about 9 to 5. She'd always say, "Oh, you've got to take a leap of faith." That was her byword in those days. And I've watched her work on herself in every possible way until she would master anything. When she came on Grace & Frankie, I think she was probably intimidated, because I was known to do comedy. She went to New York, she took special teachings. And I said, "you're hilarious. The character you're playing, we're just a perfect match for each other."
But that one is [always] working on really hard things. Like climate change. I went to her house one day, and she said, I'm going to move to D.C.—this is during Grace & Frankie—I'm going to move to D.C. and I've got to call Ted Sarandos [Chief Executive Officer of Netflix] right now. I'm going to ask him to delay Grace & Frankie for a year. And I knew that Ted would never do that. This is in our second or third season, we were a big hit on Netflix. And sure enough, he not only did it but [she] threw herself into it. One time I was playing in Atlanta and she and I went out and had a drink. She said, "Oh you've got to do a scene." She was working on GCAPP (The Georgia Campaign for Adolescent Power & Potential), an organization she made for adolescents and pregnancy. By the way, the rate in Georgia has gone down like some gargantuan number since she began GCAPP. But she was so committed to reaching out to all her friends to do whatever.
In the film, you and Jane's character seek revenge. Do you ever feel the need to be vengeful?
No, I don't. I never have really…maybe momentarily. I'd say, "I hope she loses that Golden Globe." [laughs] The older I get, I don't even consider it. I feel more it just extends your compassion for the planet and where we might be headed and what human beings are all about. And I don't distinguish the roles by anything like that. I think of a person, I fall in love with the person first in some way. Like the woman [I played] in 80 for Brady. They sent us a clip of her kid receiving a phone call from Tom Brady about him doing a movie about her and her girlfriend. He was so in wonderment and so excited and yet very cool. She's 97 now. She's just remarkable. And in Moving On, I love this girl [my character], being a lesbian and asking the woman's grandkids, "Did Joyce ever talk about me?" When Malcolm's daughter tells me that she found these letters from other mothers that I'd written to her, I say "hot dog, that makes me really happy." I said to Paul, maybe she wouldn't use words like hot dog. So Paul says to me, I've heard you say those exact words. I just took something from your speech to me one day. Wow. No idea.
You know, listening to you talk about characters, it's clear you really let them get inside you. I think of your show Search for Signs of Intelligent Life, how you become a character. Even when you speak of them, it's in first person. How do you find a character?
I think like most other actors in some fashion. When my partner, Jane [Wagner], and I are doing something together we're on the same page anyway, same sensibilities, she can just express all that and express what I feel. She has a high verbal level, she's very good. She's just one of the most compassionate and sensitive people that I know. We just do people that we are in love with or some culture type that is existing in the world. And then most of the characters that I've done, we just approach a character that way. Caring about them, wanting them to have their say, a character marginalized by their culture. And then the person starts to live in your body. And, of course, everything you do is some connection to the real you, just a kernel of something in that other person that's like you.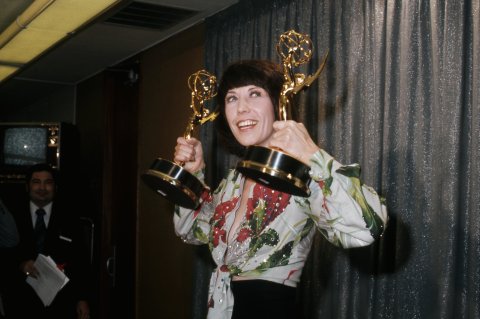 Actress, comedian, writer and producer holds up her Emmy Awards for her special 'lily' at the 26th Emmy Awards held at the Pantages Theatre on May 28, 1974 in Los Angeles, California. (Photo by Richard Creamer/Michael Ochs Archives/Getty Images) Richard Creamer/Michael Ochs Archives/Getty Images
One of the things that makes me angry is that you've never won an Oscar. You've won every other award under the sun, but never an Oscar? Does that make you angry?
No, until I heard about the EGOT. [laughs] Rita is the only whose got it in 80 for Brady. My precious Jane doesn't have an EGOT either.
And you're the closest to it among the 80 for Brady cast.
I probably am because I did so many things in different fields. Here's what I thought I'd do. Although I did kind of steal this idea from Albert Brooks. I heard him sort of talking about it one day. If I got nominated and I won, I was gonna come out, humbly, humbly, humbly, and then have this rolling cart beside me. I'd say "I never expected to win this honor, blah blah blah," and then I'll open this case [and add it to] all the other awards.
You'd need a big case because you have a lot of Emmys and they're tall.
Not that many, but quite a few. Maybe it'd be a really tall case. Taller than I am.
Listen to H. Alan Scott on Newsweek's Parting Shot. Available on Apple Podcasts, Spotify or wherever you listen to podcasts. Twitter: @HAlanScott