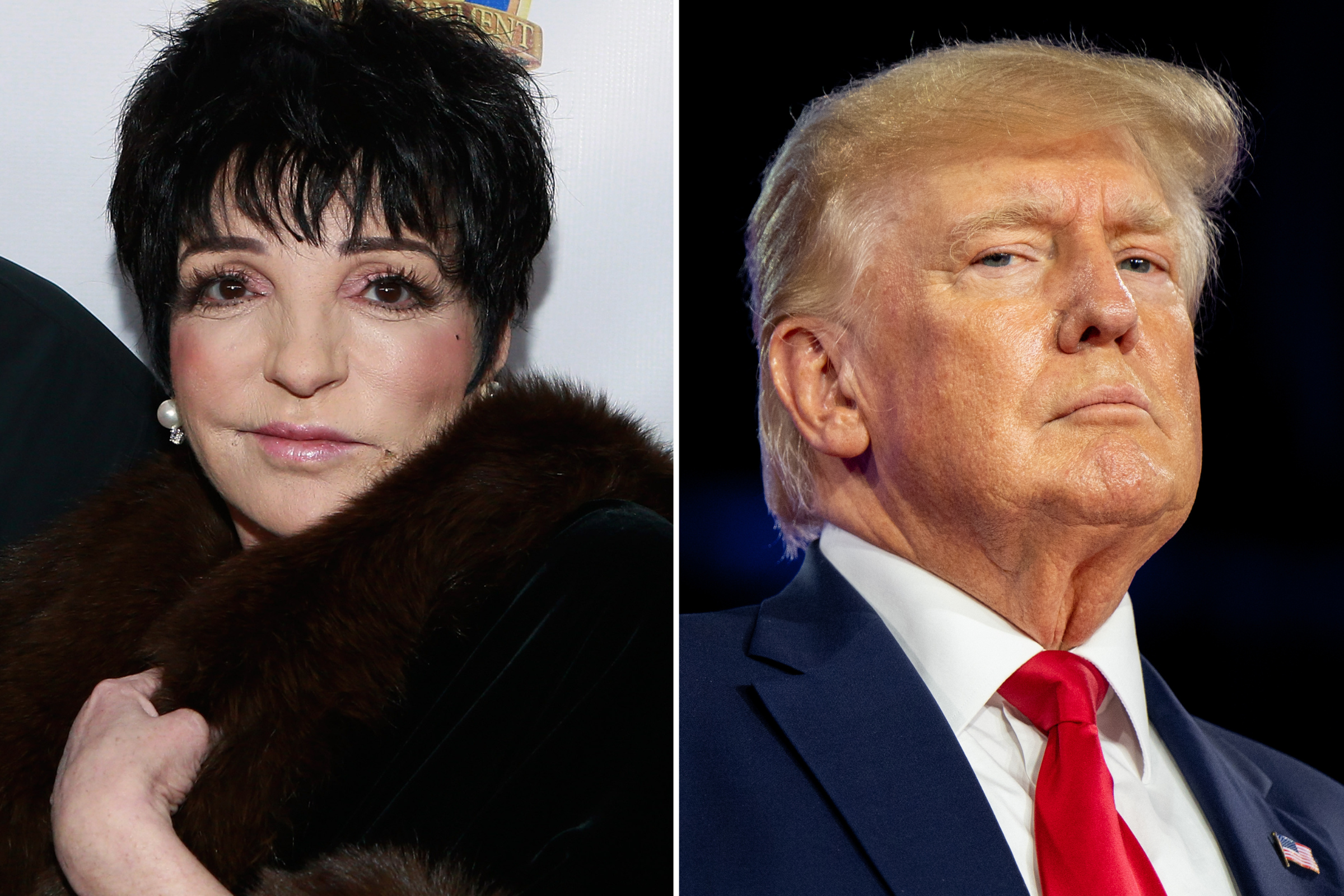 Liza Minnelli's representative said the Hollywood icon "was unaware" of former President Donald Trump's forthcoming book, which claims to include a letter written by the award-winning actress and singer.
Trump's book, Letters to Trump, is set to release in April, and promises to include several "incredible, and oftentimes private" correspondences between Trump and notable figures, including Ronald Reagan, Princess Diana, Oprah Winfrey and Hillary Clinton and Jay Leno.
A few of the names listed in Trump's book, however, have since said they did not give him permission to publish their written work, sparking questions over Trump's legal rights to include them in his own publication.
On Friday, Minnelli's representative, Victoria Varela, told Newsweek in a written statement that her client "was unaware of the book and has not given her permission to be included."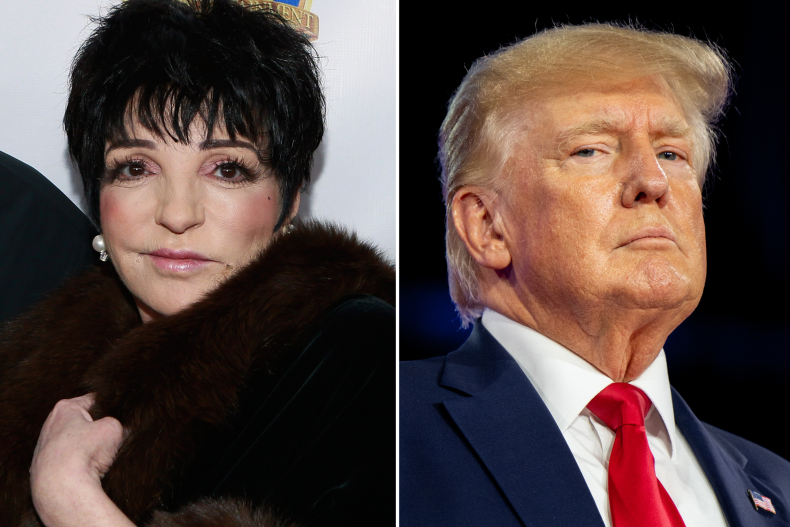 Hollywood legend Liza Minnelli, left, is pictured at the Ziegfeld Theatre on January 31, 2013, in New York City. Former President Donald Trump, right, is shown at the Hilton Anatole on August 6, 2022, in Dallas, Texas. Minnelli's representative on Friday told Newsweek that the entertainer was not aware of Trump's forthcoming book and has not granted permission to be featured in it. John Lamparski/WireImage; Brandon Bell/Getty
The company behind Trump's book, Winning Team Publishing, has claimed that there is "actual or implied" permission from the private citizens who sent the letters to be included in the book. However, previous copyright law rulings find that the writers of letters, not the letters' recipients, retain the rights to the text.
Jane C. Ginsburg, professor of literacy and artistic property law at Columbia University School of Law in New York, previously told Newsweek that the principle has been "well-established in copyright law" for hundreds of years, "Going back to a famous case from 1741, in which poet Alexander Pope sued Edmond Curll for publishing Pope's letters."
"Pope prevailed," Ginsburg added. "Lord Justice Hardwick announced a distinction between the 'property of the paper' which belonged to the recipient of the letters, and the property in the words, which remained with the writer."
A representative for former Tonight Show host Leno previously told Newsweek that "Jay did not release, nor authorize any use of any letter to Mr. Trump." The former president mistakenly claimed over Truth Social several days later, however, that Leno "did when you sent it!"
Clinton's spokesperson, Nick Merrill, also told Newsweek that "of course he didn't" ask permission from Clinton before putting her letters in the book.
"Nothing says deeply-insecure-has-been quite like publishing private correspondence with the hope that people will believe you once garnered respect," Merrill said. "Feels like the adult equivalent of when a toddler proudly presents you with what they've done on the potty."
Diana's brother, Charles Spencer, has also come forward after Trump claimed in an interview with Breitbart that the late royal, alongside her ex-mother-in-law Queen Elizabeth II, used to "kiss my a**."
"Surprised to hear that Donald Trump is apparently claiming that my late sister Diana wanted to 'kiss his arse,' since the one time she mentioned him to me—when he was using her good name to sell some real estate in New York—she clearly viewed him as worse than an anal fissure," Spencer wrote on Twitter Wednesday.
Over the years, Minnelli and Trump have appeared at several of the same events, including the former president's 42nd birthday celebration in 1988, according to a previous report by The Washington Post.
Trump also reportedly attended Minnelli's wedding in 2002, according to English actress Martine McCutcheon, who said in January 2021 while appearing on The Masked Singer U.K., that she sat next to Trump after being one of Minnelli's bridesmaids.