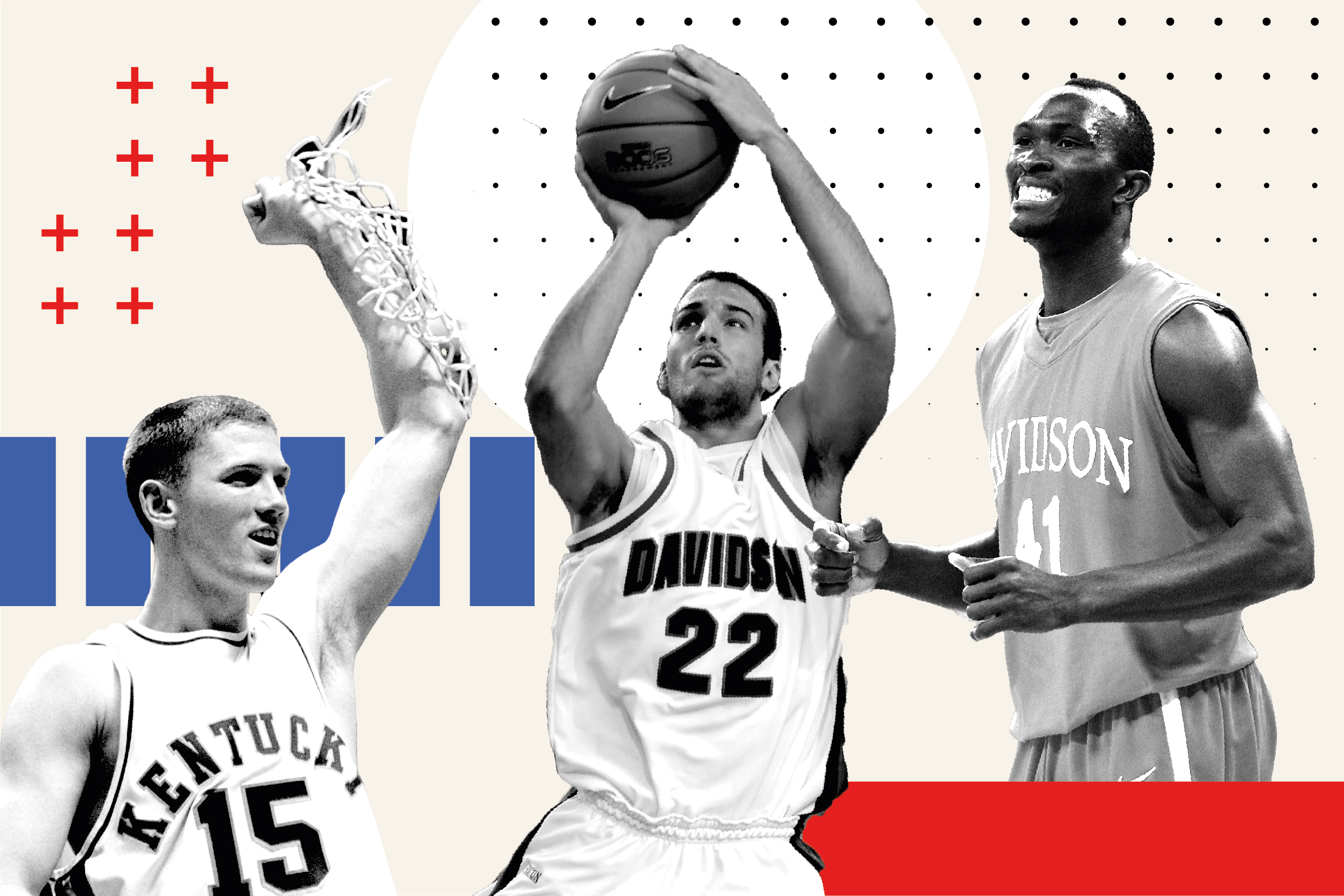 Andrew Lovedale, like college team-mate Stephen Curry, dreamed of becoming a NBA star. The pair were part of the Davidson team that captured the nation's imagination in 2008 as they rolled all the way to the Midwest regional finals, only to lose to Kansas 59-57.
Curry would go on to become a four-time NBA champion, with all the fame and wealth that comes with it. For Lovedale, it didn't quite work out that way, but he's managed to create his own success.
Lovedale told Newsweek: "I played professional basketball in Europe for a few years before coming back here to be in the NBA G-League but I hurt my knee and so I retired and focused on drilling down with my foundation."
The NCAA tournament is one of the most eagerly anticipated periods in the basketball calendar. "The Big Dance" will see 64 colleges battle it out in a straight knockout competition to become the national champions, with some players who set the court alight going on to form the next generation of NBA stars.
Others, though, apply the lessons they learned during the tournament to a successful career away from the court. Newsweek tells the stories of three such heroes here.
Lovedale was born in Benin City, Nigeria, and it was the plight of children in his home country that has driven him since leaving the court behind. But before he had to retire from the game, he had already laid the foundation for a post-basketball venture that would change the lives of tens of thousands of people.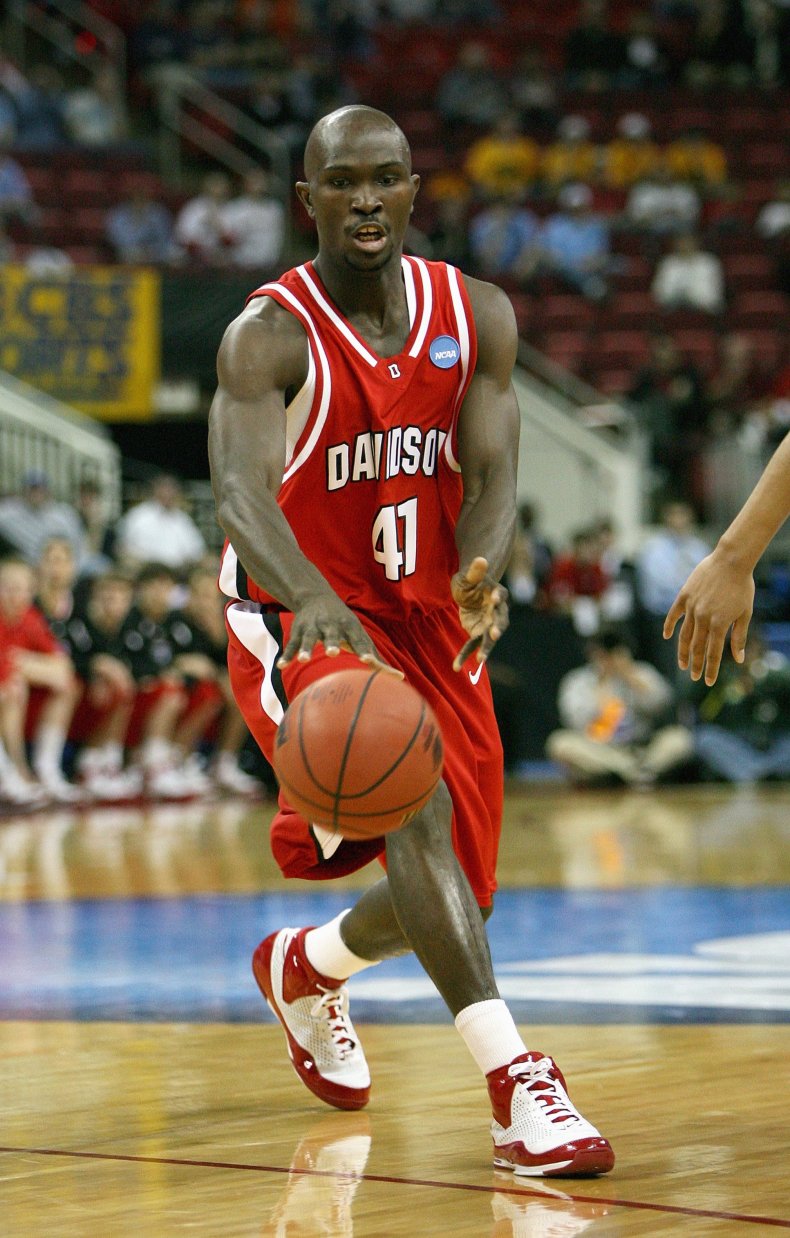 Andrew Lovedale #41 of the Davidson Wildcats dribbles the ball against the Gonzaga Bulldogs during the 1st round of the 2008 NCAA Men's Basketball Tournament on March 21, 2008. He now runs a foundation that helps entrepreneurs in Nigeria. Getty Images
A fundraising campaign to provide footwear for youths in Nigeria brought in more than 10,000 pairs of shoes and from that the Access To Success (A2S Foundation) was born.
Speaking to Newsweek ahead of March Madness, Lovedale said: "I wanted to play professional basketball but at my core, I wanted to tell my story to amplify the story about the people, who like me, come from a tough background in Nigeria to find their own stories.
"So the team I was with in 2008 helped me collect shoes together for children in Nigeria who couldn't afford shoes and we raised 10,000 pairs of shoes."
Speaking about the impact of the A2S Foundation today, Lovedale said: "We now provide entrepreneurial support, we provide education and opportunity for youth in Nigeria. We are serving over 10,000 people every year and we have 240 children in our after school academy and giving them the opportunity to study at universities and high schools across America.
"We have 250 plus entrepreneurs in Nigeria program and provide community support for those who are struggling and unable to provide for their specific needs in the country.
"Last year, we built our first 20,000 square foot plus building in Nigeria to be the home for all our programs and have opened an entrepreneurial hub to provide spaces and opportunities for entrepreneurs."
"We currently have 31 full-time staff in Nigeria and 50 part-time, who carry out the mission on a daily basis, and have six here in the United States to move things forward.
"The goal is to help people until they see the light at the end of the tunnel and we are providing that support for as many people as possible."
Lovedale said that he will always be thankful for what he and his Davidson teammates achieved in 2008, as it was the beginning of a journey that would go on to help thousands in his homeland.
He added: "Who would have thought that the story, which originated from March Madness, will now be the story that helps thousands and thousands of kids find their stories?"
Lovedale has many fond memories of Davidson's run to the precipice of the Final Four.
He said: "Coach always talked about us playing the 'beautiful game' and this seemed like a seamless musical production where all the pieces just worked together and I think for us, that experience was such a unique opportunity to finally see that come close.
"For our team, I think it created a lasting bond and that is our story and no-one gets to take it away from us."
Speaking about the atmosphere during their March Madness run, Lovedale said: "You came back to campus and people had flags up and people were having watch parties and there was so much excitement.
"Davidson is such a small community, with about 15,000 people and a college of about 2,000 students, so when we played, it was a very different feel to the big schools who have 40,000 plus.
"For us, I would look into the stands and would know half the people because they were my classmates, my professors and they were the people who worked in Davidson and we knew each other. It felt that this family was finally getting to experience something that they could hold onto for a very long time.
"I live in Davidson and it is still a story that is being told today."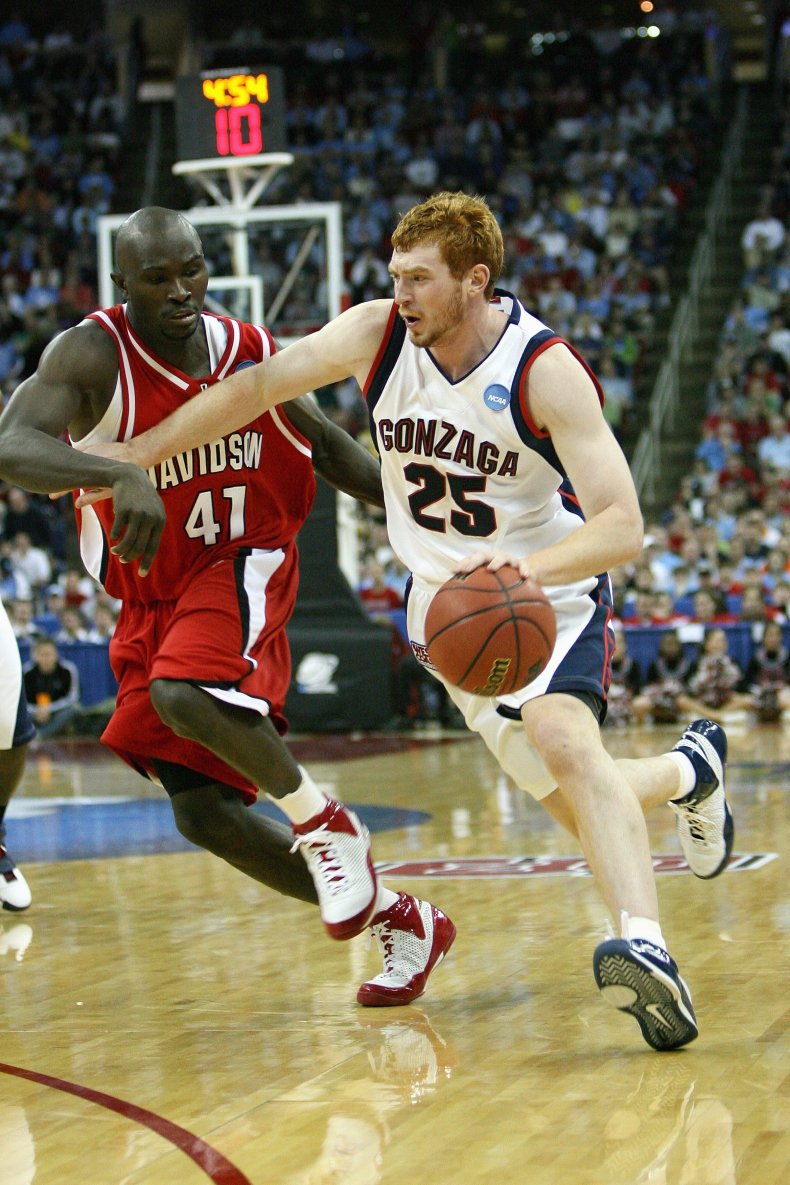 Andrew Lovedale #41 of the Davidson Wildcats takes a shot against the Gonzaga Bulldogs during the 1st round of the 2008 NCAA Men's Basketball Tournament on March 21, 2008 Getty Images
Lovedale said that he still has a close bond with some of his college teammates and they are a driving force behind him wanting to succeed.
He said: "We text each other, it is 15 years this year since we made that run and so we have been texting back and forth and people have been talking about how they can't believe it was 15 years ago that this happened.
"Pushing to be better on the basketball court was one thing and I can look at the likes of Steph [Curry] and be inspired by his life. Not just because he is a NBA MVP but the fact that he is using it so purposefully to empower and inspire others or I could look at [former Davidson power forward] Thomas Sander and be inspired by the man he is today."
"I feel that my teammates are still some of my best friends and still continue to push me to be better, without saying a word, just by being there," Lovedale concluded.
Jeff Sheppard, 48, has equally fond memories of his time on the court. Back in the 90s, he was one of the hottest properties in college basketball. The guard, who was 1993 Player of the Year in Georgia high schools, excelled at the University of Kentucky and was named Most Out Outstanding Player in the NCAA tournament in 1998.
Speaking to Newsweek, Sheppard recalled how he set out a vision for his future from a young age. He said: "I remember when I was in sixth grade that I wrote down on a piece of paper that I wanted to play for the University of Kentucky, play in the Final Four, be a NBA player and trade places with Larry Bird.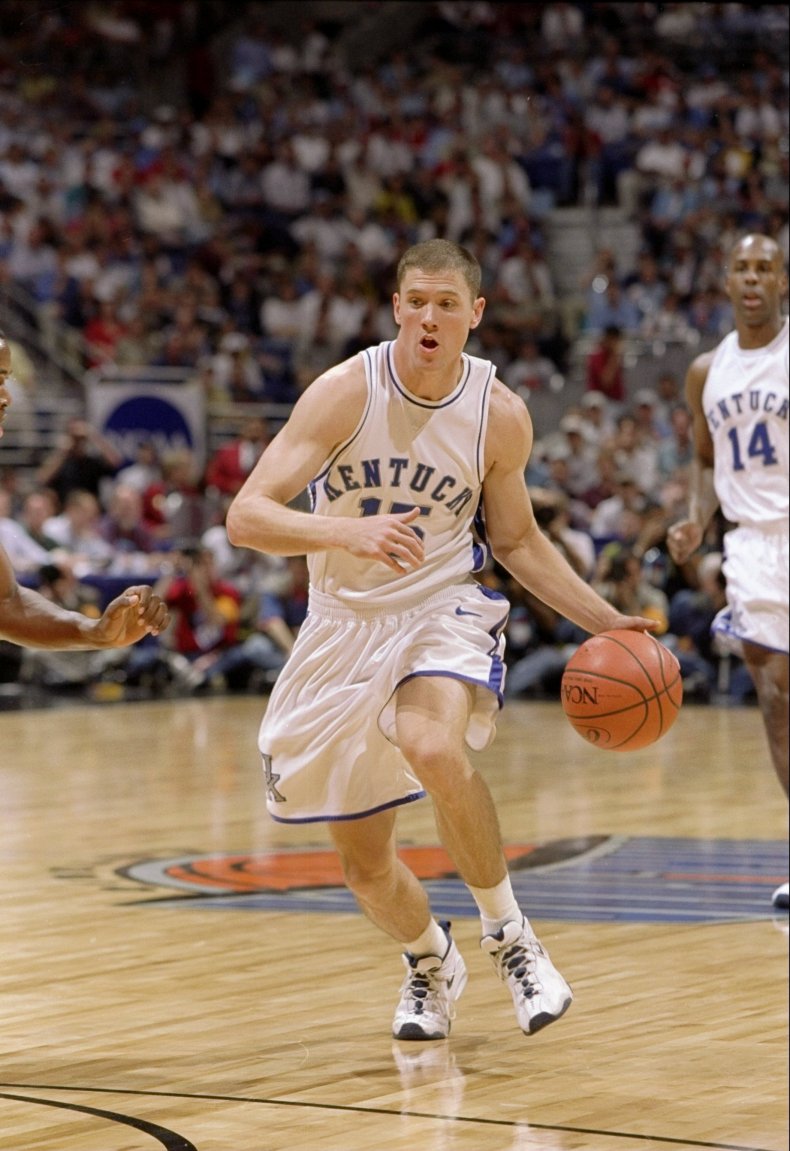 Jeff Sheppard #15 of the Kentucky Wildcats moves the ball down the court during an NCAA Final Four semi-final game against the Stanford Cardinal at the Alamodome in San Antonio, Texas, on March 28, 1998. Getty Images
"I was a typical little boy that dreamed about playing basketball and was given that opportunity and I got to Kentucky in the 90s when Rick Pitino was the coach and the program had a lot of momentum. We really had some great teams, we went to the championship game three years in a row and won two of those championships.
"It's a wonderful experience, on the court, off the court and now, some 30 years later, here I am still living in Kentucky, in Lexington, and enjoying every day as a former Kentucky Wildcat."
The University of Kentucky is a big name in March Madness, being the college with the most game wins over the 84-year history of the tournament. With that comes a weight of history that had to be continued.
Sheppard said: "There was always an expectation at the University of Kentucky to win games and to win championships but that's what makes it a very special place. The fanbase is crazy about basketball, they have a lot of history and a lot of great teams at Kentucky and they expect victory.
"There's a lot of pressure but it is positive pressure."
Despite the weight of history behind them, Sheppard said that when they were in the moment, their sole focus was the then and now.
Sheppard added: "When you're in the moment and you're an athlete and you're training and you're practicing and you are being driven by an elite leader like the coaches we got to play for, I don't remember thinking that way as you are focused on the task in hand.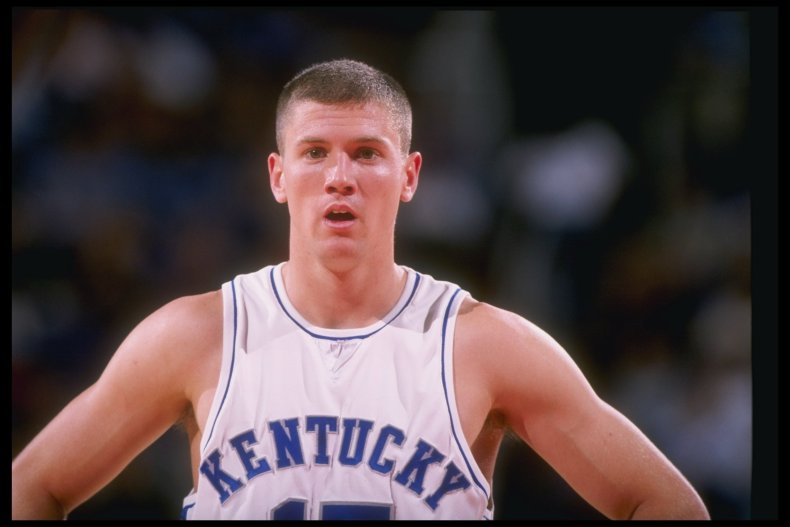 Guard Jeff Sheppard of the Kentucky Wildcats stands on the court during a game against the Clemson Tigers at the Premier Classic at the America West Arena in Phoenix, Arizona, November 29, 1997. Getty Images
"It's like any athlete, or member of an organization, or a soldier, you are not thinking of any of the negative consequences of the decisions that you make, you're in the moment, focused, you are there for a purpose and you have an opponent, so all of that energy and all that focus is not on the 'what ifs', it's on the execution of the task in hand."
"After winning the championship, it is such a sense of accomplishment, especially in a team game and you've done something together and you've gone through the ups and downs of a season and you've faced the challenges of winning games.
"There are so many teams who have the same goal, to win a championship, and to be the last team standing is a wonderful sense of accomplishment.
"Like most teams and most athletes, at the same time that quickly wears off and your focus is doing it again and win another championship."
Although Sheppard was delivering the goods at college level, it didn't pan out for him in the NBA. After a brief spell with the Atlanta Hawks and teams in Europe, he retired from the sport and now has a business development company that works with schools and colleges.
He said: "It was bittersweet. To be able to play basketball for a living, I got to play a little bit of professional basketball, you get to play a game that you love, that you dreamed about playing your whole life. It's an honor, a gift from God to play the game and be your living.
"At the same time though, when it ends, you are prepared for the next season of your life especially if you've had the privilege of sitting under great leadership and learned life lessons, you are more than prepared to make the transition.
"Everyday of my life as a father, as a husband, as a business owner, as a member of a community, as a volunteer, you apply lessons that you were able to learn from being a part of a team and working hard, and training, making decisions while you are tired and dealing with bad calls and fighting against a worthy opponent and dealing with sickness and schoolwork, and pressure — all of that is positive when you have the perspective that it is OK to have a bad day and teammates are there to pick you up.
"All that adds up to preparation in life, which is very valuable."
Curry and Lovedale's teammate, Will Archambault, still remembers his March Madness experience with a smile and explained how it felt to come so close to ultimate success in the tournament.
Archambault, now a basketball analyst with RDS in Canada, told Newsweek: "We had our game plan set, an experienced coach in Bob McKillop, a team filled with veterans and possibly the best player in the entire country.
"We had also participated in the tournament the previous year, where we held our own against Maryland. We came into the 2008 tournament with the mindset of focusing on one game at a time and knowing we could compete against any team in the NCAA."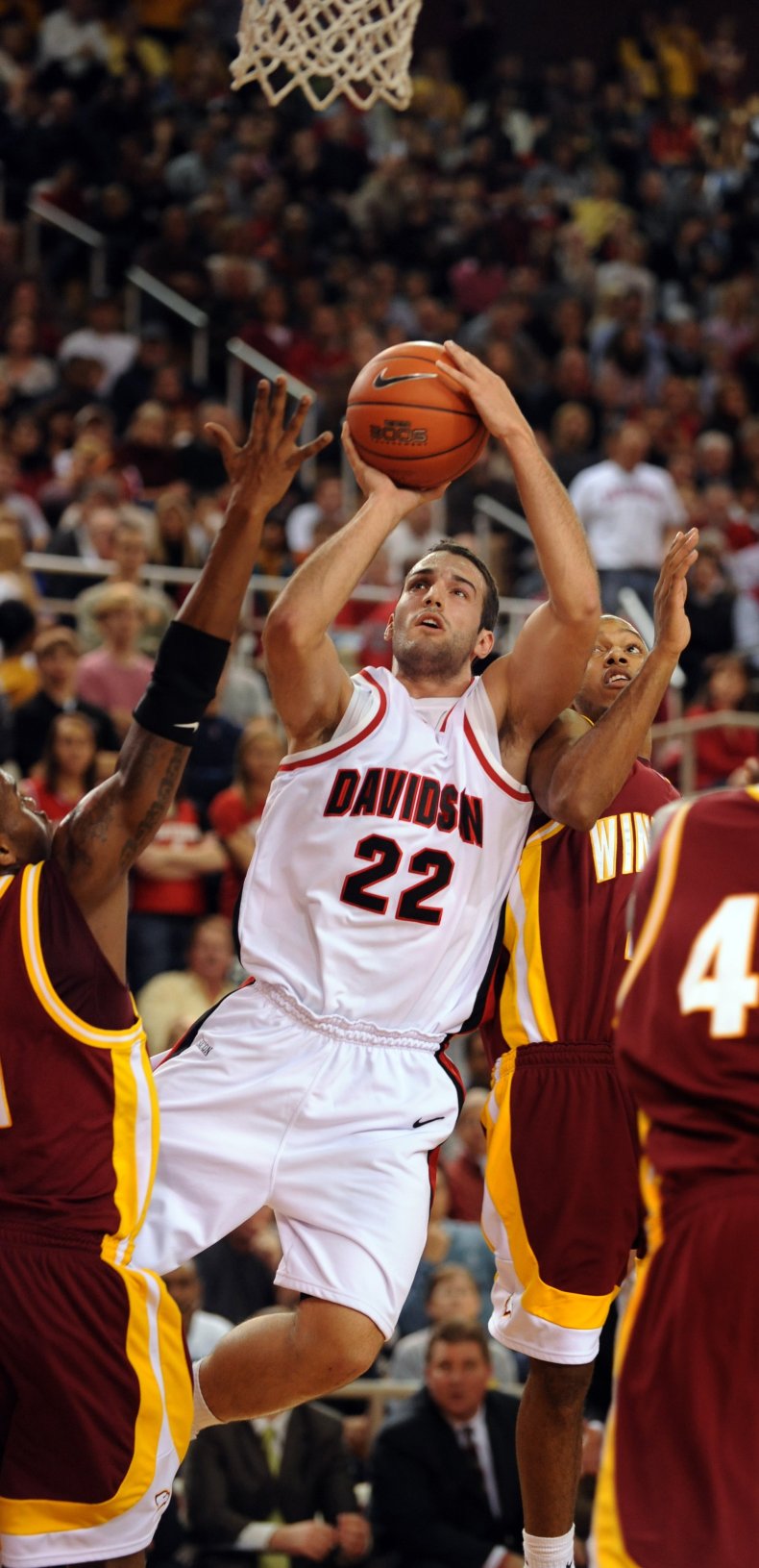 Will Archambault #22 of the Davidson Wildcats goes to the basket against the Winthrop Eagles at Belk Arena on November 21, 2008, in Davidson, North Carolina. He now works as an analyst for RDS in Canada. Getty Images
Archambault continued: "After defeating Gonzaga, Georgetown and Wisconsin, we had our sights on the Final Four. Unfortunately, we were two points short, but experienced some of the best moments in our lives."
As progression in the tournament continued, Archambault said that the excitement at the college ramped up.
He said: "The atmosphere at the games was wild. I remember playing Gonzaga in Raleigh [North Carolina] and having the Tarheel fans cheer for us as Stephy torched the 'zags with 40 points.
"From what I've heard, the atmosphere on campus was even crazier as we progressed throughout the tournament.
"We came back late into the night after our win against Georgetown and had hundreds of students/fans waiting for us in the Belk parking lot!"
Mon grand-père Réal Desourdy. 98 ans. Grand bâtisseur du Québec. Il employait plus de 1000 personnes dans les 70s avec sa compagnie de construction. Un homme remarquable. pic.twitter.com/GfTOzYzW2B

— Will (@willarchambault) November 13, 2022
All good things come to an end, though, and Archambault said there was such a feeling of deflation when Davidson's 2008 run finished.
He said: "When we lost against Kansas, I couldn't believe our season was over. We really believed we could win it all… I remember thinking about the great memories I had with the guys and especially the seniors.
"Jason Richards, Thomas Sander and Boris Meno were graduating, so it was a tough one to swallow. We took a couple days to unwind and appreciate what we had lived and then put the focus on the next season."
Do you have a tip on a sports story that Newsweek should be covering? Do you have a question about the NBA? Let us know via [email protected].