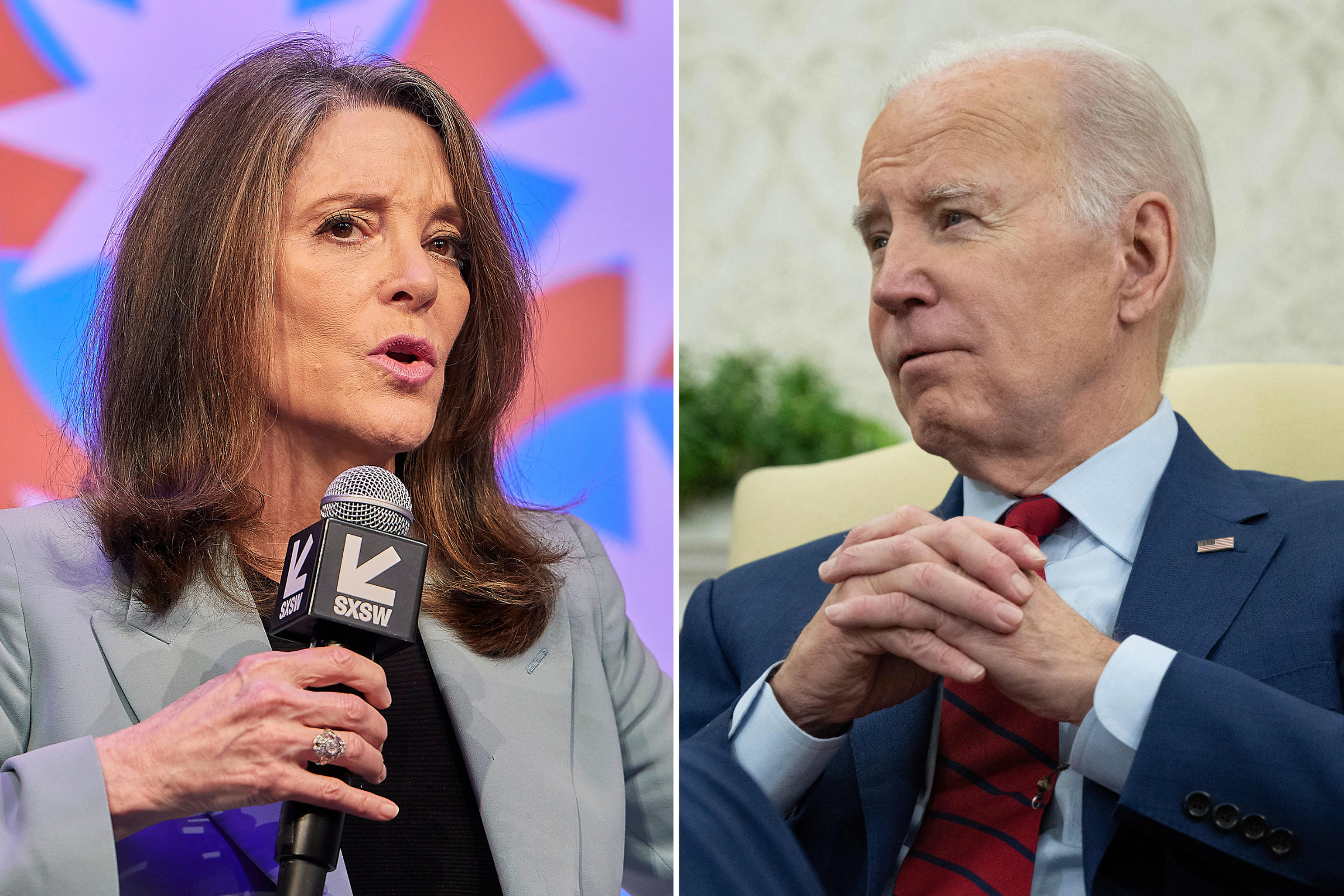 Marianne Williamson announced her campaign for president on Saturday, becoming President Joe Biden's first major Democratic opponent as many Democrats express weariness about his potential reelection bid.
Williamson, a spiritual adviser and author, previously ran in the 2020 presidential race as an outsider candidate, but struggled to break through in a crowded field that featured several high-profile politicians. During her campaign announcement, Williamson positioned herself to the left of Biden, whom she praised for defeating former President Donald Trump.
"We all owe President Biden a debt of gratitude for defeating President Trump in 2020, but with the things that they're going to be throwing at us in 2024, we need to submit to the American people an agenda of fundamental economic reform," Williamson said Saturday, highlighting her support for universal healthcare, tuition-free higher education, and free childcare.
Recent polls have suggested that Biden could be vulnerable to a challenger, however.
Biden, who also defeated a flurry of other Democratic candidates in 2020, has not officially announced his reelection bid, but has long expressed that he plans to run in 2024.
He has dealt with mixed approval ratings since taking office. His approval bottomed out last summer as he faced a myriad of economic crises. But his approval has since rebounded as economic conditions soften.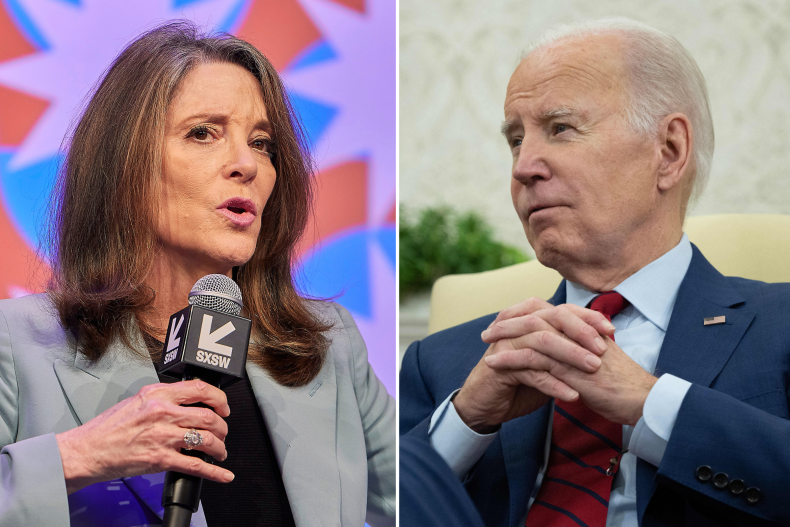 Marianne Williamson speaks on March 14, 2022, in Austin, Texas. President Joe Biden is seen during an Oval Office meeting on March 3. Williamson launched her 2024 presidential campaign on Saturday, becoming Biden's first major Democratic challenger. However, her campaign may face obstacles in beating the incumbent president. Mike Jordan/Getty Images for SXSW; ANDREW CABALLERO-REYNOLDS/AFP via Getty Images
Democrats Open to Non-Biden Candidate, But Williamson May Struggle
Still, some Democrats are questioning whether Biden is the strongest candidate in 2024, pointing to concerns surrounding his age and popularity among key voter groups. Polls suggest that many Democratic primary voters would be open to non-Biden candidates.
A Washington Post-ABC News poll released last month found that 58 percent of Democratic voters said they would prefer a candidate other than Biden to be the 2024 nomination.
Some polls also show the president struggling to secure a majority of votes. A
Susquehanna Polling & Research poll, conducted among 340 Democratic voters from February 19 to 26, found Biden only winning a plurality of 27 percent support. Candidates like Transportation Secretary Pete Buttigieg and Vice President Kamala Harris were his top two competitors in this poll. Still, major potential challengers have indicated they would back Biden if he runs again.
New SP&R Nat'l DEM POTUS Primary Poll Ballot:
Biden, 27%
Buttegieg, 17%
Harris, 9%
Warren, 8%
Sanders, 7%
Klobuchar, 5%
Ocasio-Cortez, 4%
Newsom, 3%
Not Sure, 16%
Refuse, 2%

Sample: 800 RV/340 Dem voters; Field Dates 2/19-2/26 w/ live agent interviews.

— SP&R (@SusquehannaPR) March 2, 2023
Williamson's odds of victory specifically remain unknown, as she has not been included in recent polls despite reports emerging last month that she would announce her campaign. Williamson will likely face several obstacles in defeating Biden, however, with the Associated Press on Saturday describing her campaign as a "long shot."
Robert Y. Shapiro, a professor of political science at Columbia University, told Newsweek that Williamson is a long-shot candidate who has "virtually no chance" of beating Biden."
"If the economy and other matters falter, leaving Biden vulnerable there are other stronger candidates coming from the Senate or governorships, who are more accomplished leaders," Shapiro said.
During her 2020 run, Williamson had one of the lower approval ratings among Democratic candidates. A FiveThirtyEight polling aggregate from August 2019 found Williamson 4 points underwater among Democratic voters.
What to Know About Marianne Williamson
Williamson ultimately dropped out of the 2020 presidential race before voting began, endorsing Senator Bernie Sanders' presidential campaign shortly thereafter. Prior to her presidential campaign, she previously ran as an independent in a 2014 California congressional race.
She is known for her work as an author, particularly for her book A Return to Love: Reflections on the Principles of "A Course in Miracles," which garnered praise from Oprah Winfrey.
Following her campaign announcement, Williamson is set to travel to New Hampshire, which is set to be one of the earliest states to vote during the 2024 Democratic primary, with appearances scheduled starting next week.
Her 2020 campaign was marked by her support of several progressive policies, including reparations for descendants of slaves. Her campaign notably had a viral moment in 2019 when she said during a debate that she would "harness love" to defeat Trump.
Newsweek reached out to the Williamson campaign and the White House for comment.
Update 03/04/2023 9:08 p.m. ET: This story was updated with comment from Robert Shapiro.