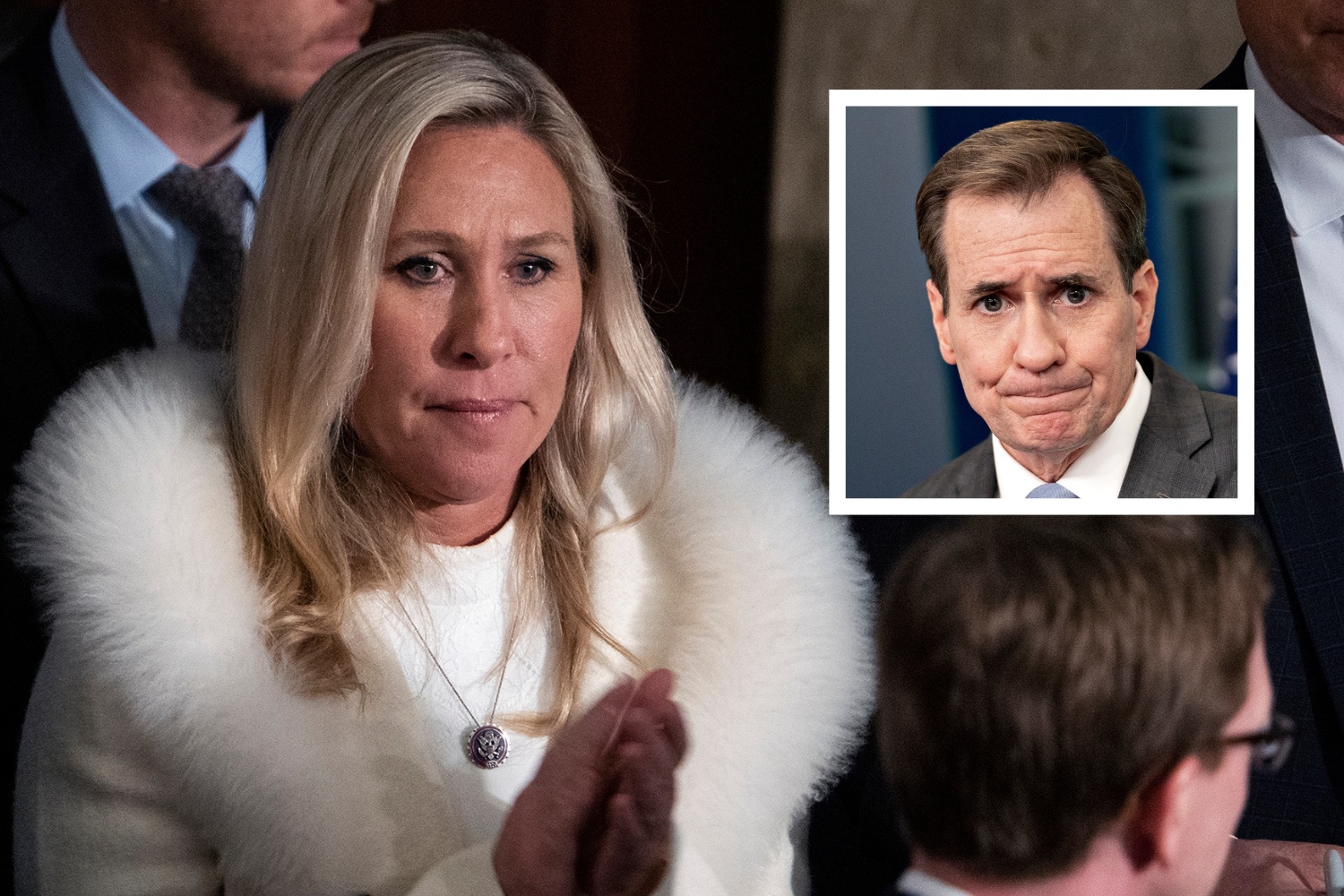 A high-altitude object traveling off the coast of Alaska was shot down by the Pentagon, roughly one week after a Chinese surveillance balloon was discovered traveling above the continental United States.
John Kirby, National Security Council strategic communications coordinator, on Friday confirmed that an unknown object was detected Thursday flying around 40,000 feet in Alaskan airspace. President Joe Biden ordered for the object to be shot down after U.S. pilots determined it was unmanned.
According to a separate briefing by Brigadier General Patrick Ryder, Pentagon press secretary, the unidentified object roughly the "size of a small car" was shot down around 1:45 p.m. Friday.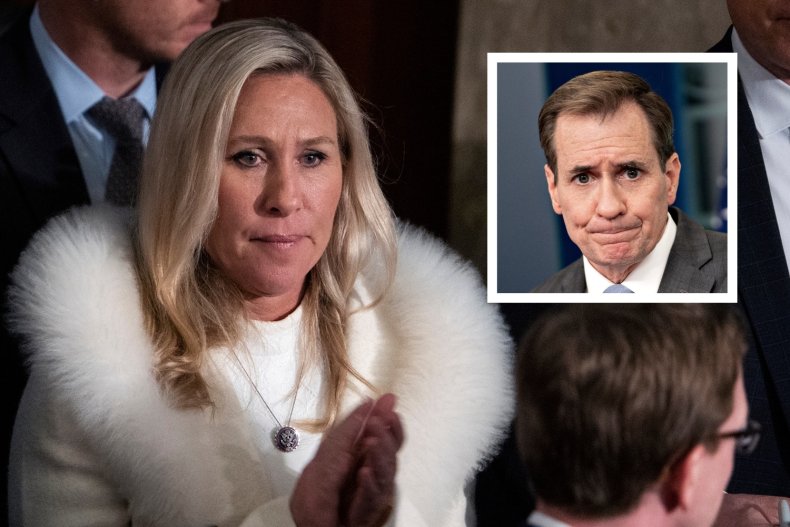 Representative Marjorie Taylor Greene on Tuesday is pictured during President Joe Biden's State of the Union address in the House Chamber of the U.S. Capitol on Tuesday. Inset, John Kirby, national security council coordinator, on Friday is shown at a news conference at the White House in Washington, D.C. Greene on Friday continued to criticize Biden officials after the Pentagon shot down an unidentified object off the coast of Alaska. Tom Williams/CQ-Roll Call, Inc/Getty; Andrew Harrer/Bloomberg/Getty
The mystery object was detected less than a week after a Chinese surveillance balloon was shot down off the coast of South Carolina on Saturday, a move that sparked anger among some lawmakers for the Biden administration's decision not to shoot down the balloon when it was first detected over the Aleutian Islands on January 28.
Georgia Representative Marjorie Taylor Greene, one of the most outspoken critics of Biden's call on the balloon, tweeted in reference to the latest mystery object being shot down, adding a "thank you" to federal officials.
"Thank you for defending our country, but this proves all of their excuses about last week's Chinese Spy Balloon was BS," Greene wrote. "Just like I told them in the briefing. Defend our Homeland at all cost."
They just shot down an object over Alaskan frozen waters.

Thank you for defending our country, but this proves all of their excuses about last week's Chinese Spy Balloon was BS.

Just like I told them in the briefing.

Defend our Homeland at all cost.https://t.co/MVX4fO2pGB

— Rep. Marjorie Taylor Greene🇺🇸 (@RepMTG) February 10, 2023
According to a report from The Hill, Greene had a heated exchange with federal officials during a closed-door House briefing Thursday morning regarding the downing of the surveillance balloon.
Defense officials also appeared before the Defense Subcommittee of the Senate Committee on Appropriations on Thursday, defending the choice to hold off on shooting down the balloon because the risk to civilians on the ground posed a greater risk than potential Chinese intelligence gathering.
The subcommittee also specifically asked officials why the balloon had not been shot down while it was first discovered traveling over Alaska several days prior. Lieutenant General Doug Sims told senators that the military was not able to guarantee that no one would be harmed by debris even if the balloon had been shot while over the more sparsely populated state, adding that it could have had a crash site of up to 20 miles across.
Greene was not the only Republican to criticize Biden officials for waiting to destroy the balloon discovered last week. Arizona Representative Andy Biggs tweeted Monday that officials "could have shot the Chinese balloon over the sparsely populated Aleutian Islands in Alaska" if they were worried about debris.
Kirby said that while it is still unclear if the object shot down Friday is connected to China, the U.S. was in touch with Beijing on a diplomatic level, although the military-to-military channels with China "do not appear to be open right now."
Newsweek has reached out to Greene for further comment.