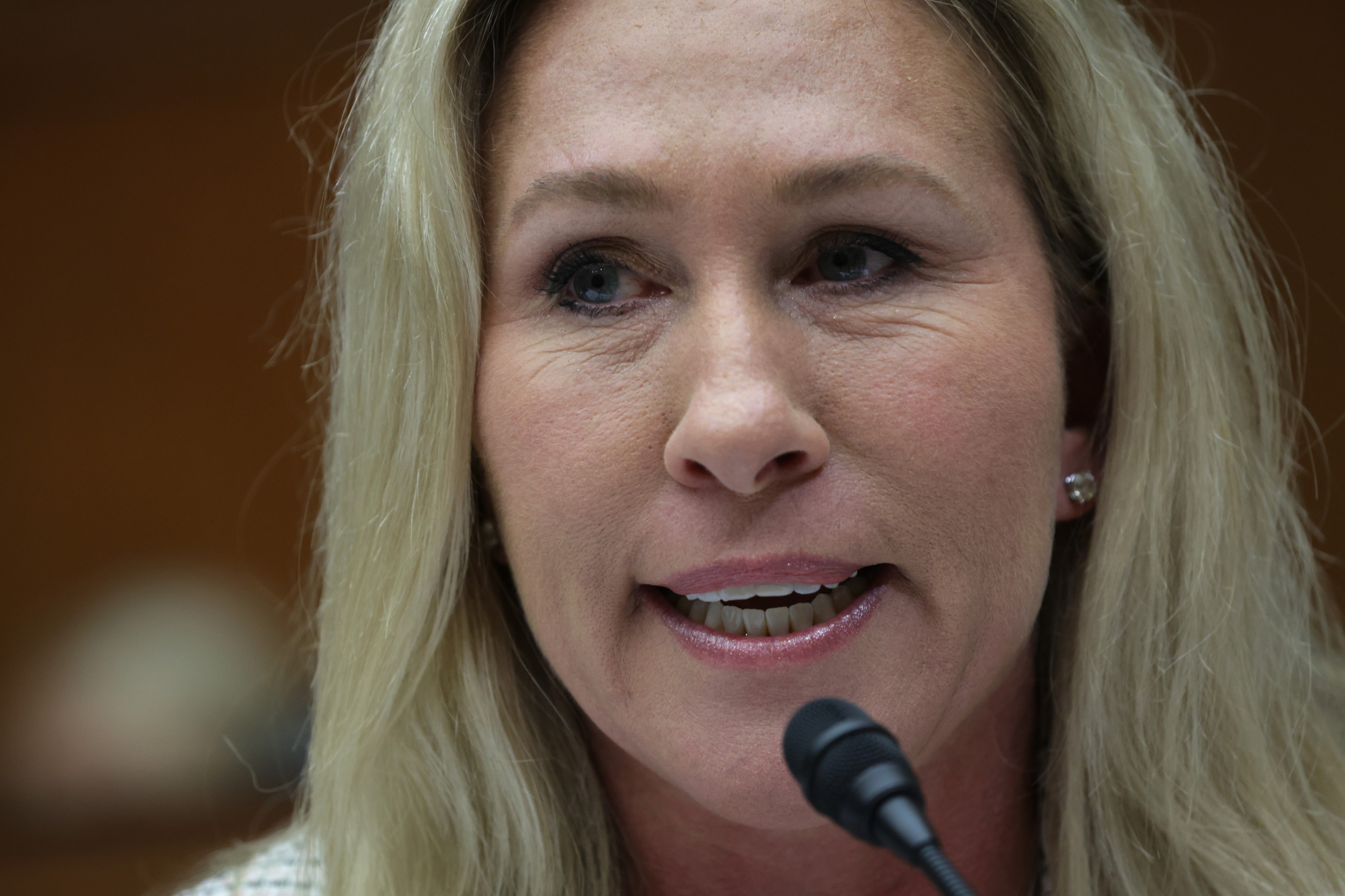 Rep. Marjorie Taylor Greene has introduced a House resolution that would designate the antifa movement as a terrorist organization across the United States.
Speaking on Tuesday, the Georgia Republican blamed "antifa-affiliated rioters" for an alleged arson attack on a police training facility in Atlanta at the weekend and accused antifa supporters of causing "over $2 billion in damage" and "killing people" in the summer of 2020.
Last weekend, Antifa rioters firebombed the future police training facility in Atlanta.

Antifa has been terrorizing Americans for years, and it's time to end the lawlessness.

That's why I'm introducing a resolution to declare Antifa a domestic terrorist organization. pic.twitter.com/ktwtqyjyOn

— Rep. Marjorie Taylor Greene🇺🇸 (@RepMTG) March 7, 2023
Antifa, short for anti-fascism, is an umbrella term for a loose movement of left-wing groups and individuals who use radical tactics, sometimes including violence.
It has become a favored target of the Republican right, with President Donald Trump vowing to designate antifa as a terrorist organization in 2020.
Rep. Lauren Boebert, Greene's ally turned rival in the GOP, introduced a bill to this effect in 2021 but it failed to make much progress in the then Democratic-controlled chamber.
The Republicans took control of the House after the midterms, potentially reopening the issue.
However, it is unclear how any ban would work given there is no clear antifa leadership or hierarchical structure. Antifa has been described by FBI Director Christopher Wray as "more of an ideology than an organization."
In December 2021 the Center for Strategic and International Studies, a Washington-based think tank, concluded that antifa "has no central command, no definitive texts and no clear command-and-control organizational structure."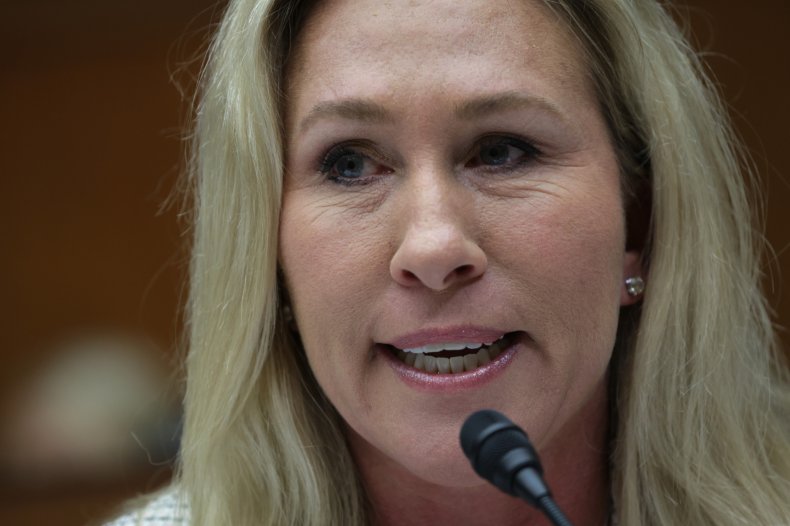 Rep. Marjorie Taylor Greene, pictured on Capitol Hill on February 8. On Tuesday she said antifa had been "terrorising Americans for years now." Alex Wong/GETTY
The think tank also took issue with Wray's description, saying it would "be more accurate to refer to antifa supporters as adhering to multiple ideologies."
It added: "Antifa is a decentralized movement of individuals whose ideological roots lie in various left-wing causes, such as communism, anarchism and socialism."
Newsweek has contacted Greene to ask how she would define antifa and how a ban would work.
Introducing her resolution on Tuesday, she said antifa had been "terrorising Americans for years now. Never forget in the summer of 2020 antifa caused over $2 billion in damage, setting fire to cities, businesses and attacking police officers and killing people."
Greene did not provide evidence for her comments about 2020.
According to the Center for Strategic and International Studies, there has only been one "fatal attack in recent decades attributed to an antifa extremist."
This took place in Portland, Oregon, in August 2020 when a self-described antifa supporter shot and killed a member of the right-wing group Patriot Prayer. The shooter, Michael Forest Reinoehl, was later killed by U.S. marshals attempting to arrest him.
Greene attracted controversy in February by calling for a "national divorce" between red and blue states, in order to avoid "the Democrats' traitorous America Last policies."
Greene later explained that she wanted the authority of the federal government to be reduced greatly, with almost all powers outside defense and border security devolved to individual states.
However, David Bateman, an associate professor of government at Cornell University, told Newsweek her divorce proposal was "not remotely feasible."
He added: "The only possible constituencies I can see for this are the lunatic fringe among libertarians, racists and Christian nationalists who need gerrymandered states with demobilized voters to win a majority, and the type of local business owners whose entire livelihood depends on their customers having no alternatives but whose ambitions are limited to their immediate vicinity."