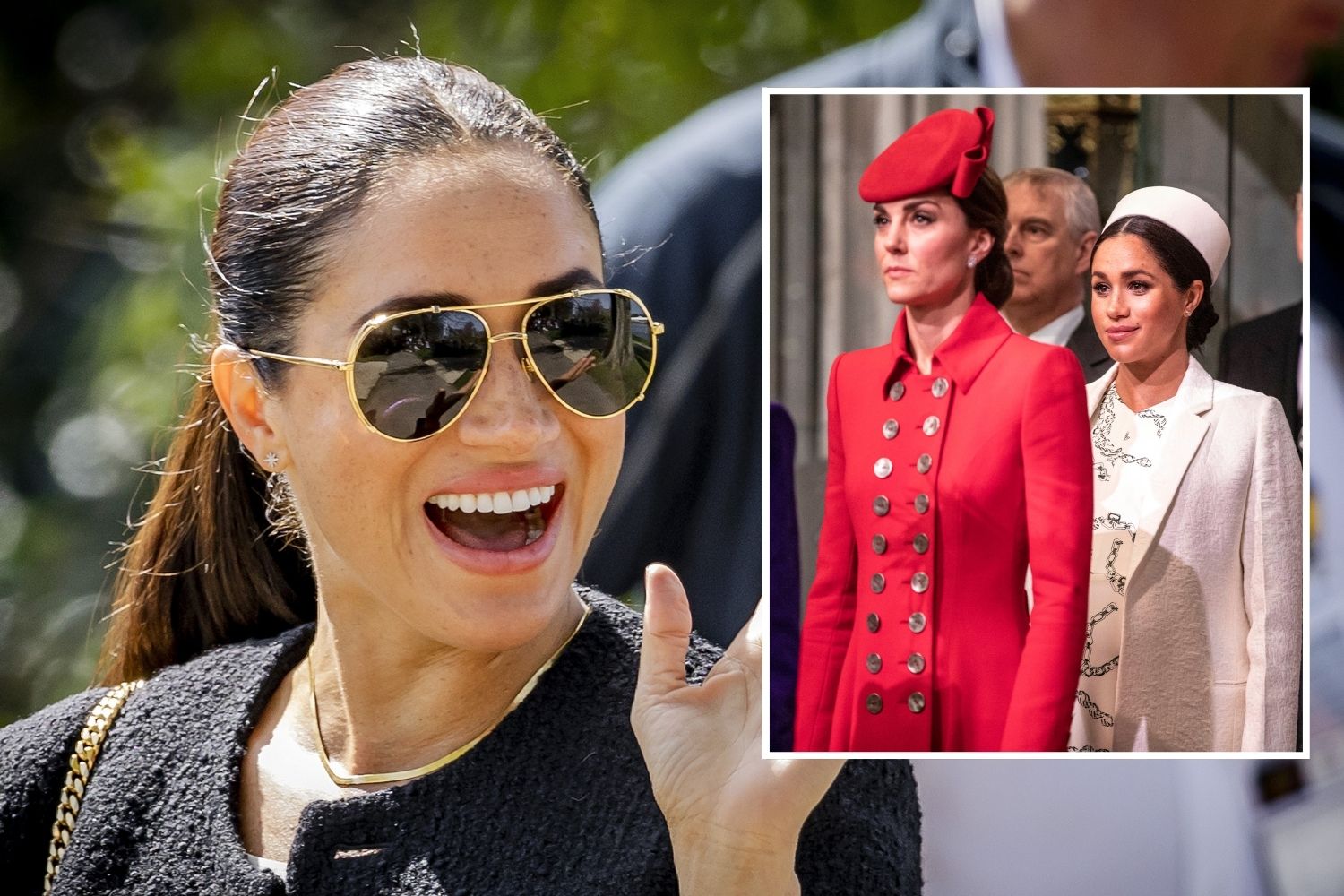 Meghan Markle "hated the fact that she had to do what she was told and go where she was told" by the palace, a staffer said in a new royal book.
The Duchess of Sussex "is a lovely person so long as she is never crossed" and "her absolute certainty" makes Prince Harry "feel safe," according to Gilded Youth, released by Biteback Publishing on February 28.
Author Tom Quinn suggests friction between Meghan and the palace arose from the constraints the royal institution placed on the duchess, who, according to one source was expecting to live in Windsor Castle.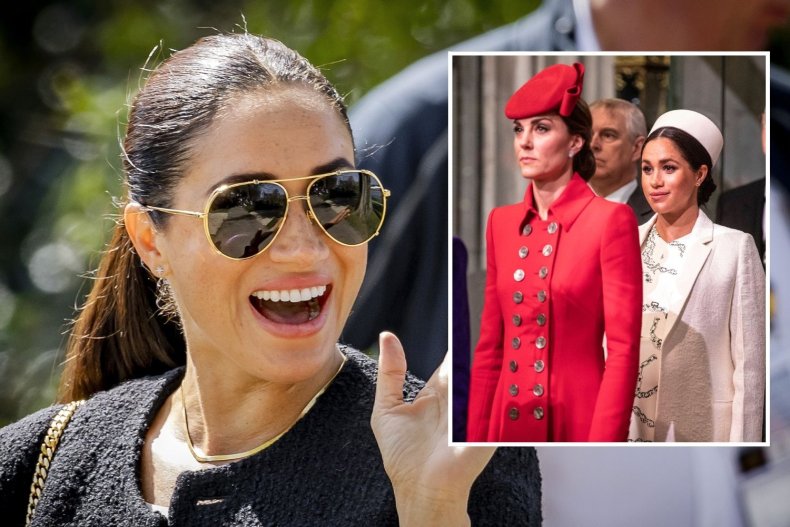 Meghan Markle, seen above at the Invictus Games in April 2022, "hated" being a "second-rate princess" below Kate Middleton in the royal pecking order, according to a new book. Inset: The Duchess of Sussex stands behind the Princess of Wales at Westminster Abbey for a Commonwealth Day service on March 11, 2019. ANP via Getty Images and Richard Pohle – WPA Pool/Getty Images
The book quotes a "staffer at Kensington Palace who remembered Meghan well" saying: "She is basically a very nice, smiley, super-positive person, but having always felt in control of her own destiny and with the sort of personality that strives to be the best, she suddenly found herself in an institution she found she couldn't influence and that assigns roles to people that do not change.
"She was dazzled by the worldwide fame that being a princess would bring, but she was shocked by the palace protocol and by the fact that she was not and never could be first in the pecking order.
"She hated the constraints and the rules; she hated being a second-rate princess—
second to Catherine Middleton, I mean. She thought she would be living in Windsor Castle, for example, and just couldn't believe it when she and Harry were given Nottingham Cottage in the grounds of Kensington Palace.
"Most of all she hated the fact that she had to do what she was told and go where she was told in the endless and to a large extent pointless royal round.
"I don't think in the whole of history there was ever a greater divide between what someone expected when they became a member of the royal family and what they discovered it was really like."
Meghan and Harry went public with their relationship in 2016 but she did not begin working as a royal until December 2017, a month after their engagement was announced.
By January 2020, the couple announced they were quitting royal life and they have since given an extensive account of how it all went wrong.
Harry accused family members of briefing the media about them and said the royals did not do enough to help the couple in their conflict with the British press.
However, it was also clear from Harry's book Spare that there were deep-seated conflicts behind the scenes, including with palace staff who he appears to have some negative feelings.
The palace staffer quoted in Gilded Youth suggests Meghan was treated "in a slightly condescending way because she was not a blood royal."
The courtier said: "Kate had to put up with the same thing, but she was better at dealing with it because she does not have Meghan's messianic tendencies and she used charm and patience to get people on her side rather than trying to hector them into being nice to her.
"The thing to remember is that there is no limit to Meghan's ambition, and like most fiercely ambitious people, she never thinks, 'Have I got this wrong? Am I overreacting?'
"But it remains true that she is a lovely person so long as she is never crossed. For a weak boy unsure of himself like Harry, she is perfect because her absolute certainty makes him feel safe."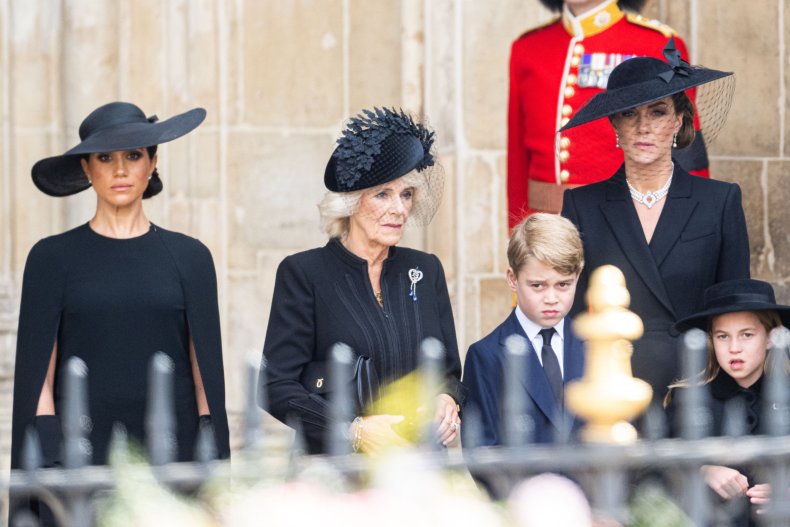 Above, Meghan Markle (L) and Kate Middleton (R) are seen with Queen Camilla, Prince George and Princess Charlotte at the State Funeral of Queen Elizabeth II at Westminster Abbey on September 19, 2022. Meghan had a tougher time getting used to royal life than Kate did, a palace aide said in a new book. Samir Hussein/WireImage
Meanwhile, a former Kensington Palace aide, described as working "closely with Meghan," told the author: "Meghan completely buys into the idea that Princess Diana was unfairly treated by the press and then hounded to death by them—she sees herself as being treated in the same way and for similar reasons.
"This is the glue or a large part of it that keeps Meghan and Harry together. They feel it's the two of them against a cruel world and that their battle isn't just for them—it's for everyone who has been badly treated by the press.
"They can't do anything without feeling it has global significance. Harry was never like this before he met Meghan. He had no ideas of his own.
"He rarely, if ever, spoke about global warming. He was a sort of Tim-Nice-but-Dim character who liked getting pissed (drunk) with his army and Eton friends, did a bit of shooting and fishing and was otherwise undistinguished."
Tim-Nice-but-Dim was a character in the 1990s U.K. sketch comedy show Harry Enfield and Chums who was posh and friendly but not very clever.
Spare describes a "poisoned" atmosphere at Kensington Palace in the private office they shared with Prince William and Kate but Harry blames it on staff his brother brought in from the government.
"Meanwhile," he wrote, "in the midst of all this, Meg managed to remain calm. Despite what certain people were saying about her, I never heard her speak a bad word about anybody, or to anybody. On the contrary, I watched her redouble her efforts to reach out, to spread kindness."
Jack Royston is chief royal correspondent at Newsweek based in London. You can find him on Twitter at @jack_royston and read his stories on Newsweek's The Royals Facebook page.
Do you have a question about King Charles III, William and Kate, Meghan and Harry, or their family that you would like our experienced royal correspondents to answer? Email [email protected] We'd love to hear from you.