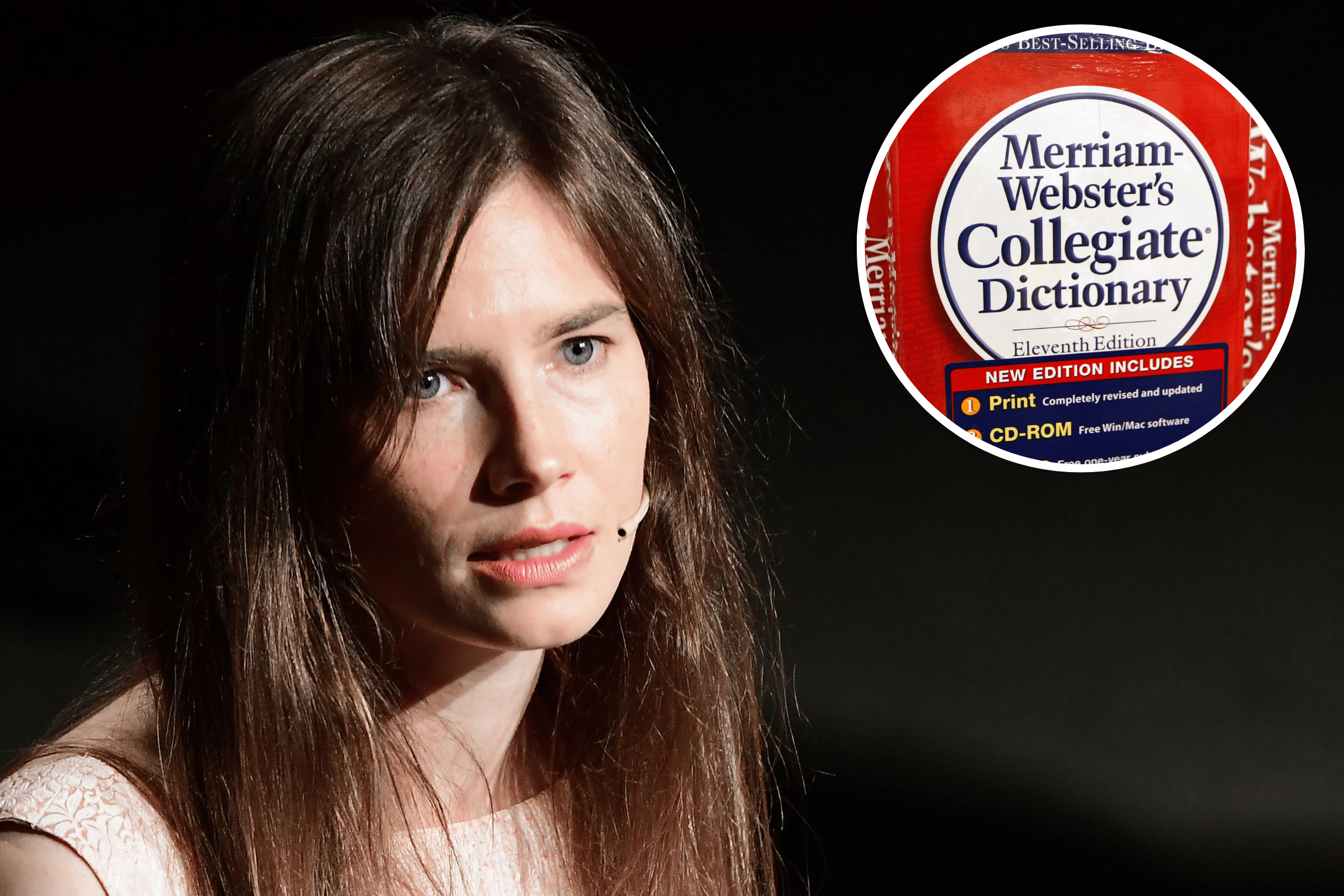 Publishing company Merriam-Webster has shown that it can troll online with the best of them by performing a "spit-take" at Amanda Knox's latest comments.
Knox is known for her connection to the 2007 murder of her room-mate Meredith Kercher, for which she was wrongfully convicted, spending almost four years in an Italian jail. Both were students at the time, studying abroad in Perugia, Italy. After being put on trial again, Knox was found not guilty of murder.
Knox has since returned to the United States where she writes and hosts a podcast on true crime. She's been the subject of a number of movies and documentaries.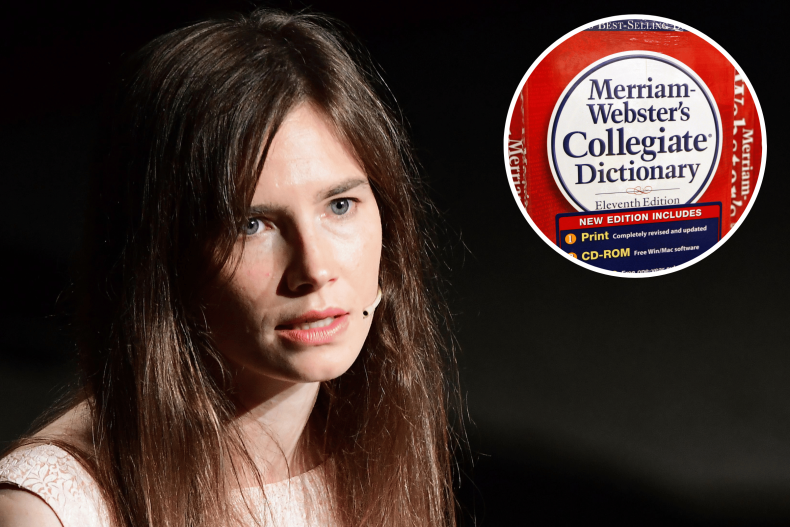 Photos of Amanda Knox and (inset top right) of the cover of "Merriam-Webster's Collegiate Dictionary." The American was trolled by the Twitter account of the reference book publisher after she made a reference to studying abroad. Vincenzo Pinto / Tim Boyle/AFP via Getty Images / Getty Images
Knox has now made a thinly veiled reference to her time studying abroad and to what happened to her on her Twitter account.
Later on Tuesday, Knox tweeted out a link to her 138,900 followers, which detailed someone's experience of studying abroad in Florence. The NYU student seemingly "hated every aspect of" her time out in Italy.
"Girl, what are you talking about? Studying abroad is awesome!" Knox wrote above the article on Twitter. She has made no follow-up comment on the tweet since then. However, thousands of people piled in on the comments section, including the dictionary publishers Merriam-Webster.
The Twitter account for Merriam-Webster often posts tweets about literary terms, and it used Knox's comment as an excuse to share a definition of one.
In response to Knox's comment, the account simply shared a link to Merriam-Webster's website with the "definition of SPIT TAKE." "The act of spitting out one's drink in response to something funny or surprising especially for comedic effect," its definition reads.
The people at Merriam-Webster weren't the only ones seemingly incredulous after reading Knox's tweet.
"Vile, tasteless comment. In some cases, humor just cannot be applied," Twitter user @hol_lisa wrote.
"Self respect is more valuable than attention," wrote British campaigner Brendan Cox, the widower of former British Member of Parliament Jo Cox.
"I'm sure the loved ones of the 21-year-old who was brutally murdered while studying abroad will find your joke hilarious," wrote British journalist Lauren Franklin. Many other Brits weighed in with respectful "RIP" comments for the late British student Kercher.
Not everyone was offended by Knox's tweet, though, as a number of people praised her for the joke.
— David Alan Grier AKA #LeonMusk (@davidalangrier) March 15, 2023
"You have won the internet for the day, Amanda. You can rest easy," commented health and science reporter Benjamin Ryan. A number of verified Twitter users, including journalist Kat Duncan, lawyer and writer Tauriq Moosa, and Tony Award-winning actor David Alan Grier responded with laughs or emojis.
"Love this tweet from you," writer Leslie Feinzaig wrote, while TV journalist and podcaster Elizabeth Vargas simply posted "Touché" with a winking emoji.
It's not the first time that Knox has made a humorous reference to the case involving Kercher. In September 2021, she shared a meme picture that asked the question: "You meet your 18-year-old self, you're allowed to say 3 words. What do you say?" Knox wrote in response, "Study in Germany."