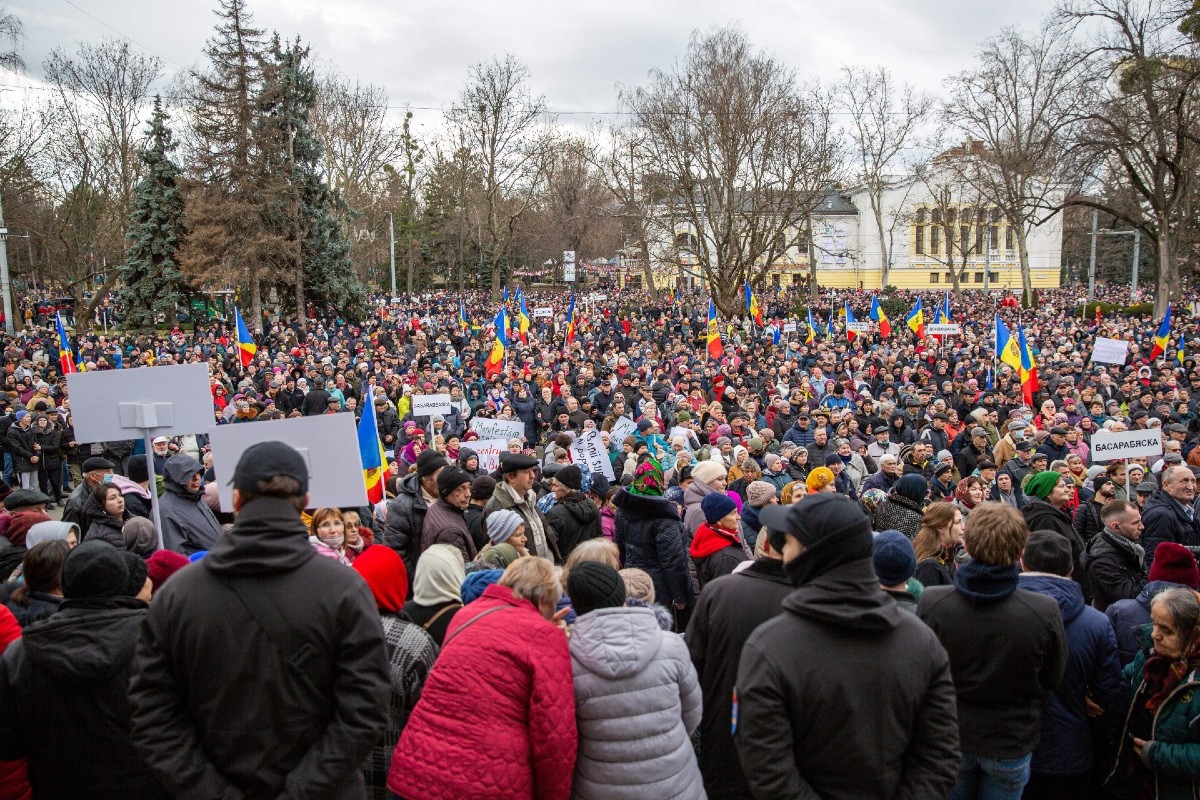 Moldovan authorities have rejected reports of a mass "protest" in the capital city of Chișinău. They again accuse Moscow of attempting to "destabilize" the former Soviet state.
Footage of crowds gathered in Chișinău on Sunday was reported as significant anti-government protests by Russian state media. There have been several demonstrations in recent weeks in the Moldovan capital, supported by the pro-Kremlin Shor Party.
But Andrei Spinu, secretary-general for the Moldovan presidential office, wrote on Telegram on Sunday that "what happened today in the center of the capital is not a protest.
"We have to say bluntly, it was yet another failed attempt by Russia to destabilize Moldova," Spinu added.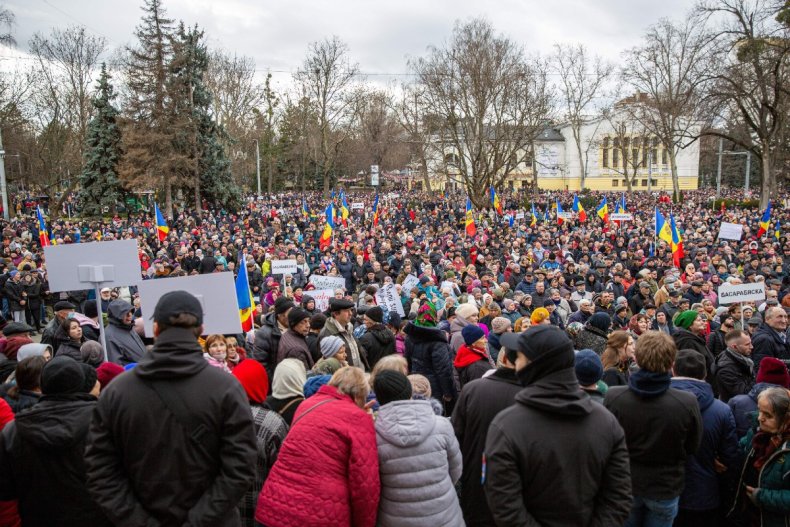 People take part in a protest against the Moldovan Government and their pro-EU President in Chisinau on February 19, 2023. Moldova's President, Maia Sandu, has repeatedly warned that Moscow wants to "change the legitimate government to an illegal government controlled by the Russian Federation." ELENA COVALENCO/AFP via Getty Images
Moldova has a complicated history with Moscow. The Moldovan government in Chișinău has pursued Western ties. However, ever since 1990, it has not had control over the breakaway pro-Russian region of Transnistria, which borders Ukraine. Russia has maintained a peacekeeping force in the separatist region for years.
Moldova's President, Maia Sandu, has warned that Moscow wants to "change the legitimate government to an illegal government controlled by the Russian Federation."
On Sunday, Moldova's police said officers had made several arrests of people who had been promised financial rewards to organize "mass disorder" and destabilize the capital, according to the Associated Press. Further arrests were separately made for "questionable behavior" and carrying prohibited items, the outlet reported on Sunday. The protests were believed to have been orchestrated by the pro-Kremlin Shor Party.
Four bomb threats were also called in on Sunday. The police said they were an "ongoing part of the destabilization measures" against Moldova's government.
On Friday, White House national security council spokesperson John Kirby said that "Russian actors, some with current ties to Russian intelligence, are seeking to stage and use protests in Moldova as a basis to foment a manufactured insurrection against the Moldovan government.
"We believe Russia is pursuing options to weaken the Moldovan government, probably with the eventual goal of seeing a more Russian-friendly administration in the capital," Kirby added.
Also on Friday, the Washington-based Institute for the Study of War (ISW) think tank said there were "several ongoing information operations in Transnistria." These were designed to undermine the Moldovan government and feed distrust of Ukraine and Western countries. Russian foreign ministry spokesperson Maria Zakharova has denied Moldova's statements about destabilizing Ukraine's neighbor, according to Russia's state media.
Earlier this week, Moldova's interior minister, Ana Revenco, told Reuters that Chișinău was dealing with an "explosion of security threats starting February 24 last year."
On February 20, Kremlin spokesperson Dmitry Peskov said Moscow's relations with Chișinău were "already very tense." He added that the Moldovan government "always focuses on everything anti-Russian. They are slipping into anti-Russian hysteria," according to state media.
Earlier this week, officials in the Transnistrian capital, Tiraspol, said they had stopped an assassination attempt on its leader, accusing Ukraine of organizing the alleged attack.
The SBU, Ukraine's national security service, called the allegation "a provocation orchestrated by the Kremlin."
Newsweek has reached out to the Russian defense ministry for comment via email.