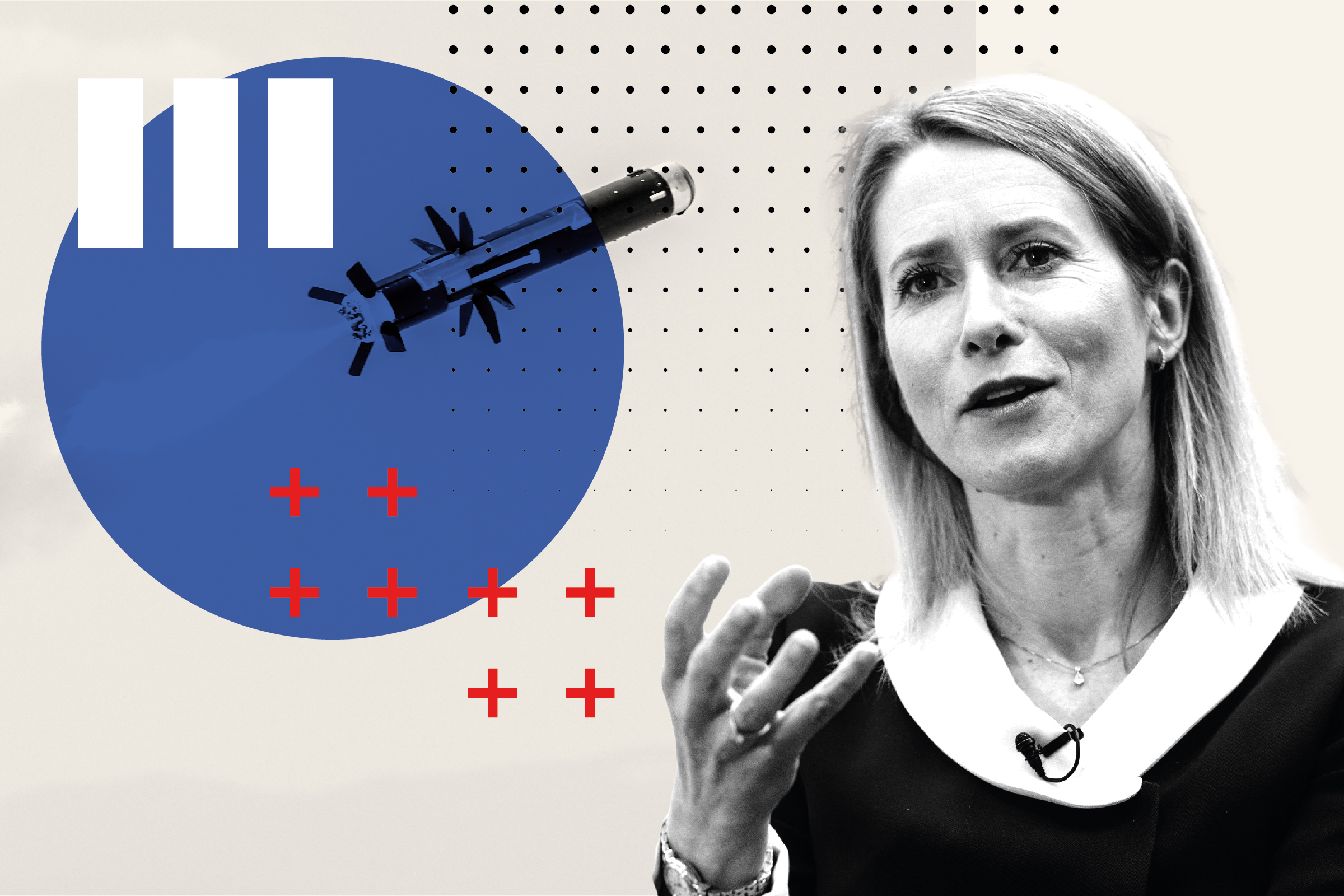 Despite its small size, Estonia has emerged as one of Ukraine's most generous equipment donors and most hawkish NATO-EU partners.
The Baltic nation says Western allies have previously ignored its warnings about malign Russian activity.
With no end to the Russia-Ukraine war in sight, Estonian experts, lawmakers and officials tell Newsweek their NATO allies must prepare for a long and existential battle.
For decades Estonian border guards have looked warily across the narrow Narva River that separates them from Russia. Flanked on either side by imposing Middle Age fortresses, the crossing also serves as NATO's frontier with its historic enemy, and one of the likely invasion routes for Russian tank columns in the event of a full-scale war.
Estonia's precarious location and long history of imperial subjugation—and more recently constant cross-border mischief—by successive Russian empires has left Tallinn with little trust for Moscow. No surprise then, that Estonia has been among the staunchest backers of Ukraine since it too seized independence from the collapsing Soviet Union.
On the eve of Russia's full-scale invasion, and as leaders and experts assured themselves that President Vladimir Putin was not unhinged enough to thrust Europe into war, Estonia—a NATO minnow of only 1.3 million people with a defense budget about 1,000 times smaller than the U.S.—was one of the first countries to deliver Javelin anti-tank weapons that would prove so pivotal in Kyiv's defense.
The country has since handed to Ukraine its entire arsenal of 155mm howitzers among other equipment, and has been the most generous of all Western nations in terms of assistance as a proportion of GDP. Estonia has also welcomed more than 62,000 Ukrainian refugees, which as a share of national population is the highest in the European Union.
Estonia and its fellow Baltic states—dismissed by the Kremlin as "extremism-inclined"—are, along with Poland, forming a new moral center of gravity in Europe, even if the political, military, and economic weight still lies to the West.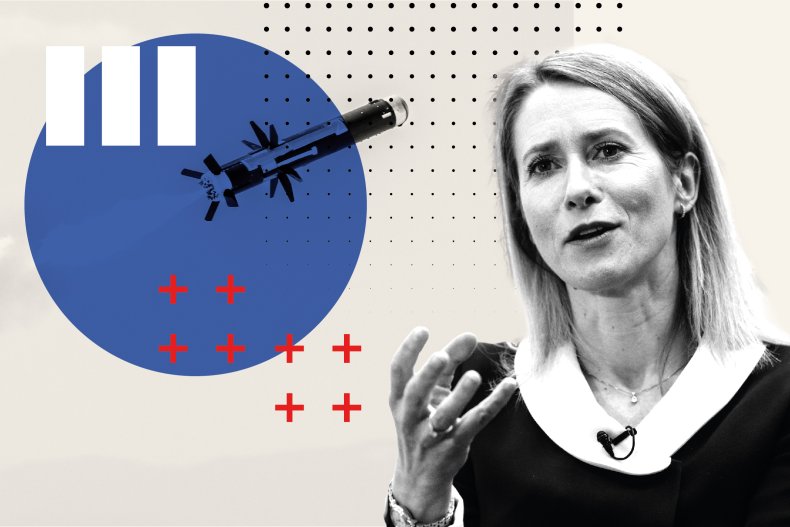 A Newsweek photo illustration showing Estonian Prime Minister Kaja Kallas and a Javelin missile Newsweek; Source photo by RAIGO PAJULA/AFP via Getty Images
For years, Western allies gave little heed to Baltic warnings that Russia was up to no good. Now, Estonian politicians, officials, and experts tell Newsweek the West must listen and learn.
"We see other nations saying they have to listen to us a little bit more," Marko Mihkelson, a member of Estonia's parliament and its foreign affairs committee, told Newsweek.
Are they listening? "Yes and no," Mihkelson said. "The world is complicated. The interests of bigger nations, especially nuclear states, and smaller nations like Estonia might differ, even if we are in the same camps like NATO or the EU."
A Dangerous Neighbor
Even in Estonia, few thought the Kremlin so reckless.
"I was kind of in disbelief up until the moment of the invasion," Kristi Raik, the deputy director of the Estonian International Centre for Defence and Security think tank, told Newsweek.
"I knew that, yes, it may happen, but it seemed so irrational. And military experts were saying that Russia was not really prepared to or capable of conquering Kyiv, let alone the whole of Ukraine."
"The most shocking thing is that Russia undertook this invasion based on so bad a miscalculation, being so badly prepared," Raik said.
Mihkelson was in little doubt of some form of Russian aggression, given Moscow's 2014 annexation of Crimea, years of agitation in Donbas, a dehumanizing propaganda campaign, and repeated military posturing on Ukraine's borders.
"This was the logical step," he said, recalling a visit to the Russian capital three weeks before the full-scale attack began. "Not many, if any, in Moscow understood that Putin is going immediately that far, to attack Kyiv," he recalled. "Everyone talked about Donbas."
Still, he came away with a clear understanding of the danger. "The focus was—as you see it still is—not only on Ukraine, but also on confronting entire Western security architecture," he said. "By early February, we got quite a clear understanding that immediately after the Beijing Olympic Games, the invasion would start."
The horrors of foreign imperialism are seared into Estonia's collective memory. Occupied by the Soviet Union in 1940, the country was then seized by Nazi German troops sweeping east in 1941. Soviet troops returned in 1944 and did not leave until 1991.
An estimated quarter of all Estonians were killed during the Second World War, one of the highest rates in all of Europe. Decades of subsequent Soviet occupation brought mass deportations and disappearances.
Current Prime Minister Kaja Kallas has a similar story to many Estonians. Her mother Kristi, then only six months old, was deported to Siberia with her mother and grandmother amid the post-war Soviet purges. Kallas was a teenager when Estonia won back its independence.
At this year's Munich Security Conference, Kallas said "sustainable peace in the future" depends on dashing the "imperialistic dreams that the Russians have. And I'm not talking about Putin or not Putin…We have to cut the cycle."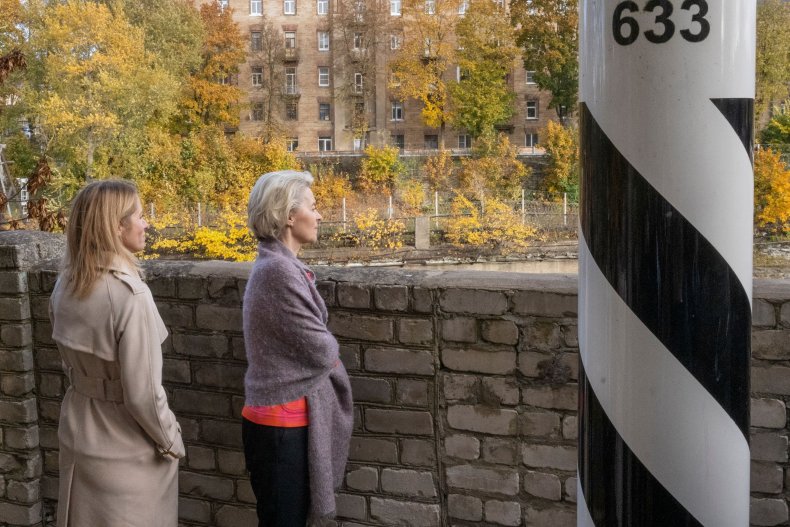 From left, Estonia's Prime Minister Kaja Kallas and President of the European Commission Ursula von der Leyen look onto the Narva River at the border with Russia in Narva, Estonia, on October 10, 2022. RAIGO PAJULA/AFP via Getty Images
Mihkelson concurred. "Their desire for re-establishing empire is so deeply rooted in their mindset, and not only for leaders but also for the general public, and even if you recall some statements from the liberal camp of the Russian political landscape," he explained.
Recalling his own experience as a journalist covering the First Chechen War in the mid-1990s, Mihkelson said he developed a "clear understanding that Russia was going to be very dangerous neighbor, not only for Estonia but for the entirety of Europe."
"The same applies to Kaja Kallas, and to everybody else in Estonia who through his or her family story has an understanding of Russia and Russian realities."
Russia's invasion of Ukraine has prompted a historic reckoning in Estonia too, where authorities are now taking down Soviet-era war monuments dedicated to the country's former imperial masters.
The campaign has inflamed opinions among the 322,000 Estonians who identify as ethnic Russians, complicating long-standing issues of integration and cross-border Russian influence.
'We Need to Raise the Heat'
NATO and the EU have demonstrated resolve over 12 months of fighting, showing few signs of the fractures Moscow hoped would undermine the pro-Ukraine coalition.
But the war began with Western folly reminiscent of allied inaction over the annexation of Crimea in 2014, Foreign Minister Urmas Reinsalu told Newsweek. "Very, very little done was done at the last moment, when basically the preparatory phase of the war was going on," he explained. "The aggressor was sent the wrong signal."
"There have been a lot of self-congratulations in the Western camp, looking back speaking about unity and so on. But we also have—along with historians, journalists, international relations experts—to study how the West signaled incorrectly before the war…And secondly, of course, also how we have not done enough during the last year."
"Moving by slices with sanctions and weapons will prolong the war," Reinsalu said. "What Ukrainians did by winning the battle of Kyiv was they saved us, from a security perspective, and also saved our dignity. But the war is not over. We should not believe this is a Hollywood script that has a good ending."
"We are now giving what Ukraine needs to survive, not what it needs to win."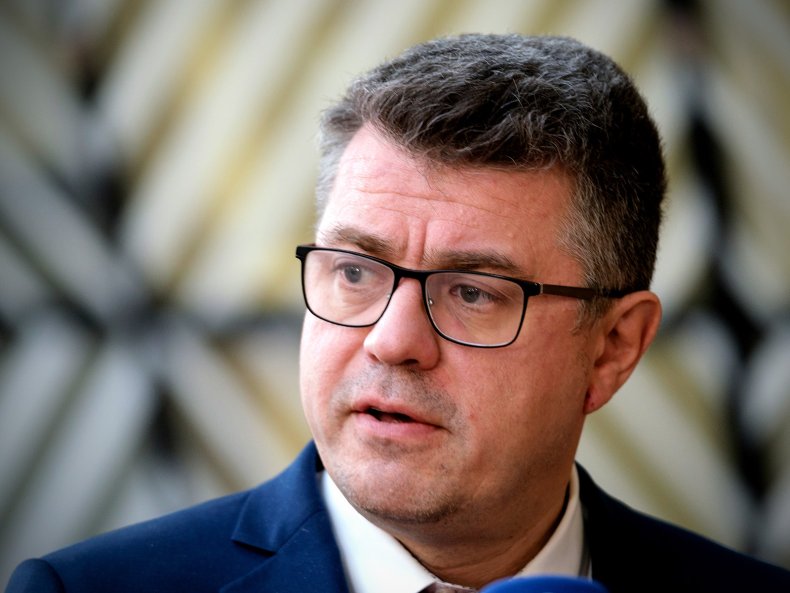 Estonian Minister of Foreign Affairs Urmas Reinsalu talks to media before an EU Foreign Affairs Ministers meeting in the Europa, the EU Council headquarter on November 14, 2022 in Brussels, Belgium. Thierry Monasse/Getty Images
"We're very well aware that if, by any interpretation, the outcome of this war is a Putin victory, we are in great trouble. Maybe not in a day, maybe not in a year, but from a generational perspective…I would predict it would mean the physical disappearance of our nation."
More weapons and more sanctions can help win the current war, while Ukrainian NATO and EU membership can stop the next one, the foreign minister said.
First should come "all the range of conventional weapons without political caveats," Reinsalu said. He urged all other NATO nations to match Estonia in donating military equipment equivalent to 1 percent of GDP, while expanding their own defense budgets beyond NATO's 2 percent target, up to 2.5 or even 3 percent, with a greater proportion committed to new technologies.
As part of NATO's Enhanced Forward Presence posture, Estonia hosts a multi-national battlegroup made up of around 2,200 troops from the U.K., France, Denmark, and Iceland. Latvia and Lithuania are among the other NATO nations also hosting additional battlegroups on the alliance's eastern frontiers.
Estonia and its Baltic neighbors are still pushing for more muscle on NATO's eastern flank. The alliance has discarded the "tripwire" concept that essentially envisioned the region as a speed bump for Russian tanks, but now the Baltics want more troops, heavier weapons, and air cover.
More American troops in Europe, Reinsalu said, would help, noting there were some 300,000 deployed on the continent during the term of the last Soviet premier, Mikhail Gorbachev.
"Gorbachev was far a more predictable and peaceful chap than Putin," Reinsalu said. "I applaud the U.S. for upgrading its presence, but there is still only a little bit over 100,000 troops."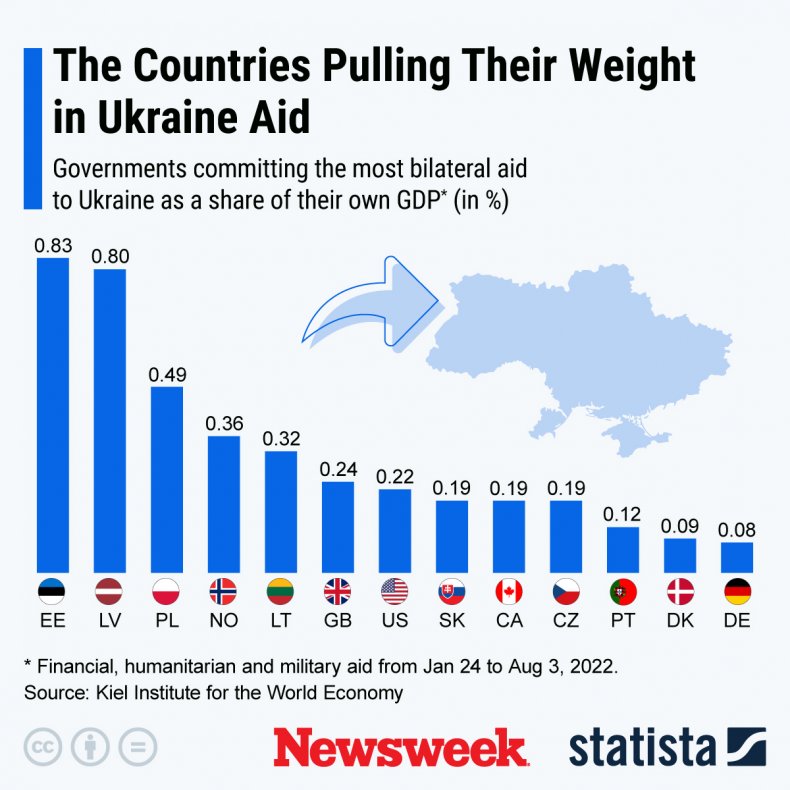 The Countries Pulling Their Weight in Ukraine Aid Statista
On the sanctions front, Estonia wants to immediately cut the price cap on Russian oil and introduce a similar restriction on Moscow's natural gas exports. Hundreds of Russian banks, Reinsalu said, remain connected to the SWIFT international banking network.
Estonia's influence might be buoyed, he said, but Tallinn's diplomats still face a frustrating battle in Brussels. "None of Estonia's proposals in the tenth sanctions package was accepted," Reinsalu said.
The measures should be felt "comprehensively" by all Russians, he added, noting that in Moscow "people do not feel the pressure or the outcomes of their regime's atrocities in their daily lives. We need to raise the heat. We have done far from enough."
Russia's political isolation, too, Reinsalu said, must deepen. "The Olympics is not something happening on another planet," he said. "Now we are speaking about letting aggressor state sportsmen take part. This is a perverse concept and fully unacceptable."
The debate over Ukraine's NATO ambitions is not going away, though the day-to-day concerns of the Russian invasion are more pressing for now. Though the alliance has said Ukraine will eventually receive assent, no one can say when.
"The elephant in the room is Ukrainian membership in NATO after this current war," Reinsalu said. "Why is there such rhetoric only about 'open doors'? This is now far from being enough…Honestly, the only guarantee except NATO would be to deliver nuclear weapons to Ukraine."
Alliance Anemia
Russia's invasion has shocked the West into a historic debate on military readiness. Europe in particular has enjoyed the post-Cold War "peace dividends" of lower military spending, while its armed forces were further degraded by years of low-intensity operations. Faced with a major continental war, much of NATO looks weak.
"Russia is shooting out more [artillery] rounds a day than Europe is manufacturing in a month," Kusti Salm, the permanent secretary of Estonia's Defense Ministry, told Newsweek. "This is something that should set alarm bells ringing everywhere."
Kallas has called on EU nations to collectively produce one million 155mm artillery shells each year to feed Ukraine's hungry guns and restock emptied NATO warehouses. "This is exactly the signal that needs to be sent: that we are there long term, and we're not only thinking of Ukraine, but we're also thinking of our own defenses and our own defense readiness," Salm said.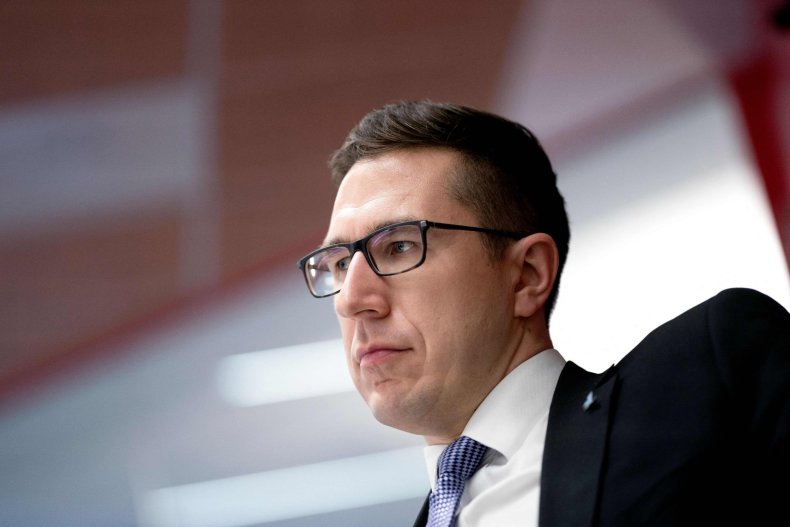 Kusti Salm, the permanent secretary of the Estonian Defense Ministry, speaks to members of the media in Washington, D.C., on January 25, 2023. STEFANI REYNOLDS/AFP via Getty Images
Estonia is doubling its own territorial defense forces in what Salm said is a "huge" shift, and a vital addition to the country's regular Defense Forces of some 45,000 people. "Our military needs to be larger," he explained, and the population more prepared to fight.
"We need to sharpen our defense readiness much more; we need to make sure that we can mobilize before the war breaks out," Salm explained. "In order to do this, we need to get the confidence level among our own people, and also policymakers, very high. It means routine intelligence briefing; it means much more public communications on threat perception."
"There are a lot of Estonians who are much more aware of how Estonian defense works than there were a year ago. And that actually is not something that increases the anxiety, but it contains it. If you know what's going on, it's much easier to cope."
The same readiness must take hold among national and NATO decision makers, Salm said, noting Ukraine's hesitance to publicly acknowledge the impeding invasion in the winter before the war began. "I'm not sure that we have any tangible reason to believe that the same wouldn't happen with some NATO allies," Salm said. "The instinct is to de-escalate, and the way Russia interprets de-escalation is to escalate."
"While the U.S. decided to share intelligence—we knew three months before—I'm not sure that we can take for granted that it's going to happen next time. Russia is also learning lessons. Russia is historically the best at masquerading their intent."
Ultimately, Salm said, NATO steel is the most reliable deterrent. "We shouldn't convince ourselves that we can somehow unarm or make Russia retreat from their strategic intent with only economic means," he said.
"Even if Russia loses—being kicked out of Crimea, out of everywhere, and Ukraine having everything restored—I haven't met anyone who thinks that Russia wouldn't return with even stronger revanchist intent. This presents a very morbid picture that only has one answer: to ramp up allied defenses, to invest more."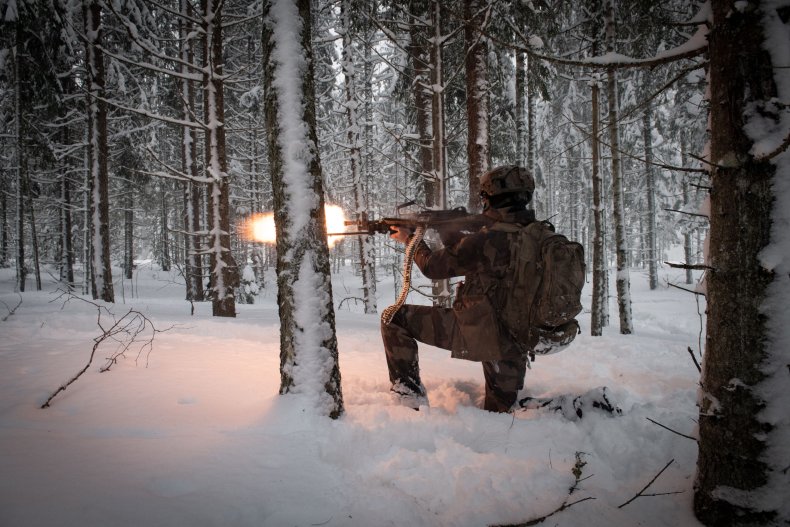 A French soldier takes part in NATO military drills as part of the alliance's Enhanced Forward Presence deployment in Poland and the Baltic nations of Estonia, Latvia and Lithuania, at the Estonian Tapa army base near Rakvere, Estonia on February 5, 2022. ALAIN JOCARD/AFP via Getty Images
Such investment should be accompanied by a new resolve, Salm said: "One thing that that we were not maybe prepared for was just how cruel they are, how disposable their people are, how attached they can be to their goals, and tolerant for human and equipment losses."
"I remember our defense chief saying that if we can kill 10,000 of them in the first few days, then they should shy away. It doesn't seem to be the case…Our defense planning goal is that we need to be able, with our own stocks and with our own equipment and inventory, to basically destroy all occupants. Not 10 percent or 50 percent, we need to be able to do it all."
Caging the Bear
There is no collective Western plan of what to do when the hot phase of the war ends. "I am a bit worried about what will happen once the fighting stops," Raik said. "There's no agreement on what the end point of the war should look like, whether it is possible for Ukraine to liberate all the occupied territories, whether this should be the aim, whether it's realistic, whether it is too dangerous."
"The Baltic perspective is very clear," Raik added. "You can't have a lasting solution to the conflict unless all of the territories are liberated. You should not fall for Russia's nuclear blackmail, that Crimea is really the red line, and you should go beyond that. We've crossed many red lines."
Failure to communicate such resolve is "a signal to Russia that the West still sees Ukraine as part of Russia's sphere of influence," Raik said. "I can still see traces of that thinking."
The ongoing war gives Western nations the opportunity to correct mistakes of the past. "We didn't have a common strategy or common understanding of what to do with Russia, what to do with this KGB-run terrorist state for years," Mihkelson said.
Now, the West must be "very careful" handling talk of peace negotiations, he said. "Some of our partners and allies see that perhaps there is a looming stalemate in Ukraine on the battlefield. Maybe it's better to start to find ways to go back to the negotiation table. But we argue that this is not going to bring lasting peace to Europe or to Ukraine."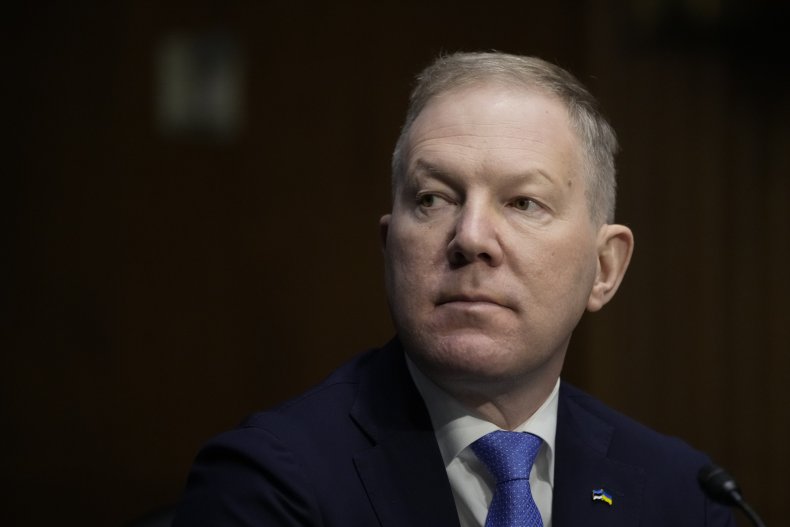 Marko Mihkelson, an Estonian member of parliament, testifies during a Commission on Security and Cooperation in Europe hearing on Capitol Hill March 17, 2022 in Washington, D.C. Drew Angerer/Getty Images
Generational peace has a high price tag, Mihkelson noted. "Are we politically ready to tell our people that if we want to have a peace in Europe for generations, and we have beat Russia strategically in their aggression against Ukraine? For that, we have to first supply everything Ukraine asks for and, secondly, we have to build very strong deterrence in NATO."
Democratic success in last year's midterms staved off a looming U.S. political reckoning on American support for Kyiv, which is being gleefully politicized by the GOP's isolationists and the far-right. But American presidential and European Parliament elections in 2024 could sow new divisions in the Western alliance.
"So far, I don't think that Russia has been successful enough to find those dividing lines," Mihkelson said. "But we have to be very vigilant."
The narrative of the war to date is dominated by Russian brutality and humiliation. The failure to take Kyiv, the sudden collapse in Kharkiv, the retreat from Kherson all paint a picture of a rotten empire hollowed out to the point of obsolescence by decades of corruption and mismanagement.
Florida Governor Ron DeSantis and possible 2024 presidential hopeful declared last month that Russia's military is "third rate" and no conventional threat to NATO. But Mihkelson warned against creeping complacency in the West.
"It's going to be very dangerous if that is the mainstream understanding among allies," he said. "But I know that this mood is there among NATO members."
"If we are going that way, then we will make very, very big strategic mistakes. You should never underestimate the Russians. You should never underestimate their will to sacrifice millions of people's lives."
"We have to be very, very clear in understanding that Russia has not yet been defeated strategically… They are very dangerous. They will be dangerous for us forever, anyway, because of the difference in size with small countries like Estonia. But they pose an existential threat to NATO as well."
"We must not be so sure that they are not crazy enough to test our resolve one day."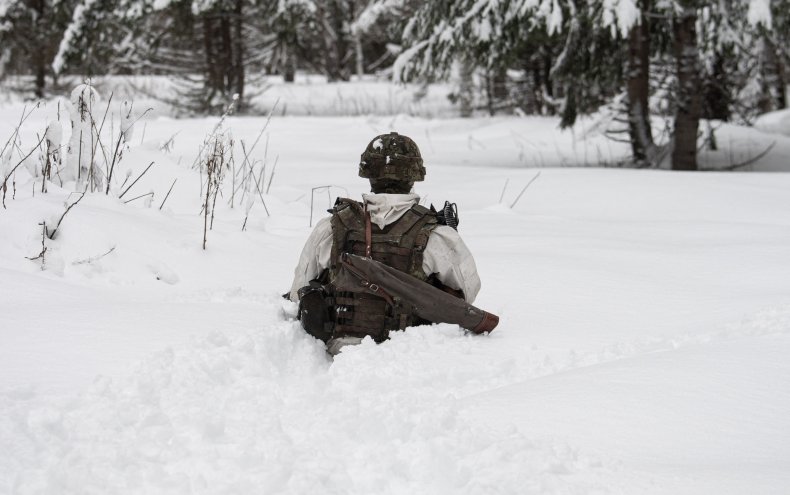 An Estonian soldier walks in the snow during military drills as part of NATO's Enhanced Forward Presence operation at the Estonian Tapa army base near Rakvere, Estonia, on February 6, 2022. ALAIN JOCARD/AFP via Getty Images
Source