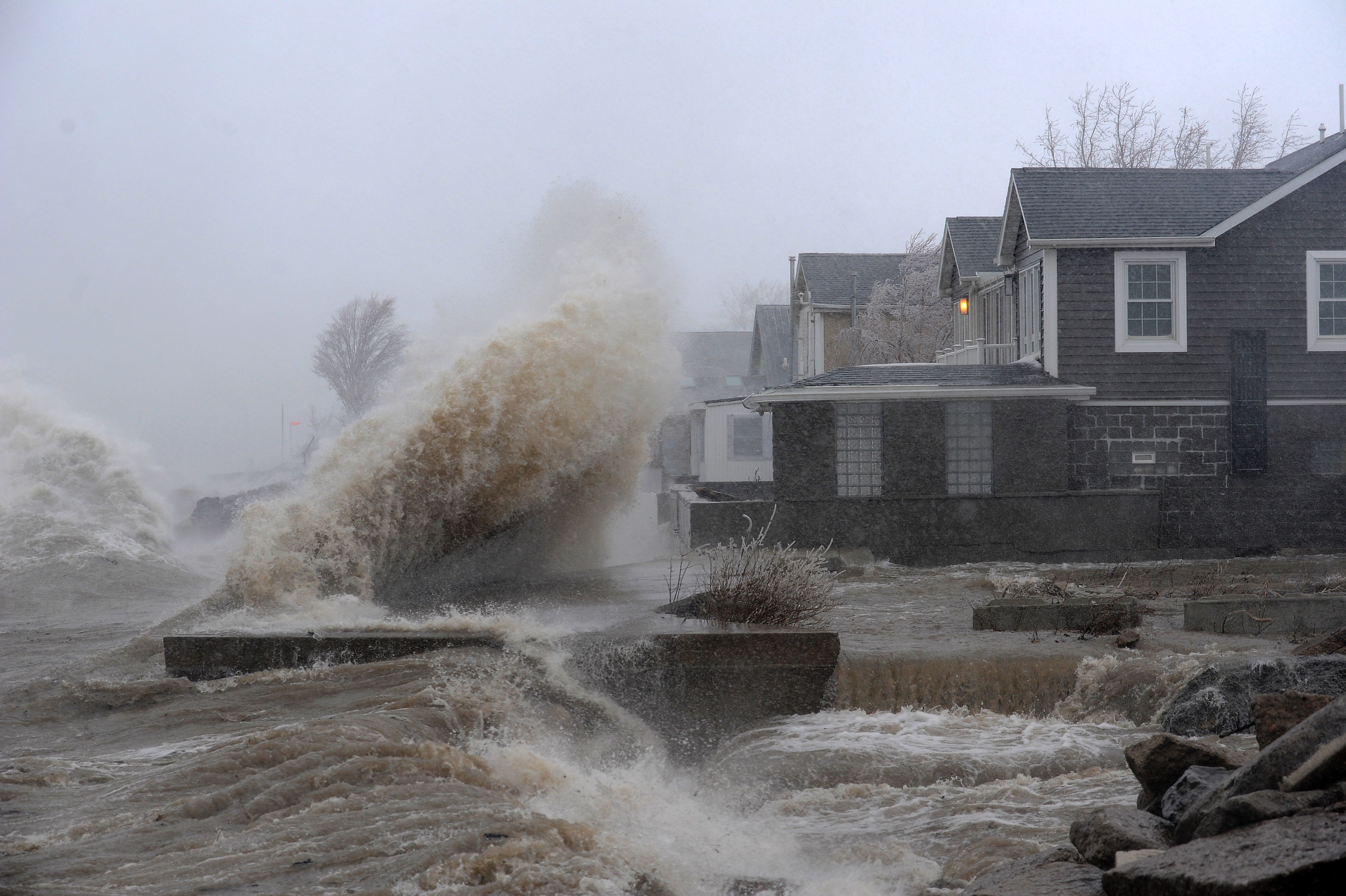 A powerful nor'easter could bring potentially damaging winds and up to 3 feet of snow in higher-elevation areas.
Power outages, damaged trees, blowing snow and flooding are all potential effects of the storm.
A nor'easter is a large storm with northeastern winds that tracks along the Atlantic Coast and is prone to intense strengthening.
Americans in the Northeast are facing a blustery storm that has the potential to morph into a bomb cyclone.
The "powerful" nor'easter, a storm over the Atlantic that tracks parallel to the East Coast, is expected to hit the Northeast Monday night and continue through Wednesday, according to AccuWeather.
The storm is capable of transforming into a bomb cyclone, a storm that rapidly strengthens and is among the "most violent weather systems," AccuWeather said.
Late-winter weather patterns remain uncommon for Americans, with Los Angeles County experiencing its first-ever blizzard warning in February and New York receiving very limited snowfall throughout the winter, which is unusual.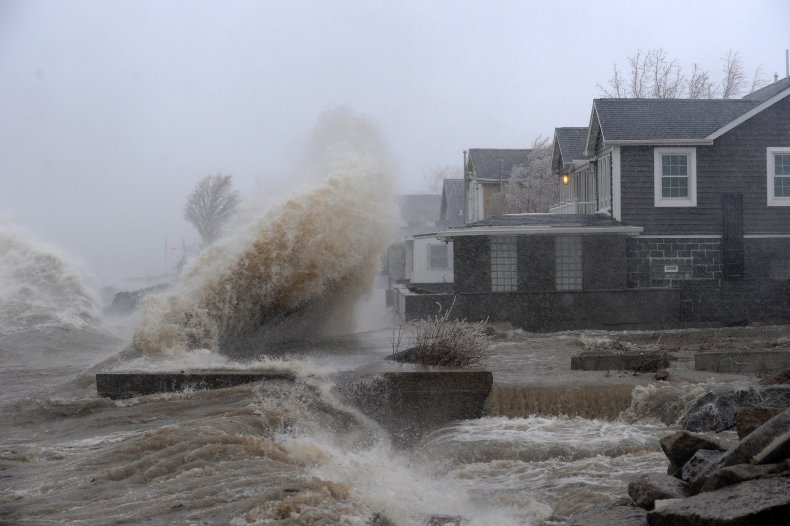 Lake Erie waters wash over the shoreline on December 23, 2022, in Hamburg, New York. A nor'easter set to hit the Northeast Monday night could turn into a bomb cyclone. Getty
A bomb cyclone hit much of the U.S. over the holidays, bringing subzero temperatures and freezing winds to much of the nation. That cyclone was deadly, with dozens of people dying nationwide as the storm brought devastating temperatures, blizzards and snowfall to many areas. Buffalo, New York, was one of the worst areas hit.
Forecasters expect the incoming storm to have strong winds throughout Wednesday, with strengths varying between 40 and 70 miles per hour. Some gusts could reach Category 1 hurricane strength.
AccuWeather Chief Meteorologist Jonathan Porter told Newsweek that the storm could bring up to 6 inches of snow to the Boston area. Areas just west of the city could see snow totals of up to 12 inches. He warned residents to prepare for power outages and "rapidly deteriorating road conditions" as snow falls so fast that crews will struggle to keep up.
The strongest winds are expected along the coast in cities such as New York City, Boston and Portland, Maine. AccuWeather predicts power outages, damaged trees, blowing snow and potential flooding. Power outages could span several states, with the most widespread outages expected in coastal cities.
Inland states also will experience the storm, with Ohio, West Virginia, Virginia, Pennsylvania and New York expected to receive snow, to varying levels.
The heaviest snowfall is anticipated to fall at two to three inches per hour in New York and Maine into Tuesday night. AccuWeather forecasts that as much as three feet of snow might fall in higher elevation areas such as the Catskills and Adirondacks. Rain will accompany the snow in some areas, leading to potential for coastal flooding through Thursday.
Nor'easters are powerful storms that must meet specific criteria to be classified under the nor'easter category, according to a report by AccuWeather.
"It is true that some nor'easters unleash fierce blizzard conditions, but this alone is not a criterion for this type of storm. Nor is there a requirement for high winds or snowfall in the first place," the report said.
Instead, a nor'easter is a large storm with northeastern winds along the Atlantic Coast, and is prone to "intense strengthening" if the storm encounters high pressure and can lead to strong, damaging winds.
Update, 3/13/2023, 2:12 p.m. ET: This story was updated with comments from AccuWeather Chief Meteorologist Jonathan Porter.