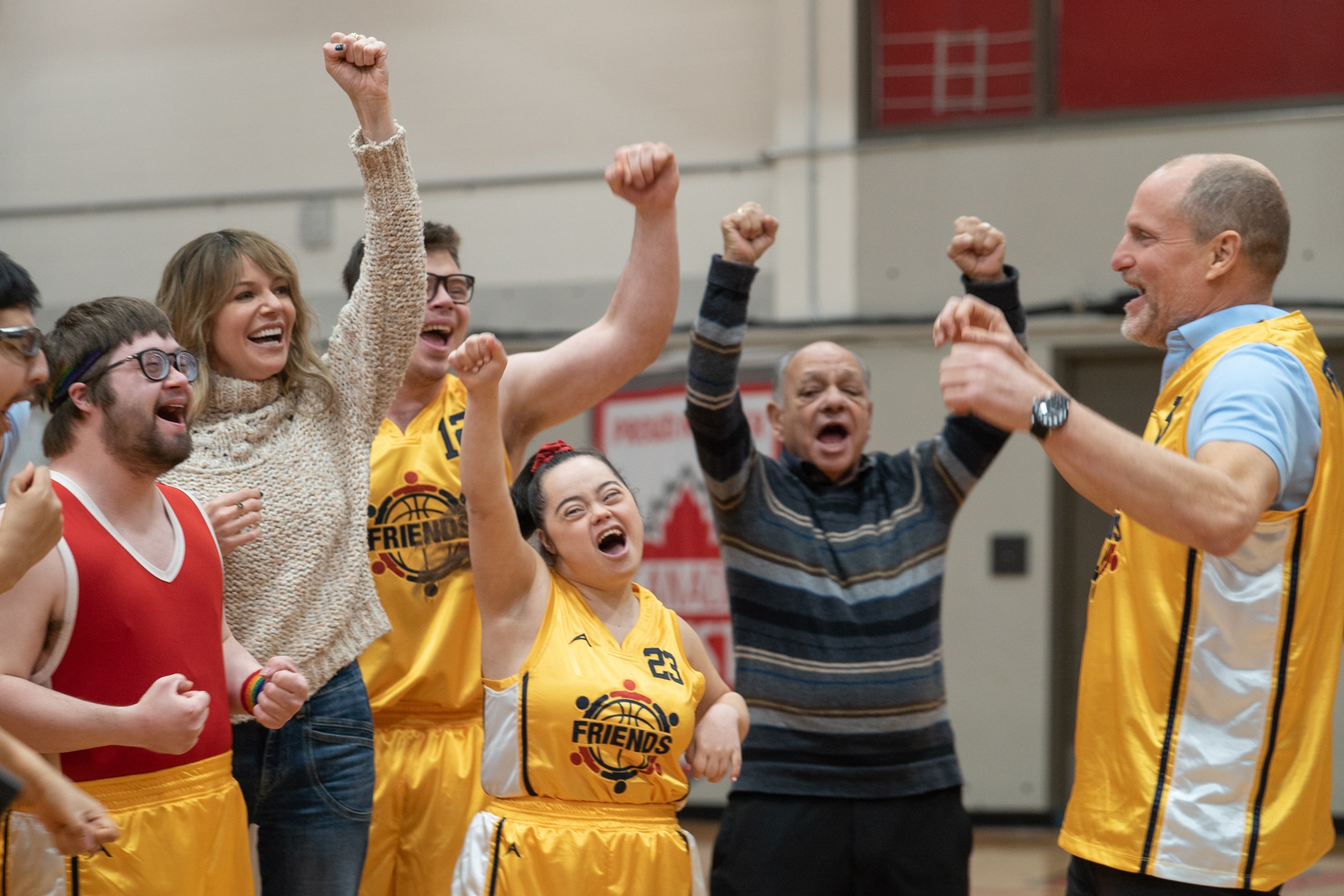 New movie Champions should be seen as an inclusive comedy with a disabled group of actors, rather than an exploitative one, says star Kaitlin Olson.
The new sports comedy, arriving in theaters on Friday, March 10, features Woody Harrelson as a disgraced basketball coach who takes over a team of disabled athletes training for the Special Olympics. Directed by Bobby Farrelly (There's Something About Mary), Champions is an English-language remake of the award-winning Spanish film Campeones.
As well as Harrelson and Olson, a group of disabled actors were cast to play "The Friends" — the name for the basketball team Harrelson's Marcus takes over.
While speaking to Newsweek to promote the movie, Olson detailed the steps Farrelly and the team behind the movie took to ensure disabled people were never the butt of the joke.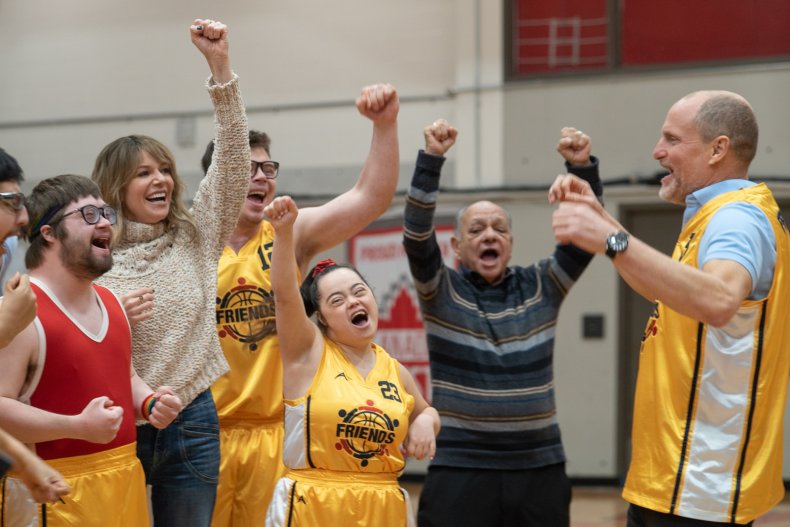 (L-R) Kevin Iannucci as Johnathan, Kaitlin Olson as his sister Alex, Madison Tevlin as Consentino and Woody Harrelson as Marcus in a still from "Champions." It should be seen as an inclusive comedy with a disabled group of actors, rather than an exploitative one, says Olson. Features Focus Release
"The idea wasn't to focus on their disability, the idea was to focus on their incredibly well-rounded lives," Olson told Newsweek. "They have boyfriends, girlfriends, families, jobs, some of them live independently. […] Nobody wanted to exploit this genre or exploit people with disabilities. We wanted it to just be a movie about people working together to succeed at something."
It's Always Sunny in Philadelphia star Olson plays the love interest to Harrelson's Marcus, and the sister of Johnny, one of the players. As well as working closely with the Special Olympics to make sure the correct terminology was always used, Olson said conversations off-camera helped make sure everyone was portrayed respectfully.
"At the end of the day, if you're not sure [of what to say and not to say], you go to the person. My co-star, who happens to have Down Syndrome and I asked, 'how would you like for me to refer to you?' I mean, we're talking about young adults here. They can speak up for themselves as they should, and as they should be encouraged to."
Olson continued: "So I asked them, 'how do you feel about this? How does this make you feel?' And you listen and you just go from there. But at the end of the day we're trying to make a really good story with really well rounded characters, all of them, not just the non-disabled people."
A core component of Olson's character Alex, is her relationship with her brother Johnny, played superbly by actor Kevin Iannucci. The pair have become firm friends off screen too, with Iannucci making regular cameos on Olson's Instagram account. "Everyone should follow him on Instagram. He does a lot of reenactments, a lot of superhero stuff. He's fantastic. He's a very creative guy."
They formed a close bond behind the scenes too thanks to the weather and surroundings that Champions was shot in.
"We spent all our time together. I mean, in Winnipeg there's not a ton to do, especially when it's negative 30 degrees. So we were together all the time."
Madison Tevlin, who plays one of the athletes, Consentino, had a birthday during production, and everyone went large with the celebrations. "We all had a huge party. It was a giant dance party, and it was legitimately one of the most fun parties I've ever been to." Olson added: "It was a lot of silly light-hearted fun. We just legitimately had such a good time."
She shares the screen with Academy Award nominated actor Harrelson, who we know has basketball prowess from his role in 1992's White Men Can't Jump. Here he is almost 30 years later in Champions, teaching a new generation of ballers.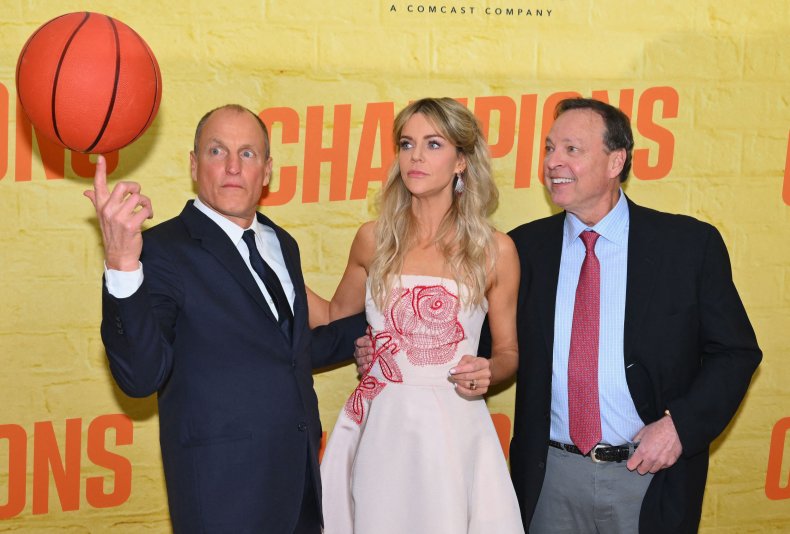 Woody Harrelson shows off his basketball skills to co-star Kaitlin Olson director Bobby Farrelly at the New York premiere of "Champions" on February 27, 2023. Harrelson turned out to be a huge fan of Olson. Angela Weiss/AFP
"He's an incredibly talented actor. I was so excited to work with him. I was actually surprised at how nervous he was. He takes it so seriously, he was always incredibly prepared. He always just wanted to do such a good job, but I just assumed it would be second nature to him," Olson reflected. "I found it really endearing how nervous he would get sometimes before scenes.
"He would also just play basketball with the Friends, and they would just play around. He said he felt he was just on a playground the entire time. Between scenes he would just play," she said.
Harrelson turned out to be a huge fan of Olson's too. She noted that it boded well for them that he laughed at her jokes, but in the production notes for Champions, Harrelson raved about his co-star.
"She's stolen every scene that we've been in together but honestly, I don't mind. She's a superlative actress. I loved working with Kaitlin and I think people are really going to respond to her character in this film," Harrelson said.
Receiving such high praise didn't quite sit well with Olson though.
"It's uncomfortable. I want to crawl out of my skin. No, I really appreciate it so much." Olson said she loved playing Alex, a role much quieter than say, Sweet Dee in Always Sunny, or DJ in Hacks.
"I can't verbalize enough how much I appreciated this opportunity. I get offered a lot of roles where I'm just a jerk and yelling at someone. So it was nice to be given an opportunity to play someone with a little bit more vulnerability, and who was also fun."
It's Always Sunny in Philadelphia Season 16 Update
Speaking of playing a jerk and yelling at people, Olson and the cast of It's Always Sunny In Philadelphia are filming Season… 82?
"It's Season 87, thank you very much, and it's great. It's always so fun. We you know, every time we start up another season, it just feels like going home. Those people are my family and I yeah, I love it. I feel like the luckiest person in the world for sure. It's the best job ever."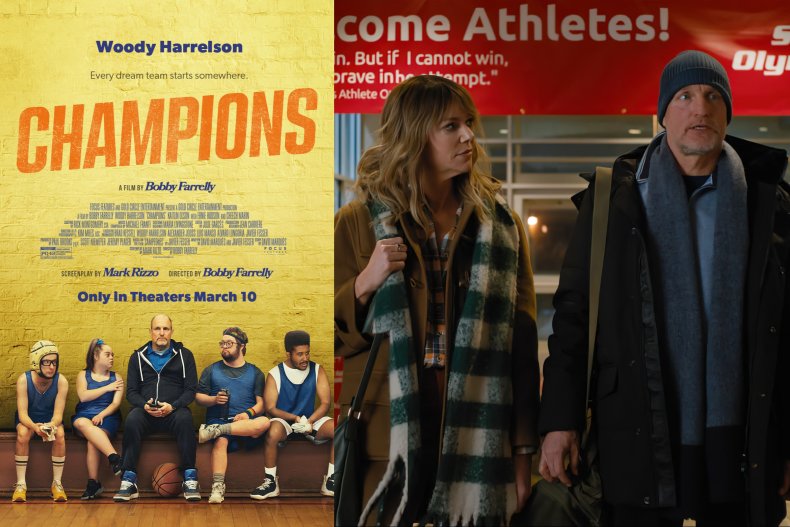 Kaitlin Olson plays Woody Harrelson's love interest in "Champions," out in cinemas Friday March 10, 2023. Features Focus Release
Olson is both a dramatic and comedic actress, and like Will Ferrell, Melissa McCarthy, Lisa Kudrow, Jimmy Fallon and many more, she also came through The Groundlings comedy program.
Despite being an expert improvisor and ad-libber, you may be surprised to hear she's only got one writing credit to her name.
"What did I write?" Olson asked when Newsweek's reporter told her.
"Three episodes of Kelsey Grammer Presents: The Sketch Show (2005), which is not something I've heard of, sorry," our reporter said.
"Do not apologize. I wish that you hadn't heard of it to this day." When signing off from our interview our reporter told Olson we'd be looking up clips of the Kelsey Grammer sketch show. "Okay. Please do not get back to me with your thoughts," she joked.
Champions is out in theaters nationwide on Friday, March 10, 2023.