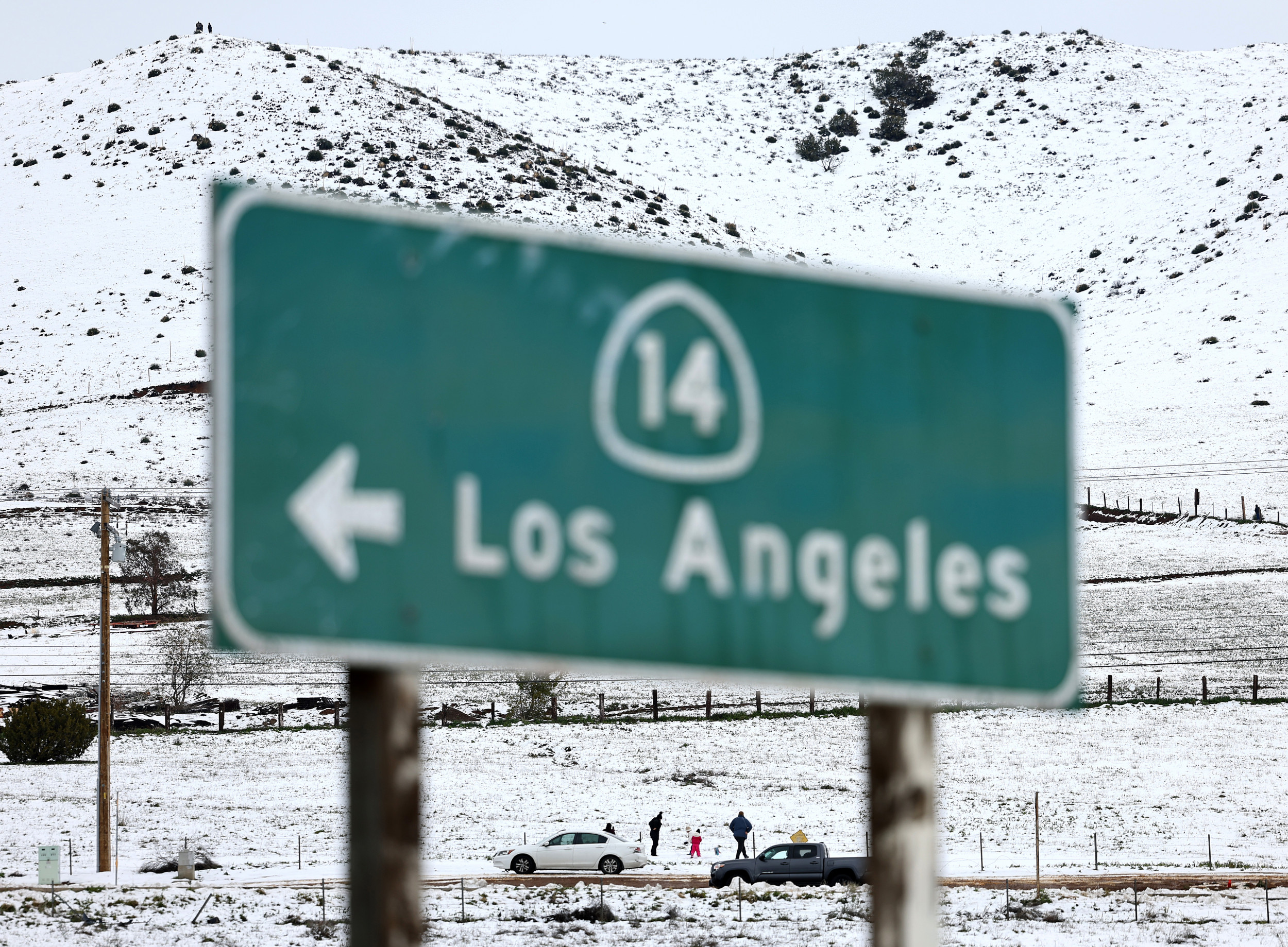 More severe winter weather is barreling toward the West Coast less than a week after a severe system blasted Southern California with rain and snow.
The National Weather Service (NWS) office in Portland, Oregon, reported Monday afternoon that a low-pressure system from the Pacific Ocean is heading inland toward the Oregon and Washington coasts, saying the storm will likely deliver a pounding mixture of rain and snow.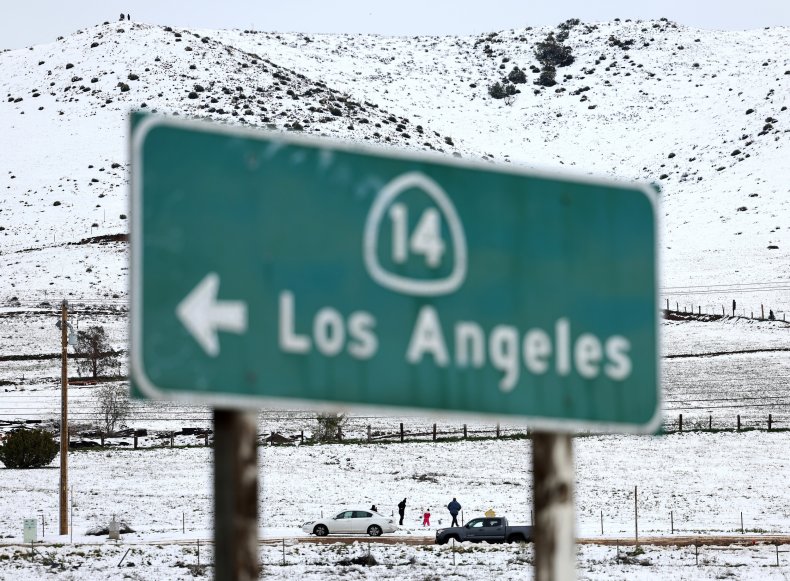 A freeway sign pointing to Los Angeles is pictured near Acton, California, on Sunday after a major winter storm delivered a rare blizzard to Southern California last week. More severe weather is moving inland to the West Coast on Monday, triggering additional advisories. Mario Tama/Getty Images
According to the NWS office in Reno, Nevada, the major winter blast is expected to last through Wednesday. Large parts of the Greater Lake Tahoe Area and Mono County, California, are also under a blizzard warning until 4 a.m. PST Wednesday, with 2 to 3 feet of snow predicted.
"Life threatening blizzard conditions expected with heavy snowfall," the NWS said in a statement posted Sunday. "Travel could be impossible Monday through Wednesday morning. Do not travel."
A video posted by the California Highway Patrol office in Truckee, California, showed "dangerous driving conditions and whiteouts" along Interstate 80 on Monday morning, noting that the highway was closed, with "no estimated time of reopening."
ANNND WE ARE CLOSED!!

(2/27/23 11:00am)

I-80 is closed eastbound at Applegate and westbound at the Nevada State line due to dangerous driving conditions and whiteouts. No estimated time of reopening… pic.twitter.com/TF4XVyf0mP

— CHP Truckee (@CHP_Truckee) February 27, 2023
Parts of Los Angeles County are also under a winter weather advisory until 1 p.m. PST, followed by a winter storm warning through Wednesday night. Snow accumulations near the Ventura County Mountains and Santa Barbara County Interior Mountains could reach up to 16 inches, reported the NWS.
Last week, Los Angeles faced its first-ever blizzard warning after severe weather smacked the Southwest. Over 4 feet of snow had accumulated by Saturday, reported The New York Times, and residents living in lower elevations faced threats of flooding due to the intense rainfall.
According to the Times report, multiple rescues were conducted across Los Angeles because of rising waters.
The same weather system is predicted to reach the East Coast on Monday, dumping potentially up to a foot of snow in parts of New York and Pennsylvania. Temperatures in New York City will be close to freezing by Monday night, leading to a heavy, wet snowfall, NWS meteorologist Matthew Wunsch previously told Newsweek.
The NWS office in New York City warned on Twitter that poor driving conditions could impact drivers through Tuesday morning.
A separate weather system also ripped through the Midwest on Sunday evening and into Monday, triggering tornadoes to touch down in Oklahoma and Kansas. Parts of Illinois and Ohio were also under a severe weather threat Monday, with wind gusts whipping from 40 to 50 mph in central Ohio.
The NWS branch in Wilmington, Ohio, reported on Twitter that its office was still gathering reports to determine the cause of property damage following the storms. Brian Davis, meteorologist for WDTN in Dayton, Ohio, reported on a video showing a tornado hurtling wreckage in Middletown on Monday.
Newsweek has reached out to the NWS for comment.