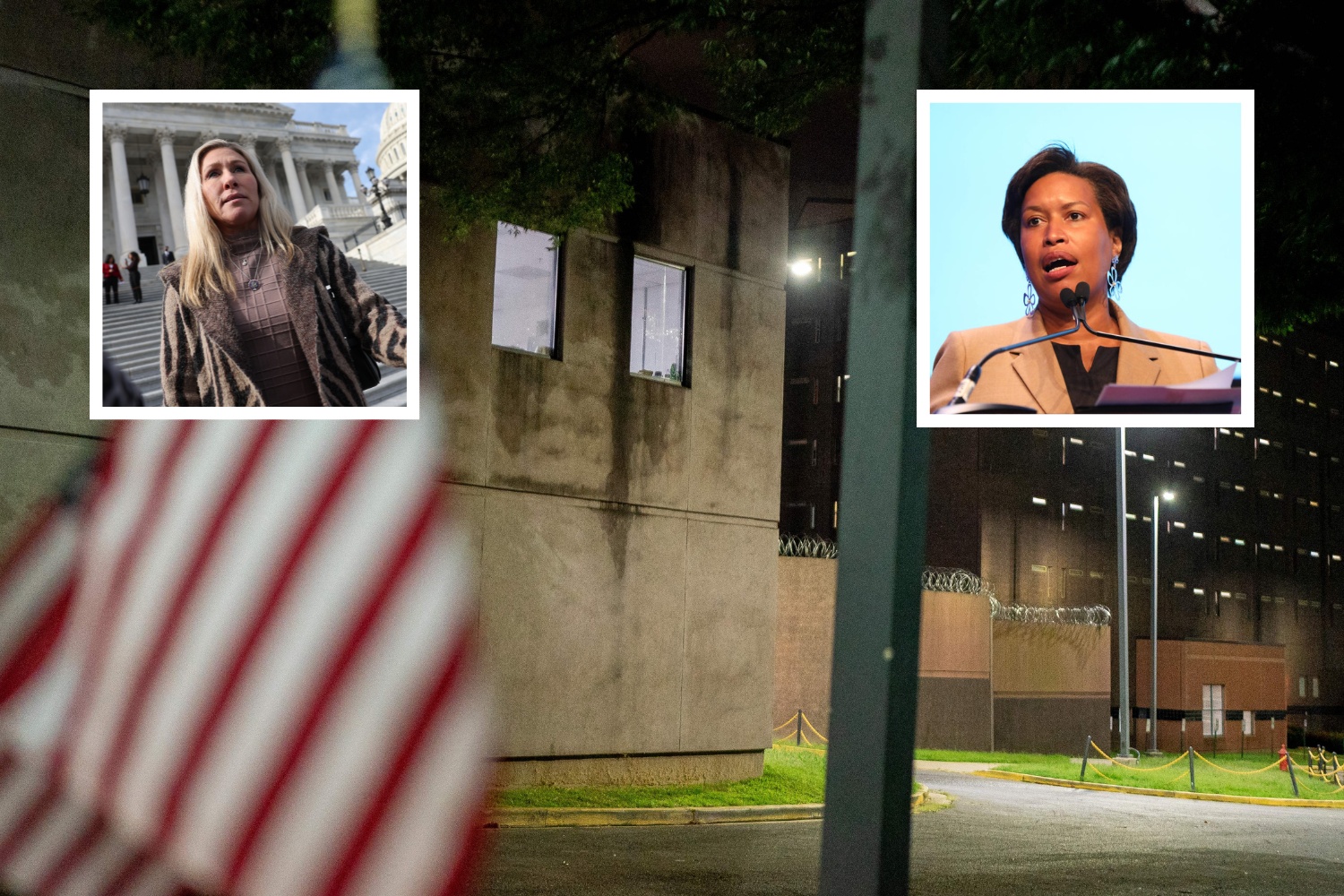 GOP members of the House Oversight Committee have demanded information on the "inhumane treatment" of January 6 prisoners and arrangements to tour jail facilities in a letter to D.C. Mayor Muriel Bowser.
The letter, signed by Oversight Committee Chairman James Comer and members Marjorie Taylor Greene and Clay Higgins, was sent to Bowser on Thursday. The Republicans claimed that the January 6 prisoners were being singled out for especially harsh treatment due to their "politics and beliefs."
Bowser, a Democrat, was told to provide "certain documents and information regarding" the D.C. jail facilities and to contact the D.C. Department of Corrections to arrange for the committee members to visit the facilities and "conduct interviews" with prisoners and employees.
"Eyewitness accounts of conditions at the DC Jail Facilities—particularly regarding the treatment of January 6 detainees—paint a picture of despair, hopelessness, and a severe abuse of justice," the letter states. "No prisoner in the United States should be treated in this fashion."
"The Committee is concerned by reports that January 6 detainees are facing a unique form of mistreatment due to their politics and beliefs, representing potential several human rights abuses," it continues.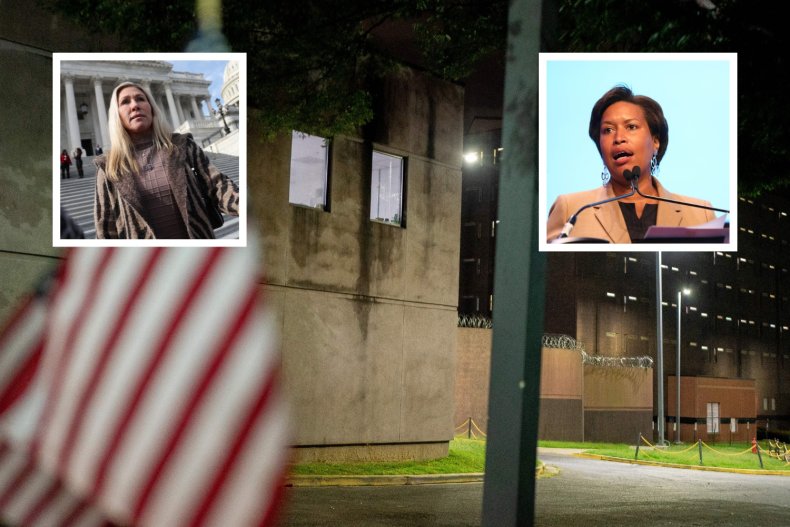 The outside of the D.C. correctional facility is pictured during a protest in Washington, D.C., on August 30, 2020. The inset images feature Representative Majorie Taylor Greene, top left, and D.C. Mayor Muriel Bowser, top right. Greene and other Republicans on the House Oversight Committee on Thursday sent a letter to Bowser demanding information on the "inhumane treatment" of January 6 prisoners and arrangements for touring the jail facilities. STEFANI REYNOLDS/AFP; Kevin Dietsch; Brian Stukes
The committee members cited Greene's November 2021 visit to the facilities, saying that "detainees showed her evidence of abuse and neglect" during the trip. Alleged incidents of prisoners being beaten, deprived of appropriate medical care and forced to live in squalid conditions were described.
Greene also said that detainees were "denied access to a Bible or denied access to Communion based on their vaccination status." Shortly after her 2021 visit, Greene previously said that the prisons were "torturing" January 6 prisoners, who she also praised for being "patriotic."
Thursday's letter specifically sets a March 23 deadline for authorities to provide "documents and communications" concerning prisoner complaints, prisoners' speedy trial waivers, COVID-19 jail policies and the U.S. Marshals Service's 2021 inspection of the facilities.
It also demands that the facilities allow "full access" to members of Congress and staff no later than March 23, including access to "speak with detainees."
In addition, the Republicans took the opportunity to blast Bowser for D.C. "reaching new lows" in handling crime, pointing out the failure of a "liberal and soft" local crime bill that was overruled in the Senate this week after being opposed by President Joe Biden.
"Under your mayorship, District homicides are up 40 percent over last year, which itself set recent records for crime," they wrote. "In the face of this disaster, the D.C. Council has responded by passing dangerous legislation so liberal and soft on crime that even President Biden has agreed with Republicans that Congress must intervene."
Newsweek has reached out via email to Bowser's office for comment.
Representative Jamie Raskin, the committee's ranking Democratic member, was copied on the letter. While not weighing in directly on the Republican demands to Bowser, Raskin in a tweet on Thursday rejected recent GOP claims that January 6 detainees are "political prisoners."
The congressman also took aim at Fox News host Tucker Carlson for airing conspiracy theories and attempting to reframe the January 6 narrative. Carlson's broadcasts this week have featured surveillance footage depicting calm moments on January 6, alongside suggestions that the attack on the Capitol was a gathering of "peaceful" tourists.
Since Carlson aired the footage, which represented a tiny fraction of more than 40,000 hours supplied to him by GOP House Speaker Kevin McCarthy, former President Donald Trump and some others have called for the Capitol riot prisoners to be released.
Raskin said that there was a contradiction between Carlson and Republicans including Greene previously pushing conspiracy theories that claimed the rioters were far-left "Antifa" operatives, and the current narrative that they are peaceful conservatives being unfairly persecuted for their beliefs.
"Tucker Carlson advanced the absurd conspiracy theory that Antifa fighters attacked our police and waged the Jan 6 insurrection—which is odd since MAGA forces are now describing Jan 6 convicts as 'political prisoners' and demanding their release from jail!" Raskin tweeted. "Which is it?"
Tucker Carlson advanced the absurd conspiracy theory that Antifa fighters attacked our police and waged the Jan 6 insurrection—which is odd since MAGA forces are now describing Jan 6 convicts as "political prisoners" and demanding their release from jail!

Which is it?

— Jamie Raskin (@jamie_raskin) March 9, 2023