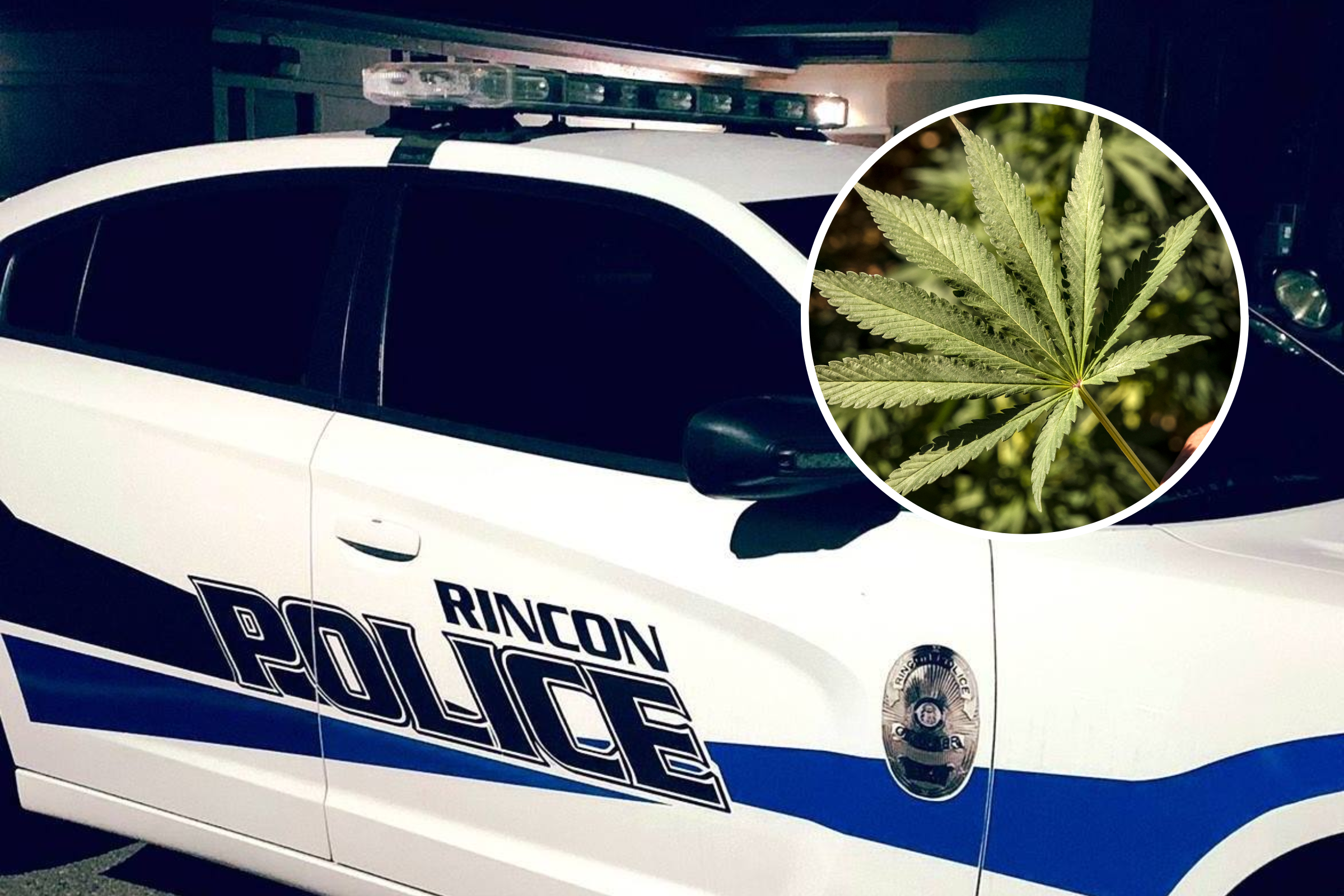 A Georgia police department is facing widespread criticism after publicly mocking a man they arrested after he was seen smoking a weed pen in a Wal-Mart parking lot.
On Tuesday, the Rincon Police Department posted on its Facebook page it had arrested a North Carolina man for possession of marijuana as well as intent to distribute after he was seen smoking out of a "dab" pen in a Wal-Mart parking lot.
Rather than simply writing up the arrest, the department decided to have a little fun with it.
In addition to booking the man into a local jail (which they described as a "bed and breakfast" the police department—located just a short distance from the tourist-friendly city of Savannah—seized the man's Mercedes Benz in what the department described as part of a "charitable" giving program.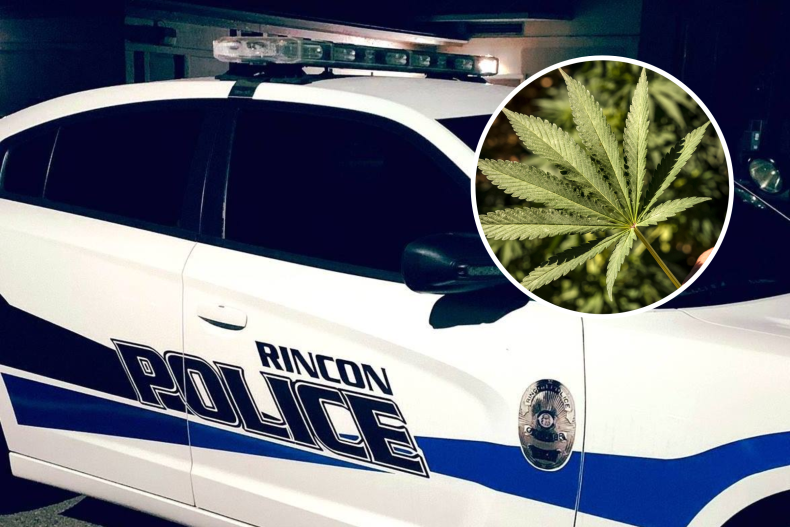 A Rincon (Ga.) Police vehicle, with a marijuana leaf pictured inset. A Georgia police department is facing widespread criticism after publicly mocking a man they arrested after he was seen smoking a weed pen in a Wal-Mart parking lot. Newsweek Photo Illustration/Facebook/Getty Images
"He had no idea that if you get caught with enough of certain controlled substances, in this case concentrated THC referred to as Dabs, you can donate your vehicle to the police department," they wrote on their Facebook page. "This was extremely generous since he had just purchased the Mercedes in full one day prior. With Mr. Banks being from out of state, we provided him with transportation to a local Effingham County bed & breakfast.
"We would like to extend this program to whomever wishes to participate although there are certain restrictions. Rincon's beloved Lt. Snitch is available to see if you qualify," they added beneath a picture of the department's K-9 units.
A fair number of people didn't find the suspect's misfortune as funny as the police did, however, with the post racking up nearly 5,000 comments as of Thursday afternoon as a prime example of a failed "war on drugs."
See posts, photos and more on Facebook.
"Hey, look at us, we stole a car because of plants!" one user wrote. "I don't think we can legally call ourselves a free country anymore."
"It's great that some comedian in the Rincon PD thinks civil asset forfeiture is a laughing matter because I certainly don't," another user wrote.
"Unbelievably unprofessional behavior to joke about stealing a man's car and putting him in jail for *any* reason, least of all for carrying a substance that is legal in many places," another Facebook user commented.
Others defended the officer's actions, saying "the dude knew what he was doing" and expressing gratitude for the police clamping down on alleged drug trafficking.
However, while the police did not specify the quantity of marijuana product seized in their post, a police report of the incident obtained by Newsweek appears to suggest the suspect only possessed a small amount of THC product for personal use.
And all of the product at his disposal—described by police as "five amounts of dab"—was able to fit in a single case with the vaporizer pen he smoked it out of.
While small, it was enough to tip the scales in Georgia, even while similar products have been legalized for recreational use in nearly one-half of the country.
Possession of one ounce or less of marijuana for personal use is a misdemeanor in Georgia, punishable by up to one-year imprisonment. However, intent to distribute any quantity under ten pounds—which the suspect, Austin Banks, was charged with—is a felony carrying a minimum of one year in jail with a maximum sentence of up to ten years.
Given its legality in other parts of the country, some found the charges to be unreasonably harsh. Last year, Congress even passed legislation seeking to decriminalize the substance at the federal level, though those efforts have since stalled.
"Imagine being such a violent thug that you kidnap someone and steal their vehicle for possessing a plant extract, and then brag about it on social media," Spike Cohen, a former Libertarian candidate for Vice President, commented on the post. "I guess at least you didn't beat him to death? Baby steps. Get a real job. It is long past time for us to end the war on drugs, and also to end civil asset forfeiture, so these people can't just rob us at will without even getting a conviction first."
Newsweek has contacted the Rincon Police Department for additional comment.