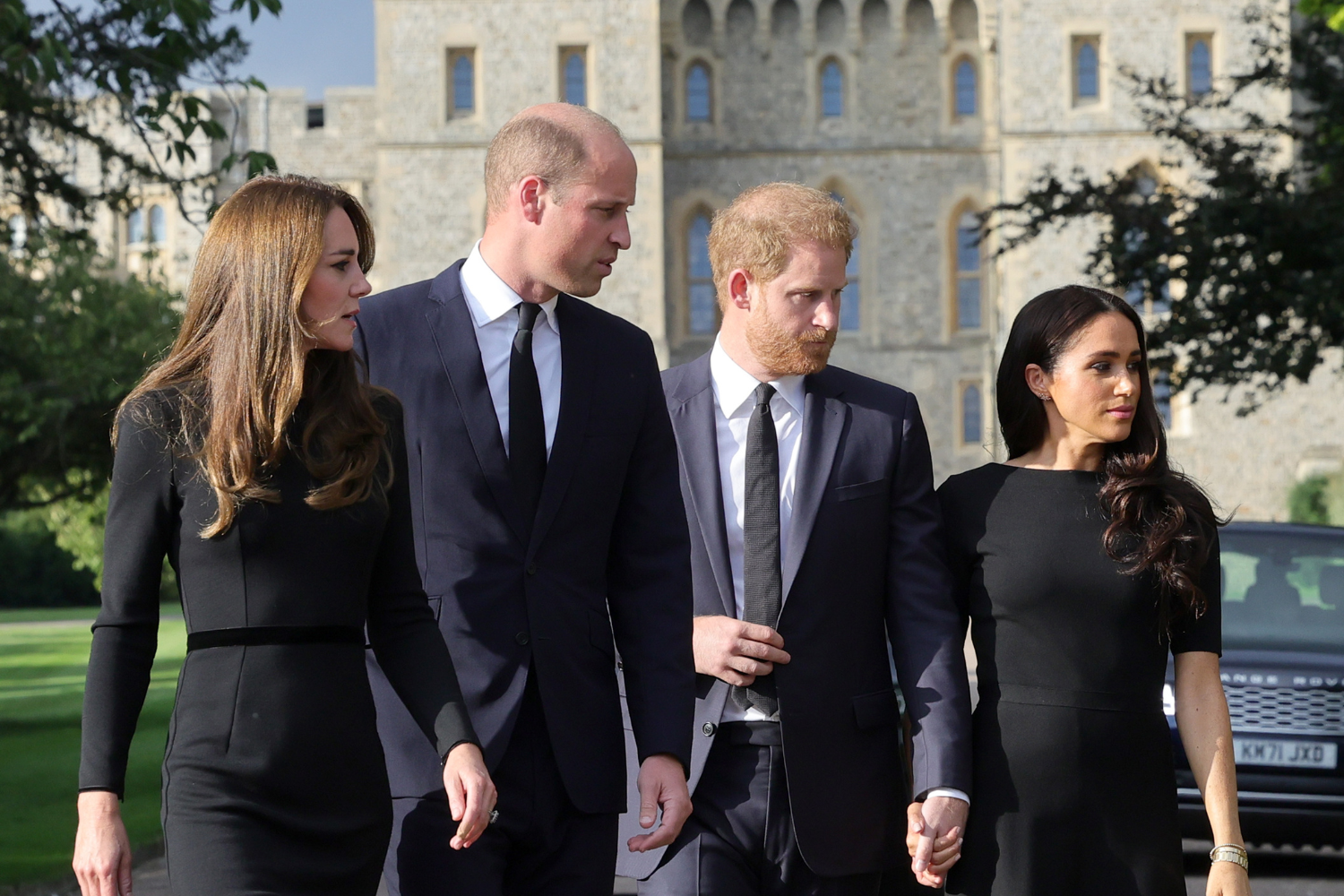 Prince Harry and Meghan Markle's recent media broadsides at Prince William and Kate Middleton have brought the Cambridges "closer" together, a new episode of Newsweek's The Royal Report podcast has heard.
Biographer Tom Quinn, whose new book Gilded Youth charts the history of modern royal child-rearing, has examined the relationship between Harry and his brother William from their youngest years to today.
Discussing the pair's relationship, as well as that of their wives, Quinn told chief royal correspondent Jack Royston, that attacks launched in Harry's memoir Spare and the Sussexes Netflix docuseries may have "isolated" William and Kate, causing them to ensure that they are "singing from the same hymn book."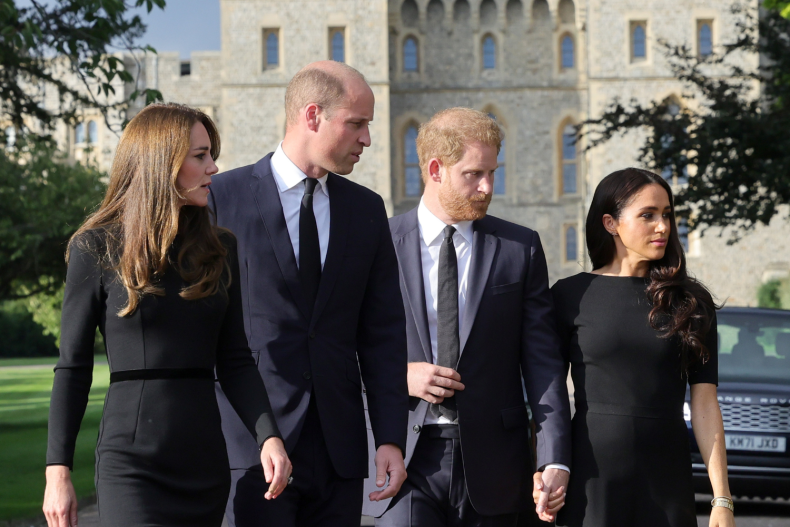 L to R: Kate Middleton, Prince William, Prince Harry and Megan Markle photographed together at Windsor Castle, September 10, 2022. The couples' estrangement has brought William and Kate "closer," Newsweek's "The Royal Report" has heard. Chris Jackson – WPA Pool/Getty Images
"You mention in the book that William and Kate have their rows like obviously all couples do, where do you think they stand right now?" Royston asked the author. "Do you think that it feels as though they're a little closer since they've kind of both had this sustained attack from Harry and Meghan? Do you feel think that's brought them together?"
"I'm certain that the attack from Harry and Meghan has indeed," Quinn explained.
"You're never closer than when you have a perceived enemy—'enemy' is probably too strong a word—but they will feel that not just that they're under attack, but that they're more isolated, that they have to be careful that they sing from the same hymn book as it were, because there's always this difficulty with someone that's far enough away to make criticisms, and clearly has a taste for making criticisms, that seems very unlikely to end."
"We know for example that Meghan is now writing her own book," Quinn offered in reference to unconfirmed reports that the duchess will follow her husband in penning her memoir. "I'm sure William and Kate are, I wouldn't say dreading that, but they're thinking: 'Well, here's going to be more of the same.' So, I think it probably has pushed them closer together."
On the Sussexes' move to the U.S. and separation from the royal family, Quinn added that it may have come as a relief to the brothers and their spouses who no longer have to "pretend to get on" in public.
With news that Harry and Meghan have been asked to vacate their Frogmore Cottage home in Windsor (their only U.K. home base), it appears unlikely that the couple will rebuild part of their family life in the country.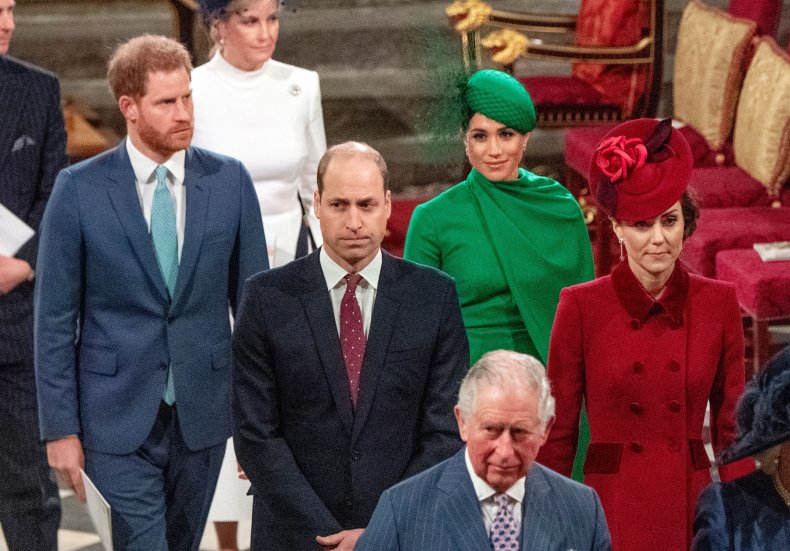 Prince Harry and Meghan Markle photographed with Prince William and Kate Middleton at their final engagement as working members of the royal family before moving to the U.S., March 9, 2020. PHIL HARRIS/POOL/AFP via Getty Images
On how this has affected William and Kate, Quinn suggests that: "It's probably reduced the amount of stress they were living under that was making them, perhaps, squabble a bit more than they would have done otherwise."
"The relationship between William and Harry, when Harry was still in England, that was fraught," he continued. "It was difficult."
"It's almost like they're better off being estranged because at least they're not having to see each other and pretend to get on and distance just makes it easier. And I'm sure it makes William and Kate's lives easier and therefore they'll get on better."
Gilded Youth: An Intimate History of Growing Up in the Royal Family by Tom Quinn is published in Britain by Backbite Publishing available now.
James Crawford-Smith is Newsweek's royal reporter based in London. You can find him on Twitter at @jrcrawfordsmith and read his stories on Newsweek's The Royals Facebook page.
Do you have a question about King Charles III, William and Kate, Meghan and Harry, or their family that you would like our experienced royal correspondents to answer? Email [email protected] We'd love to hear from you.