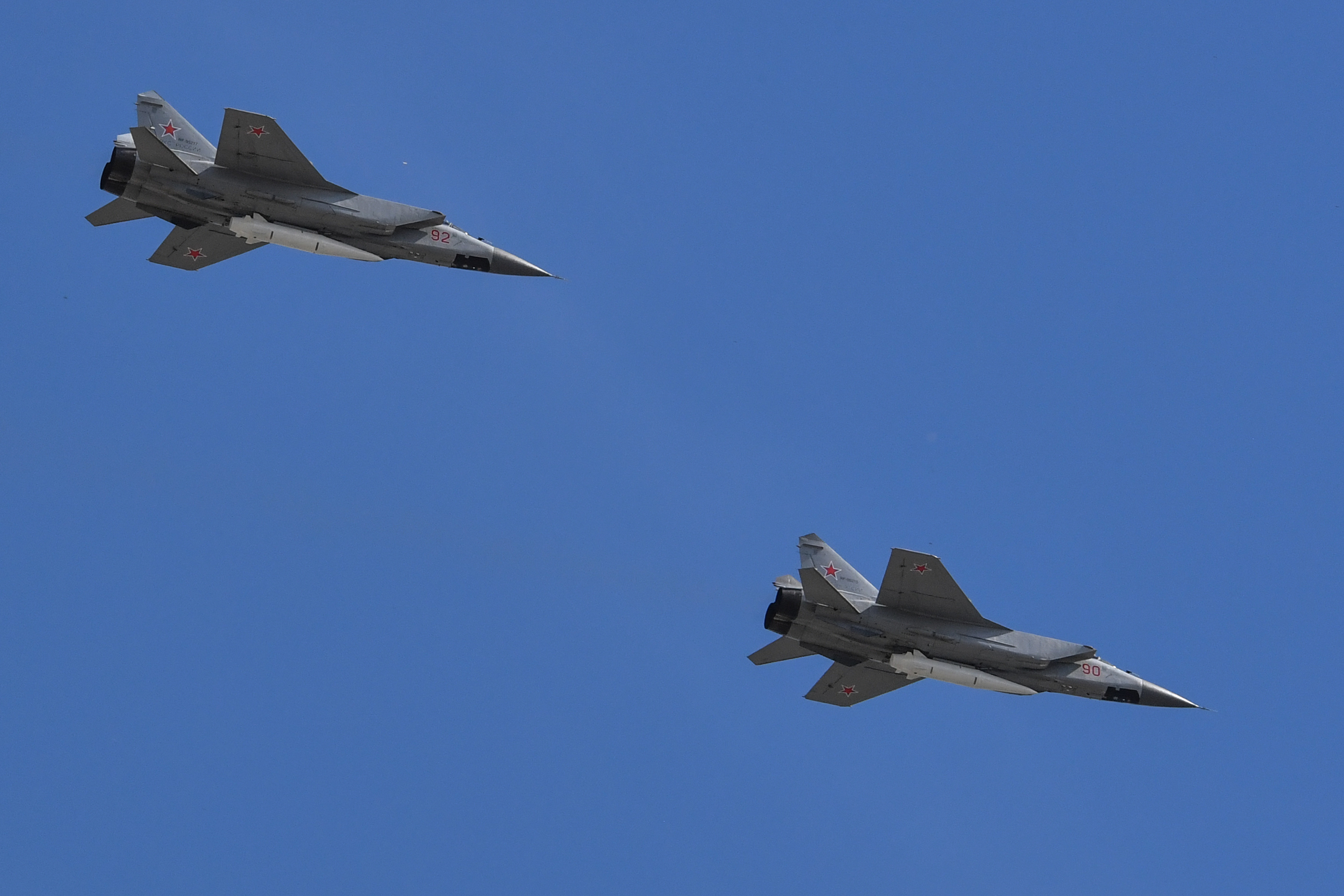 Former NATO commander James Stavridis listed on Thursday a few of the possible reasons behind Russia's use of Kinzhal missiles in its war in Ukraine.
Meet The Press host Chuck Todd asked Stavridis whether he sees the use of Kinzhal as proof that Russia is running out of missiles.
The ex-NATO commander didn't rule this out as one possibility, but he also gave a demonstrative explanation of why Russian President Vladimir Putin's forces resorted to using those missiles.
Russian forces launched six Kinzhal ballistic missiles this week during a nationwide assault on Ukraine. The nuclear-capable hypersonic missiles were part of approximately 81 rockets that struck several energy facilities and civilians across the country. The Ukrainian armed forces claimed that it shot down 34 of the Russian missiles.
"Russia likes to showcase their hypersonic capability. They're in a war, here is a chance to do it," Stavridis said on Thursday, adding that Russian forces don't have many of the Kinzhal missiles left.
WATCH: In deploying six hypersonic missiles during their latest bombardment of Ukraine, @stavridisj says Russia is either:

A. Running out of ammunition

B. Seeking to demonstrate their might

C. Going after Ukraine's electric grid, particularly during the winter months pic.twitter.com/Dfx40wtCm6

— Meet the Press (@MeetThePress) March 9, 2023
Above, Russia's MiG-31 supersonic interceptor jets carrying hypersonic Kinzhal (Dagger) missiles fly over Red Square during the Victory Day military parade in Moscow on May 9, 2018. Former NATO commander James Stavridis listed on Thursday a few of the possible reasons behind Russia's use of Kinzhal missiles in its war in Ukraine. Photo credit should read YURI KADOBNOV/AFP via Getty Images
Newsweek was unable to independently verify whether Russia is running low on Kinzhal missiles, but Vadym Skibitsky, the deputy head of Ukrainian military intelligence, told RBC-Ukraine in January that Russia's supplies of high-precision missiles, including Kh-101, Kh-555 and Kalibr missiles, are running low.
Why Did Russia Use Kinzhal Missiles?
Stavridis gave three possible reasons why Russia is using Kinzhal missiles now, even though there might not be many of them left.
"So to shoot six of them in a single night says either: A., They are really running down [of ammunition], B., they're seeking to demonstrate their capability and, C., they really want to go after this electric grid, particularly during the winter months because they feel—I think quite incorrectly—that ultimately that would be a path toward cracking the will of the Ukrainian people. I wouldn't bet against the Ukrainian people in that regard," said Stavridis, who served as NATO's Supreme Allied Commander Europe.
Other experts think the use of the technologically advanced Kinzhal missiles across Ukraine could "fundamentally change" the dynamic of the war, possibly escalating the conflict in Ukraine.
"The use of a hypersonic missile is clearly an escalatory move by Russia," former Air Force Colonel and defense expert Jeff Fischer told Newsweek on Thursday. "The Kh-47M2 fundamentally changes the war. It's likely Ukraine is unable to counter it. Further, it's also a challenge for the U.S. In May 2022, President Biden commented on the Kh-47M2, saying the missile is 'almost impossible to stop.'"
Ukrainian officials claimed that the Kinzhal missiles had the ability to evade Kyiv's air defenses, and therefore raised concerns.
"This is an attack like I don't remember seeing before," Yurii Ihnat, a spokesman for the Air Force Command of Ukraine, said on Ukrainian state television Thursday morning. "So far, we have no capabilities to counter these weapons."
However, Ukrainian officials said that Kinzhals can be shot down with Patriot defense systems, but Ukraine didn't receive them yet even though troops were trained by U.S. forces on how to use the machinery.
The U.S. initially approved to send Patriot systems to Ukraine in December, but now a timeline for delivery remains unknown.
"We can't provide a specific timeline for delivery for operational security reasons, and so we'll defer to the Ukrainians to announce when the Patriot missile system is in country and operational," Department of Defense spokesperson Garron Garn told Newsweek on Thursday. "The U.S. is facilitating training on the Patriots for approximately 65 Ukrainian soldiers in Fort Sill, Oklahoma."
Political geographer Lubomyr Luciuk, expert in Eastern European politics and political science professor at Royal Military College of Canada, told Newsweek on Friday afternoon via email that Russia's use of Kinzhal missiles is "worrisome" because the Patriot defense systems are still not deployed.
"That said, the Russian Federation does not have a very large stock of these modern missiles so I would think their use now is actually a sign of desperation/frustration on the part of the Kremlin, given their army's poor performance in the field—in effect, the use of these weapons is nothing but a (failing) attempt to further intimidate Ukraine's defenders," he said.
Luciuk believes that the use of those missiles will not deter Ukrainians' will to defeat Russian forces, but it would still endanger civilian lives.
"Tragically, however, the rather indiscriminate Russian use of these terror weapons has cost several civilians their lives and done additional damage to the country's infrastructure," he added.
Newsweek has reached out to the Russian defense ministry.
Update 3/10/2023; 7 p.m. ET: This story has been updated to include comments from Lubomyr Luciuk.