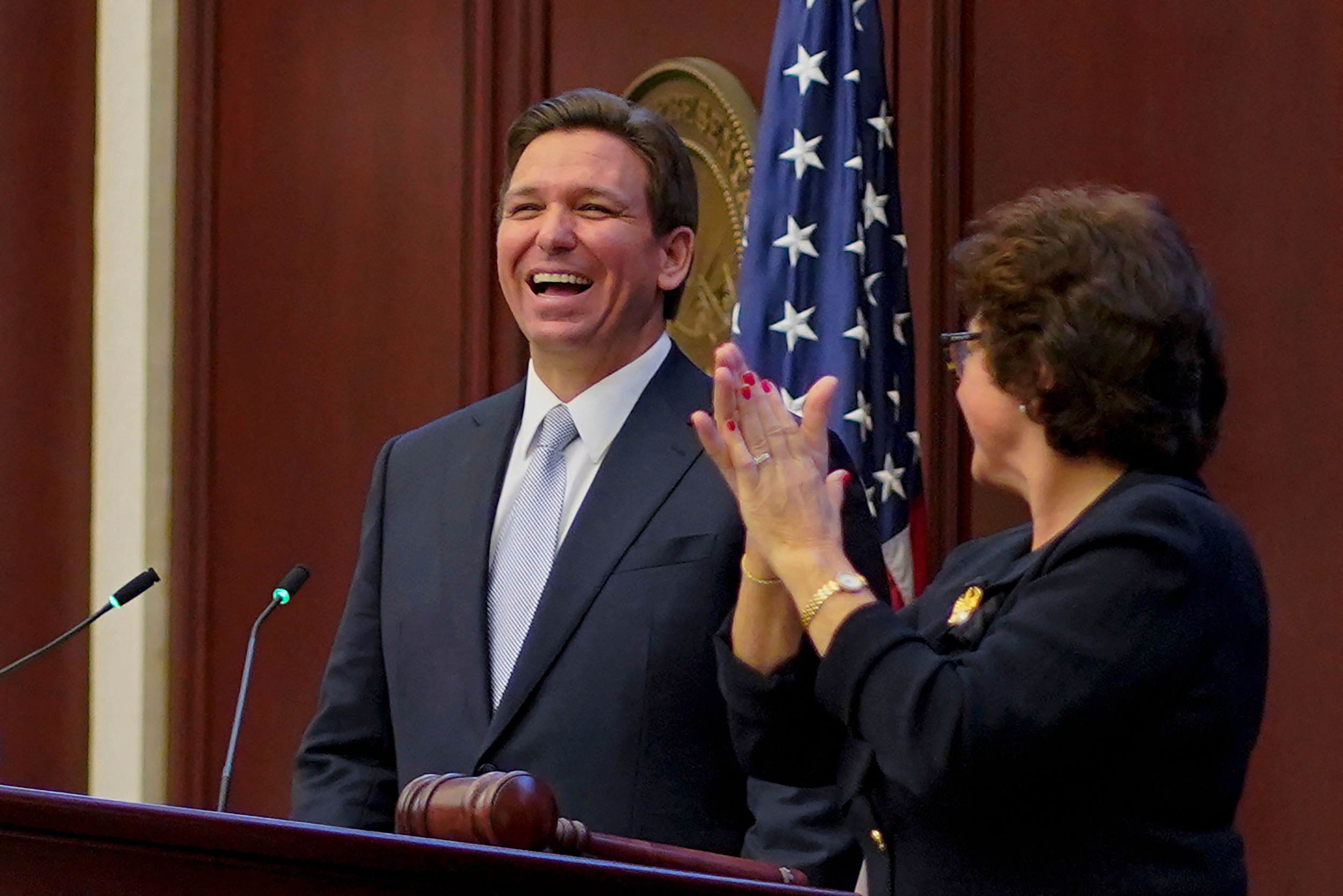 Florida Governor Ron DeSantis received a standing ovation for declaring he is pro-life during his State of the State address Tuesday after Republicans introduced a six-week abortion ban in his state.
DeSantis spoke about the work Florida is doing to support parents, including permanently banning all sales tax on baby supplies.
"In Florida, having a child will be tax free," he said. "We are proud to be pro-family. And we are proud to be pro-life in the state of Florida."
At this, DeSantis received a standing ovation from the chamber that lasted about 30 seconds.
On Tuesday, the first day of the state's legislative session, Florida Republicans filed Senate Bill 300: Pregnancy and Parenting Support. This bill prohibits physicians from knowingly performing or inducing a termination of pregnancy after the gestational age of the fetus is determined to be more than 6 weeks, with exceptions for rape or incest.
During a press conference after his State of State address, DeSantis said the exceptions in this bill are "sensible" and that he "welcomes pro-life legislation."
This is the latest bill aimed at restricting access to abortion since the Supreme Court overturned federal abortion protections in Roe v. Wade last year.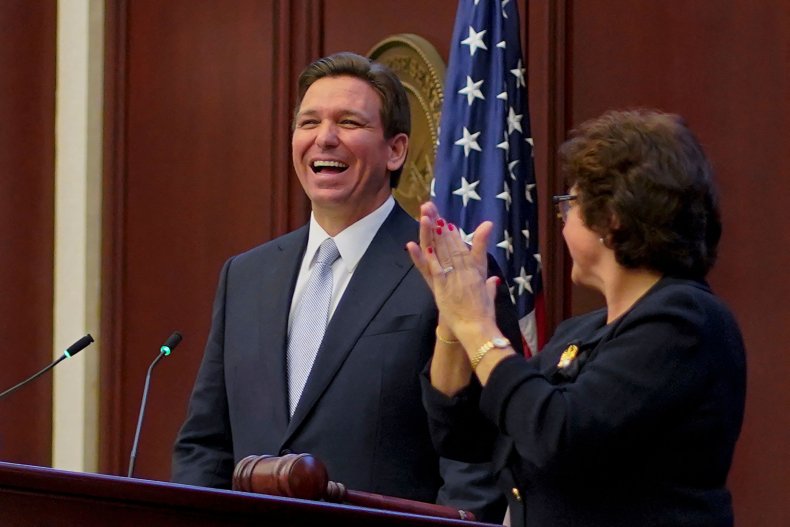 Florida Governor Ron DeSantis acknowledges his wife during his "State of the State" address at the Florida State Capitol in Tallahassee, Florida, on March 7, 2023, DeSantis received a stand ovation from legislators after declaring Florida is pro-life. CHENEY ORR/AFP via Getty Images
Last year, Florida passed a bill banning abortions after 15 weeks. Pregnant women seeking an abortion must undergo a 24-hour mandatory waiting period, counseling and an ultrasound, according to the Center for Reproductive rights.
At the time of its passing, DeSantis said the bill "protects babies in the womb who have beating hearts, who can move, who can taste, who can see, and who can feel pain."
This 15-week ban is currently being challenged in the Florida Supreme Court by the Planned Parenthood of Southwest and Central Florida, which argues that the bill violates Florida's privacy laws.
"Once again, extremists are trying to force through a dangerous abortion ban that will put Floridians' lives and health at risk," Autumn Katz, Interim Director of Litigation at the Center for Reproductive Rights, told Newsweek in a statement. "It is clear under decades of Florida precedent that these bans violate the Florida Constitution and Floridians' fundamental rights—not to mention the values held by a majority of people in the state who support access to abortion."
Craig Agranoff, a professor at Florida Atlantic University, told Newsweek that it is possible for the six-week ban to pass.
"It is actually possible for a 6-week abortion ban to pass through the Florida legislature, as the political climate and views of lawmakers can change over time," he said.
He said its passage depends on many factors, including the composition of the legislature, public opinion and the influence of interest groups.
"In general, abortion policies are often a contentious issue, and lawmakers may have differing opinions and priorities," Agranoff said. "The outcome may also depend on the specific provisions of the proposed legislation, as well as legal challenges and court rulings."
Principle or Politics
According to a recent study from Susan B Anthony Pro-Life, 62 percent of Floridians support legislation to protect a fetus when a heartbeat is detected, with exceptions for rape, incest and life of the mother.
Caitlin Connors, SBA Pro-Life America's southern regional director, told Newsweek that "fight for life has momentum in Florida."
"Public opinion is on the pro-life movement's side as Governor Ron DeSantis and legislative leaders have the opportunity to save tens of thousands of lives each year by passing a heartbeat bill this session," she said.
Democrats in Florida have blasted the proposed legislation to further restrict the freedom of Florida women and girls.
Florida Democrats Party Chair Nikki Fried said DeSantis this bill is an attempt from DeSantis "to boost his national profile and win over the MAGA base."
"DeSantis has made it clear his only focus is on imposing a MAGA agenda that hurts more and more Floridians every year," she said in a statement. "This new more extreme abortion ban he called for will only make it harder for Florida's women and girls to seek the care they need."
DeSantis is making anti-choice extremism a pillar of his agenda this legislative session as he chases after the MAGA base to further his 2024 ambitions. Even after signing an extreme, 15-week ban last year, he's promised to sign a near total abortion ban this session.

— Florida Democrats (@FlaDems) March 7, 2023
State Senator Lauren Book, the Florida Senate Democratic Leader, said pro-choice lawmakers will continue to fight against pro-life legislation that aims to steal the health, freedom and dignity of women and doctors.
"Today, Florida Republicans have gone scorched earth with what is effectively an all-out abortion ban—with threats to criminalize women and their doctors," she said in a statement Tuesday. "This issue bridges the partisan divide, and we will not go down as easily as they believe. On behalf of my daughter, all women and girls in our state, that's a promise."
@LeaderBookFL's response to the 6-week abortion ban bills filed in the Florida House & Senate today:

"Today, Florida Republicans have gone scorched earth with what is effectively an all-out abortion ban – with threats to criminalize women and their doctors…" pic.twitter.com/cGsBu5RGz6

— Florida Senate Democrats (@FLSenateDems) March 7, 2023
Laura Goodhue, the executive director of the Florida Alliance of Planned Parenthood Affiliates, told Newsweek in a statement that people often don't realize they're pregnant at six weeks, meaning as a result of this bill, "many pregnant people will never have the option to have an abortion."
"We are already seeing the toll that a 15-week ban is taking on the health and well-being of pregnant people and their families in Florida," she said. "Further restricting abortion before the Florida Supreme Court has even weighed in on the last ban can only create worse outcomes."
She added that this ban would impact the long-term well-being of mothers and their children and will disproportionately burden Black and Latino communities.
Goodhue also said this bill is not about being pro-life but a vehicle for DeSantis' presidential aspirations.
"This near total abortion ban has nothing to do with what is best for Floridians and everything to do with Ron DeSantis' ambition to be president and what he thinks Republican primary voters want," she said. "If Florida legislators really want to reduce abortions, they would be fighting tooth and nail to ensure that everyone has access to comprehensive, age-appropriate sex education, free birth control and emergency contraception…Instead, the same politicians seeking to ban abortion also oppose measures that would reduce the need for abortion."
Newsweek has reached out to Governor DeSantis' office, the Florida House and Senate for comment.
Update, 3/6/2023, 3:24 p.m. ET: This story was updated with a statement from The Center for Reproductive Rights and Susan B Anthony: Pro-Life.