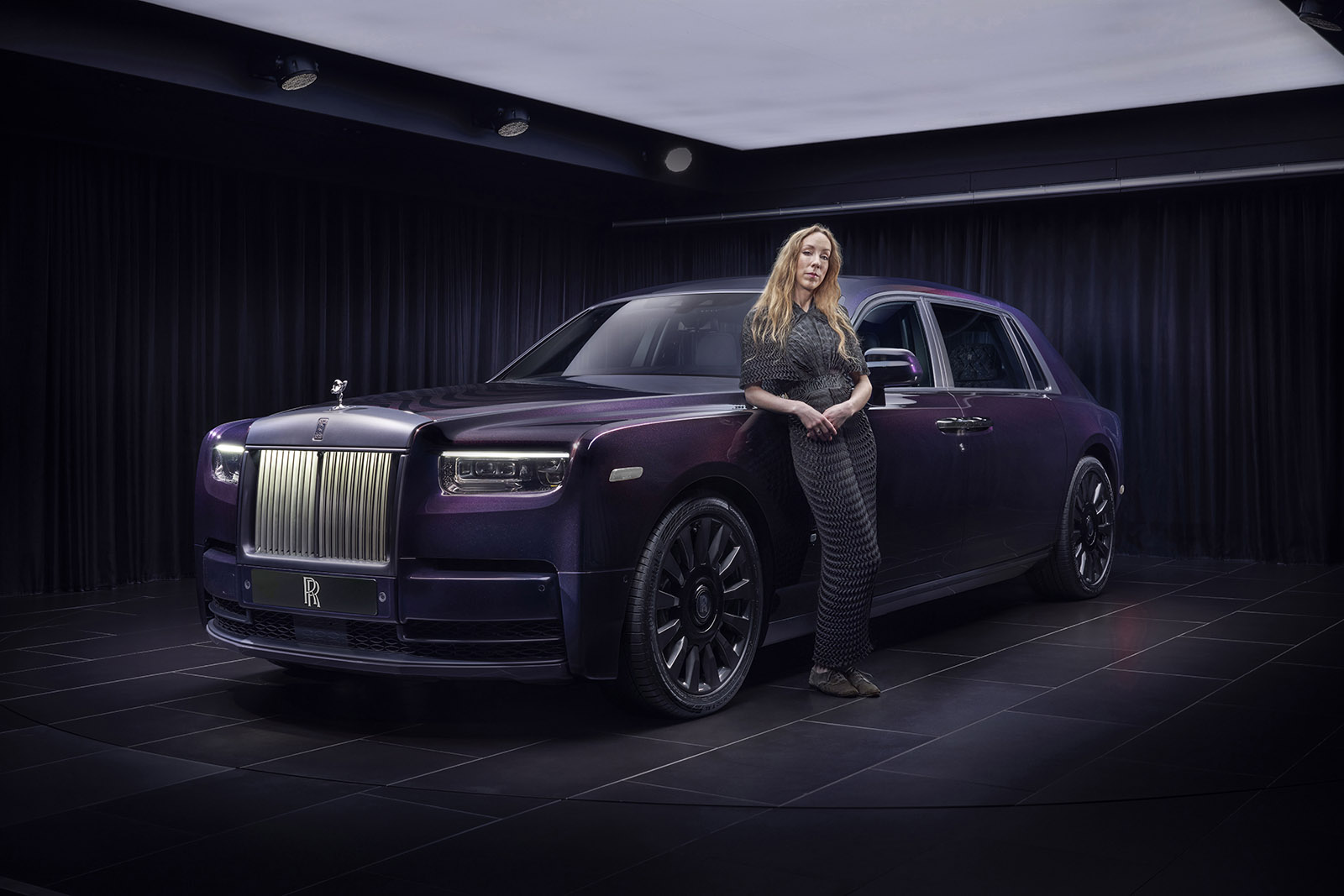 In partnership with renowned Dutch fashion designer Iris van Herpen, Rolls-Royce Motor Cars has created a haute couture-inspired masterpiece, Phantom Syntopia. The model is the most technically complex vehicle that the century-old company has ever created.
"Phantom Syntopia is the most ambitious, singular and highly Bespoke Phantom we have ever created, and a clear statement of Rolls-Royce's standing as a true luxury house," Torsten Müller-Ötvös, Chief Executive Officer of Rolls-Royce Motor Cars said in a press release.
"Building on two decades of joint undertakings with the world's most celebrated design houses, artists, horologists and jewelers… In collaborating with internationally renowned designer and Haute Couturière Iris van Herpen, we once again redraw the boundaries of innovation, craftsmanship and Bespoke possibility; not just for a motor car but across the wider luxury sector."
The boundary-pushing model took four years to complete and gets its name from van Herpen's landmark 2018 collection, which was designed on the principles of biomimicry and features a "Weaving Water" theme.
It is based on the Phanton Extended, a longer version of the company's Phantom sedan, which offers additional legroom for rear seat passengers.
The car is coated in a bespoke Li quid Noir paint color. When shown under sunlight, the iridescent shade reveals purple, blue, magenta and gold undertones, depending on the angle it's viewed from. The process to create the color-shifting properties took months, with over 3,000 hours of testing and validation alone.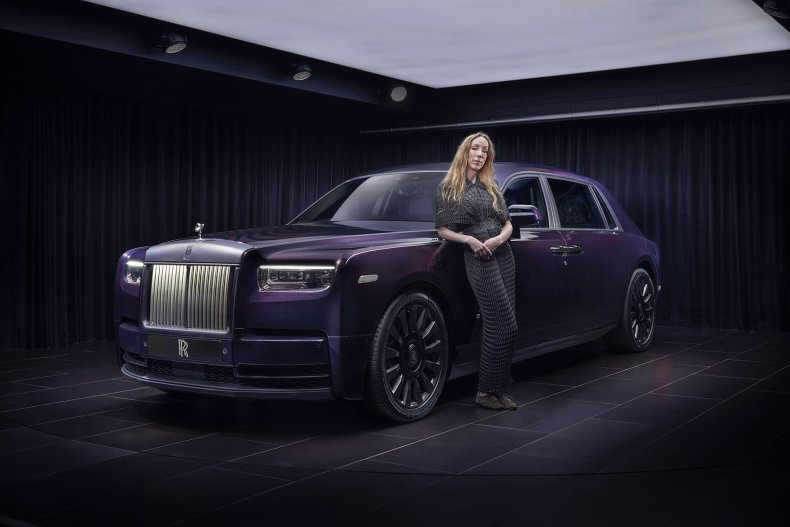 Designer Iris van Herpen poses with the Rolls-Royce Phantom Syntopia that she helped design. Rolls-Royce Motor Cars
Slyly displayed on the hood is a Weaving Water motif that links the exterior to the interior. It was created by redistributing the paint's pigment during the finishing process.
Rolls-Royce artisans worked alongside craftspeople from van Herpen's Amsterdam atelier to create interior elements by hand.
The Weaving Water Starlight Headliner pushes Rolls-Royce's handiwork to new levels, taking nearly 700 hours of work to complete. It features a single sheet of flawless leather, selected from over 1,000 available hides, that has been precisely, symmetrically cut to reveal a "liquid metal" texture that was created using a woven nylon fabric layered under the leather.
The look of the headliner is finished with 162 glass organza petals, which were applied by van Herpen's team on site at the Home of Rolls-Royce in Goodwood, West Sussex, England.
Nine-hundred ninety-five fiberoptic 'stars' complete the look. They're able to be illuminated in a flowing pattern that moves from rear to front.
Phantom's Gallery, which runs the width of the headliner features a further 85 petals that were also attached by hand, taking an additional 60 hours of work.
The bespoke vehicle's seats recall Rolls-Royce heritage, when the driver's seat was trimmed with hard-wearing leather while rear seats featured luxuious upholstery. This model has Magic Grey leather wrapped around its front seats and a specially-created silk blend fabric covering the rear.
1 of 8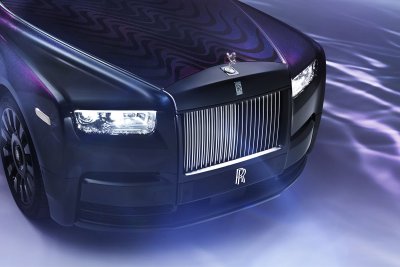 Rolls-Royce Phantom Syntopia Spirit of Ecstasy, Parthenon grille and hood motif. Rolls-Royce Motor Cars
The pattern of the rear seat materials reacalls images cast by light reflecting on water at night.
Embroidery on the seats features a tufting technique traditionally used in fin furniture making. Here, it has created a three-dimensional depth while looking smooth and seamless to the naked eye.
The car's Weaving Water theme continues onto the car's picnic tables and passenger panel, mirroring the hood image. It was achieved here by combining layers of lacquer with various quantities of glass particles on top of black paint. The formula and application took four months and nine trials to perfect.
Bespoke design extended to the car's signature scent. A new fragrance was created for the owner of Phanton Syntopia that has cedarwood at its core mixed with hints of leather, rose from Patagonia and mild lemon. The cedarwood used was harvested from the clients' home region.
The scent is released via a specially-developed mechanism that is housed inside the headrests. It's a new patented technology that utilizes materials that have their origin in the field of medicine. The development of the mechanism took more than two years and was rigorously tested in extreme weather conditions.
Van Herpen will design a one-off garment especially fo the clients that echoes the Weaving Water theme and incorporates her newly developed haute couture techniques. It will take six months of work from pattern development to crafting, applying the pedals, embroidery, fitting and tailoring.
It's a one-off, valued at well over the $550,000 USD starting price of the Phantom Extended. The car is destined to take its home within a private collection in May.