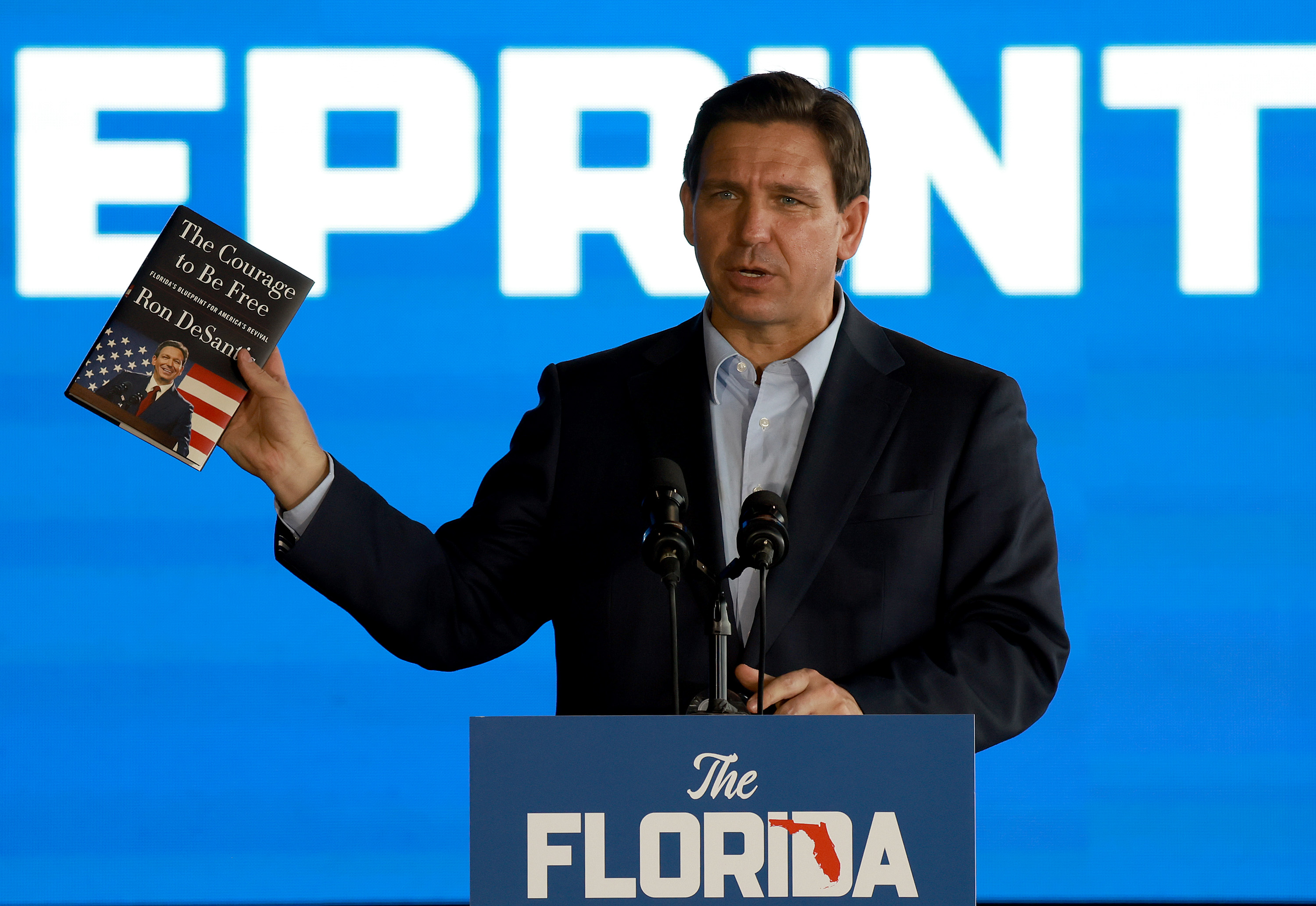 Ron DeSantis will visit Iowa on Friday, meeting local legislators and promoting his book as speculation about a possible presidential bid from the Florida governor continues to mount.
He is scheduled to be joined by Iowa Governor Kim Reynolds, who was strongly supported by Donald Trump ahead of her re-election in November, though she has vowed to formally remain neutral until the caucuses.
Polling has consistently indicated DeSantis is the most dangerous opponent Trump faces in his bid for the 2024 Republican presidential nomination, though the Florida Governor has yet to formally enter the race. Over the past few months, Trump has become increasingly critical of DeSantis, nicknaming him "Ron Desanctimonious," and even sharing an entirely unsubstantiated allegation that the Florida governor had been "grooming high school girls" while working as a teacher.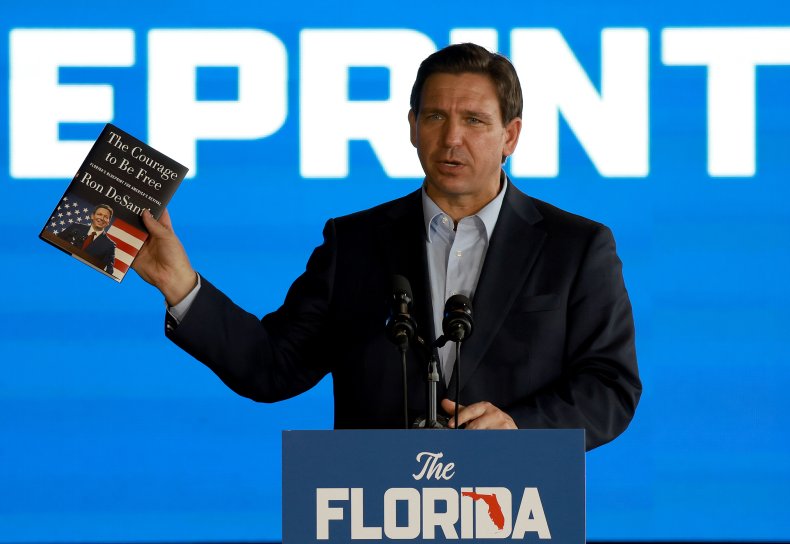 Above, Florida Gov. Ron DeSantis speaks during an event spotlighting his newly released book, "The Courage To Be Free: Florida's Blueprint For America's Revival" at the Orange County Choppers Road House & Museum on March 8, 2023, in Pinellas Park, Florida. DeSantis is due to discuss his book at two events in Iowa on March 10. Joe Raedle/GETTY
Trump is due to make his own visit to Iowa just three days after DeSantis, on Monday.
During his trip, DeSantis will meet with Republican members of the Iowa Senate and House of Representatives at the state legislature. He will also give two talks about his recently published book, The Courage to Be Free, first at Davenport's Rhythm City Casino, followed by the State Fairgrounds in Des Moines.
The decision by Governor Reynolds to attend a DeSantis event comes despite her formerly being aligned with Trump, who called her a "strong leader and a fantastic governor."
In June, Reynolds posted a picture of herself with the former president on Twitter, writing: "President Donald Trump has just endorsed my re-election campaign! It's an honor to have his support!"
Bloomberg reported in January that both Governor Reynolds and Iowa Republican Senator Chuck Grassley had ignored pressure from the Trump campaign for an endorsement, going as far as not answering the former president's calls.
Newsweek reached out to DeSantis by email and Trump via his official website for comment.
On Thursday, Trump used his Truth Social account to claim there is a plot to "take down the leading candidate" for the 2024 election. The allegation came after The New York Times reported that Trump could be about to face a criminal indictment for allegedly paying hush money to adult film actress Stormy Daniels during the 2016 presidential race.
According to the paper, Manhattan District Attorney Alvin Bragg has given Trump until next week to testify, which likely indicates "an indictment is close."
In response, Trump insisted: "I did absolutely nothing wrong, I never had an affair with Stormy Daniels, nor would I have wanted to have an affair with Stormy Daniels. This is a political Witch-Hunt, trying to take down the leading candidate, by far, in the Republican Party while at the same time also leading all Democrats in the polls."