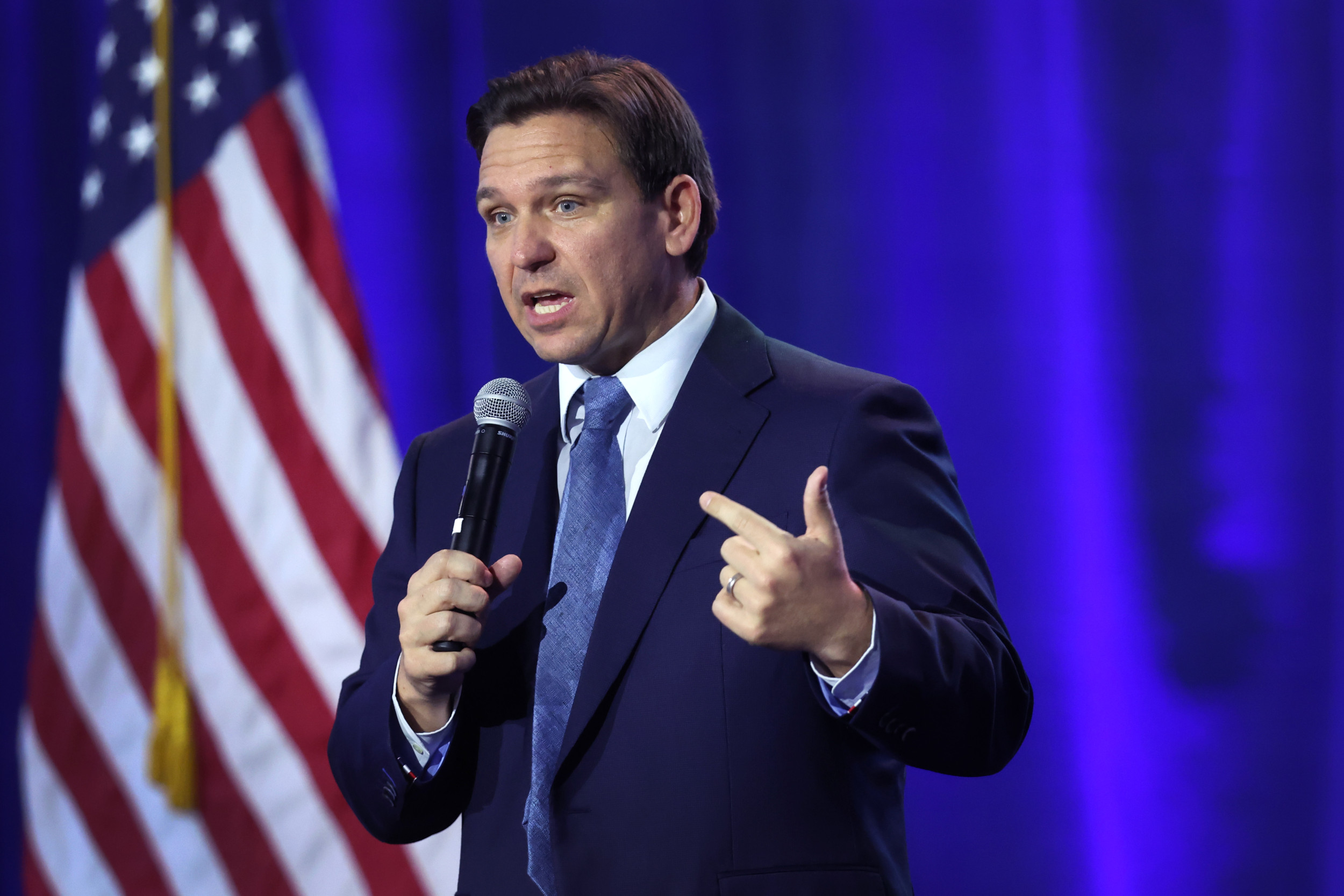 Florida Governor Ron DeSantis may have thought he was mocking those he has railed against when posing with a handmade snowflake. However, its hidden message showed that he was the subject of the joke.
In an image that has gone viral, the Republican seemed unaware of the word "fascist" that appeared in the framed gift handed to him at a GOP political rally in Davenport, Iowa. Steven Goffman of The Washington Post tweeted that the state's Republican Governor Kim Reynolds had also been given the gift.
"My friend makes snowflakes to give to politicians who come to Iowa—there are special messages for odious Republicans—please look at the snowflake carefully," tweeted Iowa Captive of the image. As of Saturday, it had been viewed more than 1 million times, prompting wry comments.
My friend makes snowflakes to give to politicians who come to Iowa – there are special messages for odious Republicans- please look at the snowflake carefully 🤣 pic.twitter.com/Iilha9Wxn1

— IowaCaptive (@MidlifeMisfit) March 10, 2023
"If the snowflake fits," tweeted the Democratic Senator Bob Duff, who is majority leader, of the Connecticut Senate. Right-wing commentator Laura Loomer wrote on Twitter: "DeSantis got trolled in Iowa. Read the snowflake."
The term fascist has been bandied around to describe some of the actions of DeSantis in running the Sunshine State.
Earlier this March, Florida Democratic congressman Maxwell Alejandro Frost said that DeSantis's policies targeting Black, transgender and LGBTQ people smacked of "fascism."
In 2022, DeSantis signed into law the Parental Rights in Education bill, also known as the "Don't Say Gay" bill. It stopped sexual orientation or gender identity being discussed in kindergarten through third grade and limited such instruction in other age groups.
DeSantis was also criticized for barring the teaching of an Advanced Placement African American studies course in the state-school curriculum.
The Washington Post reported that GOP lawmakers in Florida have proposed legislation that includes requiring teachers to use pronouns of children's sex as assigned at birth.
Although he has not declared his intentions, DeSantis is considered a key contender to be the GOP nominee in the 2024 U.S. presidential election.
However, a leading expert of fascism, Ruth Ben-Ghiat, from New York University, warned this month that DeSantis would "destroy our democracy" if he were to take the White House.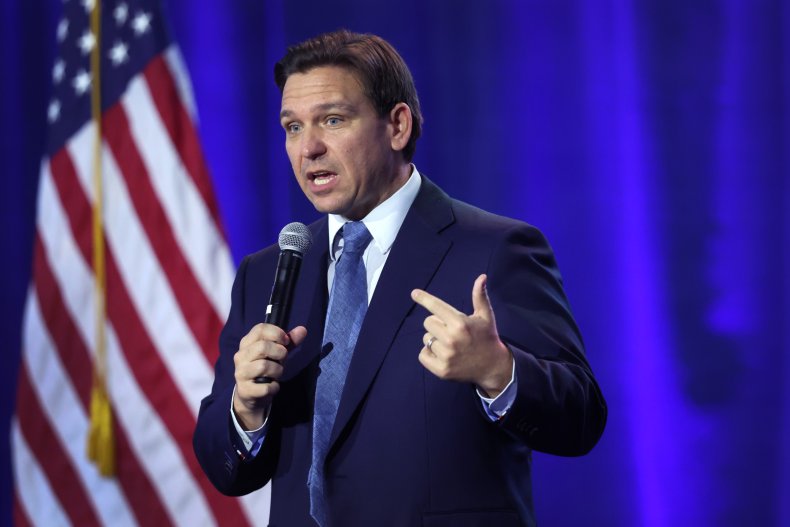 Florida Governor Ron DeSantis at the Iowa State Fairgrounds on March 10, 2023 in Des Moines, Iowa. An image has gone viral of DeSantis holding a gift in which the word "fascist" is hidden. Scott Olson/Getty Images
DeSantis's Iowa trip faced another glitch when a video truck appeared outside the event, playing clips that showed his conflicting statements on social security. He has distanced himself from his previous support for privatizing the program and raising retirement age.
A DeSantis run for president would involve a clash with Donald Trump, who mocked the Florida governor's visit to Iowa on his Truth Social account. "Very small crowds for Ron DeSanctimonious in Iowa," wrote the former president.
"He's against farmers, Social Security, and Medicare, so why would people show up—other than fake stories from the fake news!"
Newsweek has emailed DeSantis's office for comment.