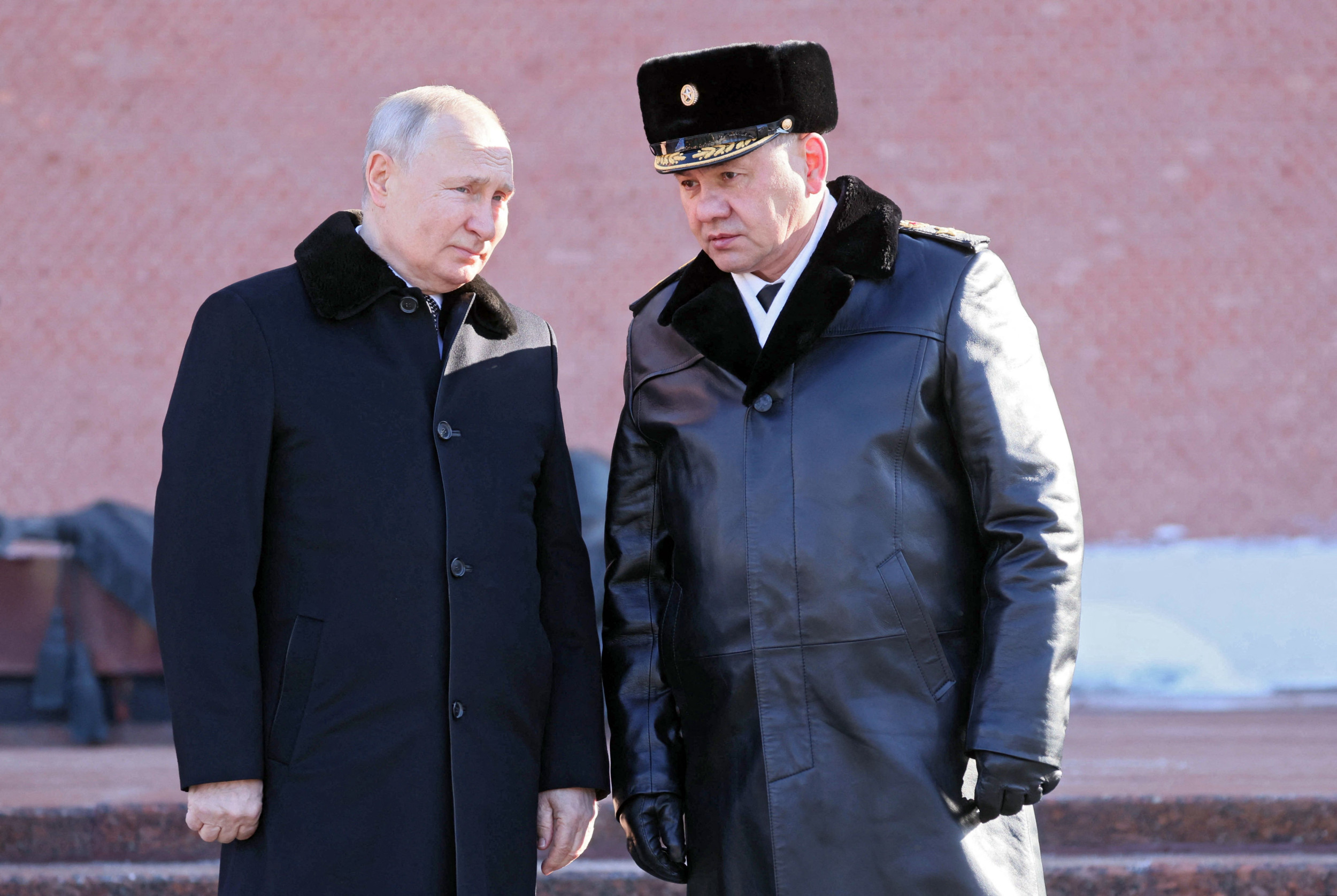 Russian forces are conducting aerial reconnaissance in southern Ukraine using a radar system that can detect artillery fire and positions.
The "Zoopark-1" is being used in the village settlement of Stepove, according to an intelligence report published Monday on Facebook by the General Staff of the Armed Forces of Ukraine.
"Zaporizhzhia axis: the enemy shelled the vicinities of 17x settlements," the report reads. "Among them are Vremivka, Novopil' (Donetsk oblast), Ol'hivs'ke, Hulyaipole, Zaliznychne, Charivne, Orikhiv, Mala Tokmachka, and Bilohir'ya (Zaporizhzhia oblast)."
On February 19, the Ukrainian Military Center reported that a destroyed Russian Zoopark-1M counter-battery radar system was found in the Kherson region, accompanied with video posted by the ArmyInform news agency.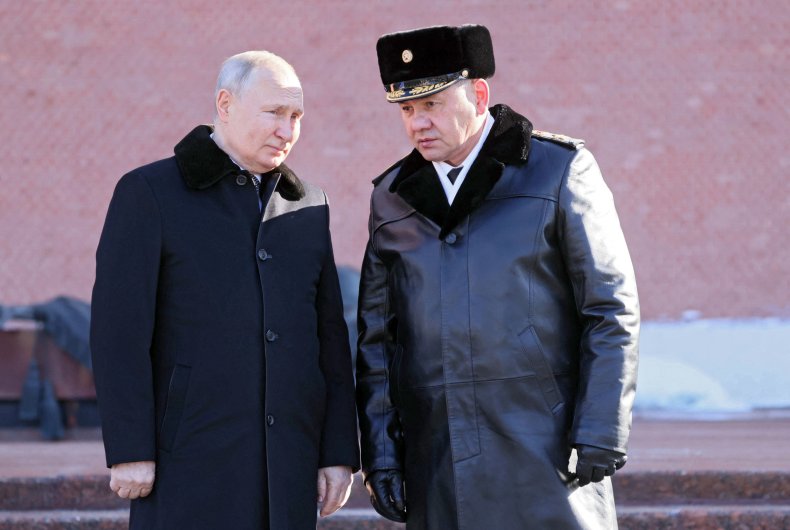 Russian President Vladimir Putin, left, and Russian Defence Minister Sergei Shoigu, right, on Thursday attend a wreath-laying ceremony at an event marking Defender of the Fatherland Day in Moscow. Ukrainian officials said Monday that Russia was using its "Zoopark-1" radar detection system to spot Ukrainian artillery systems and enemy fire. MIKHAIL METZEL/Sputnik/AFP via Getty Images
In September, the U.K. Ministry of Defense reported that Russia left behind "high-value equipment" necessary for its "artillery-centric style of warfare" in the Kharkiv oblast, including at minimum one Zoopark system.
Another Zoopark system was destroyed in May along with myriad other equipment, Zenger News reported.
Defence Blog said in March that Ukrainians captured a more recently produced Zoopark system.
Retired U.S. Air Force Colonel Jeffrey Fischer is among former and current military officers, as well as some politicians, who support sending F-16 fighter jets to Ukraine to bolster what he defines as "air superiority" that is currently lacking on either side of the conflict.
It has been a step that President Joe Biden has declined to support.
"When you can fly at your own will, you provide maneuver space and top-cover protection and take away from the enemy," Fischer told Newsweek last week. "I believe air superiority for Ukrainians is instrumental for bringing a rapid conclusion to this war."
The counter-battery radar system was developed by Almaz-Antey for the Russian military and began operation in 1989.
Deagel, a website that documents military equipment and civil aviation, said the system is "designed to automatically determine the coordinates of enemy artillery positions such as mortars, howitzers, rocket launchers and tactical missile systems." It can also monitor its own artillery systems.
The radar can reportedly detect artillery shells between 82 and 120 millimeters, at distances of up to 17 kilometers (10.5 miles); shells between 105 and 155 millimeters, at distances of 12 kilometers (7.5 miles); multiple-launch rocket systems at distances of 22 kilometers (13.6 miles) and tactical missiles up to 45 kilometers (27.9 miles).
The radar can track up to 12 targets simultaneously, Deagel reports.
The 1M model of the system was introduced into military operations in 2016 and can track artillery shells and ballistic missiles at longer ranges than its predecessor—including some as far as 65 kilometers (40.3 miles).
Newsweek has reached out to the Ukrainian and Russian defense ministries for comment.