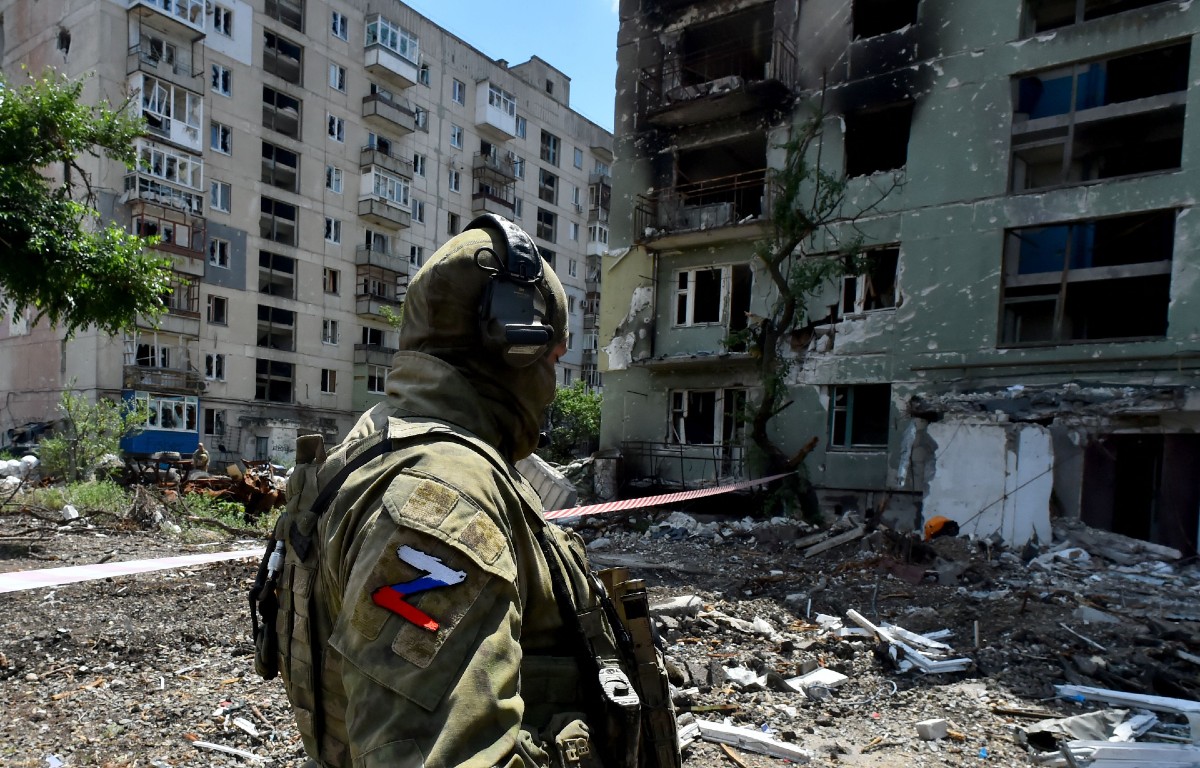 Russian commanders will likely have to make tough choices between pushing forward in eastern Ukraine and maintaining a "credible defense" of its front line, according to a new intelligence assessment.
Russian forces on the battlefield have "temporarily" drained their "combat power." This means they cannot launch widespread offensives, the British defense ministry said on Friday.
Writing on Twitter, the government department said Russian leaders will push to replace personnel and munition stocks to be able to restart offensives on the front line.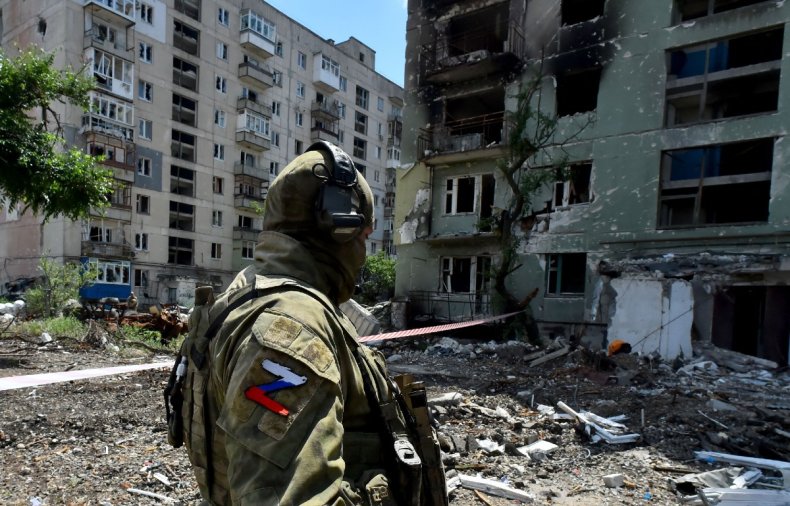 A Russian serviceman patrols a destroyed residential area in the city of Severodonetsk on July 12, 2022, amid the ongoing Russian military action in Ukraine. Russian commanders in Ukraine "will likely be forced to choose between carrying out offensive operations and conducting a credible defence of the full line," the British defense ministry said on Friday. Olga MALTSEVA/AFP via Getty Images
Reports of high casualty rates and "shell hunger," a lack of munitions, have been widely documented by Western and Ukrainian sources in recent months.
In February, the head of the Russian mercenary Wagner Group, Yevgeny Prigozhin, said "shell hunger" was claiming the lives of Russian fighters in the contested eastern regions of Ukraine. He also accused Russian officials, such as defense minister Sergei Shoigu, of "treason" over ammunition supplies to front-line fighters, which the Kremlin denied.
A lack of "combat power" rising from such problems is likely linked to Russia carrying out some of the fewest offensives since the start of the year, the U.K. defense ministry said.
Despite this, the ministry added, Russian and mercenary forces have gained "footholds" in the west of the heavily contested city of Bakhmut. Ukrainian forces hold the western part of the Donetsk settlement, the ministry said.
Bakhmut has been the site of some of the war's fiercest fighting. The ruined city has seen months of bombardment and clashes between Russian and Ukrainian forces. However, in recent weeks, Western analysts have reported advances for Russia in and around Bakhmut.
The U.S. Chairman of the Joint Staff, General Mark Milley, said on Thursday that Russia "continues to pay severely in terms of lives and military equipment for its continued war of choice."
In Bakhmut, Moscow's forces are "making small tactical advances" at "great cost," Milley added during a press conference with Defense Secretary, Lloyd Austin.
"Elsewhere, the front line remains relatively static, with significant exchanges of artillery but no significant maneuver gains by either side," Milley continued.
On Thursday, Britain's defense ministry called Bakhmut "Russia's only notable recent tactical success." In its daily update on Thursday, the Washington-based Institute for the Study of War think tank said Russian forces were continuing to advance in and around Bakhmut, particularly to the northwest and southwest of the city.
On Friday morning, Ukraine's General Staff of the Armed Forces said Russian efforts to "storm" the city continued, but that they had not captured the settlement.
On Thursday, Russia's defense ministry said that 275 Ukrainian fighters had been killed in Donetsk in the previous 24 hours, without specifying reported losses in Bakhmut. On Friday morning, Ukrainian officials said 760 Russian soldiers had been killed in the war in the past day, without providing a regional breakdown. Neither figure could be independently verified by Newsweek.
Newsweek has emailed the Russian defense ministry for comment.