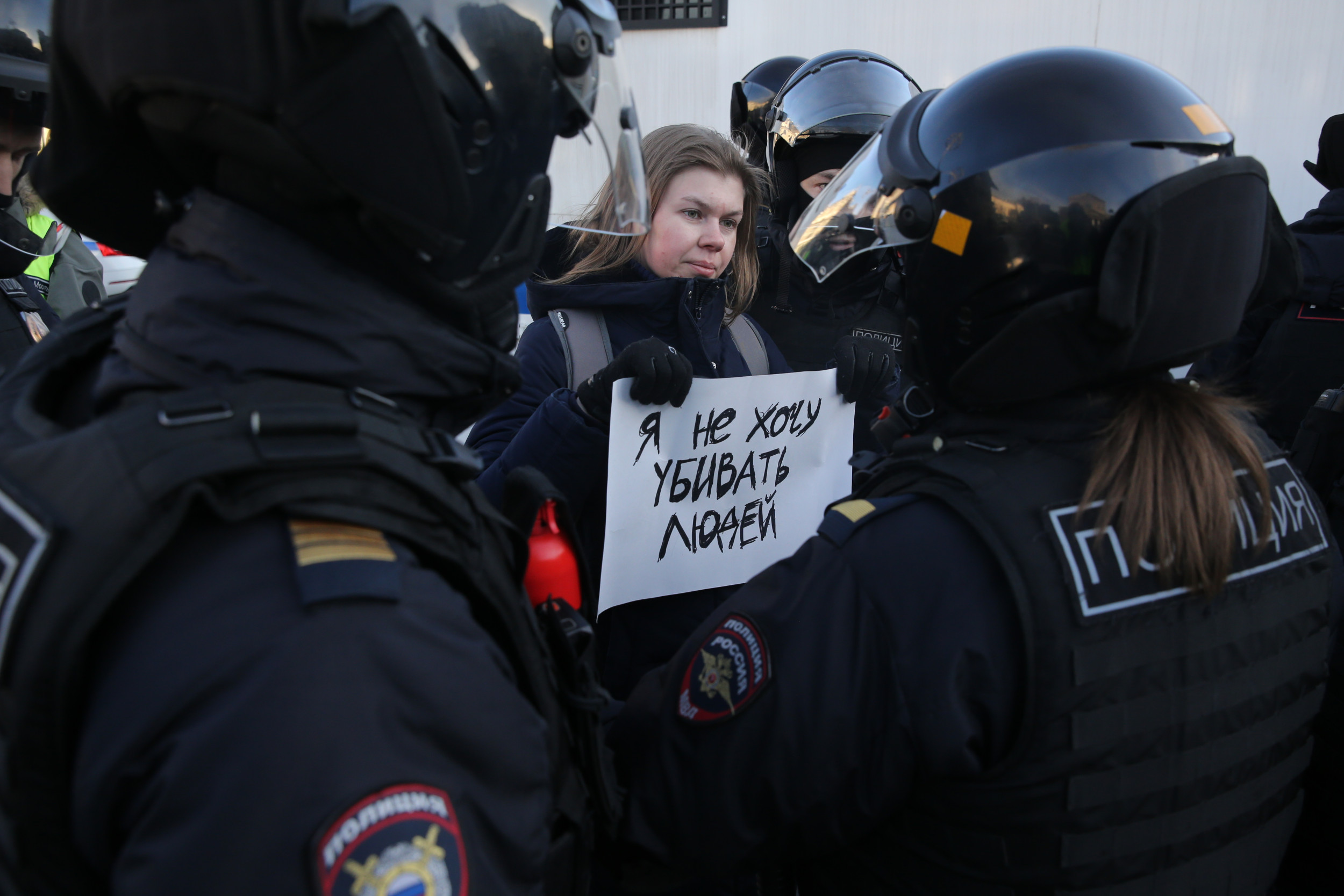 A sixth-grade student in Russia who drew a picture illustrating her opposition to the invasion of Ukraine was sent to an orphanage and her father arrested in a case showing the extent of the Kremlin clampdown on domestic anti-war dissent.
In April 2022, Masha Moskaleva, from the city of Yefremov in Russia's Tula region, had been asked by her teacher to draw a picture supporting Russian troops in Ukraine.
The image she came up with depicted a Ukrainian flag, a woman next to a child and rockets, with the messages "I am against war" and "Glory to Ukraine."
The principal of the school called the police and the next day the girl was taken out of class, according to OVD Info, which tracks the arrests in Russia of opponents of the Ukraine war.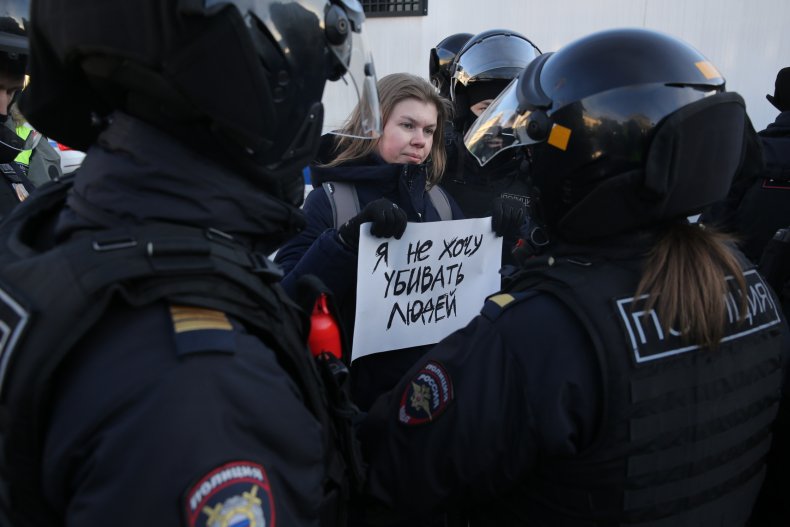 A Russian police officer detains a woman holding a poster that reads "I do not want to kill anyone" during a rally against the invasion of Ukraine in Moscow on March 6, 2022. A girl in Russia's Tula region has been sent to an orphanage and her father faces charges after she drew a picture in school illustrating her opposition to the war in Ukraine. Konstantin Zavrazhin/Getty Images
A criminal case for "discrediting" Moscow's armed forces was then opened on December 27 against Masha's father, Alexei Moskalev, for a July post on his Odnoklassniki social media account.
Underneath a Russian military video he wrote, "the Russian army. The rapists right next to us" for which he was fined 32,000 roubles ($420), independent Russian news outlet Meduza reported.
Masha told her father she was afraid to go to school, Meduza reported, and on December 28, he received a call to say she had been detained by FSB officers. Moskalev was told that he had been raising his daughter incorrectly and was threatened with jail.
Masha went home but stopped going to school and before the New Year police arrived at her home with a search warrant and rifled through the family's possessions, taking all their savings. Moskalev was taken for interrogation during which he says he was beaten.
The head of Yefremov's commission for juvenile affairs, Svetlana Davydova, told news outlet RBC that a lawsuit was filed to limit Moskalev's parental rights, as well as those of her mother, who lives in a different city.
Alexey Moskalev from Efremov city, Tula oblast is raising his daughter Masha alone. She drew a picture with the Russian and Ukrainian flags and the inscriptions "No to war" and "Glory to Ukraine" at the art lesson at school. pic.twitter.com/mzZ1EET8mS

— Maria Kuznetsova (@maria_de_forest) March 1, 2023
Another case for "discrediting" the Russian army has been opened, which because of his prior conviction, means he faces felony charges, lawyer Vladimir Biliyenko told OVD-Info.
His daughter was sent to a children's rehabilitation center, which is akin to an orphanage or being taken into care. It told news outlet 7×7 that she would not be released.
A Change.org petition calling for her to be allowed to return home has been signed by 76,000 people as of Thursday.
Newsweek has contacted Russia's Investigative Committee for comment.
The crackdown on anti-war sentiment in Russia is illustrated by the latest figures from OVD Info that show 19,586 people have been arrested for protesting against the war. In 2022, criminal cases were opened against eight minors for anti-war statements.
Aleksei Miniailo, a Russian opposition politician who launched the independent Moscow-based researchers Chronicles in 2022, said a poll by his group showed that nearly half of people opposed criminal punishment for those criticizing what is known as the "special military operation."
The survey of 1600 people between February 2 and February 9 found that 44 percent were against punishment of those who criticized the war, while 41 percent were in favor. The poll had a three percent margin of error.
"These figures should be treated in the context of pro-war hysteria and unceasing calls to find and punish traitors within Russia," he told Newsweek.
"It's one of the powerful narratives of the official media. Independent media are prohibited and blocked in Russia, the only way to access them is through VPN, which is used by only 24 percent of Russians."
Among VPN users only a quarter (25 percent) favored criminal punishment for public criticism of the war, compared with 63 percent who opposed it, Miniailo added.