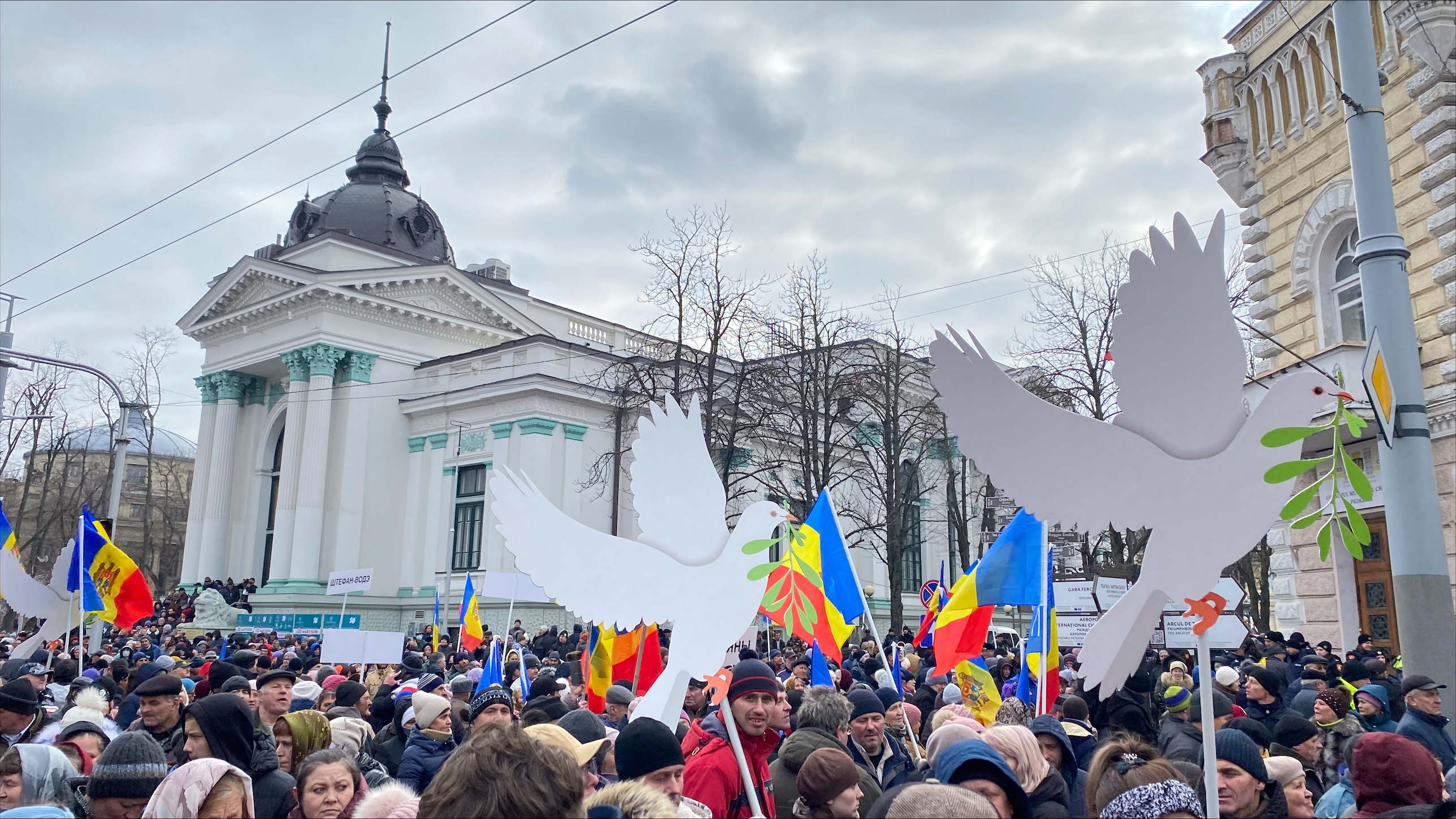 In recent weeks, large demonstrations in Tbilisi, Georgia and Chisinau, Moldova have led to fears of unrest in both independent countries. In each case, Russian influence played a key role in the events. However, the picture of the respective protest movements which Kremlin-controlled media presented to its domestic audience was only tangentially connected with the actual events on the ground.
"They presented Georgia as a kind of unfolding Western terrorist attack, whereas in Moldova the image was one of Russian speakers attempting to peacefully resist after being oppressed by their pro-European government," Kateryna Stepanenko, an analyst of the Russian information space at the Institute for the Study of War (ISW), told Newsweek.
Extensive reporting conducted in both Tbilisi and Chisinau, however, demonstrates that the Russian television version of each story was inaccurate. In the Georgian capital, crowds organized at the grassroots level came out to protest a genuinely unpopular proposed law. In the Moldovan capital, in contrast, the demonstrators largely consisted of provincial pensioners who had been bused in and paid for their services by the opposition Shor Party, which holds just six seats in the country's 101 seat legislature.
"What they presented was about as close as you can get to the opposite of what was actually happening on the ground," Stepanenko said. "The protests in Georgia were essentially entirely peaceful, but on Russian TV they were being compared to January 6th."
Georgian Civil Society Takes to the Streets
From March 6 to 8 in the Republic of Georgia, civil society groups took to the streets in front of the national Parliament building in order to voice their opposition to a proposed "foreign agent" law, which was being supported by the country's Russia-friendly ruling party Georgian Dream. The bill in question was modeled on Russian legislation which Moscow has used in recent years in order to interfere in the work of pro-democracy NGOs and to shut down independent media outlets.
As a form of political cover, however, Georgia's Russia-friendly ruling coalition also introduced a separate bill which was modeled on the American Foreign Agents Registration Act (FARA), a law which simply demands that lobbyists and media organizations which receive funding from foreign sources disclose any potential conflicts of interest. The grassroots protest movement which gathered on the square outside of parliament was there not because of the "American" bill, but because of the "Russian" version.
While the law was still up for discussion, officials in Brussels warned that adoption of the "Russian" variant could significantly impede Georgia's path to eventual European Union (EU) membership. Given that opinion polling shows approximately 80% support among Georgians for their country's ultimate EU accession, it should have come as no surprise that tens of thousands of citizens took to the streets of the capital carrying both Georgian and EU flags.
On March 9, amid growing public pressure, both of the "foreign agent" bills were withdrawn.
Moldova's Russia-aligned Opposition Buses in Paid Protesters
In Moldova, where pro-European president Maia Sandu was elected in 2020 with 58% of the popular vote, the situation could hardly have been more different. Periodically over the past few weeks, in the capital of Chisinau, tens of thousands of citizens have indeed taken to the streets to chant "Down with Maia Sandu" and "Down with the dictatorship." However, their presence there is due less to personal initiative than to a well-funded opposition movement, financed from abroad, which organizes buses and compensation for participants from the country's provinces.
The protests themselves are led by the Shor Party, which received 5.74% of the popular vote in the country's July 2021 parliamentary elections. The party's namesake, Ilan Shor, a member of parliament, is presently living in Israel. In October 2022, Shor was added to the U.S. Treasury's sanctions list, which explains that he "was previously arrested on money laundering and embezzlement charges related to the 2014 theft of $1 billion from Moldovan banks," and that in 2021 he "worked with Russian individuals to create a political alliance to control Moldova's parliament."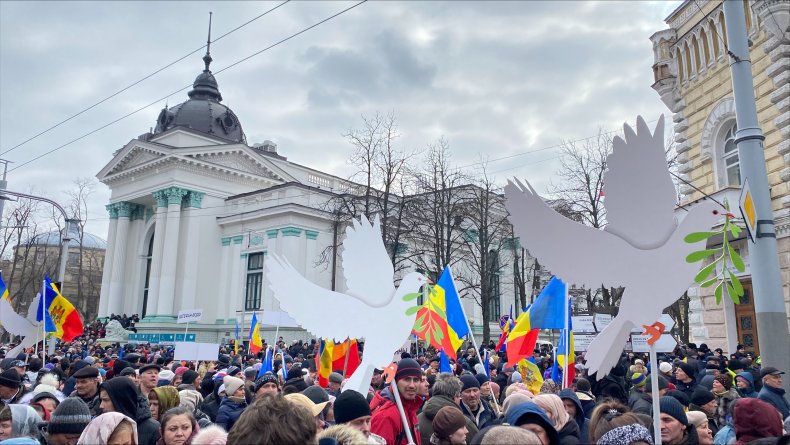 A demonstration is shown in Chisinau, the capital city of Moldova, on February 28, 2023, with people carrying white doves symbolizing a desire for neutrality in the Russia-Ukraine war. MICHAEL WASIURA/NEWSWEEK
Despite warnings from Western officials and from President Sandu herself that Russian agents were seeking to destabilize Moldova, domestic security officials appear to be keeping the situation under control. In recent weeks, groups of "soccer fans" from Serbia, "boxers" from Montenegro, and returning "tourists" from Turkey have all been denied entry to Moldova based on the suspicion that they were Russian agents sent in order to provoke clashes at upcoming protest demonstrations.
On Sunday, in advance of the latest protest march in Moldova, a representative of one of the Shor-aligned parties which regularly participates in the protests contacted Newsweek to say that "we had some info that Sandu with secret services is organizing some aggressions and provocations." At the march that afternoon, however, after marchers had reached the phalanx of police officers blocking their further progress along the capital's main street, nothing more serious than shouting and chanting transpired.
The Russian Version of Events
On Russian television, coverage of the respective movements was all but completely removed from reality. After several minutes of footage showing Russian tanks in action around the ruins of Marinka, an extended report in which Ukrainian soldiers were routinely referred to as "nationalists" and "radicals," and assurances that Russia's strikes on Ukraine's critical civilian infrastructure were being carried out as reprisals for the "Kyiv regime's terrorist acts," Sunday evening's weekly news roundup on Russia's First Channel featured back-to-back reports about the protest movements in Georgia and Moldova.
In the Georgia coverage, the Russian news broadcast misrepresented the motivation behind the protests, characterizing them as a response to the "American," FARA-style bill rather than to the "foreign agent" law modeled on Russian legislation.
"Georgia tried to introduce a law similar to the existing one in America, which caused dissatisfaction with the U.S. State Department," anchor Vitaly Yeliseyev claimed. "From there, they even started talking about possible sanctions against Tbilisi. Why then not against themselves?"
The segment that followed featured comparisons between January 6, 2021 in Washington, D.C, and in Tbilisi this past week. "These scenes demand an analogy," a voiceover intoned as Georgian protesters were seen pushing up against the line of riot police officers who were in the process of tear-gassing them.
"Here is a mob in an unnamed city," the voiceover continued as the segment cut to notably calm footage from around the U.S. Capitol on January 6. "Does this look like a 'demonstration of democracy?' No. In the United States, this was determined to be 'domestic terrorism,' and participants were handed long prison sentences. But in Georgia, if people storm parliament, this is called 'an inalienable human right.'"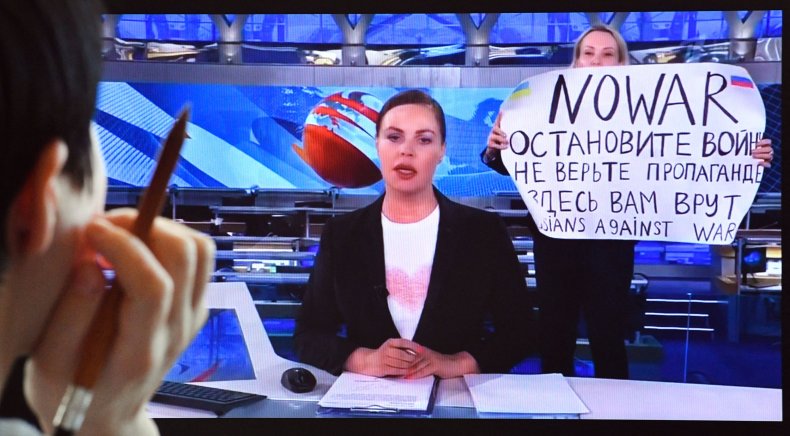 A woman looks at a computer screen while watching video of Russian First Channel employee Marina Ovsyannikova entering the studio and holding up a poster which reads "No War" during a live news broadcast on March 15, 2022. The Russian language portion of Ovsyannikova's sign reads "Stop the War. Don't believe in propaganda. They are lying to you here." However, in the year since the incident, there has been little change in the First Channel's coverage, which continues to depict Russia's "special military operation" as a measure which was undertaken in self-defense. ALEXANDER NEMENOV/AFP via GETTY IMAGES
In Georgia last week, in contrast to the events around the U.S. Capitol on January 6, 2021, protesters made no serious attempt to actually enter the Parliament building.
In contrast, the protests in Chisinau, Moldova, were presented as part of a peaceful, grassroots movement. This despite the fact that most of the participants had been bused in from the provinces by the Shor Party, whose leader is on the U.S. sanctions list. Russian television also made no mention of the widespread reports that participants in such protests are often paid 400 Moldovan lei ($21.50 U.S.) for their services.
"Today, several thousand people marched through central Chisinau," the First Channel anchor said, as footage of peaceful pensioners banging pots and chanting slogans flashed across the screen.
"At some point along the way, the demonstrators, who were bearing anti-war slogans, were met by police special forces," the television anchor continued. "After some brief clashes, around 50 people were detained."
According to ISW analyst Stepananko, Russian domestic television's focus on external events—rather than on the military situation along the frontline, the rising cost of living in Russia, or the video recorded pleas of soldiers asking for better equipment and adequate training—serves a clear purpose.
"It gives Russians the impression that the external threat is real," Stepananko said. "People are told that Russian agents helped foil a terrorist attacks in Belarus, that the CIA is sponsoring a revolution in Georgia, that Russian speakers are being oppressed in Moldova, that Ukrainian agents were attempting to assassinate the leader of Transnistria, even that France is on the brink of political instability."
"It really has two effects," Stepanenko added. "It distracts Russians' attention away from what is happening in Ukraine, and it gives them the impression that things are not as bad in Russia as they are everywhere else."